Hi!
this entry will feature a few Chanel goodies I purchased recently.
Yesterday before going up to the Sky Gardens, I popped by the Chanel store at MBS to check out the newly launched Rouge Coco Shine (click HERE for my previous entry about them), and I knew exactly what color I was getting, which is Boy ---and that is also the color which poster girl Vanessa is wearing.
Temptalia has a new entry about these Rouge Coco Shine this morning, check it out HERE.
Price: $44 each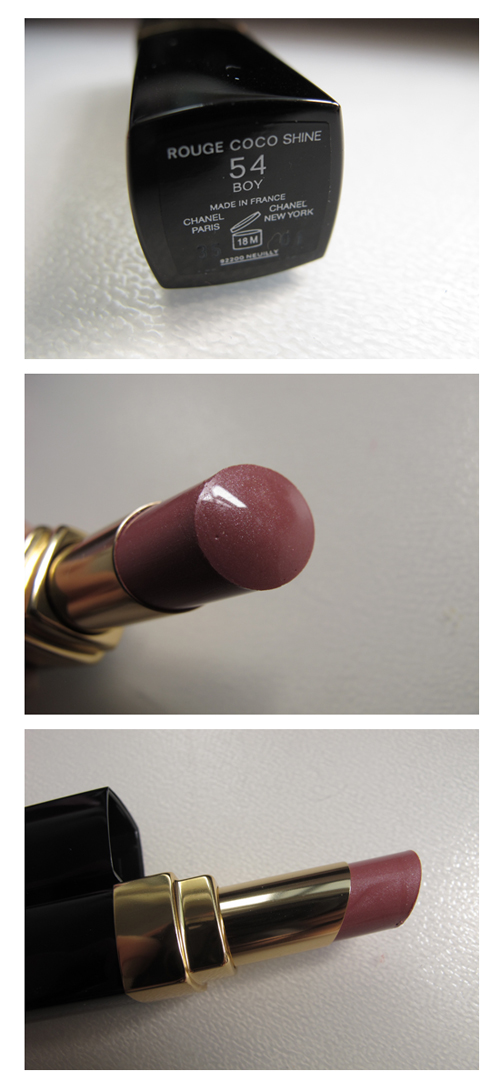 Initial thoughts: super smooth, creamy, shiny.  Feels like a lip blam.  Very moisturising.  I swatched about 10 colors at the store yesterday, some are more pigmented than the others.  I am also eyeing Liberte, Chance, Monte Carlo, etc.. the list goes on.  The good news is that they are permanent additions to the Chanel collection, so you have plenty of time to collect/ stock up.
Each purchase of the lipstick also get you a freebie,  and the BA also offered me a complimentary makeover session mid-month, when the HK based Chanel MUA will be coming down to the store to do makeup.  So I got one session booked for myself.  Kind of excited, except that I am a little nervous about having people (even professionals) do my foundation and lashes.
Here is the freebie - last year, when the Rouge Coco were released, they were giving out Chanel buttons.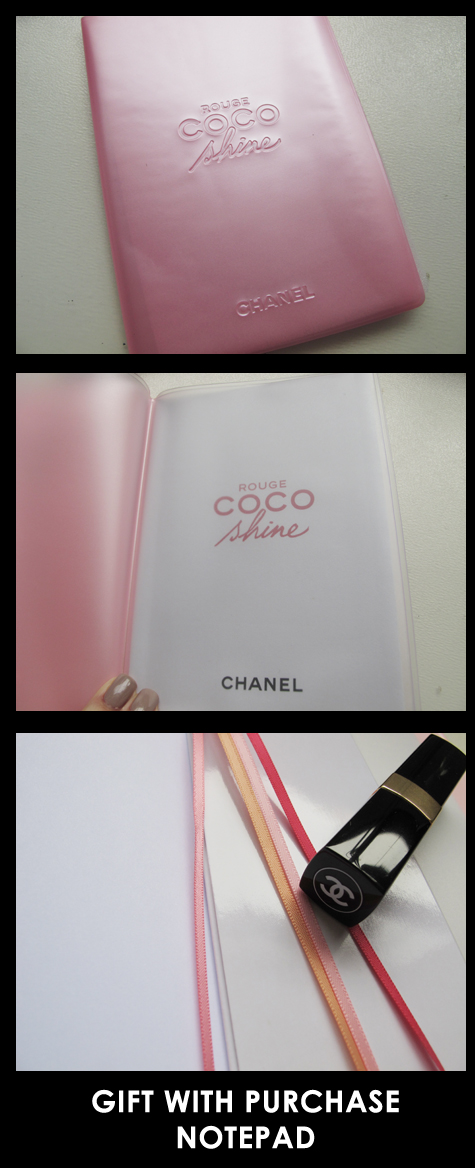 Just a comparison of the Rouge Coco Shine - it is slightly smaller than the regular Rouge Coco.
From L to R:
Rouge Coco Shine, Rouge Coco, Rouge Allure Extrait De Gloss, Rouge Allure Lacque, Rouge Allure
And the next two items - I didn't mean to!  I had previously purchased the hair mist at Tangs last week, but yesterday also saw the release of two additions to their current Chance fragrance - the shimmering gel, and sheer moisture mist.  I tried the shimmering gel, super super pretty, but it's not something I would use all the time.  The sheer moisture mist, though, is a cooling spray, moisturising to your skin, and a nice layering product to the perfume itself.  I have the Chance Eau Fraîche perfume, and getting these two are like 'accessories' to the outfit.
Been spraying the hair mist this week whenever I go out for food, and I particularly like the light scent, it doesn't clash with your other perfumes, so you don't necessarily have to be wearing the same scent.  I know there are equally effective and scented hair mists out there that doesn't cost more than $20....but we like little treats like this!  :)
Chanel Chance Eau Fraîche Hair Mist 35ml $56
Chanel Chance Eau Fraîche Sheer Moisture Mist 100ml $61
The shimmery gel and sheer moisture mist come in the original Chance version too.
That's all and thanks for looking.