Hi hi this entry features 4 colors I picked from
Shiseido's latest Perfect Rouge
- I have previously featured the new range and swatches in this
entry here.
I wanted to go for something bold, yet classic, so here we have:
RD142 - the color which is featured in the ad campaign
RD514 - the classic Shiseido RED
RS745 - a beautiful mauvey rosy almost plum shade
RS509 - a sheer version of RS745, it contains silvery shimmer bits
The Perfect Rouge are super creamy, and long lasting.  I love how the colors are so intense across the range, and they offer something for everyone, whether you want beigy nudes, pinky nudes, bold pinks and oranges, etc.  The Tender Sheer delivers super creamy color, and while they aren't as color intense as the Perfect Rouge, I must say that they quite pigmented as well. 
Love the formula of these lipsticks, they are so easy to apply, and you get true color on your lips as what you see in the tube.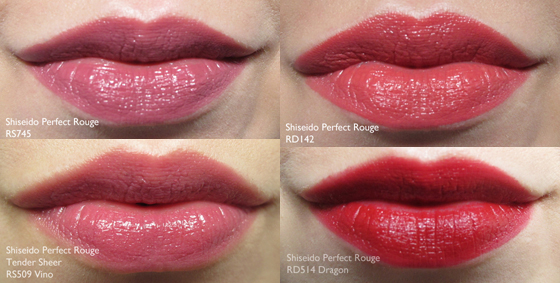 Here's a quick LOTD I did to complement all the lip colors - all products used will be listed at the end fo this entry.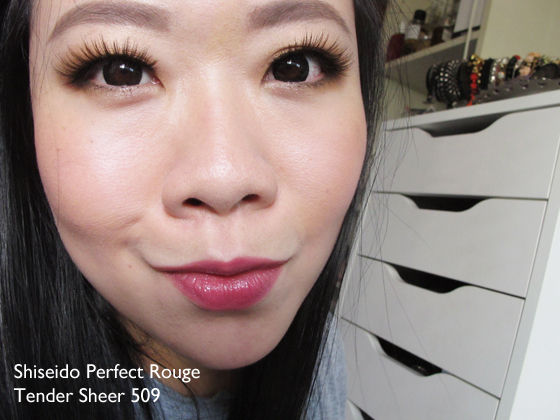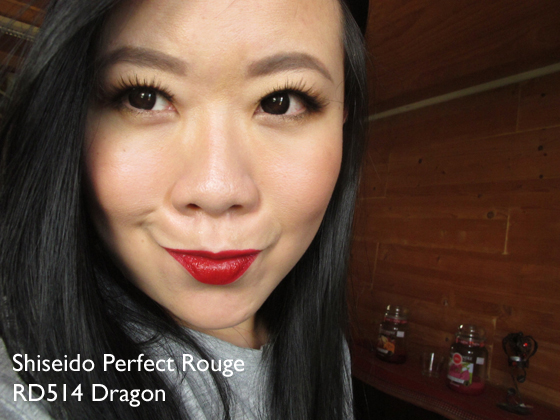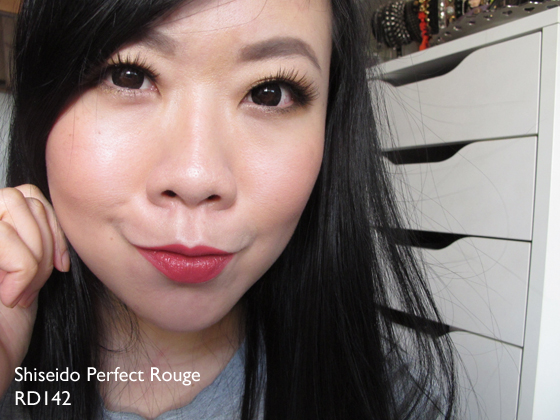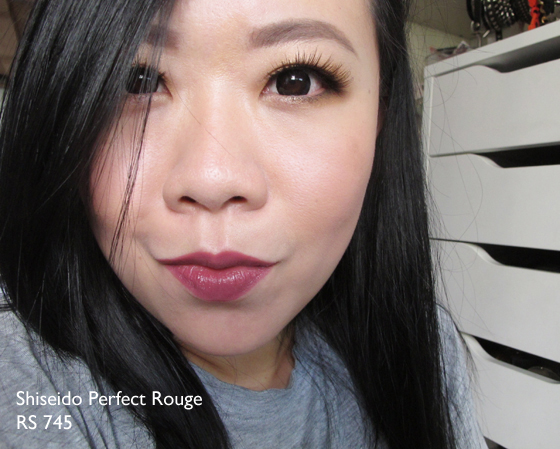 All products used:
Face - Maquillage Styling Keep Base UV, Shiseido Radiant Lifting Foundation, Chanel Translucent Loose Powder
Concealer - cle de peau beaute concealer
Cheeks - Illamasqua Tremble blush, Shiseido Bronzer 02 medium, Shiseido Luminizing Face Satin Color PK107 (to highlight)
Lips - as listed in the pictures above
Eyes - NARS primer, Shiseido Luminizing Satin Eye Color Trio in BR209, Shu Uemura Farfarlina lashes
Brows - Shu Uemura brow manicure Ash Brown, brow pencil in Seal Brown 
Hope this is helpful, and thanks for reading!