Before I start, I want to thank everyone for your lovely comments and feedback to my 2014 round up entry!  It is so heartwarming to have readers who have read my blog for ages to take the time to leave your comments, in a way, it's kinda like keeping up with an old friend - something familiar and relatable.... and I really thank you from the bottom of my heart.  I guess that's why I feel like my blogging mojo is back today, and I managed to post quite a few entries up.  I really can't be updating during the week, and I really hate to schedule blog entries... so I will just post everything whenever I am done with composing them.  Hope you have enjoyed the spate of new entries!
I picked up three items from the recent Chanel Spring 2015 makeup collection.  The first item that really caught my attention is the Rouge Allure Velvet in La Romanesque.  It looks a bit blah in the tube and in my pictures it look even more blah, kinda like a dull pink/ almost even orangey in certain lighting. On the model in the ad campaign though, it is a vibrant shade of deep rosy pink. Once applied it is a beautiful rosy purpley pink.  The color is deep but yet velvety soft.. and I really love the Rouge Allure Velvet formula.  This is no exception, so I had to get this.  
I also got the polishes in Tenderly and Desirio.. but I won't be swatching them for the blog (partly cos I am sporting some gelish nails too..so I can't take proper nail polish swatches) but I did try them at the counter - Desirio is a rich creamy pink that is very similar to La Romanesque while Tenderly would take 2 coats or even 3 thin coats to look nice and even.  The Camelia blush thing that came with this collection is beautiful, but I didn't feel the urge to haul it.. partly cos it seems to blend into nothing on my skintone... and it look kinda like too dusty for my liking.  Perhaps if it is in a warmer peachy shade I might have been more suckered.  
A close up pic: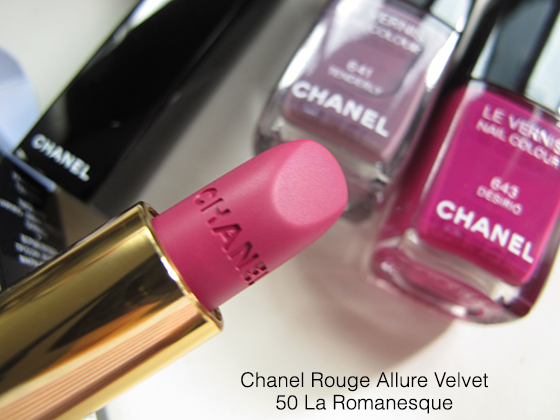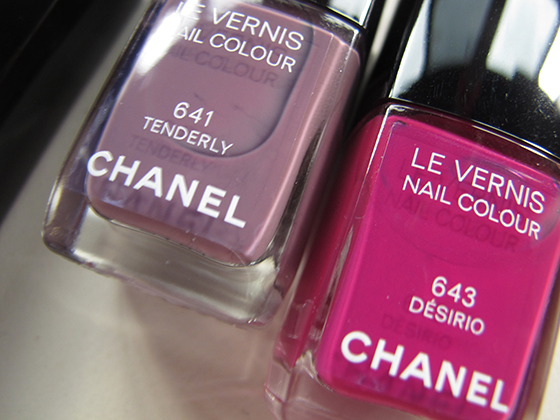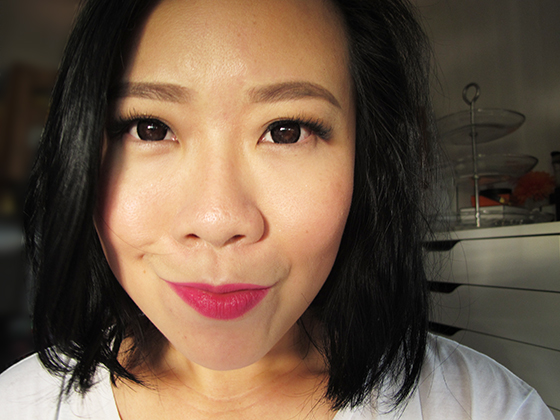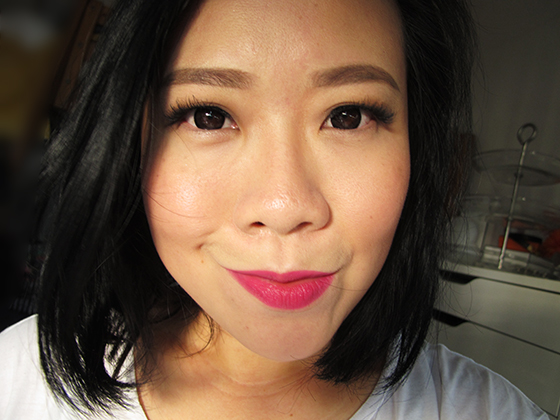 on the rest of my face, I am using 
base - Chanel Perfection Lumiere foundation, set with Izu loose powder
cheeks - RIMMEL LONDON Santa Rose blush
lips - Chanel Rouge Allure Velvet in La Romanesque
eyes - MAKEUP STORE Spirit
brows - Innisfree Eco Gel eyebrow 
liners - MAC Fluidline Eye pencil in Black Brilliance
Note that the foundation actually takes some time to set into a more flawless finish that diffuses the look of my pores. Loving this foundation more and more.  Long lasting and nice natural finish. 
I really love the lippie, and I can't wait to try out the polishes!
Hope you find this entry helpful and thank you for reading!