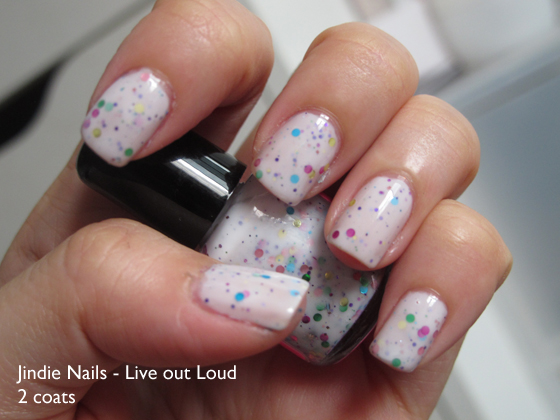 Hi hi!
This entry features an indie nail polish brand, hand crafted and imported from USA.  You can purchase Jindie Nails polishes from Meimei Signatures (click here!).  The shade I have here is called Live out Loud - and I love the white based glitter polish, having seen similar ones from many girls I follow on Instagram.  The formula on this is very smooth and creamy - it is rather opaque in two coats, but if you want it very white, I suggest painting a thin coat of white followed by two coats of the polish itself.  However, I do like the milky creamy look of just two coats on its own. 
Love the color combination of the glitter bits, they apply and distribute very evenly, I didn't have to work too much to 'arrange' and make sure that the glitters are evenly spread out on the nails.  And the white base did not cover the colors of the glitter bits, which is a good thing.   It is such a playful and cute combination, and definitely something different.  I think there are a couple of other white based glitter polishes from Jindie Nails.
FYI - The full sized bottles contain the usual 15ml of product, and retail for S$15 (inclusive normal shipping) - the tiny bottle you see here is a sample sent to me for review.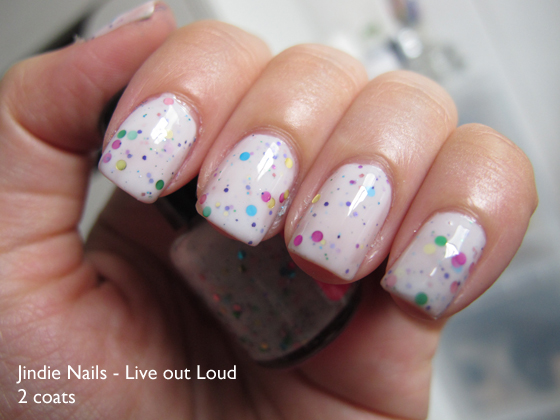 and one more shot: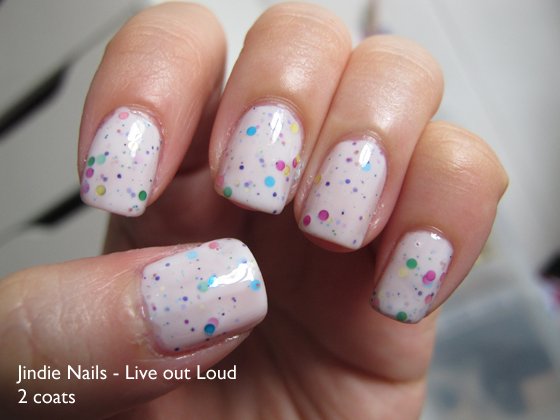 That's all I have for this entry, thank you for reading!
Useful links:
Meimei's Signatures - ONLINE STORE
Meimei's Signatures - Facebook 
* her shipping is very fast, and if something is out of stock, you can sign up for email updates *