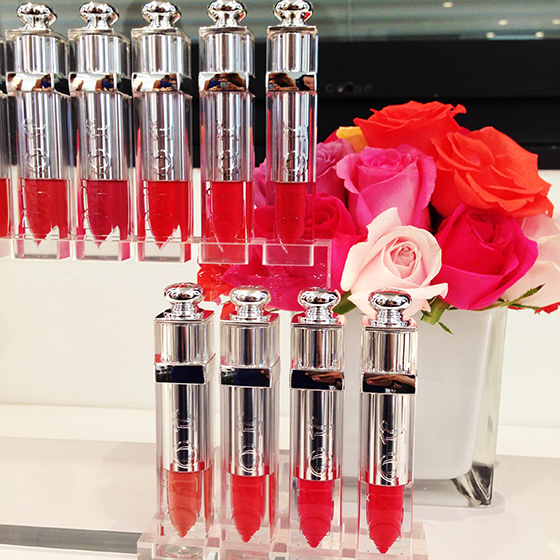 [So I had taken a bunch of pretty pics of my products - and I can't find the SD card now....] this explains the abrupt start to my entry on the featured shades of the new DIOR ADDICT Fluid Sticks & newly formulated gel finish vernis.   First off, I love the new revamped Vernis... they have better brushes, the formula is just beyond impressive.  Glossy, long lasting and the new flatter brushes so easy to apply!  I have since acquired a few more of the new vernis, and I am really enjoying them.  Now I am wondering what do I do with my old Dior polishes!  Hahha. 
- See my preview & more information on the new Dior Addict Fluid Sticks in this entry here.
I have the chance to play with the new DIOR Addict Fluid Sticks for a few weeks - they have great colors, the formula is really something new, very liquid, not sticky, and the color pay off is impressive.  Comparing these to the new Lancome Lip Lovers, I would say that the Dior ones are more intensely pigmented, and this is especially so if you compare the lighter shades.  
Here are the four IT shades I have for the Fluid Sticks - Aventure, Pandore, Mirage & Artifice... 
They look similar in my swatches, with the exception of Mirage which is a warm nude beige.  
Pandore is a warm bright red.
Aventure is a tomato red, slightly more muted than Pandore, almost coral in tone. 
Artifice is a warm tangerine shade.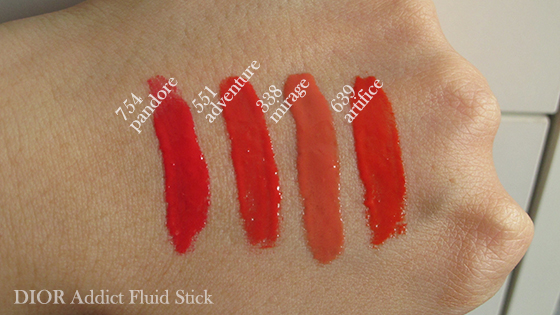 As you can see in this complete set of swatches, the second row with the red/ bold shades all look very alike, with very slight nuances in the shades of red/ corals/ and bright pinks. 
The applicator molds nicely to your lips, and deposits enough product for you to apply a coat of colour on upper and lower lips.  If you want to build up the color, you have to dip again to build up the colour.  And yes, this lippy is very buildable in terms of colour and this means greater flexibility in terms of the performance - you can wear it as a stain, all the way to a glossy lacquer full intense color pay off.  
I find that the Fluid Sticks have decent payoff... about 4 - 5 hours for something so liquid and light.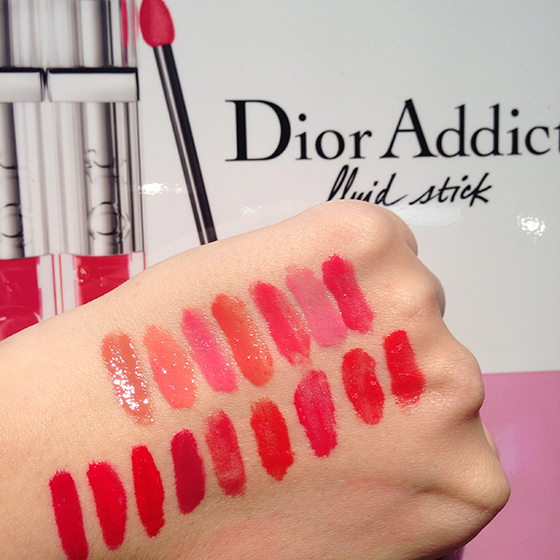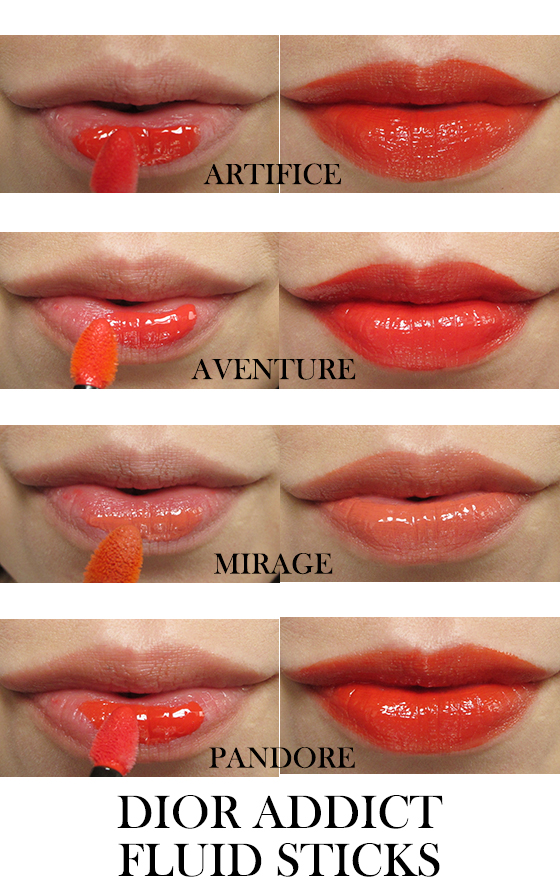 And here are swatches of the four IT shades for the new vernis.  I realise that they all contain this super ultra fine shimmer (more like glassy specks) that lend the glossy shine to the colors.  I am very impressed by the new formulation, and I find the new formula to be quite long lasting too.  
I took these pictures with my iphone because I think they are more true to color... in my own camera.. the brighter shades all look the same!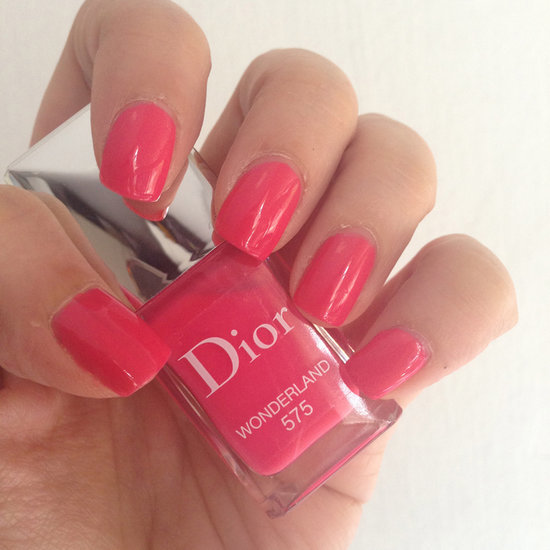 And here are some close up swatches of the matching pairs for the IT shades:  no prizes for guessing which is my fave IT pairing!!
wearing the same makeup in all LOTD, old FCUK dress and messy unkempt hair.  
I love Artifice - super wearable orange lippy!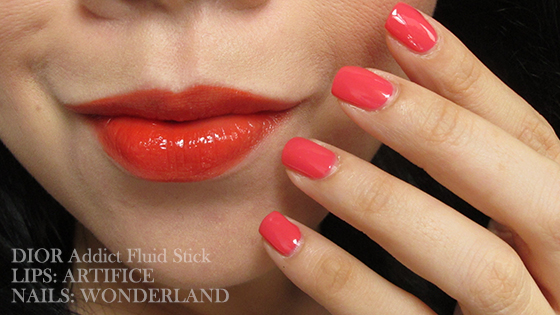 Aventure is a happy cheerful warm red pairing which I like.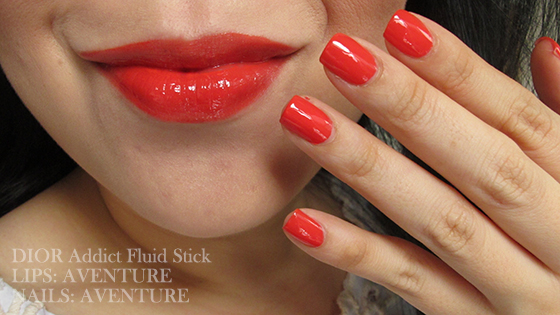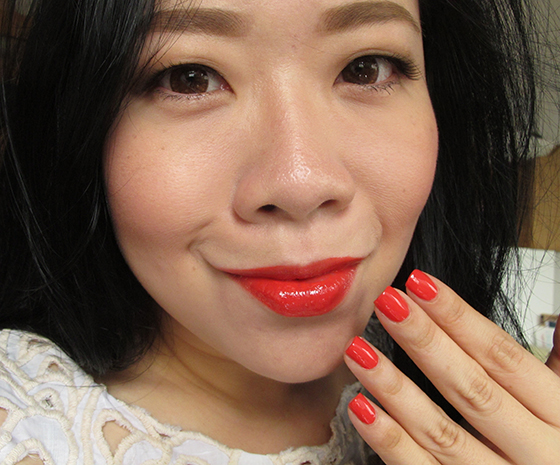 The Mirage pairing is quite surprising - a warm nude with a purple polish.  What are your thoughts?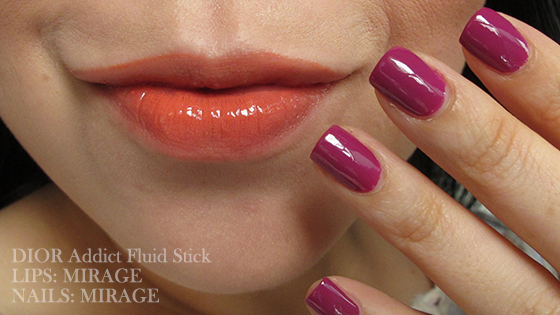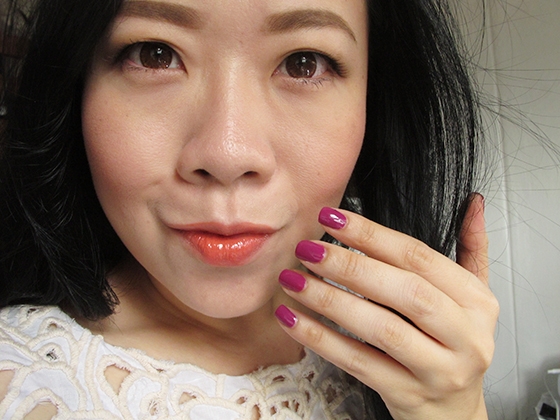 And my fave.. Pandore!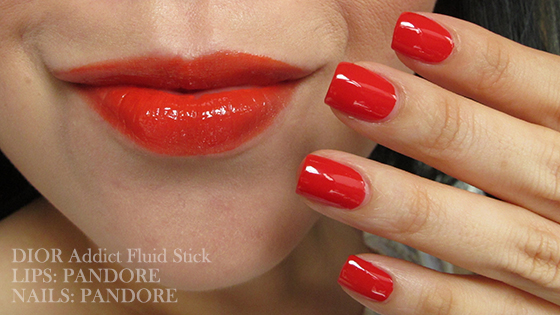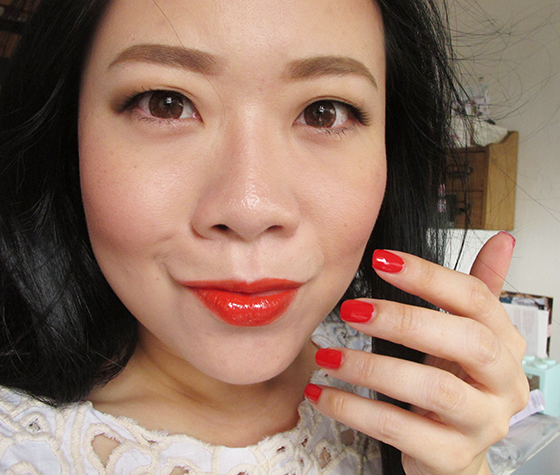 Overall, I love the new Dior releases - so very colourful and exciting!  The packaging of the Dior Addict Fluid Sticks are so sleek and luxe - and they glide on the lips so beautifully.  Have you picked up any of these beauties yet?
Dior Addict Fluid Sticks & new Vernis are now available at all Dior counters and stores.  
Hope you find this entry helpful and thanks for reading!