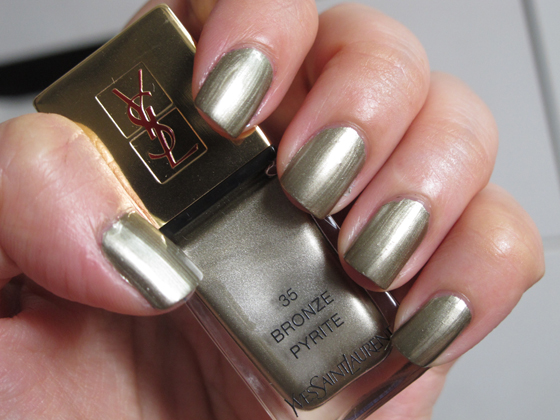 Hi hi!
Today I am sharing with you one of the two polishes which will be released with YSL's Spring 2013 collection (the collection is due out early Feb at their ION store, and maybe a week later at Tangs Orchard). 
Bronze Pyrite is a very metallic pale olive shade (why it's called bronze, I am not sure) but it certainly has the pyrite element - a search on google image on 'pyrite' yielded pictures of similar hued mineral substances.  Which is part of the inspiration for this collection - featured earlier in this entry.   It is a pretty unique shade in my stash, leaning in between silver and olive.   It also looks slightly different under different lighting situations, at times it's really pale and metallic, and when indoors, the shade becomes richer, and more dimensional. 
The consistency is perfect, it is opaque in one coat - which is a good thing when these very foiled metallic polishes are concerned.  The paddle shaped brush allows for a very self-leveling application, and the brush strokes are not very visible when viewed from a distance.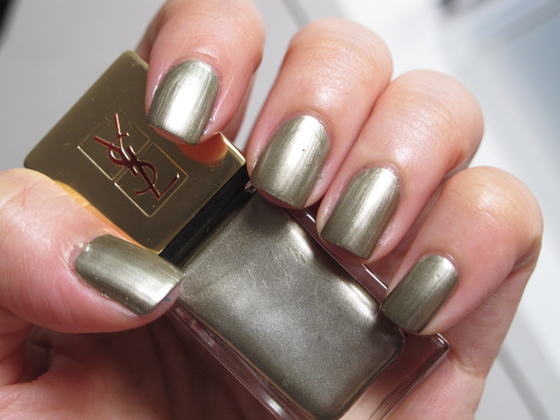 This is another set of pic I took on a different day, it was cloudier and the color looks more olive-y and has a slight green tinge.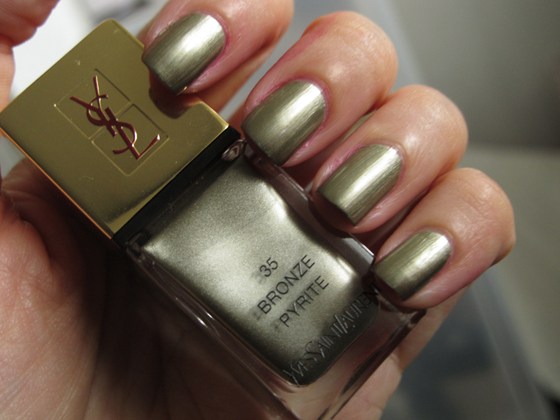 Just to compare another YSL 'Bronze' shade nailpolish - Bronze Aztec - which is way darker, and contains multi-color shimmer.  Both shades are just gorgeous, and the formula is impressive. 
I am very happy with my YSL polishes, and I definitely see myself picking up Jade Imperial when the collection launches.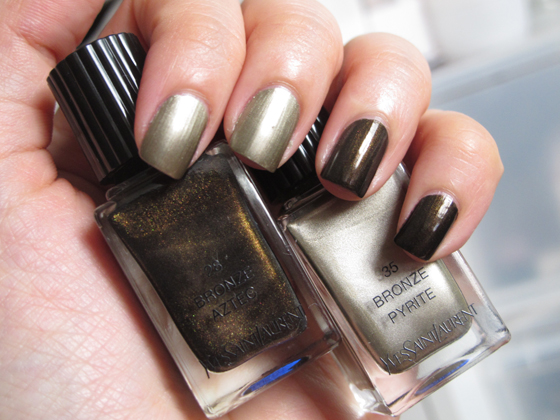 Hope this review and swatches have been helpful, thanks for looking!