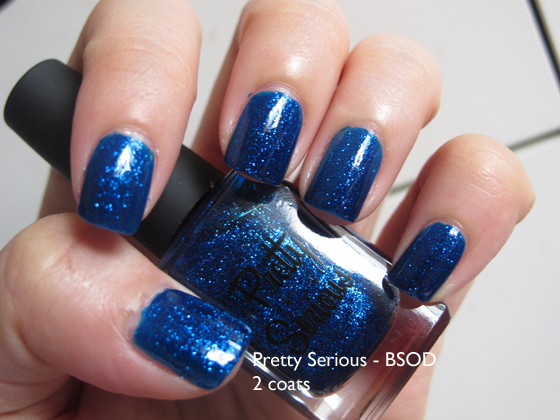 Hi hi!
This entry features another indie nailpolish brand, Pretty Serious - and the shade I have here is BSOD - which stands for Blue Screen of Death - thanks to goggle search hahaha - which basically means the blue screen you see when your computer is dead... I am a MAC user, so I just get a sad mac face - which I hope I would never get to see!  
Anyway, let's not digress - BSOD is a deep navy blue - and it is a jelly creme finish and consistency.  It also contains what looks to be like millions of tiny sparkly blue glitter bits.  The formula is smooth and a little thick, which I often notice in jelly formula polishes.  But it applies smoothly without any bald patches.  I love how the sparkles shine through, and even the slight uneven-ness in the base color (due to the jelly finish, not the consistency) adds extra dimensional to the overall look here.  It reminds me of a deep blue sea, and really pretty. 
Actual color description: 
All your friends will stop and stare at this beautiful blue jelly packed to bursting with blue glitter. Don't make the critical error of passing this one up!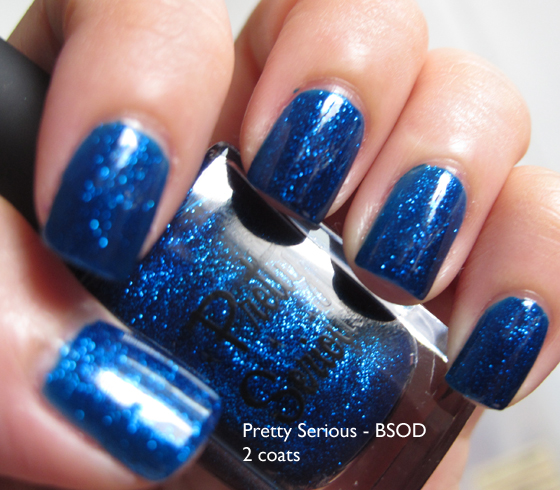 Pretty Serious nail polishes are made in Australia, and retail for S$16 each, inclusive of normal local postage.  They can be purchased from Meimei's Signatures.  Click here for the link to her store! 
Useful links:
Meimei's Signatures online store
Meimei's Signatures <a href="http://www.facebook.com/mei.meissignatures?fref=ts" target="_blank"><strong>FACEBOOK
</strong></a>That's all I have for this entry, thanks for looking!