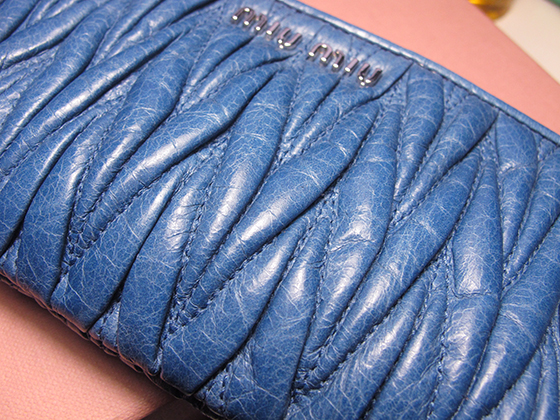 Hi hi!!
Just a rambly little catch up chat entry..a break from my usual makeup coverage, and putting together a selection of random new stuff I bought and have been loving lately. 
First up, is this little MIU MIU purse which I acquired while I was in Rome, it costs me slightly over SG$250 which I thought is really reasonable - in a warm blue distressed leather, and it has 3 card slots inside.  Many people know I don't carry around a traditional wallet, and I prefer such purses where I just throw in my cards and cash.  The card slots are a bonus - I can be neat and untidy at the same time.  I haven't used it yet...so it's still sitting in its box.  This is the smallest out of my Prada & Miu Miu purse collection, and quite the brightest too.  
Friends have asked if I haul any branded bags whilst I was in EU, but to be honest, I didn't have a 'bag feeling' then..and nothing I looked (and I did look) really called out to me (except for that random moment of Chanel WOC) but other than that, even though the prices were so attractive, I just didn't feel like getting a bag just for the sake of it.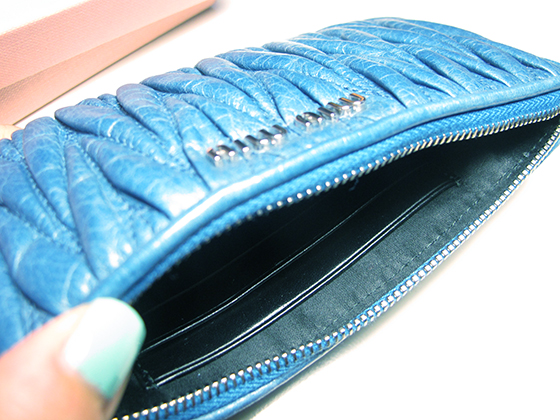 While we are still on the topic of bags, here's one of my staples - The Rebecca Minkoff Mac Bag in black - I love the size of this, it is slim but roomy enough for my essentials.  Got this a couple of months back while Shopbop had a 20% off event.  I used this bag during the whole of my EU trip, and I am just totally happy with the MAC bag. 
It is looking quite seasoned because I use it so often, the bag is very well made and worth the money, I like the strap it is just the right length and doesn't fall off my shoulders (I don't normally carry it cross body).  Love also the front pocket that comes with a zipper and that clasp.. I kept all my cash and foreign currency there while I was away. (opps now you know.. haha)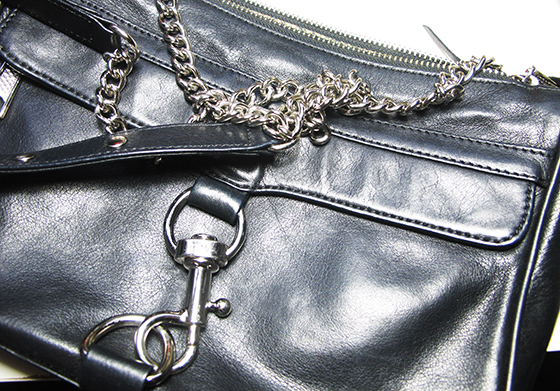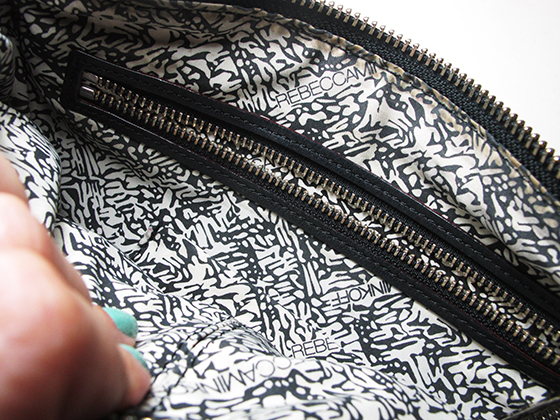 And one more bag - which has become my little survival kit - meaning it contains a odd selection of makeup, tissue, blotters, earphones, phone charger, pens etc etc etc, because I have been using my Goyard almost daily for work, and it is such a roomy bag, a pouch like this is very useful for keeping all the small items together.  I got this on sale for around SGD14 at Urban Outfitters in London. 
LOVE THE POM POMS!!!
I also like that it is largely monochrome, and lightweight and so soft!!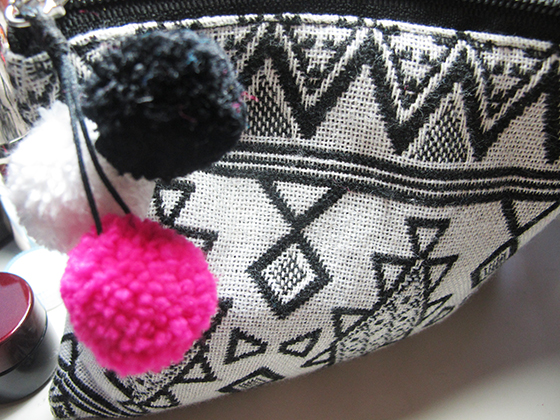 can you spot the goodies in this bag?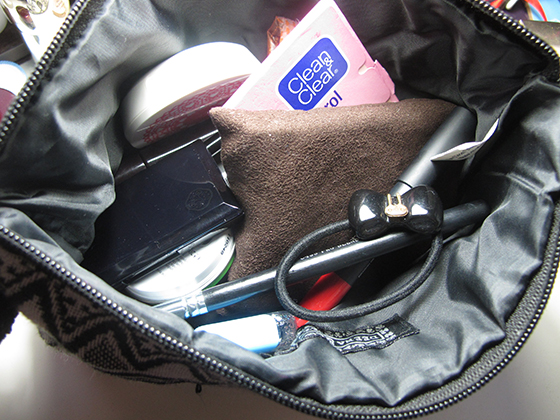 A pair of rings I bought at Camden Market - I bought 3 rings, and gave one to my friend.  Love the stones, the slightly rough setting...and just super elegant.  I get lots of compliments when I wear them.  Posing them here with the YSL polishes in the background, cos they look so matchy together. 
I think this cost me around $40 each?  Can't remember, but the dude was very nice and gave me a little discount.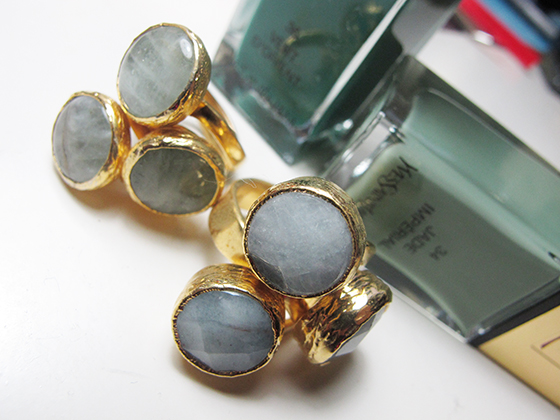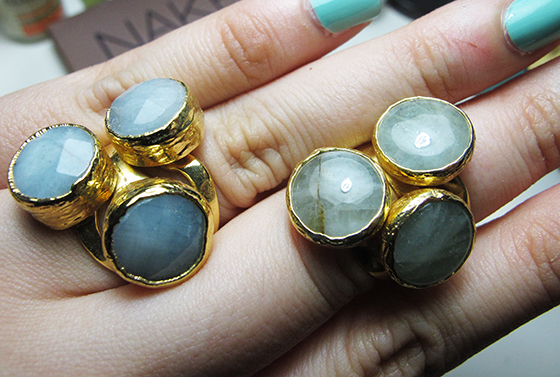 And next, my FAVE sweater currently - Wildfox - I have heard of how soft they are, how comfy, but when I finally got to feel them recently, I decided that I shall own a couple of these Wildfox sweaters at some point in time.  I have seen them on Shopbop (retailing for around USD120-200) - anyway.... when I saw this super cute blue with pink heart one on sale at Shopbop last week - I MUST GET IT!  This is around USD75, and I got it in size L, which hangs a little big on me, but the sleeve length and shoulders just fit me so.  The fitting/ cutting is really flattering too, it isn't bulky at all. The material is so 'fluffy' and soft, I love just wearing it when I am in an air-conditioned place even when I am not really that cold.  I would def want to get at least one more when they have new designs.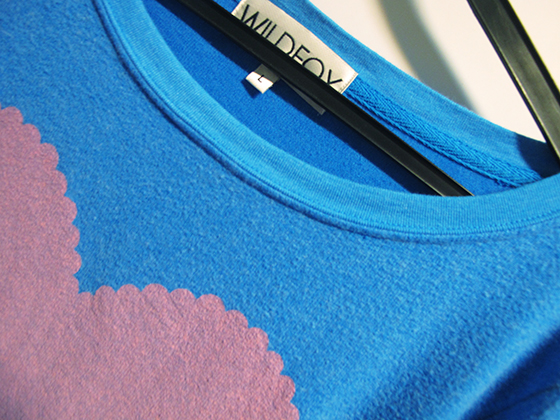 And one last item(s), a pair of beaded necklaces with neon tassles from etsy - I wanted something sort of bold and comfy to wear (hence no metal chains that might irritate my skin) and came across these on etsy (search tassle necklace and a myriad of these will show up) these flew in from Indonesia (Bali to be exact) and cost around SG$20 each.  I haven't really worn them, but I love the colors and the quality is quite good.  Can't wait to accessorise with these!  There are a few color combinations to choose from..and not all are neon.   (link to seller here)
Hope you enjoyed catching up with me here!  Thanks for reading!
p/s inserting a few EU pics here - I am not going to blog in detail about the trip at all, since it was really just a time out for me (not my first time there anyway) and I don't feel like going into the details of the where and what - basically, we just want to fly there in comfort & safety, save on lodging & food, free & easy everyday, random splurges and try everything once --  but if you have any specific questions to ask, please feel free to email me instead! :)
<p>view in my Paris apartment courtyard

9.30pm sunset

this pic needs no explanation

ootd ootd </p> <p>

pierre hardy maccarons