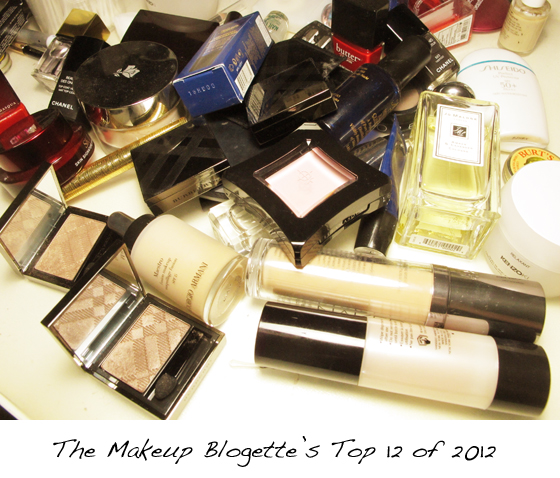 Hi hi
Yes, the first picture isn't a pretty one... it's a pretty mess...but there's a reason for it -- I have been getting several requests to do my top fave products of the year, and I think I finally managed to narrow down the products which I think really deserve special mention (again), to round up the year and take stock of the new products which I got to try out this year.
I will try not to include any previously mentioned products, and restrict my list to things that I have only started using this year, even though they may not necessarily be launched in 2012.  These are my personal faves, and I can truly say that I would repurchase them when I run out, something that's hard for me to do given the huge amount of products which regularly come my way to feature and review on the blog.
Here are my 12 products, in the following categories – I have also included review/ feature links wherever possible so you can click on those for more details:
Base/ Foundations:
1 - Shiseido Radiant Lifting Foundation  (demo & review)
If you like a full coverage, long lasting and natural finish foundation, I recommend the Shiseido Radiant Lifting Foundation.  This lasts me throughout a humid 10 hour day, it looks fresh - a little goes a long way. 
2 - Urban Decay Naked Foundation (review)
Impressive because of  the wide shade range, there's definitely something for everyone across the different skin tones.  It is very long lasting, and very very light-weight, hence the 'naked'  tag word.  I love everything about this foundation. 
3 - Giorgio Armani Maestro foundation (feature, swatches, review)
One of this year's highly anticipated foundation release, it has a beautiful smooth and flawless finish.  The coverage is light, but buildable.  The application and 'feel' of the foundation is divine and simply luxurious.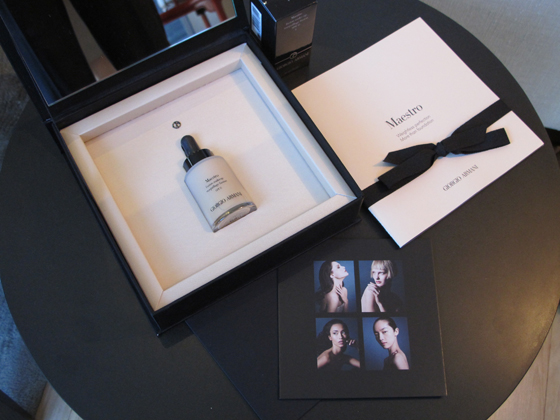 <strong> Eyeshadows:

</strong>
4 - Burberry Eyeshadows  (LOTD)
I took the plunge and bought 4 of them this year.  They are not exactly new, but the steep price tag put me off a long time.  I already have my HG eyeshadows (Inglot, GA Eyes to Kill Intense) but the Burberry eyeshadows offer something new in the texture and all the different nuances of neutrals (Midnight Brown!  Pale Barley! Rosewood!) they have.  I don't think I will be buying more of the eyeshadows – but I really do enjoy the four that I own.  They are so soft, and the finish is such a beautiful pearlised shimmer which is 'grown up' and sophisticated.  You really got to try out at least one of them.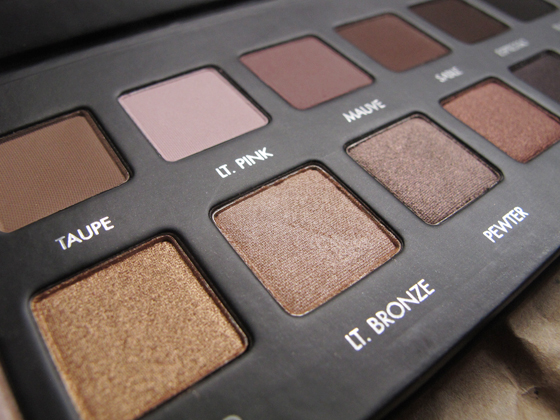 5 - LORAC Pro Palette (Swatches, LOTDs here and here)
I would pick this over both my UD Naked Palettes any day.  The texture and color payoff is even more impressive (not that the Naked Palettes aren't).   And I like the reddish browns they include in the palette, and the range of mattes too.  I don't think I need to go on anymore about this amazing eyeshadow palette.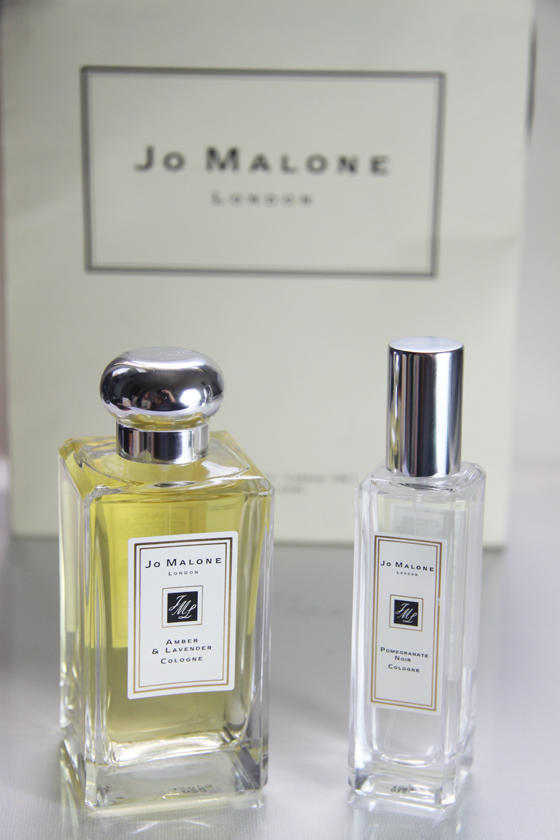 <strong>6 -- Fragrance
Jo Malone Pomegranate Noir and Amber & Lavender</strong> (entry here) have been my faves this year.  Whatever combination of scents I wear, I never fail to spritz either one along the way.  They are very refreshing, unique and makes me feel happy whenever I wear them.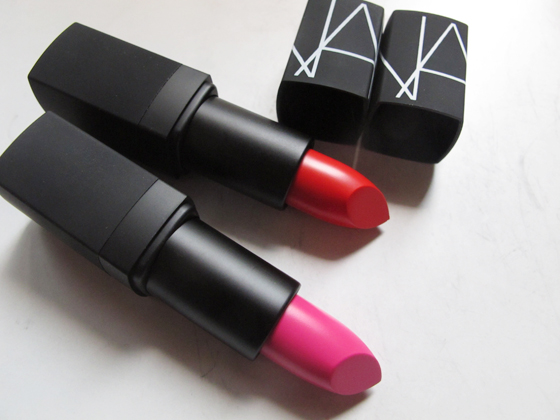 7 - NARS Lipsticks  (Some swatches: Reds here and here, nudes here, bold & dark here and here)
I have been raving about these recently.  Having tried out several in the past few years, and hauling a bunch of them lately, I have almost everything from each range of lipsticks they do.  The colors are beautiful, the formula is not drying whether its sheer, glossy, matte or semi-matte.  They come in such a wide range of colors (very very impressive range of nudes and reds, I must add) and with names that totally suck me in.  So if there's something you need from NARS (other than their blushes) grab a few lippies!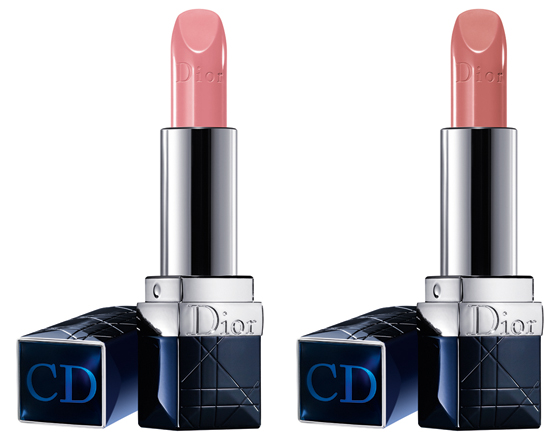 8 - Dior Rouge Nude (Swatches of Chanelle, and Grege)
These are my everyday lipsticks, I can slap them on and go.  The colors are mostly 'my lips but better' shades, and they do all varies shades of beige-y pink, pinky nude, nude-y pink… you get the idea.  But what is wonderful is that the colors are all super flattering, and never 'too nude'.  They enhance your lipcolors, and the formula is so moisturizing and smooth.
<strong>Skincare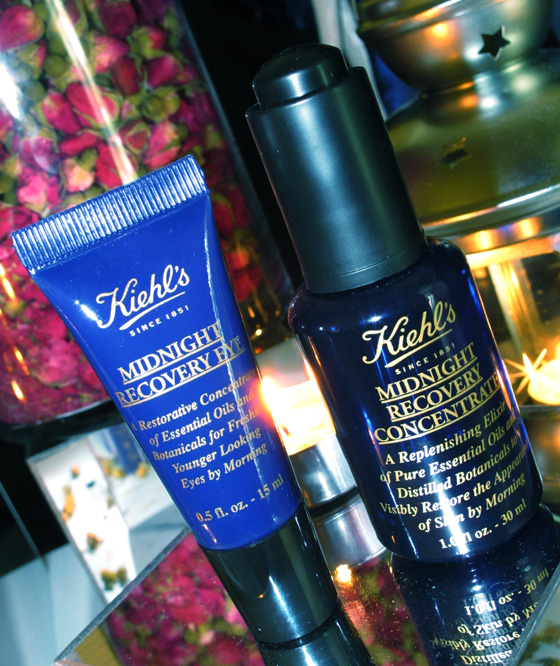 </strong>
9 - Kiehl's Midnight Discovery (featured here)
When it comes to skincare, I try to be more selective, and sticking to the several brands which I know work for me.  Though I have used many great skincare products this year, and I still rely on my regular fave combinations, I do think the Kiehls Midnight Discovery range is outstanding to me, and to my sister too.  I can't tell the difference in this eye cream (cos I don't have much eye concerns at the moment, not so much because it is not working) but my sis saw marked improvement in the dullness under her eyes, and it isn't too rich for her as well.  She is only 20, but she swears by it, and we are already on our second tube.. which is saying a lot because there are at least 5 other eye creams in rotation in my stash.  I really love the Midnight Discovery Concentrate - it is a soothing oil serum which really calms my skin whenever it is cranky and it's something I have come to depend on for a quick overnight fix of my general skin well-being. 
Another worthy mention - I am using Kenzoki now.. mad LOVES.  But more on that in another entry, hopefully. 
<strong>Nailpolish
I am a nail polish junkie so I have to mention two of my fave nail polish launches this year. </strong>
A chic collection of four nude nail polishes suited for every skintone, I had to get all of them. 
11 - Chanel Twin Sets (swatches here)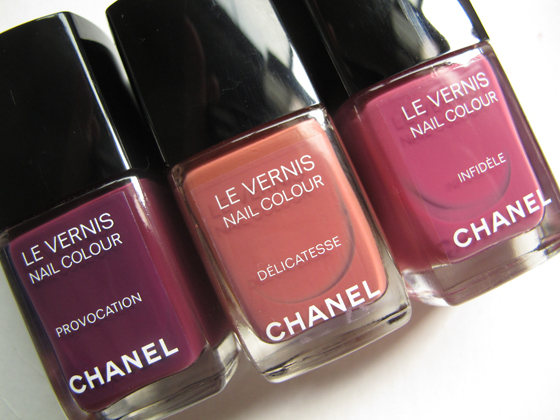 This is my third year collecting Chanel's Fashion Night Out releases, and this year, they delighted us with matching lipsticks and nail polishes.  All three shades have great formula and are so classic.  I love the choice of colors in this collection, and there is something to suit everyone. 
12 - Caudalie Divine Oil

What it is:
An enhancing dry oil for body and hair.
What it does:
This multi-use miracle oil is ideal for hair, nails, bath, and massages. Divine Oil is a unique alchemy of four extremely fine and evanescent vegetable oils (60 percent of the formula). To ensure that the benefits are truly complete, Divine Oil also features patented antioxidant grape-seed polyphenols and fair trade shea butter.
A subtle fragrance that will make you swoon as it caresses your skin. For the signature note of the fragrance Jacques Cavallier chose the rose, both the Moroccan rose and the Bulgarian rose. A burst of grapefruit and sparkling spicy pink pepper add a freshness to the fragrance while cedar, vanilla, and white musk base notes offer warmth. The composition is modern and infinitely desirable.
**** I haven't properly mention the Caudalie Divine oil before, but it is really amazing, I love the scent, and I love using oils like this to nourish my skin.  It is a little pricier than other oils, but yet not crazy expensive too.  And I love the spray nozzle, it dispenses the product evenly.  LOVE LOVE LOVE *** I only use oils on my skin (face and body) though... not on my hair.  
There are many other great awesome products I have used this year, but these are 12 I would pick over and over from this year.  :)
Honorable Mentions
Opening of two main beauty shopping locations, the revamped DFS and TANGS Beauty Hall have totally pimped up the makeup shopping experience in Singapore.  We have access to so many brands right now... and I have mentioned countless times, there's nothing like being able to buy in person... what's the difference a few dollars going to make, right?  
Being witness to all these amazing brands launching is definitely the highlights of the year: 
<strong>NARS Launch
</strong>Enough said.  <strong>

Return of these brands: </strong>
<strong>YSL Launch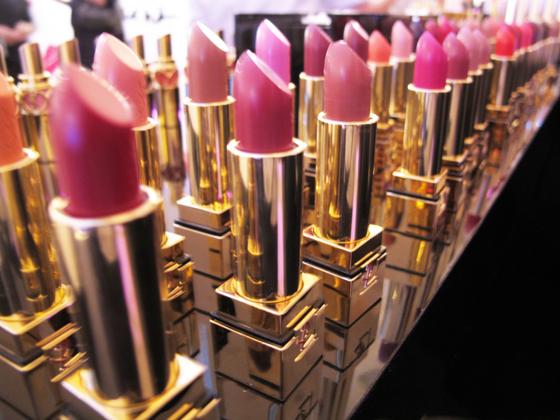 </strong>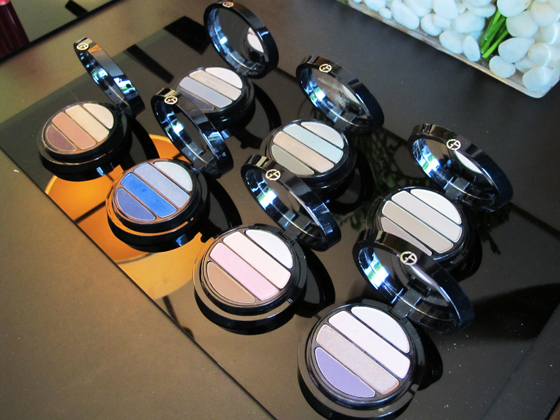 It has been an exciting year here at The Makeup Blogette.  Lots of high points, and I am glad to be able to continue to enjoy rambling and keeping up with this hobby of mine.  Long time readers would probably noted the shift in my makeup preferences and 'shopping' patterns, I dabble with the ocassional style/ fashion type entries because I do enjoy accessorising and observing (not really following) what's in season, but ultimately I am still a makeup junkie at heart.   I hope you have enjoyed my reviews and thoughts so far, and thank you very very much for being here.  
There are technical changes which I wish I could make to the blog, in terms of the layout and making reading and navigation easier, but I am really not tech savvy when it comes to the back end of the whole web design thingy.  I am thinking of asking some skillful design student who is able to do it for me and handle all the technicalities, without charging crazy money for it..... hmmm.
What are your favourite products of the year?   I would love to read about your recommendations in the comments below or if you are going to post a similar blog entry too.
Here's wishing everyone a very happy new year ahead, and may all your wishes come true!  
I will probably blog spam a bit more before the new hectic season starts, and then we shall look forward another (even better) brand new year!
Thanks for reading!   Hope you enjoyed this entry as much as I have enjoyed reflecting and sharing! :)