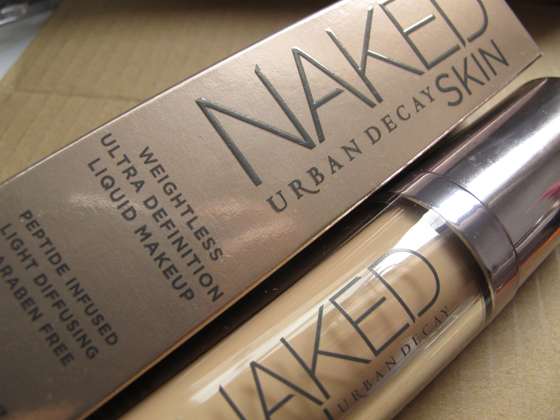 I ordered my Urban Decay Naked Weightless Ultra Definition Liquid Makeup (phew!! what a mouthful, I will just call it UD Naked Foundation in the rest of this entry okay?) ---- yes, I ordered it from Beautybay.com (about 28 pounds - at the most SGD$60...free international shipping).  
Before I go into the details how I guessed my shade, here is the official product description:
What it is:
A weightless and virtually invisible liquid foundation that creates a luminous, demi-matte finish.
What it does:
This formula helps skin achieve a natural, illuminated and bright finish— like the beautiful skin you were born with. Naked Skin is formulated with light-diffusing spheres, transforming you to look professionally retouched. Buildable coverage allows women to customize their look. Available in a meticulously calibrated range of shades, Urban Decay's precise shade numbering system does poetic justice to both warm tones (ending in ".0") and cool skin tones (ending in ".5"). The finish is matte, never flat, and luminous, but not shiny.
What it is formulated WITHOUT:
- Parabens
- Sulfates
- Synthetic Fragrances
- Phthalates
- GMOs
- Triclosan
What else you need to know:
This makeup loads skin with a list of nourishing ingredients including: Matrixyl 3000 (a powerful anti-wrinkle peptide), protective and brightening Litchiderm, antioxidant Green Tea and Sodium Hyaluronate for optimal skin hydration and nutrient absorption. Naked Skin is suspended in a sleek, sophisticated pump bottle, allowing more control and less waste of product.
Suggested Usage:
-Shake well.
-For professional results use our Good Karma Optical Blurring Brush to apply and buff foundation to a true ultra definition finish.
-Naked Skin blends beautifully and can be applied with fingers or sponge.
I love the packaging, it is so sleek, and looks like the NAKED2 palette.  The foundation bottle is typical of most other liquid foundations (looking like Shiseido, MUFE, etc).
I am using the shade 1.0, which is the lightest warm shade.  
very fair bisque shade, with soft warm undertones
and it is the perfect match for me.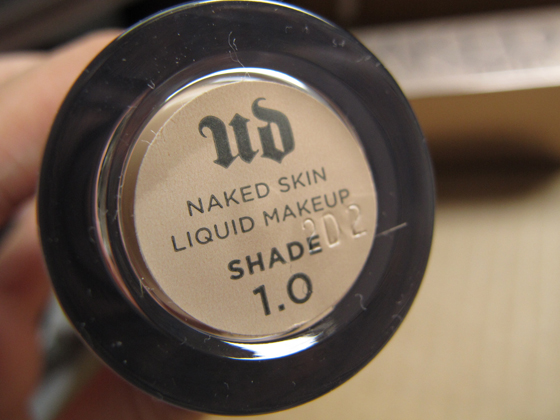 I would rank this among my fave foundations, and if you like foundations like Clarins Extra Firming Foundation, Chanel Perfection Lumiere, Maquillage White Essence, you will like this foundation too.  Very light, there is decent coverage, buildable, easy to blend, and lasts the whole day on me. 
p/s I am also currently testing out several foundations, all of which I am enjoying, and I will try to post them soon, I have already taken pictures and swatches... just in the midst of collecting my thoughts. 
swatches on my hand
and you can see that the consistency is quite light and fluid
it really feels weightless on my skin
and gives a very fine flawless finish
and lasts very well through the day
it did not oxidise on me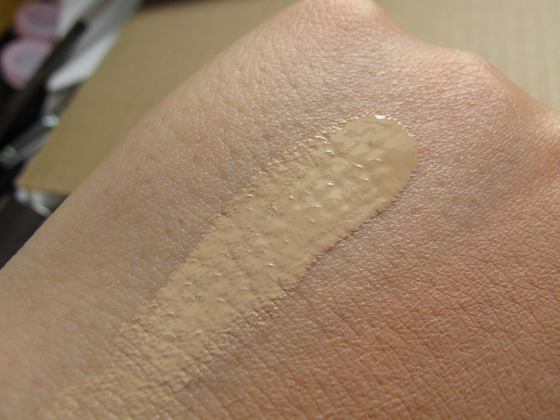 see how flawless my skin looks here
no re-touch, no whatever, what you see is what you get.
visible pores around my nose area, but I've come to embrace them,
and I think they have gotten to a point where I think they are at the smoothest
if ultra definition is more perfect than just high definition, then I am sold!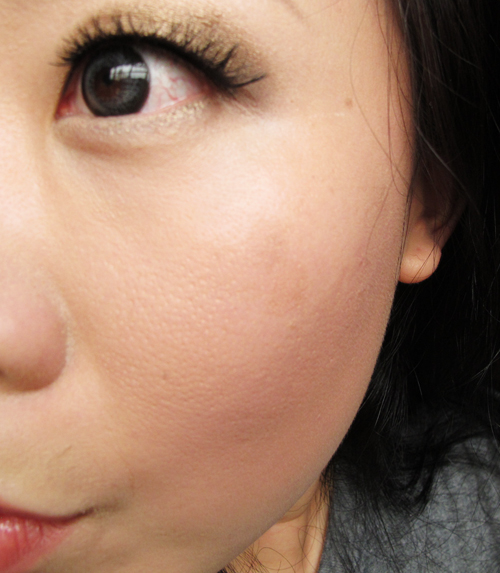 overall look 
I really think it photographs VERY WELL. 
In real life, it looks very smooth too. 
Has a luminious type of finish that doesn't emphasise any oiliness or pores, IMO.
all products used:
Face - Urban Decay NAKED Skin foundation, Chanel Loose Powder, Laura Mercier Secret Camo concealer
Cheeks - MUFE Mat Bronzer, MAC Pink Swoon, UD Cream Highlighter Moonstone
Eyes - NARS Primer, UD NAKED2 Palette (Bootycall on browbone, Suspect on lids, Snakebite on outer corner), UD Stash Liner and lower lash line
Lips - Rouge Dior Nude 459 Charnelle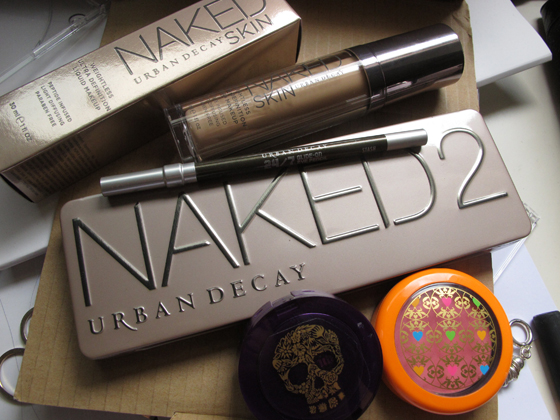 Really enjoy this foundation, and you should totally check it out when it launches at Sephora soon!  :)
Hope you find this entry helpful!
Thanks for reading!