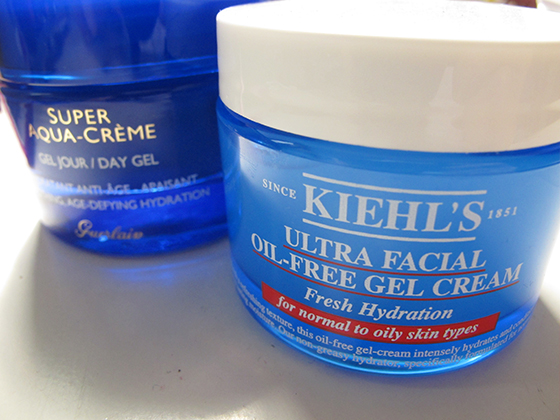 Hallo!!  Introducing two new day creams here, I have recently incoporated them into my day time routine, and found that I really enjoy the both of them - which is surprising, because I tend to avoid 'gel' creams - but they have impressed me, in terms of the texture and overall feeling whenever I use them. 
So firstly, we have the new Kiehl's Ultra Facial Oil-Free Gel Cream and  secondly, the Guerlain Super Aqua Cream (Day Gel).  I just switch up between either of them before I do my makeup for work every morning. 
Here's some product information on the Guerlain Super Aqua Cream (Day Gel)
To relaunch the virtuous circle of youthful hydration 24/7, Guerlain has created SUPER AQUA-CRÈME featuring Aquacomplex, the perfect day/night duo to complement SUPER AQUA-SERUM: tailor-made daytime protection – nighttime revitalisation. Sheltered in their superb blue glass casing, the Day Cream or Gel and Night Balm alternate morning and night:</p>
> Comprehensive, tailor-made support for the skin,
> Proven 12-HR age-defying hydration,
> Excellent wrinkle-smoothing effects: at least 37% improvement during the day and 31% at night.
DAYTIME BLUE TO PROTECT

Skin lacking comfort will choose the luscious and gentle DAY CREAM, enriched in a shea extract with exceptional  nourishing and multi-protective properties. Thanks to this cocoon that protects against everyday aggressors (free radicals, stress, pollution, etc.) and provides total hydration, dry to normal skin recovers suppleness, vitality and is plump, smooth, beautiful and full once more.
With the DAY GEL, a fresh, lightweight gel-cream enriched in a multi-protective soothing white pine extract, normal and combination skin will beautifully face all everyday aggressors such as heat and pollution, without fearing mild redness. Intensely hydrated, it glows with luminous vitality and serene freshness. The complexion's grey tone is replaced by a radiant glow.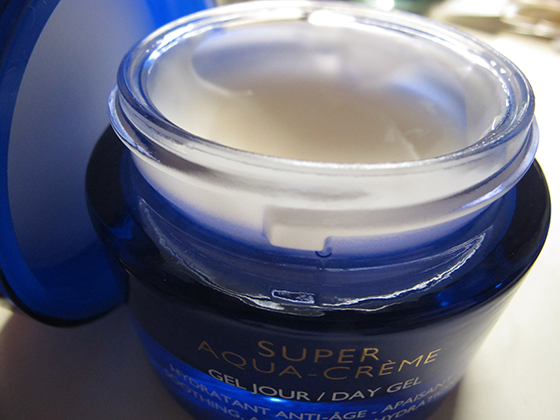 Some production information on the Kiehl's Utlra Facial Oil-Free Gel Cream Fresh Hydration:
Kiehl's chemists have created Ultra Facial Oil-Free Gel Cream Fresh Hydration to address the specific hydration and shine control needs for normal to oily skin types.  Ultra Facial Cream is a Kiehl's worldwide bestseller, offers 24 hour hydration. But for normal to oily skin types, there is the additional need to manage shine along with moisture levels.  Kiehl's chemists addrss these needs with Facial Oil-Free Gel Cream Fresh Hydration, a new refreshing, non sticky formula that conditions normal to oily skin for a full 24 hours of fresh-feeling hydration.  It is also fragrance-free and will not leave a residue.  Used daily, this lightweight gel cream minimizes the appearance of shine. 
Contains Imperata VCylindrica Root Extract, Antarcticine, Glycerin to provide a balance between shine and moisture.  This is paraben & silicon free, and also claims to reduce the appearance of pores for 24 hours.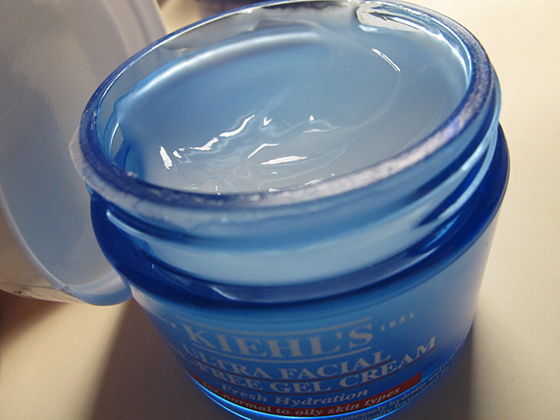 So why do I enjoy both of these creams?
The Guerlain Super Aqua cream feels really luxe without that heavy thick feeling, I enjoy the subtle floral fresh scent, and I always feel like it prepares my face for base makeup.  It is really hydrating, as I can see that throughout the day, my skin looks suitably plump without any sign of dryness around the eyes or the mouth area.  This is one lightweight comfortable cream that adds some lumininence to your skin texture. 
The Kiehls Facial Oil-Free Gel Cream Fresh Hydration is super lightweight, more so than the Guerlain one.  I immediately notice the slightly mattifying effect, and it also leaves a very refreshing cooling feeling.  I think this is a great cream for those with oily skin, and personally for me, this is great to use under some foundaitons that tend to look shiny after a few hours. 
Overall, I recommend both day gel creams - they both promises long wearing hydrating, comfort and improving the skin moisture level.  Clearly the Kiehls is great for oily skins, but the Guerlain is suitable for all skin types.  During these hot days, I think we can all benefit from using these gel creams that still protects and moisturises your face all day long. 
Hope my quick overview and comparisons have been helpful, and thanks for looking!