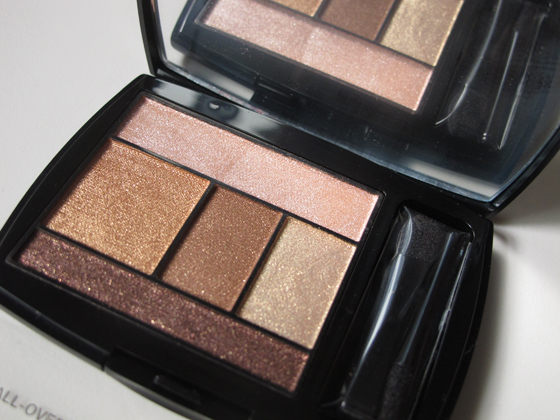 Hi hi!
Currently totally admiring and loving this metallic bronze eyeshadow palette which my gf Jolyn gifted me sometime ago.  Glad that I finally pulled it out to play with, the quality is simplying amazing, and I love all the shades in the palette, and how they work so well together. 
This is the Lancome Color Design Palette in Bronze Armour - which I believe is a US edition palette (shame, right?  Because I think our local editions of the Lancome eyeshadow palettes just somehow lack the pow-wow factor).  
In my LOTD, I used all the shadows as labelled in the following picture:
1 - The pale peachy shade all over my lids
2 - The warm amber shade on my lids 
3 - Medium bronze to blend into the crease 
4 - Pale champagne shade which I dabbed lightly just under my brow bone
5 - Dark brown which contains multi-color shimmer bits, it is brilliant and I used it to define my eyes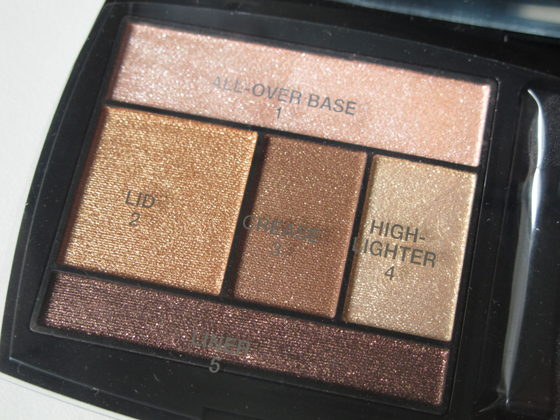 A close up of the sparkly and metallic goodness -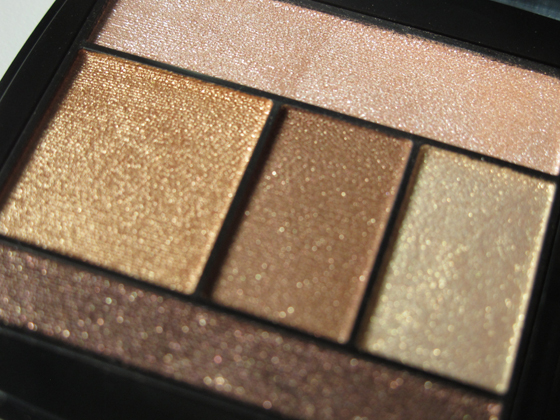 Swatches - no base - awesome, right??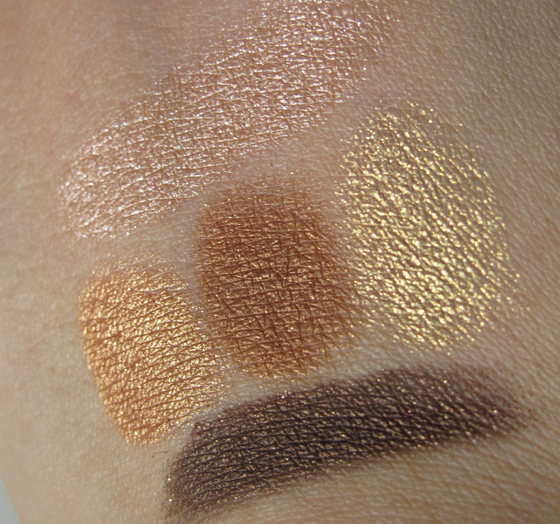 A close up of the eye look, I didn't go crazy with the crease color and the outer darker corners - which I would have done if I wanted a more smokey look - but I was going out for a work meeting (on a Saturday! Horrors) and I didn't want to dazzle work people with my makeup..but hey, it's a Saturday!  I did apply a black liquid liner closer to the roots of my lashes, to help the falsies blend in.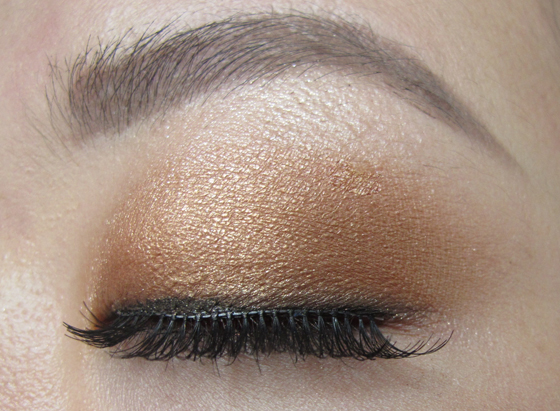 And the overall look - love the warm golden brown on the lids, and the colors all work so well together.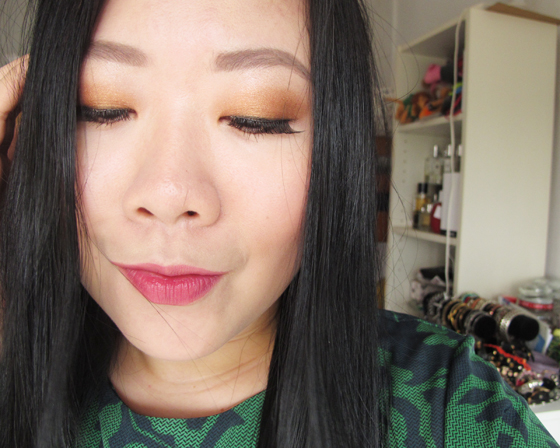 All products used:
Face - Lancome Regenerie CC Cream, Lancome Teint Miracle Cream foundation, Lancome Teint Miracle Loose Powder
Concealer - Laura Mericer SC-03
Lips - Lancome L'Absolu Nu 311 (deep red, 2 layers and dabbed off excess)
Cheeks - MUFE Mat Bronzer, Lancome Blush Highlighter, MAC Cheeky Bronze MSF
Brows - Shu Uemura pencil, brow manicure
Eyes - NARS primer, Lancome Color Design Palette Bronze Amour 101 (color placement refer to pictures above, I followed the guide as shown) 
Lashes - Katy Perry Eyelure 'oh so honey' and Lancome Hynose Star mascara lower lashes

Thanks Jolyn for giving me the palette!  LOVES!! 
Thanks for reading!