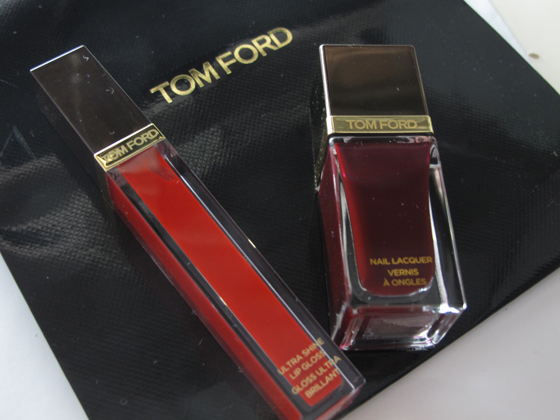 When Tom Ford beauty finally arrived at Tangs Orchard last week, I spent some time at the counter swatching and picking a couple of items which I think I 'needed'.   I have already showed what I bought in that introduction entry, so this entry will show some swatches of the red gloss and dark red nail polish I bought. 
Both items are intensely pigmented, very very smooth, and there's just this certain weight and sturdiness to the whole packaging and feel of the items.  I think if I ever want to splurge on more TF goodies, they would have to be the brushes and the perfumes.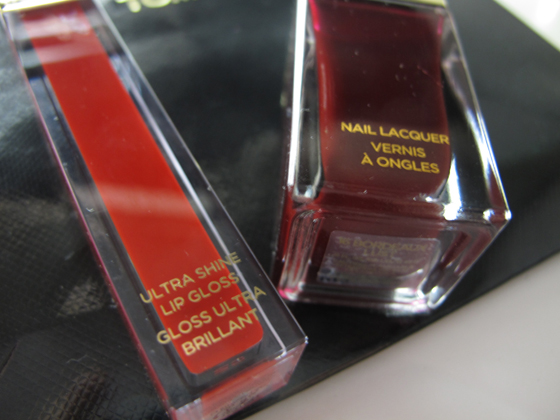 All the glosses are very pigmented.  They are slightly sticky, but very very smooth.  I would compare them to the Illamasqua intense gloss in terms of the pigmentation.  It has a very lacquered hi-gloss appearance, just like how the model wears it in the promo images. 
For $62, this is certainly a very expensive gloss.  But you do get the pigmentation of a lipstick, and also the shine of a gloss... and depending on how you wear it, you can achieve several different looks, especially if you pick the right colors (ie the dark, deep, or bright shades - the nude glosses are lovely, but you could always go for the nude lipsticks in the TF range). 
Swatches: 

It has a rather stiff brush applicator. 

And two looks which you could achieve with the gloss.  one layer is a sheer shiny stain, and two layers is a dramatic true cherry red pop. 

I picked Bordeaux Lust because it seems to have the best formula among the reds.  I had wanted one that matched the gloss, but the formula and finish didn't impress me, and for S$45, both color and formula had better be good. 
You need to apply 3 thin coats for best results. I noticed some bald spots with 2 coats... but after 3 thin coats... you get a beautiful extremely glossy black cherry red color.  It is not as dark/black as Chanel Rouge Noir, and certainly deeper than other deep reds like NARS Jungle Red.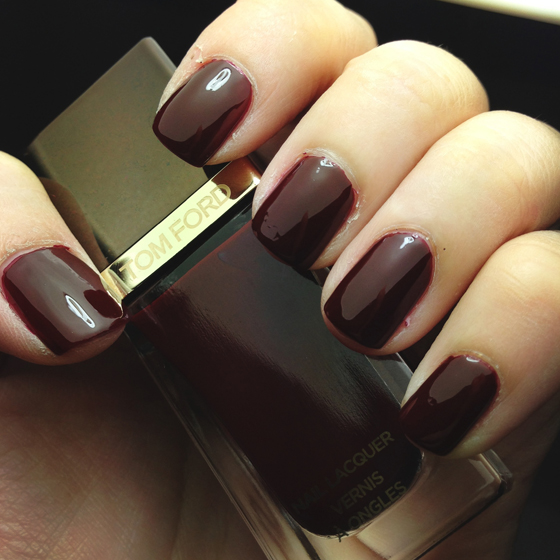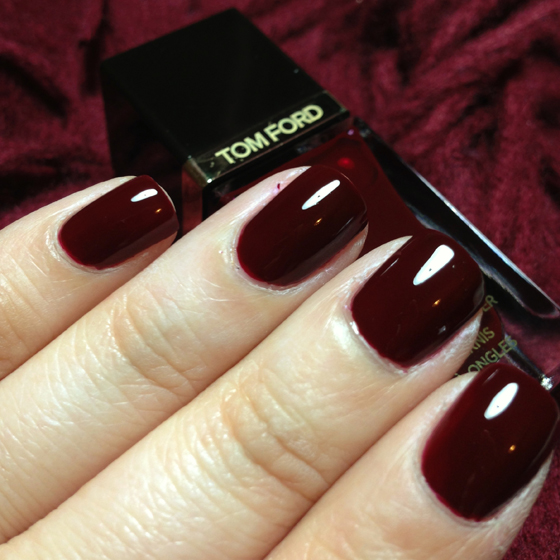 Hope these swatches have been helpful, and thanks for reading!