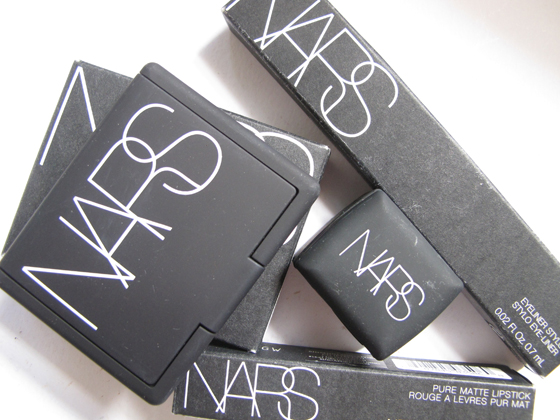 Hi hi!
I have these NARS goodies sitting in my box for ages and ages, I bought two of the items here on NARS opening day, and the other two more recently.  One of them is a repurchase, can you guess which?
First up, we have Lovejoy blush - I didn't swatch it, just sort of went by the color description, and went for it.  It looks fairly neutral and orangey in the pan (official description on the NARS site - shimmering bronze rose), much like Luster, or even Madly... but after swatching, they are totally not the same...and I didn't pull out other NARS shades which might look similar (not that I am suggesting the 16 out of the 28 NARS blushes I own are in anyway dupes, of course).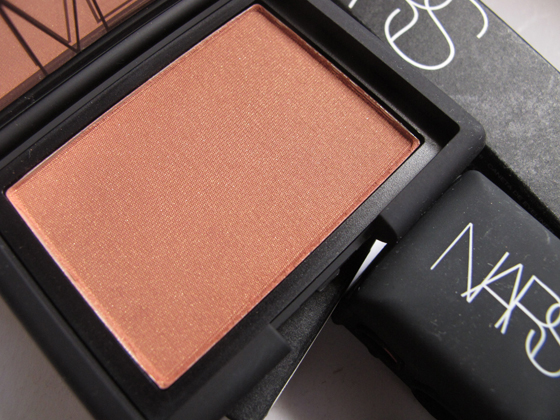 In this swatch, you can see the bronzed rose color and the beautiful fine shimmer bits.  And it looks totally different from how it looks in the pan!  
Love this shade, and I have since worn it once or twice..it gives a healthy pink bronzy glow to the cheeks.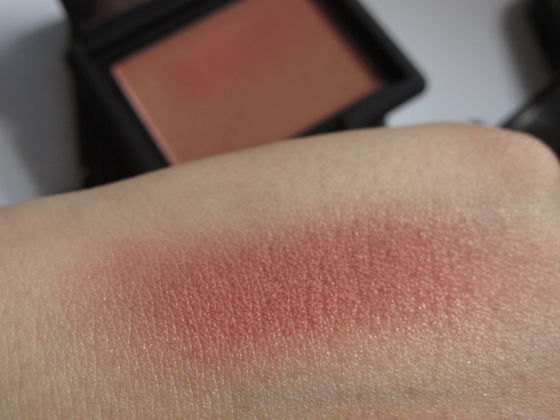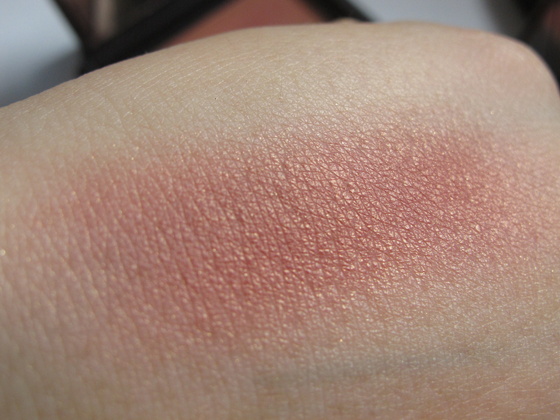 See how it looks way pinker/rosier once I swipe across the pan?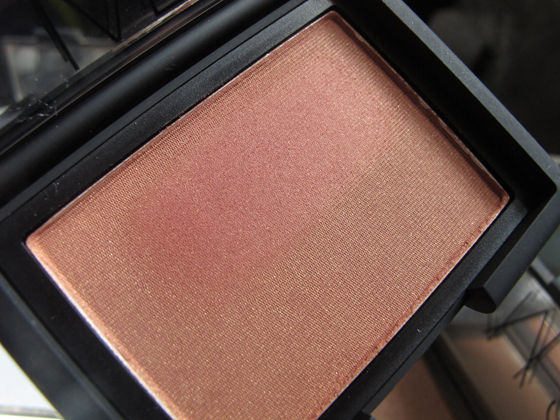 Comparisons!
I totally should have pulled out shades like Taos, Torrid and Gilda to compare..
but ah well, you see in this pic, Lovejoy looks similar to Luster in the pan... 
I consider these my very neutral NARS blushes.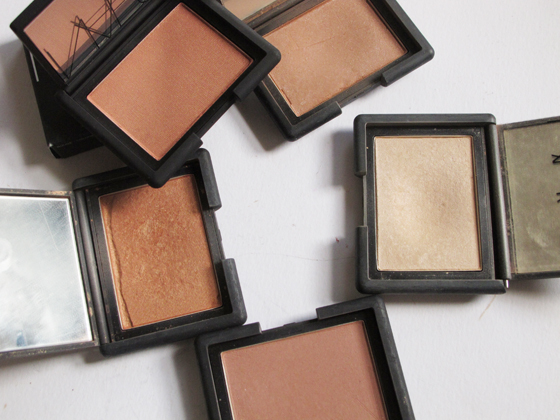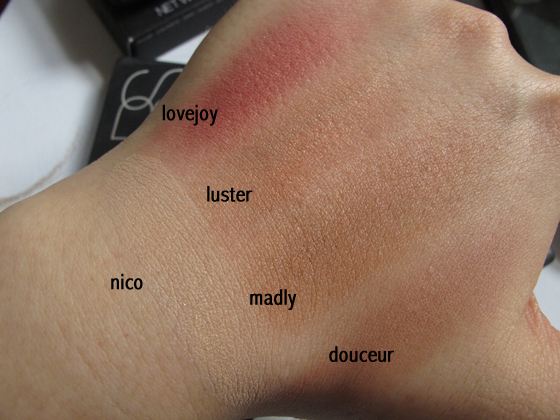 Next, is the REPURCHASE - yesh, my sister used up her Vesuvio pure matte lipstick in less than 6 months!  She calls it her new wearable everyday red (her previous fave one was a discontinued YSL Rouge Volupte Pearle) and so I got her a new one! 
And yes, it is a beautiful red that I don't hear many people talk about.   According to the NARS site, it is described as a 'full bodied red'.  Very apt.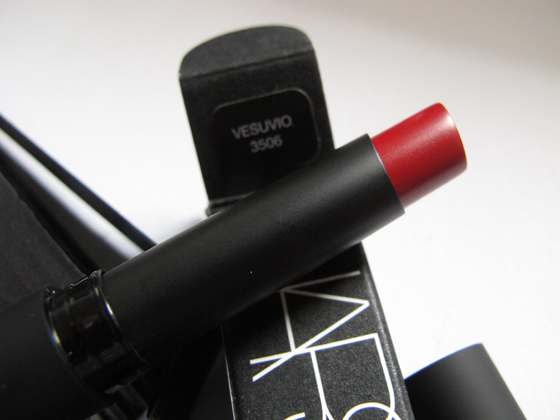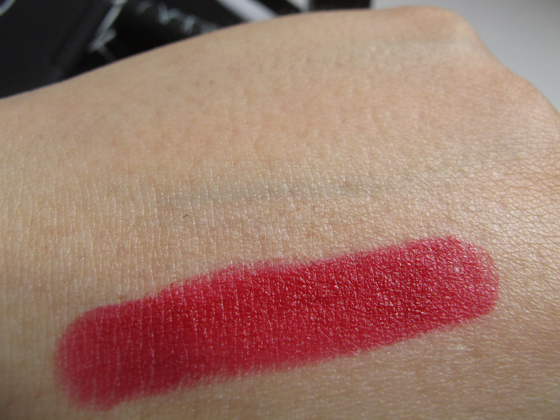 And lastly, I have the NARS Stylo liner pen, in the shade Atlantic (navy blue)  it is a matte blue liquid liner, nothing very special about it, I just use it in place of my black liquid liners it just depends on whichever is in my reach.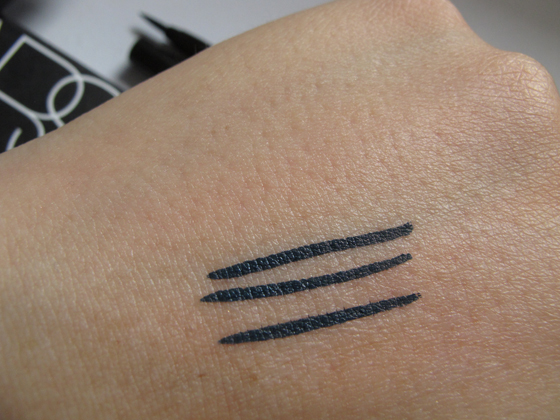 And next, is this NARS sharpener ($10!  Totally reasonable in my opinion) it is a dual sharpner, but I will only use the fatter side and only will be using it to sharpen my NAR lip pencils, just like how I use my UD Grindhouse to sharpen only my UD pencils.  I have already started using it, hence it looks slightly grubby.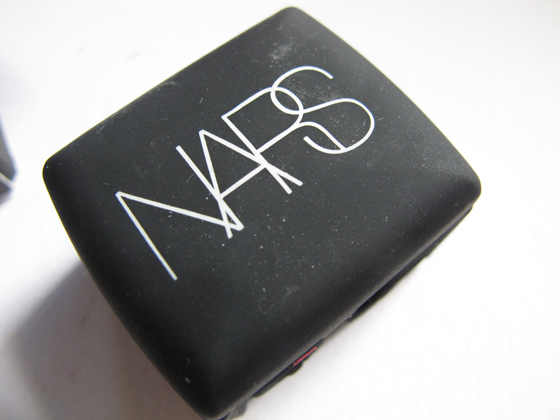 That's all for this haul, have you purchased anything from NARS lately?  Do share!
Thanks for reading!