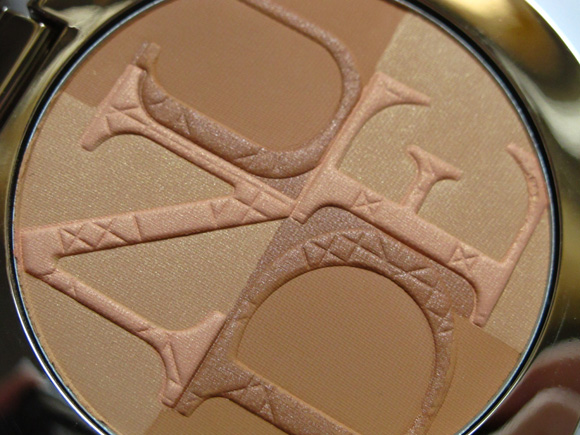 I purchased both the Dior summer bronzers yesterday (10% + 5% off at Robinsons) - I don't think the summer collection is displayed at counters, because testers aren't in stock yet.  But a look at both the bronzers, I knew they would be totally wearable on me, and hence, I should get them both.  I managed to save more than $10 on each of these bronzers, so that made it an even sweeter deal.
This year's bronzers come with a mini kabuki brush which you can use to buff the product on your face for a healthy natural glow.
001 Aurora has the same name as last year's summer bronzer which never made it to Singapore.  It is a light tan bronzer with a rosy tinge.
003 Zenith is a slightly more tan and beigy bronzer
(and where's 002 and 003???)   oh well.
Both bronzers are finely milled, and super smooth.  The shimmer is extremely subtle, so there is no danger of over-applying this product.  And both bronzers are just as light and natural, and in my opinion, suit light to medium skin tones.
I would apply the bronzers with a kabuki brush, or a large powder brush, on my cheeks, and up to around my temples (as I will demonstrate below).
I hope these swatches help, if you are not sure if you should get them, seeing as the testers aren't out yet, and seeing as they are limited edition, and if you are thinking of these bronzers.... you better go grab them soon before they ran out.
Comparison of the packaging - the actual compact of the bronzer is smaller than last year's bronzer, but both contain the same amount of product 10g.   The box is huge, because of the mini kabuki brush that it comes with.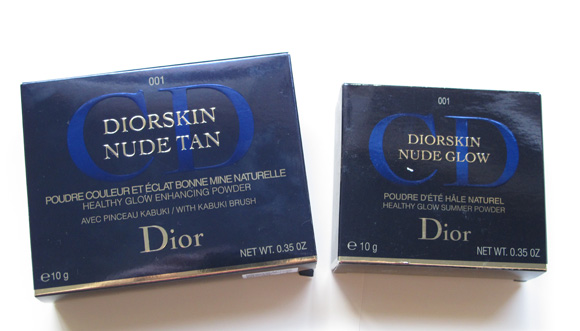 The mini kabuki brush - soft and dense enough and I like the little velvet roll it comes in.  Handy for touch ups.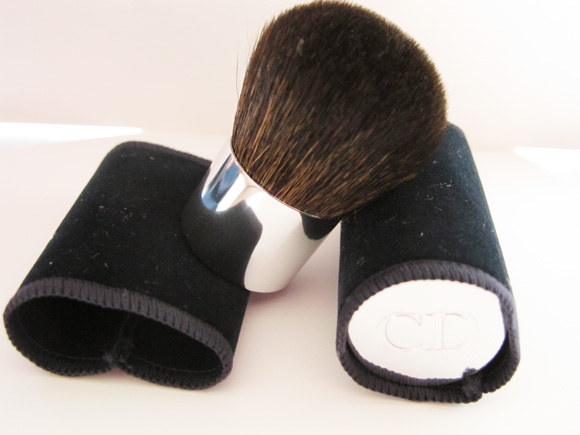 The sleek and elegant casing, very compact, and closes with a little magnetic snap.  I like the compact casing.  Sturdy and just so chic!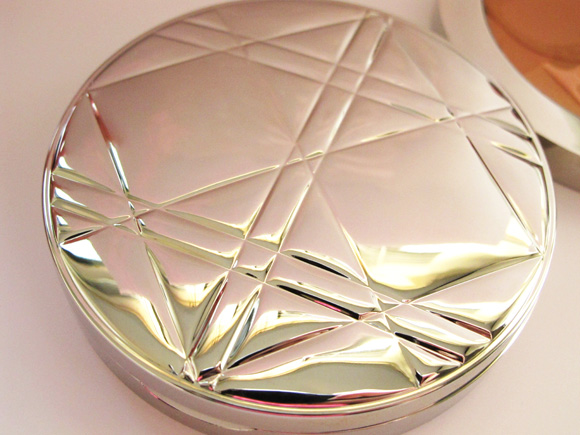 two of them side by side
the best shades remind me a little of the Guerlain matte bronzers
the NUDE embossing contains very very subtle shimmers
but overall, the bronzers are quite velvety matte
close up pictures & details
001 Aurora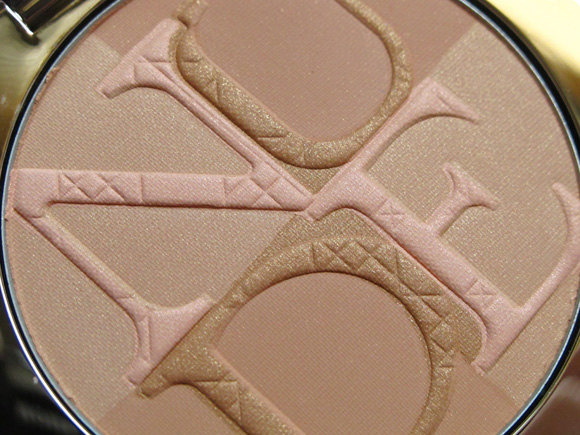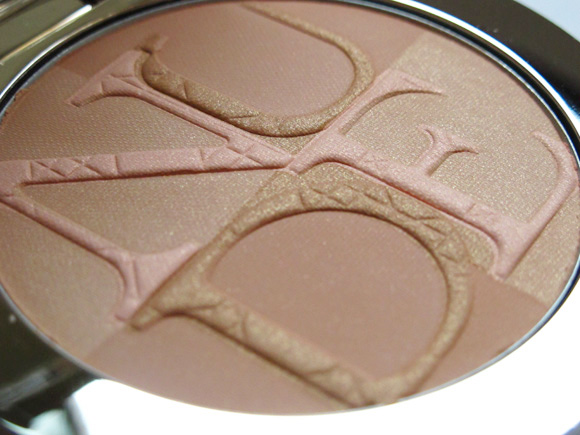 003 Zenith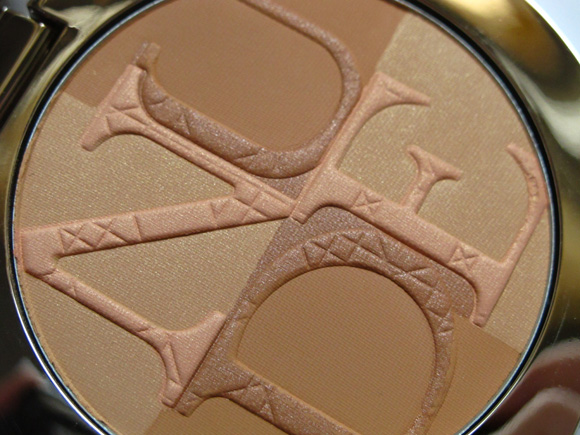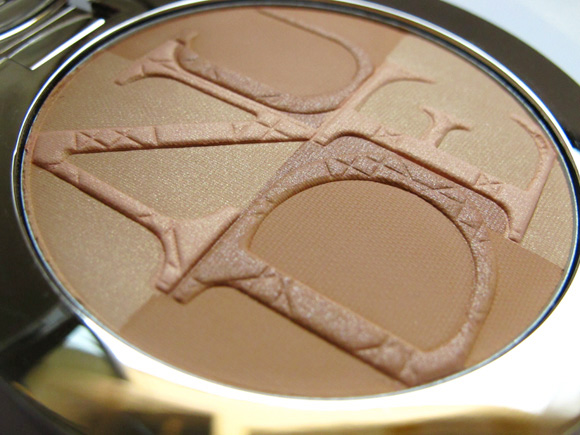 and comparisons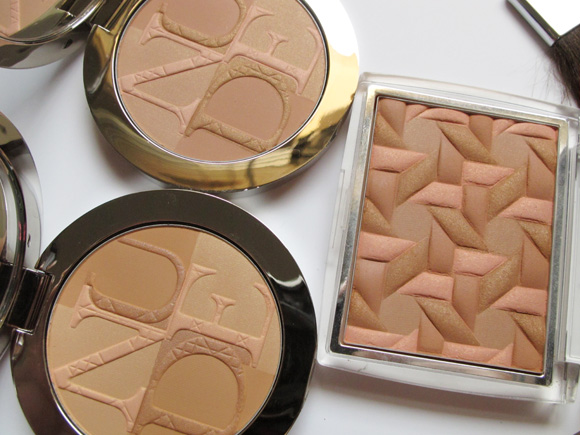 You can see that all three bronzers are very natural looking, and look like they have a satiny finish.  But when I was outdoors, I could see the slightest shimmer bits that glisten golden pink in under the hot sunny afternoon light.  It is a really skin enhancing type of bronzer, and not the sun-kissed/ sun-burnt type of intense bronzers which you might typically think of.
I have often used 001 Aurora (the 2011 edition) as a blush, and it gives me a natural blush, not rosy blush, but just some color to my cheeks, and a subtle radiant glow. It's very wearable, and easy to use.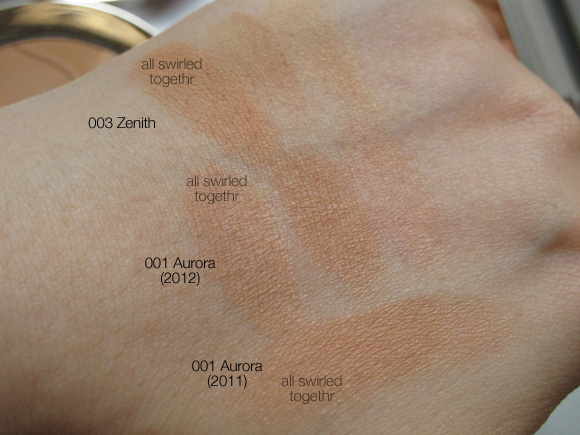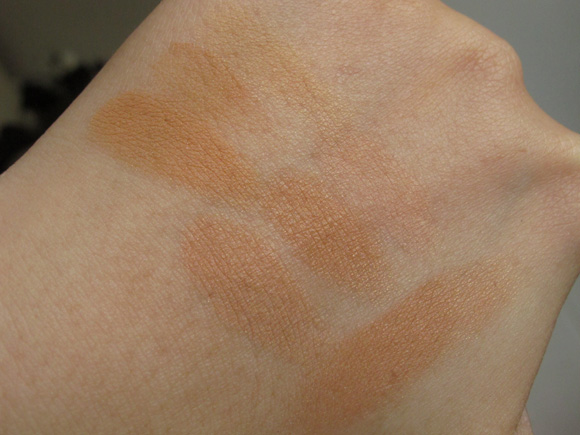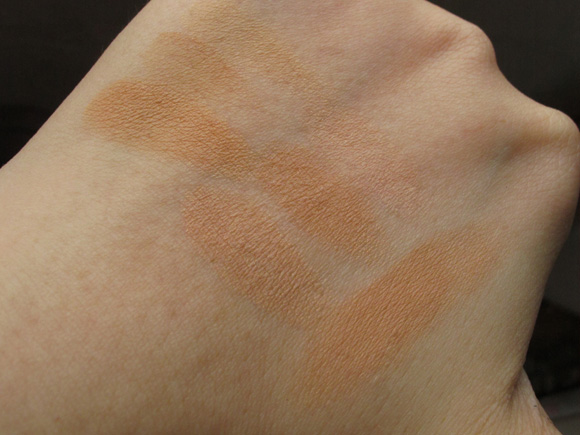 How I apply the bronzer
I am using 003 Zenith in this look.
p/s: eyeshadow I am wearing is Le Metier de Beaute Chameleon, Lipstick is Lancome's Rouge in Love 243,
Katy Perry by Eyelure falsies, Chanel Kabuki brush
Step One: buff it from sides of my face, to apple of the cheeks
Step two: buff it around the forehead (at the sides)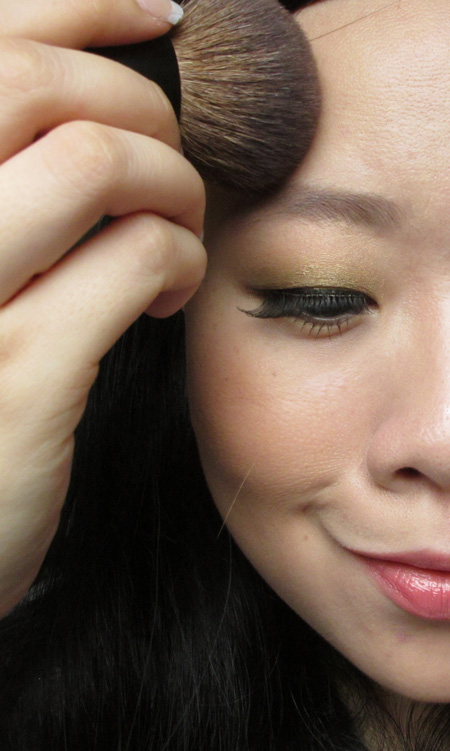 and the overall look
Product description - link here
Customised for a radiant healthy glow
With the aim of a natural and radiant tan, Dior creates a new healthy glow makeup product with a bare skin effect for all skin tones, all year long.
Healthy Glow Enhancing Powder is nestled in a precious round case in white bronze, engraved with the Dior canework motif and decorated with the embossed NUDE logo. This incredibly chic object is now a must in all tanning routines, accompanied by a mini kabuki brush.
The Nude Tan formulas contain translucent mineral prisms that adjust to the skin tone and the surrounding light. The skin tone is enhanced with a sheer, natural finish. Inside the Diorskin Nude range, with the Nude Tan powders, active mineralised water is enriched with a sweet orange extract to boost microcirculation*: with each application, the skin glows with vitality and looks more and more beautiful.
To achieve the illusion of a complexion glowing with vitality, the Healthy Glow Enhancing Powder offers a range of original shades. It combines two < colour and radiance > tones with < skin shades > for a result that matches the original skin tone, yet provides a surprisingly natural, radiance-boosting effect. Rosy harmonies add a touch of freshness and an anti-dulling effect, while apricot harmonies ensure a healthy glow, infused with sensuality.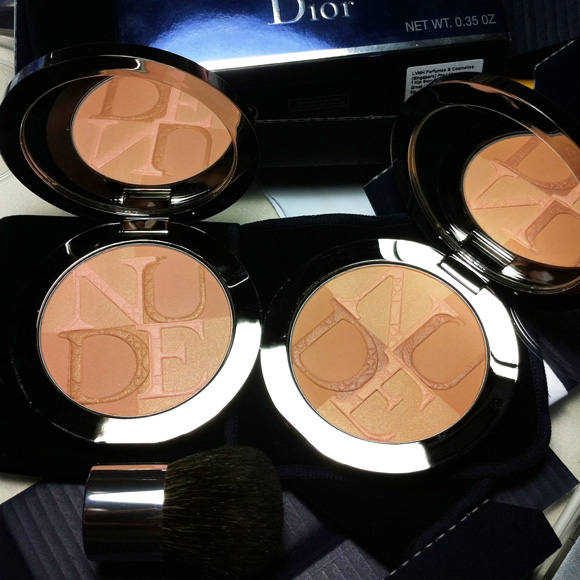 I hope this has been helpful, and thank you for reading!
Came across this beautiful Dior ad "Secret Garden" - Versailles ---- can anyone tell me which nail polish are the girls wearing?? I need!
<object width="560" height="315"><param name="movie" value="http://www.youtube-nocookie.com/v/V6hKNZ4wX0o?version=3&hl=en_US"></param><param name="allowFullScreen" value="true"></param><param name="allowscriptaccess" value="always"></param><embed src="http://www.youtube-nocookie.com/v/V6hKNZ4wX0o?version=3&hl=en_US" type="application/x-shockwave-flash" width="560" height="315" allowscriptaccess="always" allowfullscreen="true"></embed></object>