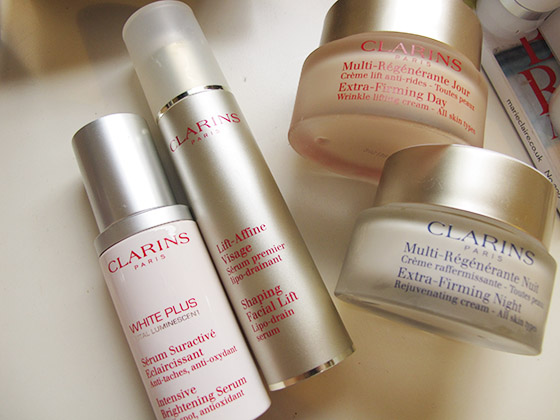 Hi hi!!
This will be a chatty post about my current skincare routine.  I hope it isn't too boring for you to read, but I think it's appropriate to just update everyone on what's been working (or not) for me right now.  Based on the products that I am using, the focus of the current routine seems to be an anti-wrinkle (of which I can say I don't really have yet) and also plenty of hydration. I am also mixing a couple of Clarins skincare products together to complement one another. 
Before I go into describing my routine, I will share with you some background information on the Clarins Extra Firming range: 
A Clarins Research Innovation:
Building the multi-links for strengthened firmness, Clarins reveals the existence of protein links that keep fibers and cells connected. They are the indispensable links that ensures the mobility and the solidity of the skin structure, the key to firm skin.
NEW Extra-Firming Cream:
acts on the 3 keys elements of the dermis and the links between them.
-Collagen fibers
-Elastic fibers
-Connections across fibers and cells
NEW Extra-Firming Day cream
Plant extracts to preserve the links that connect dermal structure
At the level of the dermis - the skin's "support mattress" - Extra-Firming Day Cream's active ingredients not only works on all the fibers and cells
that helps firm the skin but also on the connections that anchor these fibers to the skin cells.
NEW Extra-Firming Night Innovation:
Protection of skin renewal potential at golden timing.
To optimize the regeneration processes which peak during 2:00 – 4:00am, Clarins Research takes innovation one step further.
Thanks to the presence of rice peptides, NEW Extra- Firming Night Cream now acts both on the synthesis of collagen fibers in the dermis, and on the preservation of epidermal stem cell environment at the surface of the skin.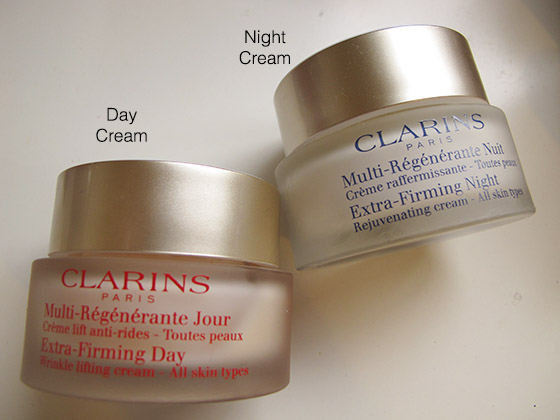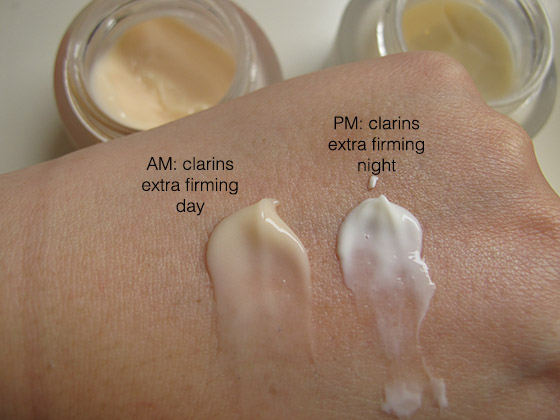 Before I start using these creams, I will try to use a toning lotion, if I want my face to be extra clean and refreshed.  My current toning lotions are the Clarins Brightening Pure Brightening Lotion (not pictured).
In the AM, I will try to de-puff my face with the Clarins shaping facial lift, a product which needs no introduction.  It does help to de-puff your morning face, and very relaxing to use.  I will pat this light cream into my face before applying the Extra Firming Day Cream. 
In the PM, I will use the Clarins White Plus Intensive Brightening Serum, followed by the Extra Firming Night Cream.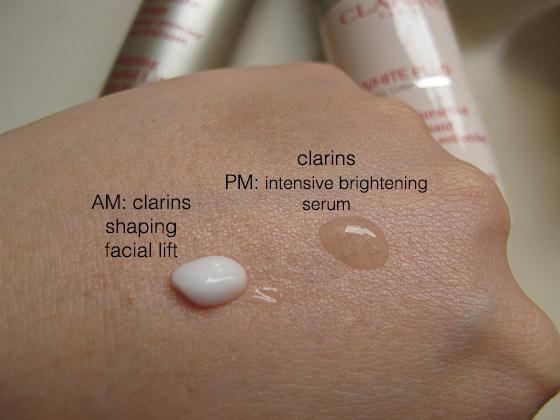 Note that I will not be discussing my cleansing products and eye treatment in this entry.
While I enjoy the Clarins White Plus range, I often find that I want something way more hydrating at night.  Even in the day time, I prefer to use a proper creamy day cream prior to makeup application.  
My thoughts on the Extra Firming Creams: 
The formula of both creams really impress me.  They are both hydrating and creamy - but easily absorbed.  The day version has a more gel-like creamy texture, while the night cream is much richer and heavily scented.   After two weeks of usage, I noticed visible textural improvement of my overall face smoothness.  My makeup also adheres nicely to the day cream in the morning.  If you have dehydrated and aging skin concerns, I think you will find this pair of creams very nourishing and effective for you... though I won't say that they are potent creams as far as anti-wrinkles go.  I am in my mid 30s, and I barely have any fine lines (thank goodness) - so  I think it is quite good and effective as a preventative measure. 
Besides the Extra Firming Creams, I also have been adding an extra moisture boost to my skincare routine at night.  After the whitening serum, I would use some pure Hyaluronic Acid gel on my face before night cream application.   And I bought mine at Dr. Ci:Labo - I have always been intrigued by it, and I know that Hyyaluronic Acid is a mega moisturising agent, but without the oiliness creaminess which will clash with my routine.  It is just a concentrated pure gel form of the ingredient, which I pat into my skin and it literally sinks into nothing, but yet the next morning, my skin is plump and well-hydrated and when I wash my face in the morning, I can feel the skin outer layer is very smooth.  I have only used this a few days, to be honest... but if you want to 'boost' your routine, I highly recommend this. 
This is a bigger bottle that costs SGD$56.  Very affordable in my opinion.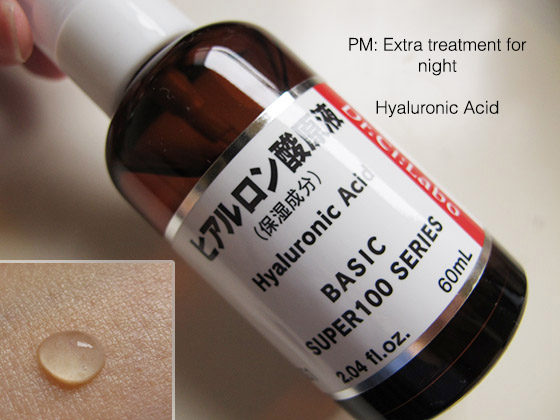 One of my awesome readers, Rashidah sent me a sample of the Charlotte Tilbury magic cream to try out, as she wanted to know my opinion on it.  Here's how the cream looks like: 
If this is a sample tub, I must say they are really generous with the sizing.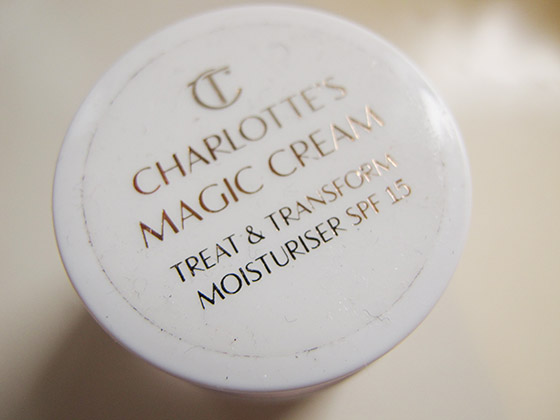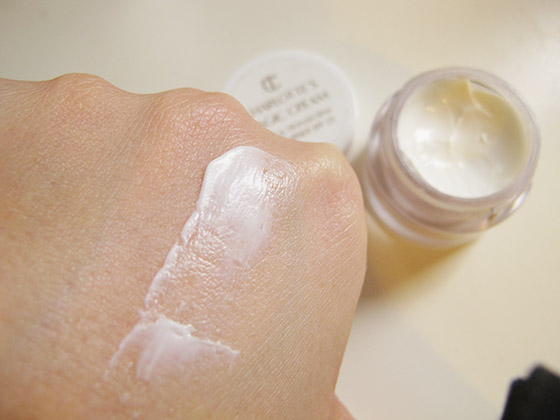 I love the thick rich cream consistency, and since it contains SPF15, I only used it in the daytime.  If you have watched her makeup videos, I can imagine that her magic cream would be something very rich and heavy, that makes your skin feel very treated...and this cream is exactly what I expected it to be.  There is a slight scent (quite nice and I like it) and it feels amazing on the skin.  A little too heavy for our humid weather for sure...but overall, it does feel like a great face cream.  The only downside is that my trial with the cream coincided with a few bumps on my forehead - I have since stopped using it, and the bumps have healed and gone away.  I might want to try it again when I travel to a colder place in Dec. 
Besides all these skincare goodies, I am still loyal to my skin treatments, like Khiels Midnight Discovery concentrate (halfway through my 50ml bottle), Chanel Sublimage mask, exfoliating with my Clarisonic, and masking with several other clay masks like Innisfree and Kiehls...the list is long, but I like to rotate and I am always trying out new stuff. 
Hope this entry has been helpful, and thanks for looking!!