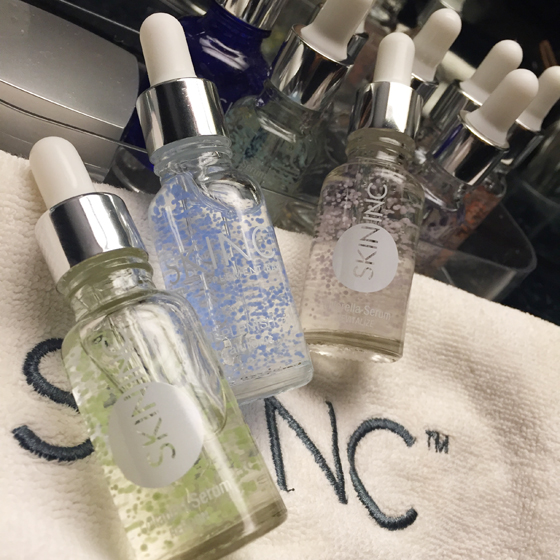 Hallo!!
I was invited to try out a series of SkinInc facial treatments, and I shall share with you my experience as I go along.  If you want the short version, I am amazed again what wonders a good facial can do for your skin, even if you think you have already 'quite okay' skin.  Facials aren't always the cheapest beauty indulgences, but if you are looking into an efficient and safe way to boost your skin just before a special ocassion, whether you want to rejuvenate your skin, a good facial is the way to go.  If you want to read more, I have it all detailed below for your reading pleasure! 

The introduction
Upon arrival, I signed up for a SkinInc account (link here) and answered a brief questionnaire on my general skin concerns and lifestyle – I was quite surprised as I thought that a machine would be used to analyse my skin condition instead of a questionnaire.  So anyway, the results will then be used to create your daily dose of customised SkinInc serum.  According to the results, I have (or I should say, prone to) dehydrated skin, sensitive and irritated skin as well as pigmentation issues – of which I must agree with the pigmentation issue, but the rest are pretty much 'generic' concerns.
This will help my beauty therapist, Margaret to create my bespoke serum that targes my current, unique skin concerns.  Prior to this appointment, I have heard so much about the colourful SkinInc serums, but I always just thought that you have to mix and match 3 separate serums, but actually they are custom blended into one bottle for your easy usage.
Just to sum up, here are the three steps I went through:
1.       Discover my unique skin identity (by completing the questionnaire)
2.       Identify the three serums I need
3.       Combine it into a "My Daily Dose" Bottle
And this is the blend that will be used during my treatment that evening.
[My bespoke cocktail serum ended up to be the following]
-          Hyaluronic Acid Serum – solves dehydrated or dry skin (I can always do with more hydration)
-          Licorice Serum – calms sensitive, irritated skin and pimples (I don't think this is entirely accurate, but never mind.. )
-          Chlorella Serum – solves pigmentation and brightens dull skin (anything that brightens my skin, I likey)
Actually Margaret further customised the mixture – she replaced the Licorice with the Collagen Serum during the treatment – as it will solve wrinkles, lines and aging skin.  I am all about the anti-aging stuff lately, so this sounded like a much better fit for my skin concern.
Then she briefly went through the treatment steps with me, and then we got started.
The Oxy Miracle Peel
This is done after makeup removal and cleansing.  Margaret told me to expect cooling sensations, and for the next 10 minutes, my skin was treated to cold misty jets of oxygen that 'brushes' the surface of my skin.  It felt very soothing (given how hot and hazy the weather has been lately) and she took extra care to cover the areas around my nose, which are prone to blackheads and open pores.  This 5-in-1 treat is supposed to deep cleanse, exfoliate, hydrate, oxygenate and micro-circulate my skin for instant lift and radiance.   I think this is the crucial step that really made my skin feel super clean and smooth after the facial.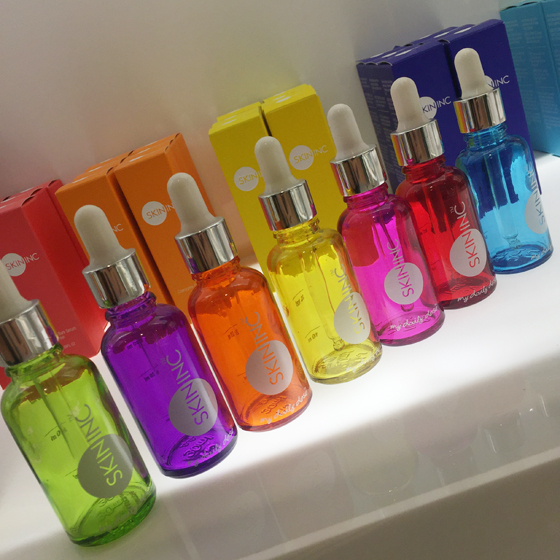 The Oxy Miracle Infusion
Next, she massaged my face with the bespoke serum (the three I mentioned earlier), the customised cocktail of active ingredients is delivered straight to the dermis layer of the skin - and she did apply this liberally during the treatment, and because my skin has just been so thoroughly exfoliated from the Oxy Miracle Peel – it was stimulated to absorb the ingredients efficiently.  This gives my skin the glowy healthy look post treatment.
She used the same 'oxy machine' again, this time a more gentle mist that contains Onsen water from Japan's thermal region.  This, together with the serum cocktail, was very relaxing and I almost fell asleep.  Yes, I can get used to the cooling moisture mist that floats around my skin, and I feel like my skin was being totally infused with the active ingredients.
The Optimiser Treatment
This is done as an additional step, as if the Oxy Miracle treatments aren't enough.  Margaret used the SkinInc Optimiser to enhance the effects of the skincare products – this is supposed to stimulate the skin cells and increase circulation through the LED Chromotherapy (in 3 colours – red to increase collagen, green to boost absorption of active ingredients, blue to renew and repair damaged skin cells) – she used the red light on me.  By speeding up the absorption of the ingredients, this means that the products used will work harder and also see results faster.
The Pure Deepsea Hydrating Mask is used in this process – as in she applied the mask on my skin, and used the Optimiser to massage it into my skin – before leaving it there for about 20 minutes during which I fell asleep).   This is an award winning gel mask that contains nutrient rich Okinawa deep sea water, and the brightening and balancing effects of Soya Bean and Hyaluronic Acid.  Besides that, the mask also contains other essential trace elements such as zinc  and magnesium, which are good for repairing the skin's natural barrier.  Overall, the mask can be used daily and to plump and pamper the skin.
My thoughts
This is definitely an ingredients and technology packed treatment – good for instant results when you need them, for a special occasion, good for when you need to re-start your skin, good for those who have been neglecting their skin lately, and want to restore it back to 'square one'.  Of course it is not going to solve any acne or serious skin problems overnight or with one single session, but right afterwards, your skin is cleaner, clearer and glowy for the week at least. I don't have any visible skin issues at the moment, but even I can see and feel that my skin is totally rejuvenated post treatment.  When I got home, my mom and sis both commented on how bright and smooth my skin looks (they didn't know I came home post facial).  I examined my nose area, and the blackheads are 'flushed out' the overall skin texture is refined, and the overall luminosity is enhanced compared to pre-treatment.
The treatment itself is almost clinical; the room is fuss free, and the equipment and therapist efficient. Judging by the crowd in the store when I was there on a Monday evening, I think it is pretty clear that there is a strong following for this brand which I only recently started discovering.  I will leave you with a few mugshots of my skin post treatment, and hopefully you can see how awesome the skin looks. 
Definitely worth going in for a consultation, or check out their website for more information if you are keen.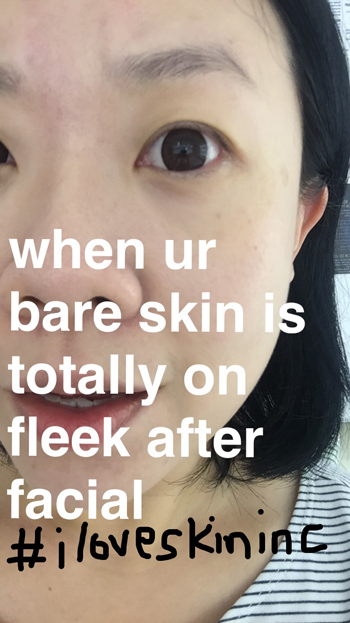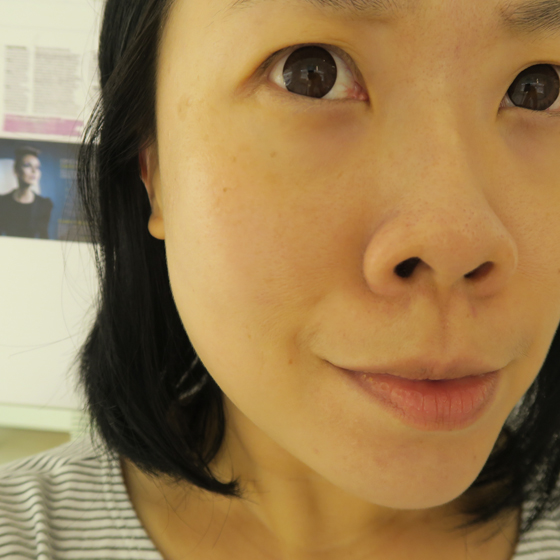 p/s - isn't it great when I finally found a bit of blogging mojo lately?  Hope you been enjoying the recent updates!
Thanks for reading!!