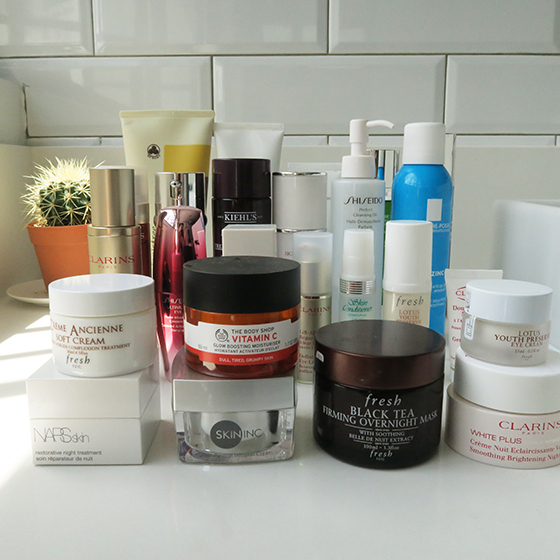 Hi hi!  Time for another skincare update entry.  I will be updating you on everything that I am currently using and rotating at the moment.  Usually I will be rotating a batch of products for 2 - 3 months before I accumulate another new batch to do one of these entries.  I believe in my past couple of entries, I have been saying that my routine is now a lot more varied, I don't really stick to one brand, and I venture out into a cocktail mix of what I think works for me.  Some of you might be wondering, how do I know what is working, when I am mixing everything up.. well, honestly, even I don't know myself.  But each time I introduce a new product into the mix, I will pay attention to how my skin behaves the next day.  If nothing crazy happens, okay, I will keep using it.. but once I notice a bump or some unusual reaction, I will pass on the product to my mom or sister who will use it.  And there are products which don't work on me.. I just don't mention them on  my blog that's all. 
As always, I will focus on mentioning stuff that I am using, give you a quick overview of whether I like it or not.  Right now, my skin is pretty much stable, clear, firm. I don't have much noticeable lines on my face, I don't have dark eye circles.. I can also go out of the house without any makeup if I wanted to.. but I love makeup, and I love applying makeup on my face, so I rarely ever leave the house bare faced.  My only problem is that I notice that my eye lids have been drooooooping.. or like my upper eyelids are getting quite fatty?  Not attractive.. and maybe it is something that only I noticed.. but I recognise that age is catching up.. while overall I think I look pretty young for someone my age (and I do mean it matter of fact - I am not boasting, but I do think I try to take very good care of my skin) there are little details that betray my real age.  I would definitely consider doing something to depuff my eyes - surgery wise.  Perhaps in a year's time, or even sooner.. so I can enjoy improved/ enhanced features more.. you know what I mean? 
The Cleansers 
1. Innisfree Jeju Volcanic Pore Cleansing Foam 
2. IOPE Ideal Cleansing Foam Whipping Brightener 
3. Skin Inc Skin Revival Infusion Cleanser
4. Clarins Gentle Foaming Cleanser 
5. GlamGlow PowerCleanse Daily Dual Cleanser Mud Oil to Foam 
6. GlamGlow YouthCleanse Daily Exfoliating Cleanser mud to foam 
7. Shiseido Perfect Cleansing Oil 
The lowdown - 
The innisfree and IOPE cleansers are very very similar.  I love that we have innisfree stores in Singapore, and you get to try out the products.  I don't really care for the actual skincare products, but I am always suckered by Korean foamy cleansers.  They clean so well, and so brightening.  So if you can't get your hands on the IOPE one.. try this innisfree jeju cleanser - this is a bumper tube at 300ml and for only $20.  It will literally last me for more than half a year.  
The Skin Inc Skin Revival Infusion cleanser is very pearlised foamy.. it comes out from a tiny opening, which makes squeezing out the product quite a chore.. but this is one of the better foamy dense cleansers I have used.  
I also love the Clarins Gentle Foaming Cleanser - the scent is just amazing, and don't let the 'gentle' fool you - this is a very cleansing foamy wash. 
And we have the new GLAMGLOW cleansers - I got the Youthmud cleanser during their launch, and it smells and feels exactly like the mask itself.  I recently picked up the Dual Cleanser.. it feels good, clean but not stripping.  For both cleansers, you should work it into your skin and massage on your dry skin before introducing some water slowly to lather up everything.  I recommend both.. they clean well, and after a long day of wearing makeup.. using one of these to clean your face feels really good.  But, if you really have to pick one, I think go for the Youthmud cleanser - it seems like a better all round performer. 
I am currently removing my makeup with the Shiseido Cleansing Oil - it emulsifies really well, and cleans off your makeup thoroughly.  There is no oily residue.. and your skin feels almost kinda squeaky clean afterwards.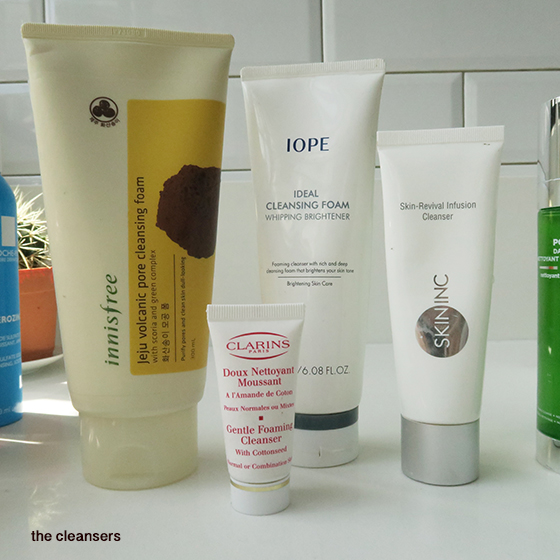 Here are a some pics of the GlamGlow cleansers in action 
That dual cleansing one is kinda strange-- it has two dispensers, one for the oil part and the other for the mud..  You have to press each of them seperately to dispense the product.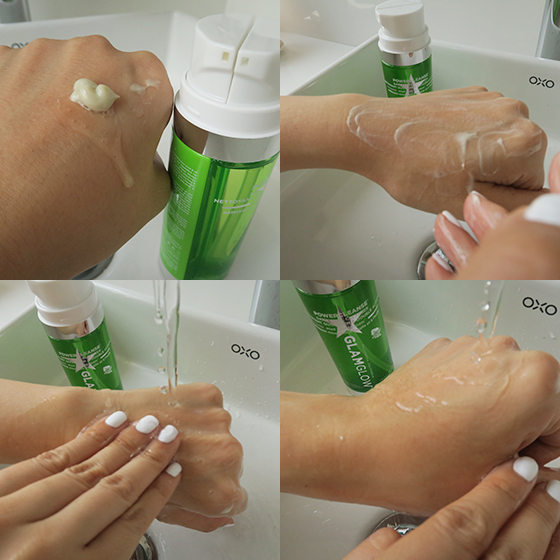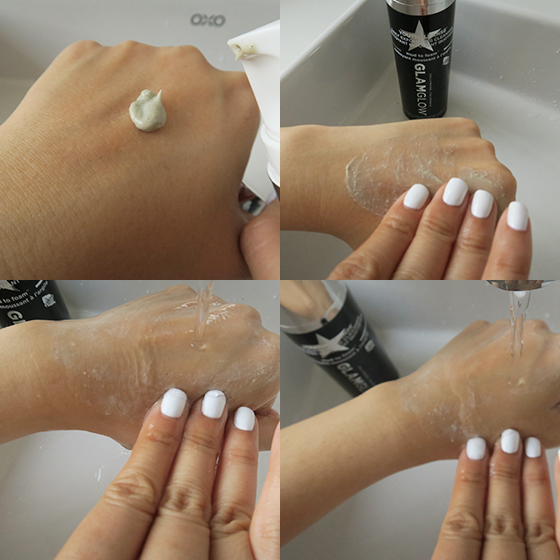 The waters and skin prep:
1. Kiehl's Iris Extract Activating Treatment Essence 
2. La Roche-Posay Serozinc Zinc Sulphate Solution - Cleansing, Soothing
3. La Prairie Anti-Aging Rapid Response Booster 
4. Albion Skin Conditioner in a mini mist spray bottle 
The lowdown - 
This is one step in my routine which is most neglected.  I would say that I only do the toning part 2-3 times a week.  
Albion Skin Conditioner now comes in this facial mist version - you can always decant your Skin Conditioner into a mist can and spray it which is so much easier in terms of application.  I like the Skin Conditioner, it really softens your skin and preps it for serums and face creams. 
Another item which is highly raved is the La Roche-Posay Serozinc - I am not sure why or what is the hype.  I got this while I was in Paris cos I want to see what the hype is all about.  And to me... so far, it feels just like my regular facial mist spray.  But it contains zinc sulphate, which is supposedly good at keeping spots at bay?  Not too sure.. sometimes I even use this as a makeup setting spray.  Haha. 
The next product is the La Prairie Anti-Aging Rapid Response Booster is one of the new stuff I am testing out.  It costs a whopping SG$450.. which is really pricey for a pre-serum product.  It has a rich gel cream texture, and I have used it for almost a week.. I like how it feels on my face.. and I know it is good stuff.  But I am not exactly sure what it is supposed to do. 
Kiehl's Iris Extract Essence is very soothing.  I only use this once a week - so it will take me forever to get through the bottle. It reminds me of the Biotherm Plankton essence, SKII FTE.. that sort of skin treatment essence water.  I am thinking of leaving this in the fridge, or transfer it to a mist spray bottle so I can spritz it on my skin whenver I feel like it.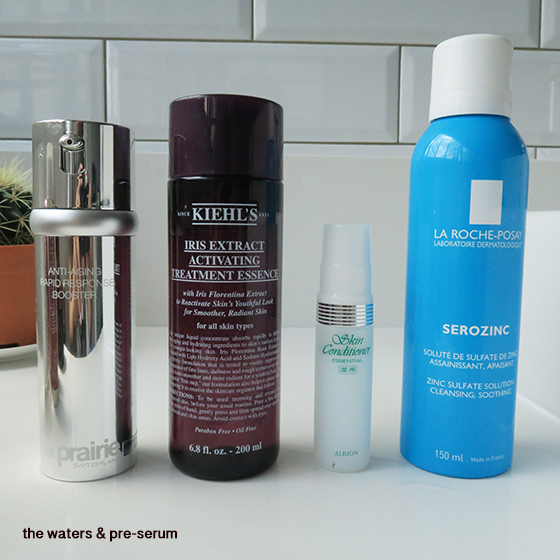 The Serums
1. NARS Skin optimal brightening concentrate
2. Clarins Shaping Facial Lift Tonal V Concentrate serum
3. Clarins Double Serum Complete Age Control Concentrate
4. Fresh Lotus Youth Preserve Radiance Lotion 
5. DiorSnow White Perfect Anti-Spot and Transparency Brightening Serum
The lowdown - 
I have these serums opened right now.. and honestly the most frequently used ones are the Clarins products and the FRESH Lotus Youth Preserve Radiance Lotion.  I am all about the glow these days, so any brightening, glow enhancing products are right up my alley.  I am getting back into using the Clarins Shaping Facial Lift in a bid to banish any water retention I might have on my face, though I don't exactly follow the massage method for application.
The DiorSnow white perfect brightening serum is nice.. but I didn't notice any significant effects.
The NARS Skin brightening concentrate is nice, and I only use it when I am using the NARS night treatment cream.  It is very lightweight, and easily absorbed into the skin. 
Both the Clarins products are nothing new to me, the Double Serum has a oil and serum two in one combo.  It hydrates and nourishes your skin, and now that I start using it again, I am falling in love with the Double Serum again.  I think this is a very good all round anti-aging serum, it doesn't break the bank in terms of price point, and I think will suit everyone looking for a effective serum. The shaping facial lift is great for depuffing your face, and for me, I will make it a point to massage the product into my skin, pressing on the accu points on my face to sort of minimise the water retention on my cheeks. This is the newly formulated one, more powerful, and same great functions.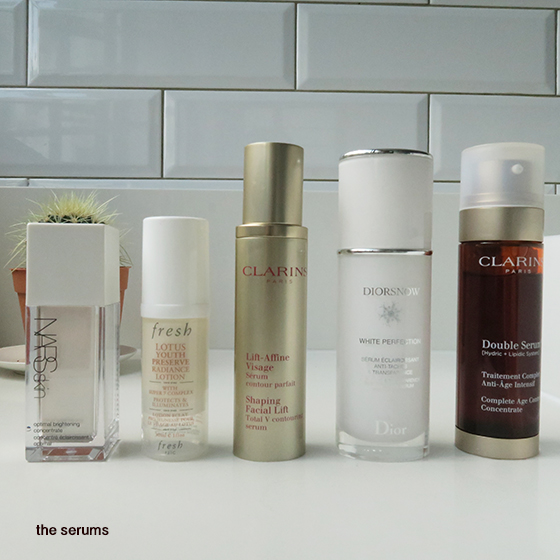 The Eye Creams & Serum 
1. Fresh Lotus Youth Preserve Eye Cream
2. Clarins Defining Eye Lift 
3. Shiseido Ultimune Eye Power Infusing Eye Concentrate
The lowdown - 
I have only started using the Shiseido Ultimune Eye Concentrate - it is a quite a rich gel cream texture, and I will report back on this eye product soon.  I have used the Shiseido Ultimune for face before and I do like that, so I am looking forward to trying this out. 
I also started using the Clarins Defining Eye Lift, this is probably my 3 or 4th bottle of it.  It is a lightweight eye serum, you pat it onto your eyelids, and like the Shaping Facial Lift.. I hope that this will help to depuff my eyes over time.
And finally, I have been enjoying the Fresh Lotus eye cream - it is creamy, lightweight and hydrating.  I have been using this eye cream for the past month, and I really like it.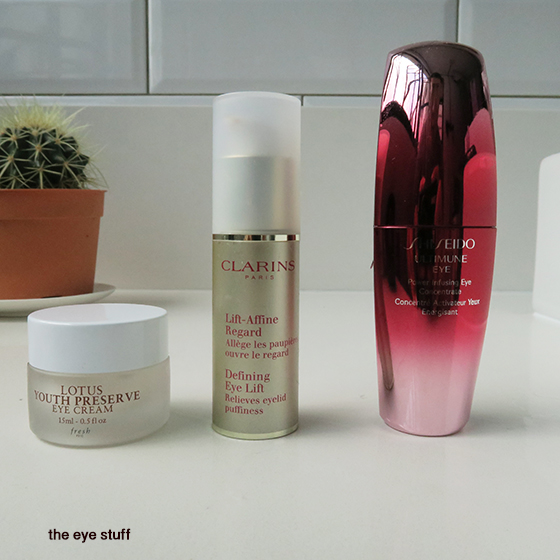 The Face Creams
1. Clarins White Plus Brightening Night Cream
2. Skin Inc Skin Revival Infusion Cream
3. NARS Skin Restorative Night Treatment 
4. Fresh Black Tea Firming Overnight Mask 
5. The Body Shop Vitamin C Glow Boosting Moisturiser 
6. Fresh Creme Ancienne Soft Cream 
The lowdown - 
Right now, I am missing a night cream.  All my night creams are the rich overnight treatments--- and they don't go well with the serums I am using.  Got to dig around in my stash for a night cream (I think I have a couple of the Crabtree & Evelyn Dermarose night creams to use).  
So anyway, the highlights - the absolute must haves for me are - and they are empty now::: 
--- The Skin Inc Skin Revival  Infusion cream is a great one.  I finished this super quickly cos I was slapping it on day and night.  It works well under my makeup, and it also protects my skin at night.  I think during the period of time I was using this cream my skin is always clear and smooth, and bright. 
--- I also love the Clarins White Plus night cream - this, I really only use at night.  It smells great, and complements all the other brightening products I use in my stash. 
Other creams that I am still using are the Fresh Creme Ancienne - this is a soft cream that has been compared to La Mer - I haven't used La Mer, but this Creme Ancienne is really comforting on my skin, and it works well in cold, dry weather.  This is the only one cream I brought along with me for my recent Europe trip, I used it night and day, and it makes my skin feel and look good while I was away.  This is pricey, but I think one product that is worth the price tag. I hope I don't run out of my small tub soon. 
On lazy nights, I slap on a night treatment and go to bed.  My one product wonders at the moment are the Black Tea Overnight Firming Treatment, it is very thick and rich - I might have mentioned this in my previous skincare entry.  It is a huge tub and will last you for ages.  I use this twice a week.  And it is really good stuff. 
Another product which I love - tthe texture is completely different - is the NARS night concentrate - this is like a cream to oil formula - it breaks into a oily texture the more you massage the product into your skin.  The scent is a little overpowering but I soon got used to it (think of NARS Oran candle) and this is one product which is fab for dry skin.  It is very rich and moisturising.  I love love love this face treatment for nighttime. 
My current day cream - and this is a surprising discovery.  The Body Shop Vitamin C glow boosting cream is a gel like texture- I use this only in the day time, under my makeup.  It keeps my face hydrated the whole day, I am not too sure if it is that much of a glow boosting effect though - it comes with a glow boosting concentrate, but I don't think I would use that.  But the face cream itself is a great basic face cream for day.  I highly recommend this face cream, particularly if you are looking for something not too complicated, it is a solid Vitamin C enriched gel crean, great for our crazy weather and yet hydrating enough.  Really highly recommend this. 
A close up of my current fave creams -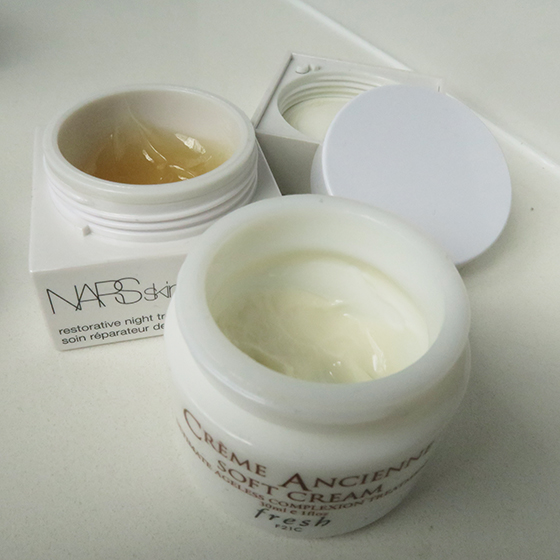 and these are my empties!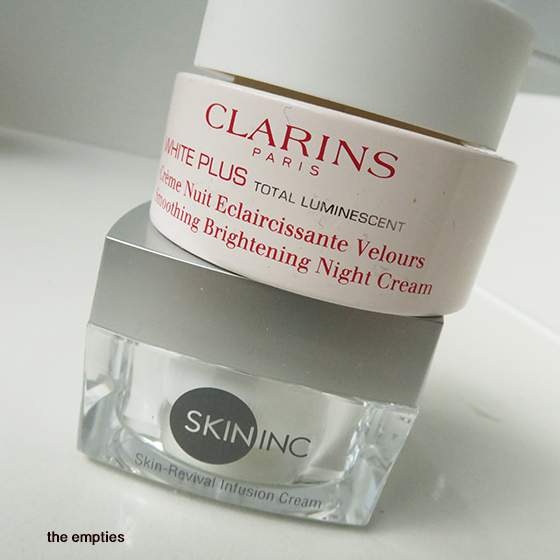 I hope that this has been a comprehension rundown of what I am using at the moment, I try not to include repeat of products that I am still using, such as cleansers which I have already mentioned in previous entries.. and I find that whenever I do such entries, I realise that they all somehow have a unifying theme - such as in this case, a lot of focus on anti-aging and brightening.  If you have any further questions about any of the items I mentioned here, leave them in the comments below. 
Hope this entry has been helpful, and thank you so much for reading!