Lancôme unveils the new must-have from the In Love range: Lip Lover.
Following on from Rouge In Love, the ultra-addictive versatile lipstick, Gloss In Love, the brilliantly styled light-catcher lip gloss and Baume in Love, the phenomenally subtle moisturizing balm, Lip Lover is just the product trendsetters everywhere have been waiting for! An essential accessory for every occasion to bring out the personality of every look. Lip Lover is the perfect match for lips. Colour, shine and care all in one – quite simply lip-changing!
One of a kind, its hybrid formula combines refined colour effects, "made-to-measure" shine and lasting comfort... Lip Lover truly beautifies every smile with its infinitely adjustable shades that can be customised to suit every mood! Adorns lips with the je ne sais quoi that invites a kiss...
All your lips need is love. 
A declaration of love for pink
Forget everything you thought you knew about pink... Lancôme reinvents the emblematic colour of femininity with its biggest ever palette of pinks specially created for lips: 18 feel-good shades divided into two colour families. 
Basic Chic shades
From pink-beige all the way to rosewood, a palette of delights built around the theme of pink! 10 fresh and delicate shades for a subtly lip-beautifying effect. From soft nudes to intensely pigmented shades, the Basics are resolutely Chic.
For example? Casse-Noisette, a ballerina pink with all the grace of a dance step, Beige Adage, a light- infused flesh tone to match the pink in cheeks, or why not Corail Cabriole whose subtle orange accents serve to brighten every complexion... 
Creative Chic shades
A cascade of 8 resolutely pop shades to offer a daring twist to every look... A sparkling range infused with all the charm of coral, raspberry and deep purple, including a range of mouth- watering delights such as Pas de Prune, an intense magenta to electrify beauty, Rose Gracieuse, a radiant shade with ruby tints, Belle de Rouge, a vibrant shade for mischievous lips, or Bordeaux Tempo, a deep and utterly bewitching purple. 
The star shades
These Lip Lover range shades are simply indispensable. If you had to choose three essential, universal shades to keep all to yourself and at all times:
Rose Attrape-cœur, a delicate peony pink guaranteed to win hearts.
Framboise Étoile, a ripe raspberry shade, for delectably irresistible lips.
And of course Lip Lover itself, a radiant fuchsia you can't help falling in love with...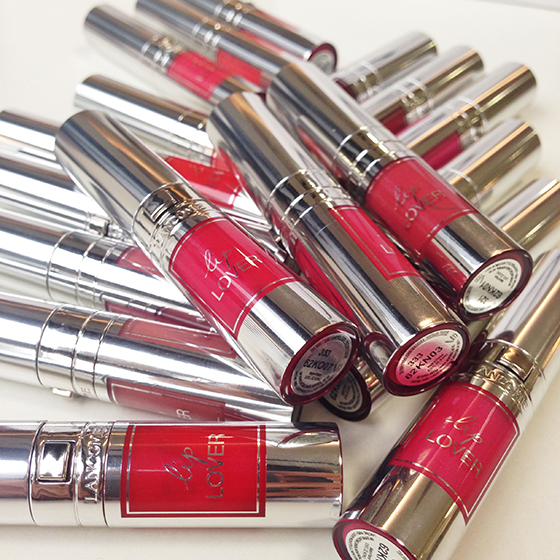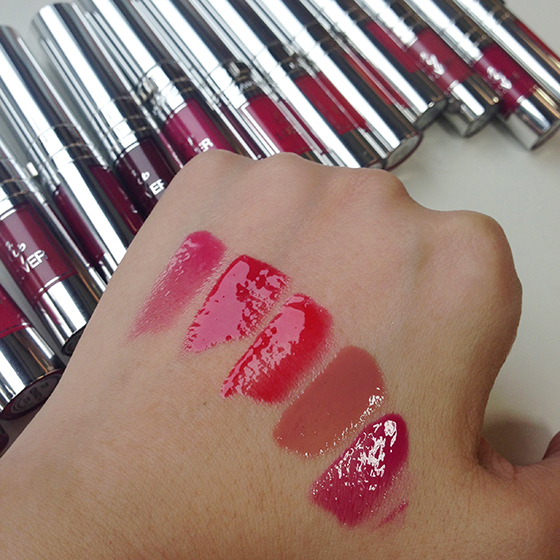 Colour, Shine, Lipcare... The perfect alchemy
The comfort of a balm. The refined colour of a lipstick. The shaping shine of a gloss. Lip Lover excels in all areas!
Lip Lover has a trio of best assets:
- Colour: infused with lipstick pigments, the shades melt into the intensity of lips' natural
colour to truly reveal their beauty. Deep colours, without ever feathering.
- Shine: "made-to-measure", subtle and re-plumping shine that can be built up and intensified layer by layer; a little, a lot or all the way! Its secret: an ultra-shiny, non-sticky silicone-infused oil allowing for a glide-on texture that smoothens out any irregularities on application. Fixed to the pigmented layer by adhesive polymers, the shiny film remains at the surface, protects colour and perfects it with a mirror-finish effect as well as preventing feathering.
- Lipcare: emollient and moisturising agents make up no less than a third of the formula. The on-lip result is 8hr moisturisation and lips are nourished as well as instantly comforted thanks to this exceptionally soft and generously rich formula. A declaration of love for lips!
A genuine innovation to leave lips flawlessly kissable: Lip Lover is equipped with an intelligent bi- phasic formula. Its emulsion separates on application so the pigmented phase can fuse with lips while the glossy film rises to the surface to sublimely coat lips...
Lip Lover beautifies lips: 85%* A genuine lip-perfecter.
Lip Lover does not dry lips out: 91%* Stays pleasant to wear for hours.
Lip Lover offers an instant sensation of comfort on lips: 85%* So comfortable you instantly forget you're wearing it.
Lip Lover creates intense, radiant colour on lips: 90%* Lips are dressed in intense and radiant colour.
Lip Lover procures a truly shiny colour result: 91%* Its shine brings out the intense vibrancy of every shade. 
An addictive fragrance
Two shade families, accompanied by two brand new ultra-feminine fragrances...
Lancôme swathes the Basic Chic shades in a delicate, romantic fragrance: fresh rose petals are made mouth-watering with a hint of vanilla and juicy raspberry. For the Creative Chic colours, a deliciously voluptuous composition: heart notes of opulent rose perfected by powdery iris and violet accents... Totally addictive! 
The arrow applicator: from the lips straight to the heart    
Flaunting clean lines and metal finishings and an irresistible click on closing...
Lip Lover reinterprets the codes of the In Love line with a built-in transparent window meaning the shade within remains visible. To beautify lips in a single stroke, it is equipped with an innovative applicator that makes all the difference: thanks to its elongated arrow shape, curved profile and supple material, it precisely hugs lips' shape to better envelop them in flawless colour and even shine.
All it takes is a stroke from one corner to the other and back to apply just the right amount of product. The arrow tip can then be used to perfect the corners and define the contours.
Lips' new best friend, Lip Lover leaves lips utterly kissable. For even more boosted volume, dab a lighter shade over the centre of the lips using the applicator. So simple!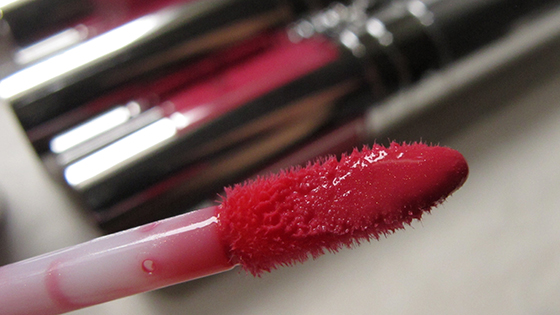 My Top Tips & Tricks:  Matching the Colors for every occasion! 
Colours that I recommend for everyday use for work, school, etc... 
These shades are easy to wear, you don't need a mirror and these shades add a fresh glow to your look without clashing with the rest of your makeup.  I would also recommend  these shades to balance out an intense eyelook.  
314 Casse-Noisette: A warm beigey nude
334 Corail Cabriole: A bright wearable coral - featured in this look below
321 Rose Contre-temps:  A soft pink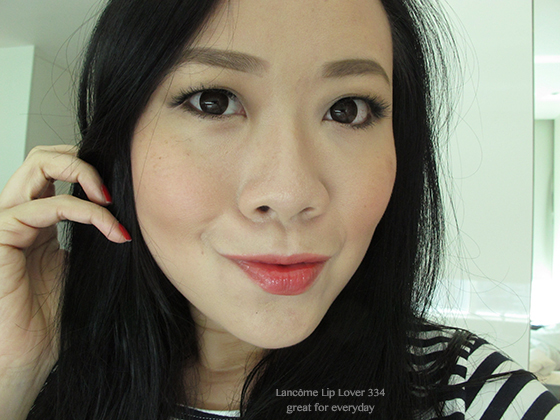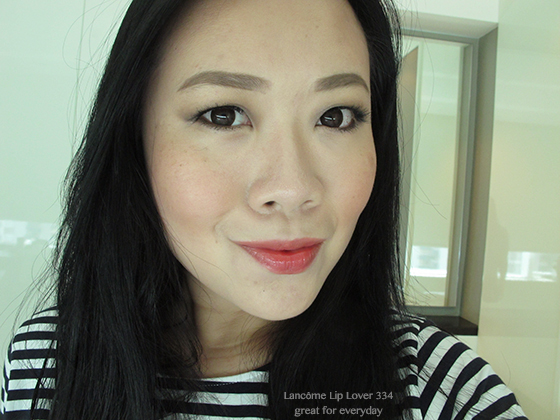 What is a great Sunday shade?
When it comes to Sunday makeup, some people prefer to keep it simple, some people want to dress up, whichever the case, I think that you can't go wrong with a pop of color on your face, especially if you are not going to do much on the eyes.  Here's my top picks for a Sunday shade - relaxed, colorful and just refreshing...
My top picks:
351 Pas de Prune: a slightly purpley pink that's still wearable (magenta) - featured in this look below
336 Orange Manege: bright juicy orange 
337 Lip Lover: bright neutral pink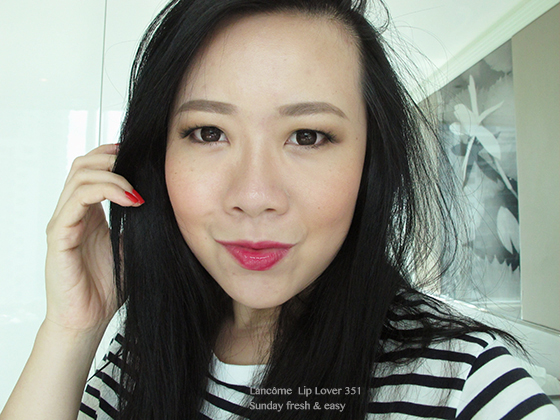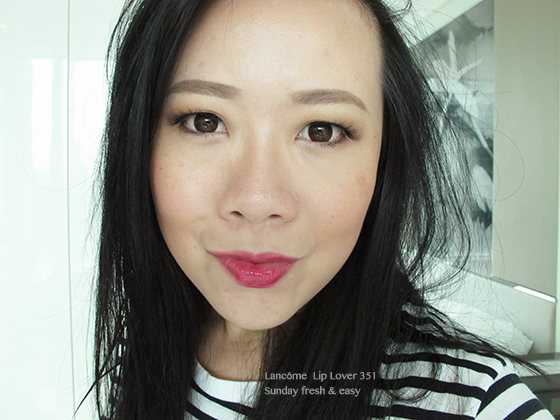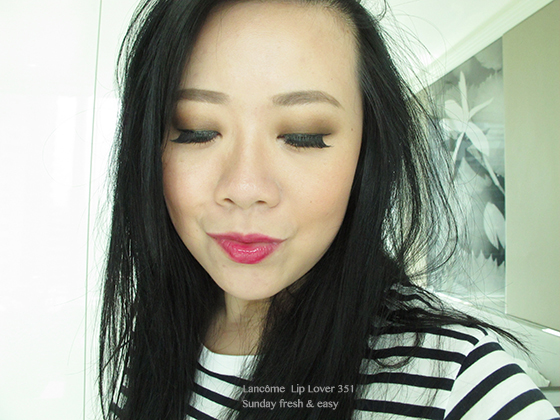 Shades for glamorous night out
For me, I like to bold lip to stand out when I am out at night.  Most people would go for the smokey eyes, and leave the lips almost bare, but I like to go for maximum impact (without looking like a clown of course..)  The great thing about the Lip Lovers is that there is sufficient pigmentation, you can build up the colors as you wish, and the glossy factor gives a more casual feel to the lips (as opposed to matte finishes).  You can wear these bolder shades as a stain - by blotting with a tissue just so lightly, so the color remains but most of the shine is taken away.  You can also concentrate most of the color in the centre of the lip, as I have shown in the first glamour look. It is really up to your preference. 
My top picks for a glamorous night out: 
the REDS:  353 Rose Gracieuse - featured in the first look
356 Belle de Rouge
362 Bordeaux Tempo - deep bewitching purple - featured in the second look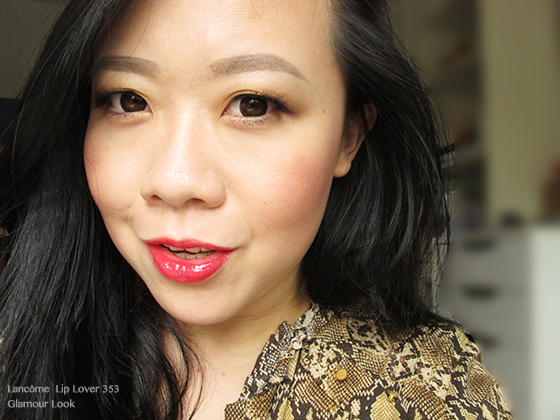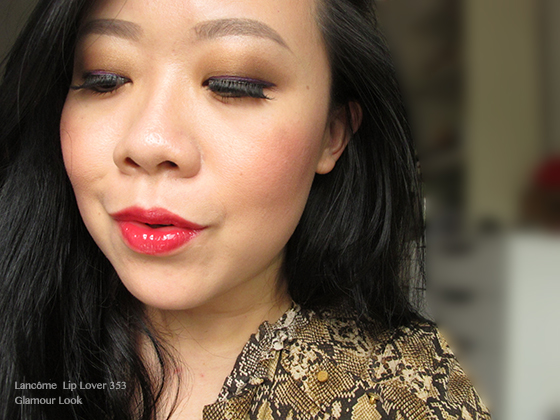 Wearing the Lip Lover, with a slight ombre effect - the color more concentrated in the centre of the lips.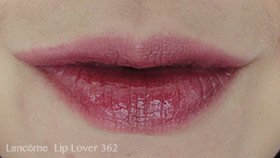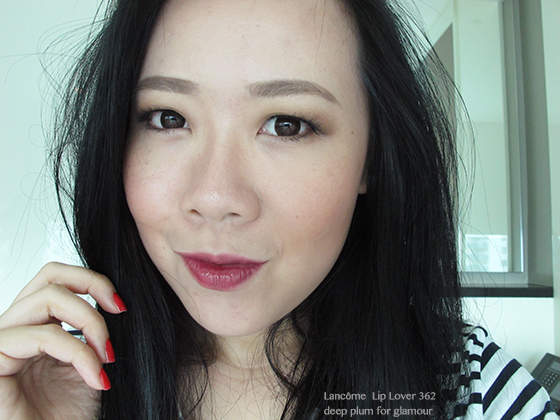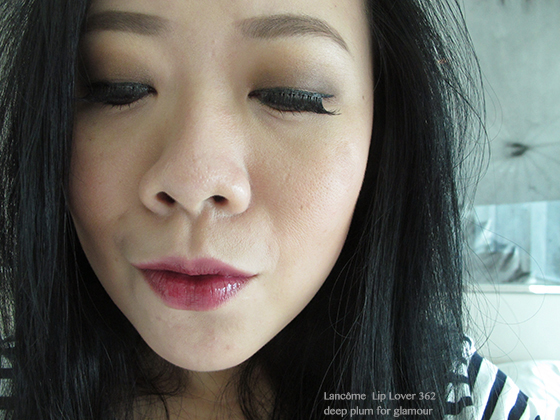 I am wearing a soft smokey look in all these looks - which is my default look when I am wearing eye makeup, but it is really up to you how you want to match your eyelooks to your lip colors, there's no hard and fast rules, just go with your mood and pick a Lip Lover to suit yourself for the day! 
With these Lip Lovers, looking effortlessly chic anytime of the day has been made super easy.  There are 18 shades, we are totally spoilt for choice.  I love the creamy smooth texture, the light floral scent, and that they have soft fine shimmer (but not at all shiny shimmery).  They last me a good 4 - 5 hours, leaving behind a satin stain.  
I am glad to try out all the Lip Lovers, and I am still working through the complete set of swatches plus a couple more looks to share with you.  Hope you find these inspiration for looks and color picks useful.  
Thanks for looking! 
Lip Lover is available in 18 shades and will be sold at all Lancôme counters in Departmental Stores from mid- May 2014 onwards at $40.