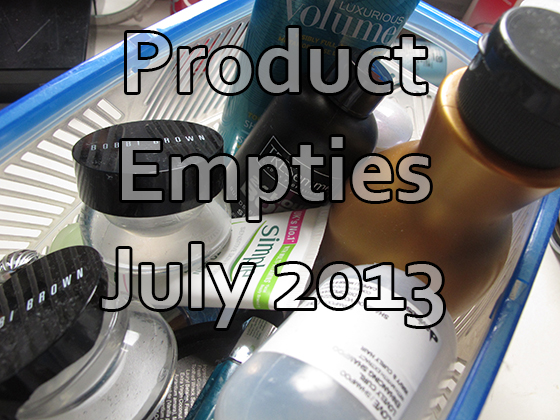 Hallo!
Another installment of product empties - these are products which I have been using mostly since March/ April.. and I don't think you will be unfamliar with most of them.  They are some of my most fave products! 
Firstly, let's start with Hair stuff - 
John Frieda Luxurious Volume hair shampoo (I am already on my second tube of this)
It is a light-weight shampoo great for my fine hair, it does give my hair some volume and looks fresh throughout the day.  Some voluminsing shampoo can be very stripping.. but I find this gentle and effective.
** Definitely a keeper in my shampoo rotation ** 
Style Aromatherapy Moroccan Argan Shampoo
This left my hair super soft and silky, but can be a little rich, so I use it every other day.  I really love it for its conditioning properties. 
Tresemme  24 Hour Body shampoo (mini bottle I bought in London for my trip) 
Very lightweight, and similar to the John Frieda shampoo but cheaper.  I would love to lug this home, cos I don't recall seeing this in Singapore. 
Lush BIG Shampoo (this is my 4 or 5th tub) 
I love love this stuff.  This is like a weekly hair exfoliating for me.  It is very clarifying and I use this once a week or fortnight to really scrub my hair. 
I need to buy this again soon! 
Davines Lovely Curly Enhancing Shampoo (travel size I got in a Bellabox) 
This is a nice shampoo, even though I don't have curly hair.  Generally I enjoy all the Davines hair products I have tried out so far.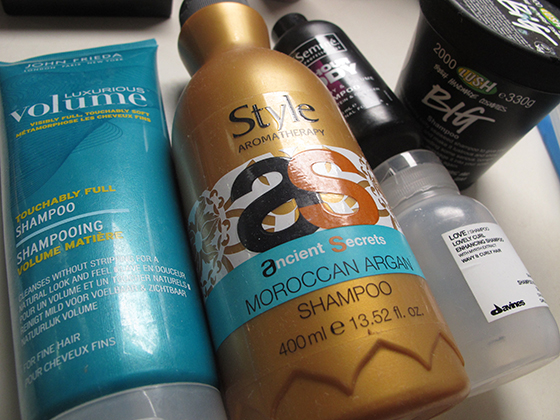 Face cleansers/ makeup removers 
Chanel Foaming Mousse Cleanser (sample tube)
This is nice and foamy and washes my face very well without being too drying.
Simple Moisturising Facial Wash (another Superdrug purchase, cos I need to replenish my cleasners mid-trip)  
A great basic cleanser, and good for dry skin.
Shu Uemura skin purifier (clear brightening gentle cleansing oil)
Cleansing oils are an essential part of my makeup removal, and I always have one or two in my inventory.  Of all the different Shu cleansing oils, I think this is my fave.  It is very effective and gentle.  I am currently using the green one now.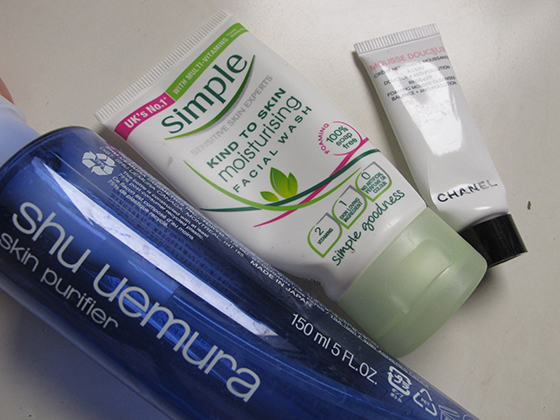 Skincare (using up a bunch of everything all over the place, I have reviewed them extensively before, so I shan't go into details) 
I am currently on Clarins White Plus Luminesence range, and will have a proper overview entry on that up soon. 
Bobbi Brown Extra Repair Moisturising Balm 
I love how thick and creamy this is.  My face feels well protected and moisturised. 
Bobbi Brown Extra Repair Eye Cream
another fave eye cream, very thick and rich, really moisturising for under my eyes.  I am paranoid of undereyes aging!
Lancome Geneifique (both the old version and the new improved Advanced formula)
Both are great serum, great for layering, the advanced formula is richer, and I do feel like it is more powerful than the older formula. 
Sulwahlsoo Snowise serum - realised I have a few drops of it left, so I finished it.  Snowise is one of my most recommended whitening/brightening skincare range. 
Lancome Blanc Expert Derm Crystal serum - this really makes my skin clear and radiant. 
Random tiny bottle of Bioderma - which I probably kept around on my table to clean off swatches on my hands and face and also to wipe my table top and drawers which have gotten some makeup stains after some massive photo  taking and products swatching.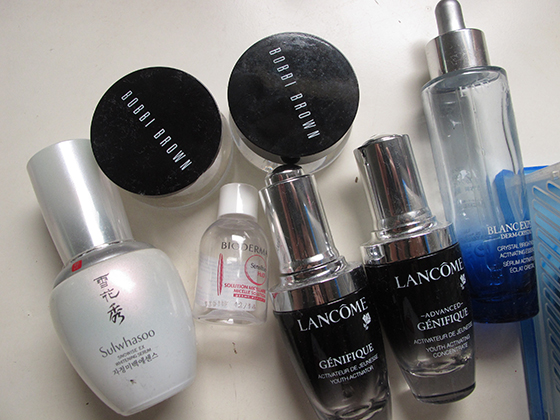 More mini goodness - I was very kindly gifted a selection of Lancome and Shiseido skincare minis for my trip, and I have used up all the Lancome ones, with a few Shiseido products on their last usage. 
I have a full size tube of the Shiseido Super Corrective Eye Cream in the works for a full review soon, stay tuned!  The product is quite creamy and keeps my eye area very moisturised and smooth.  So far so good! 
Lancome Genefique cream, serum, etc... these are some of my holy grail skincare products - I will always go back to using these when I am done.  But for now, I am reviewing other brands.  
Khiehls Midnight Discover eye cream - this is my second tube.  My sister LOVES this... so she was the one using it most of the time.  Everyone I recommend this to, loves it too.  A great all round eye cream, it is lightweight and brightens up tired eyes.  I can't emphasie this enough.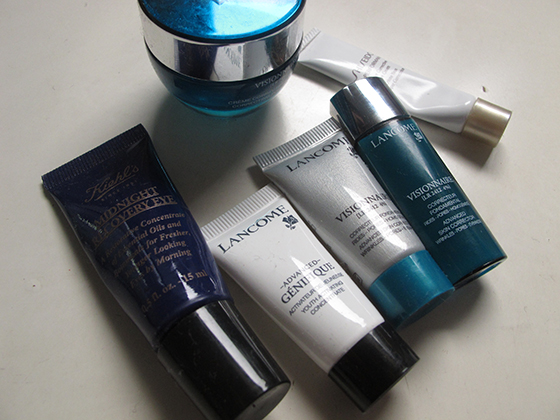 Always feel a sense of accomplishment when I finish doing a products empties entry!  
Hope this gives you an idea of what I have been loving and using.... thanks for reading!