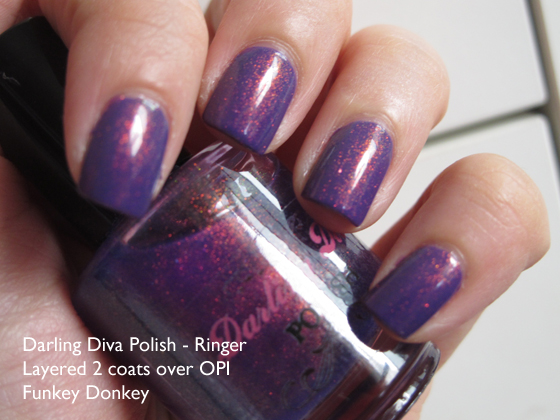 Hi hi!
I have another nailpolish to feature today - and be prepared for lots more nailpolish showcases in the next few entries!  :)
This is Darling Diva Polish Ringer - a sheer jelly purple-ly base with shimmering bits.  They appear gold and reddish in my pictures, but the color description states "<span>A sheer blurple jelly base with copper red to green shifting shimmer" - I don't detect the green, but the shimmer is definitely coppery red. 
</span>I decided to pair it with a complimenting creamy base, OPI Funkey Donkey - and the combo reminds me of MAC Trax eyeshadow - a warm purple with golden sheen.
I love how the shimmer is subtle yet it shows up very clearly.  The formula is very smooth, and one coat gives you sufficient sheen and add dimensional to a creamy base.
Darling Diva Polish retails for S$15, and they can be purchased from Mei Mei's Signatures. 
More swatches: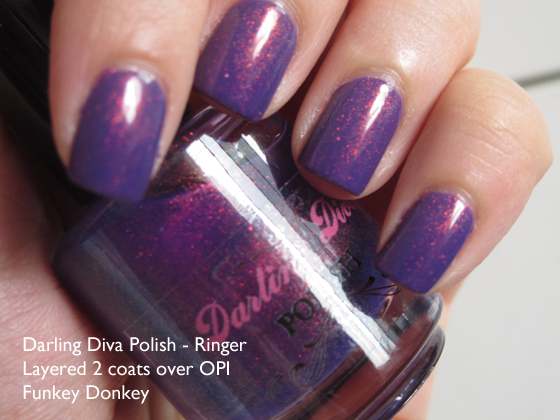 Pretty or what?  Love it!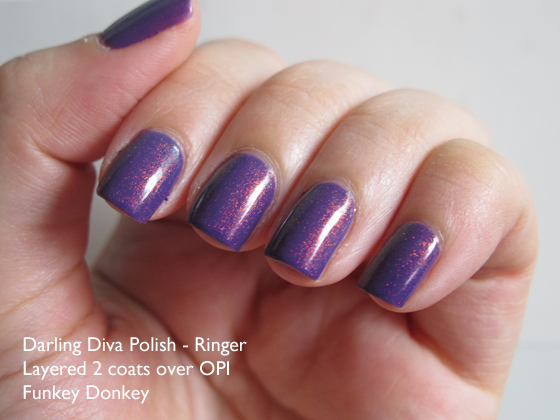 Hope these swatches have been helpful!
Useful links:
Mei Mei's Signatures FACEBOOK
Mei Mei's Signatures online store  - she has an amazing array of indie brand polishes, and possibly every combination of glitter polishes you can think of.  Do check it out! 
Thanks for looking!