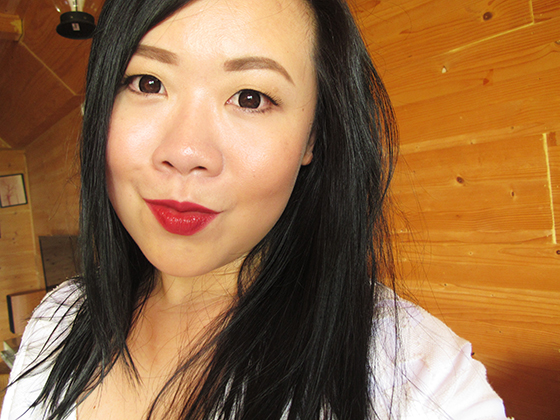 [finished writing up this entry, when I accidentally hit CTRL Q instead of T to open new tab...don't even ask me why]
So anyway, I was saying...this is a very quick and easy look to go..the eyes look suitably 'awake' and the complexion is brightened up by the use of the berry red lipstick.  This is my second look featuring key products from the Shiseido AW2013 makeup collection.  (Click here to see the first look) 
Let's just go through the look - which features the Luminizing Trio in BE213 NUDE - 3 natural earthy shades, retailing for S$51.
And to check out a rich warm autumnal look, click here.
I dusted some color on the browbone, followed by the lid color - which is applied quite high up on the crease. Then I warmed the eyes a bit with the crease color. The overall eyelook is very natural, with just a hint of color.  Overall, this is quite a useful highlight and blending palette which you can also use in conjunction with other existing eyeshadows. 
In this pic below, you can see the satin finish and the subtle shimmer bits on the eyes.  Finally, I also define the eyes by smudging a pencil liner very close to the lashline, and really working it into the lashline.  On the lower lashline, I used a taupe brown eyeliner and set it with the crease colour.  I used a pair of natural wispy lashes to finish off the whole look. 

And one more pic - I quite like this look lately, the eyes is very natural yet defined, very light.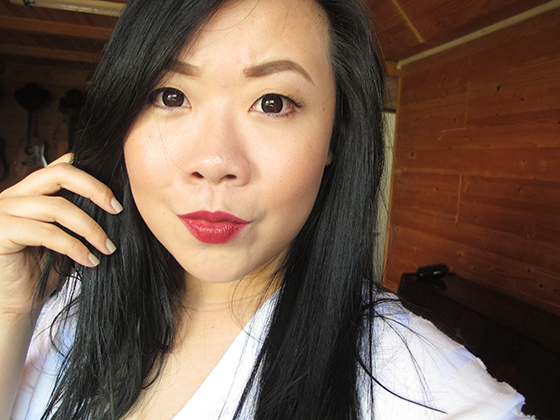 All products used: 
</p>
Face - Shiseido Sheer & Perfect foundation, Shiseido Natural Finish Cream Concealer (reviews here), set with Chanel Loose Powder
Cheeks - Shiseido Bronzer (medium) used a bronzer and blush 
Lips - Shiseido Perfect Rouge RD305 Salon
Eyes - NARS Primer, Shiseido Luminizing Trio BE213 NUDE
Liner and Lashes - Ardel 120 on its own, THREE performance liner 05 on upper lashes, Makeup Store Chocolate Cheesecake on lower lashes
Brows - Shiseido Eyebrow Styling Compact Deep Brown GY901 (tutorial here) 
White Top with Aztec Embossing - Zara
Messy Wet Hair - fresh out of shower 
What's your recent go to look?    Please share!
Hope this has been helpful, and thank you for looking!