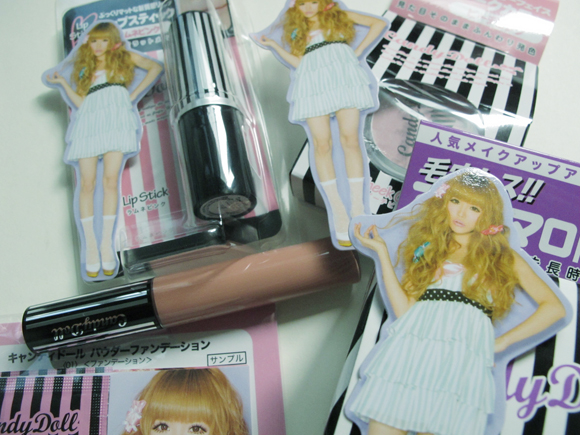 Hi!
A while back (okay, maybe last week) I received a bunch of CandyDoll Cosmetics to try out.  I have seen this brand retailing at our Watsons before, and the most outstanding feature of CandyDoll is the very 'kawaii' blonde Japanese girl fronting all their products.  While I certainly don't fall into that category of being 'kawaii' nor dolly, I do like and appreciate the aesthetics of her large eyes with fluttery lashes, and her full nude lips. I love my nude lippies, and if I were to take these products out of their usual Jappy cutesy context, you can see that they are actually very wearable, and suit everyone who likes nude lipsticks even if you may not necessarily be going for the innocent cute little girl look.
I have two of their best-selling lip products, the Lipstick in Ramune Pink and a nude gloss -- Milk Tea Beige.
The lipstick is very smooth and easy to wear.  It is nude, but not chalky on my skintone and over my lipcolor.  It has a satin dewy finish that makes my lips look soft.  In terms of the color, it is the perfect nude which leans neither too peachy  nor pinky -- just the right amount of pink+beige.  I really like this shade of nude, and it isn't streaky when I slapped it on my lips.
The lipstick is very creamy, and slightly sticky.  It is very pigmented for a lipgloss, and you can wear it on its own because it is so intense in pigmentation.  It also makes my lips look smooth and plump after application.
Both products have no scent and contains no shimmer bits.   I am most impressed by their color and texture.
The lipstick retails for $25.90 exclusively at Watsons.
Photos & Swatches: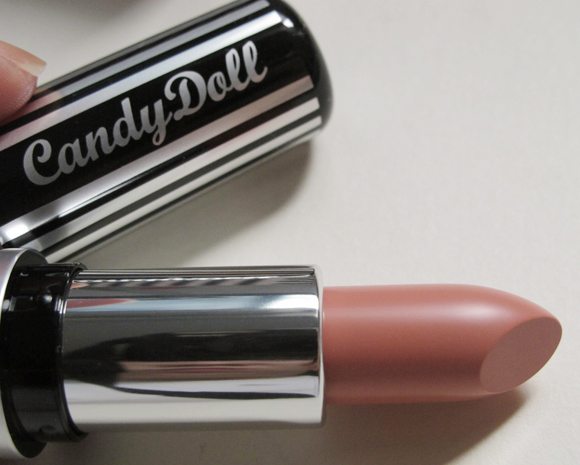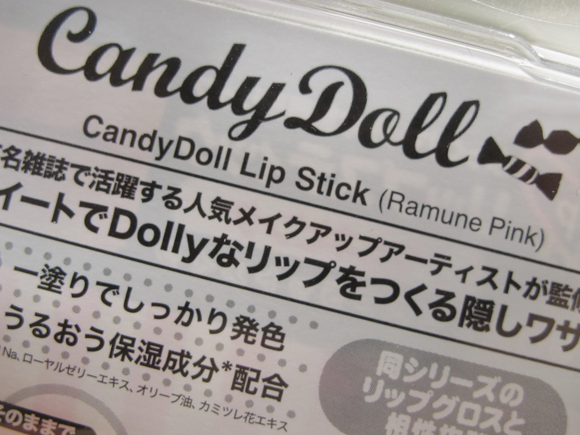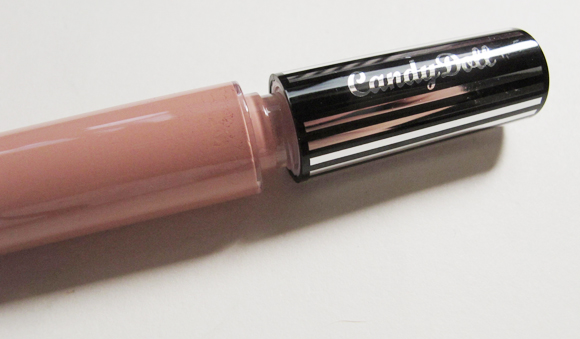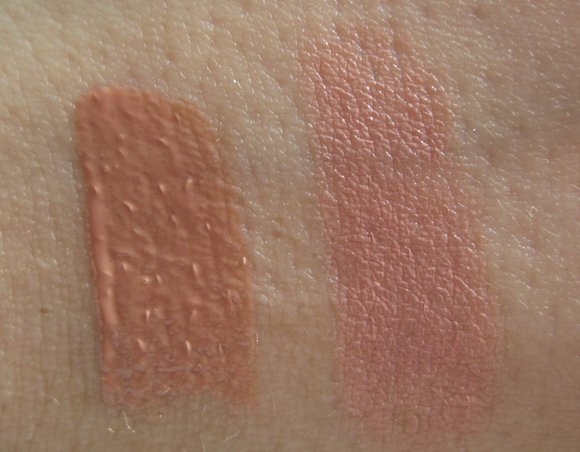 I know I have plenty of younger readers out there who are very interested in CandyDoll cosmetics (when I posted the product pictures on my instagram, a flurry of comments came in from people who wanted to know where I got them from) so I know they definitely have a strong following out there.  I am glad to try out a brand which I probably wouldn't have because I sometimes feel like it is way out of my age market, and also, the whole image thing just doesn't fit in with me.  However, these two nude lippies have changed my mind (a little) and I think I can pull them off easily.
If you are in the market to look for good nude lipsticks and lipgloss, you can start checking out CandyDoll (esp if you don't want to go high-end or the department store brands, and when the drugstore brands don't often offer good pretty nude lip products  -- I often find the drugstore nude lippies are too pinky, too frosty or simply too chalky pale).  These CandyDoll nude lippies remind me of the kind of nude colors you find at MAC.
I will be showcasing some of their base & cheek products soon.   Stay tuned!
Hope this has been helpful.
That's all, and thanks for looking!