Hi everyone!!  This is a rather exciting entry... all about nails, nails and nails!
Before I go on about the party, just would like to share with everyone that Kim and myself will be doing manicures at the Scape flea this coming Saturday 19 Nov from 2pm onwards...both Kim and I will be doing basic manicures, while Kim would also be doing Gelish manicures.  Jerlaine and Jennifer would also have a stall next to us, selling clothes from $5 onwards.
Click HERE for Kim's entry about the event.
Here is a quick poster I have done to share the details: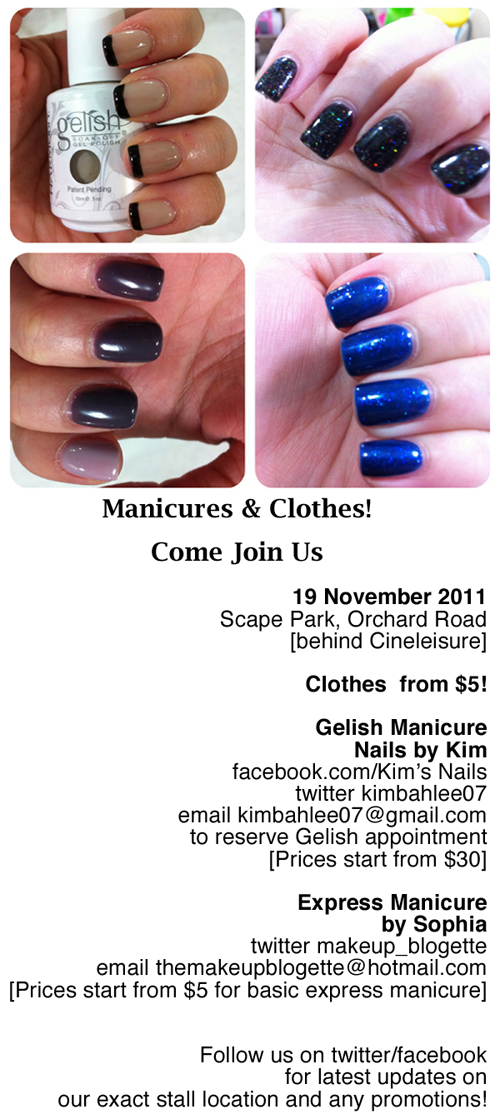 Yesterday we had a Gelish Manicure party at Kim's house, and all of us (Jennifer, Amy, Kas, Jerlaine and myself) all got treated to some Gelish manicures done by Kim and it was also a little surprise birthday party for Amy whose birthday was on the 11/11/11. We spent almost the whole day at Kim's house, got our nails all done, and had one of the most fun afternoon, choosing colors, designs, and just lots of makeup, nail, and random all kinds of topic chat.
Just want to share some pictures of what happened during our Gelish Manicure party yesterday:
(all pictures taken with my iphone4 because I didn't have my camera with me)
Kim has her place all set up for doing home manicures (you can visit her blog and FB page to book your appointments if you wish)
and we took turns to have our Gelish base colors painted and treated...and just lounged around.  Kim was really hard at work!
Note: Gelish manicure refers to the brand name of the gel nail polish--- you apply it like a regular nail polish, except that it had to be cured using the UV lamp...and it is chip-proof for about 2 weeks.  It is not as damaging as doing gel extensions and there is minimal filing away of your own nails when you need to soak off the gel polish.  Kind of like the CND Shellac nails.
After a few hours....we are lmost done!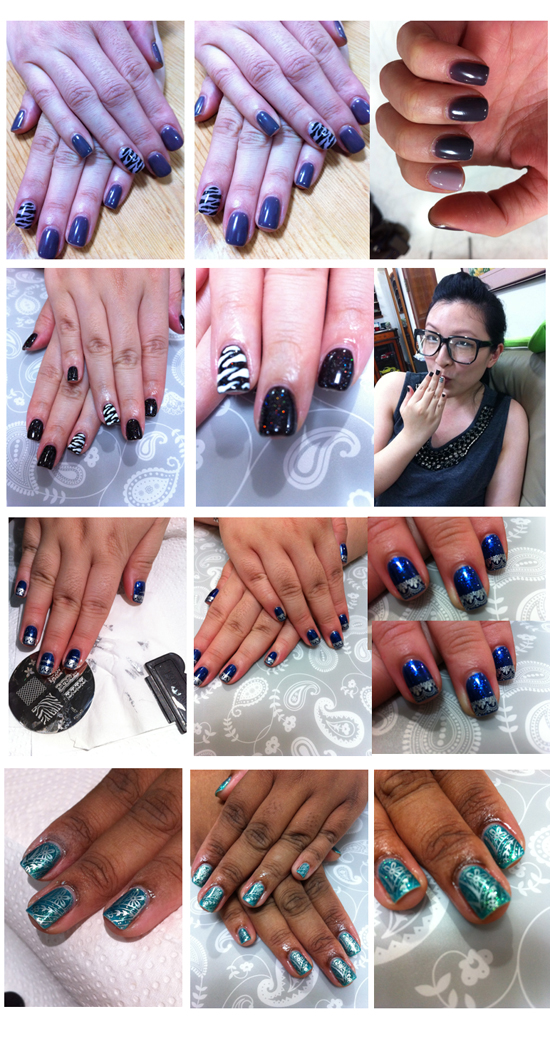 And meanwhile, we had the surprise birthday for Amy....
All our pretty nails!
I have my fave combination of colors and designs... dots...nude, and skulls, with a french tip.
Hope to see you at the flea on the 19 Nov from 2pm onwards!