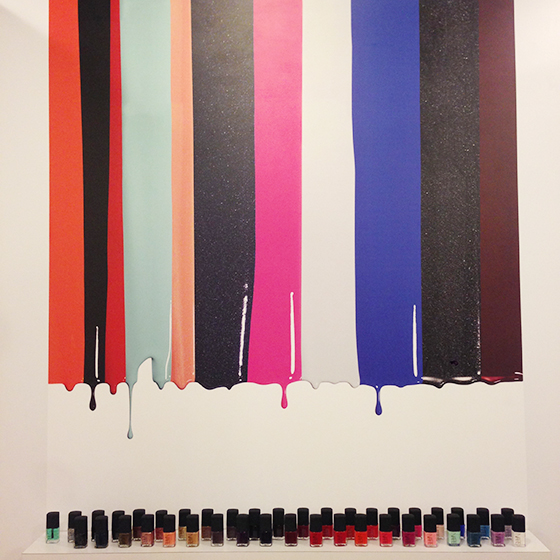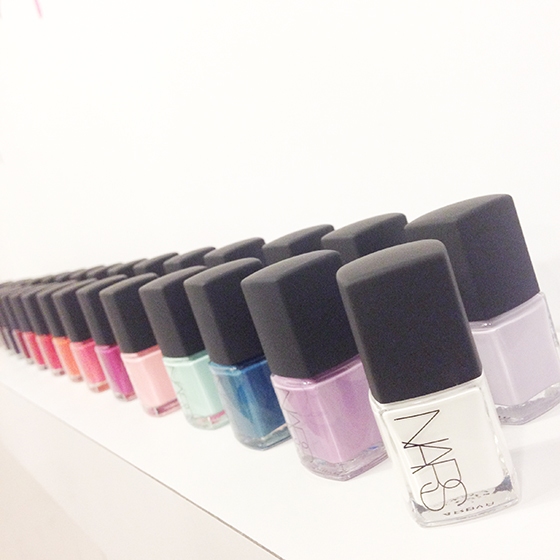 Hi hi!!
A couple of weeks back, I previewed a few up coming NARS collections, among them the newly formulated Nail Polish collection - which will replace their current range.  The new polishes have the same creamy opaque formula, but with improved brush applicator, and the cap actually 'detaches' much like the Chanel and Dior ones.  You will also be happy to know that most of the permanent shades are brought forward into the new range, with 19 new shades that really complete the color variety of the new one - think mint green, sky blue, shades of nudes which weren't previously seen. 
And while we are on the topic of NARS polishes, we will also be getting the new Philip Lim 3.1 collaboration - a limited edition series of 6 or 7 shades which are rich and intense, from the milky creamy white of Anarchy to the rich jewel tones.  These colors are very fall appropriate - and if you like dark polishes, you will love these shades. 
a happy group pic - and you can see in the corner there, the new brush applicator that's slightly paddle shaped for a more precise and handy application.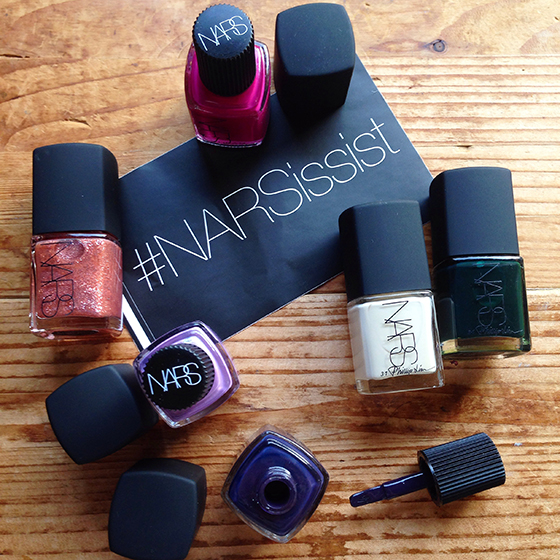 Here are some bits of official information before we get into some swatching & playing:
NARS x Philip Lim 3.1 Collection
<span>Effortless elegance. Phillip Lim articulates his signature style with a limited edition nail collection inspired by colors that exist in shadows.  Rich jewel tones and contrasting nudes evoke the modern mood of the season.  
</span>Shutter - Deep Green
Crossroads - Deep Violet
Arnachy - Alabaster 
ICONIC COLOR. NAILED.
Swatches of the three shades mentioned above: 
All swatches are shown with a base coat, and 2 coats of color - the formula on these shades are equally creamy and intense, almost a one coater, but two coats would give you a true opaque application.  For Crossroads and Shutter - they apply much darker than shown in the bottle, and look almost black.  I would say you don't need both (there's also a rich chocolate in this collection that also borders on almost black).    But if you love all the blackish dark shades, these would surely call out to you.  
Anarchy is a very classy white that isn't pure white (like Chanel's Eastern Light) it is creamy buttermilk kind of white.  The formula is thick and creamy and two coats give you a very opaque payoff without any streaks.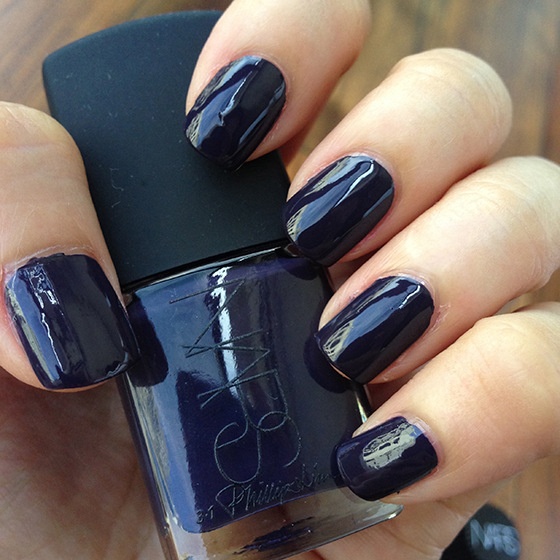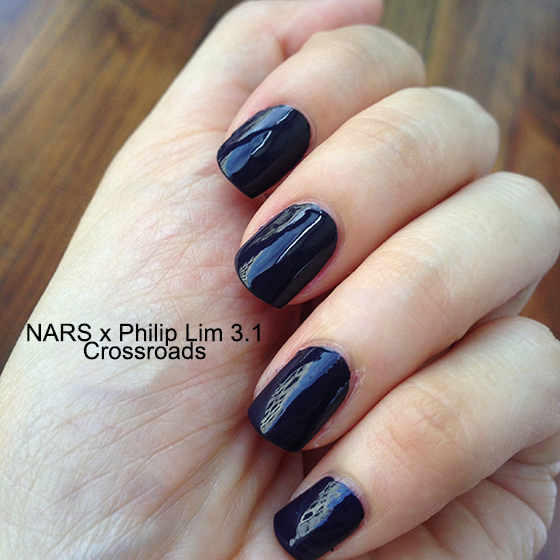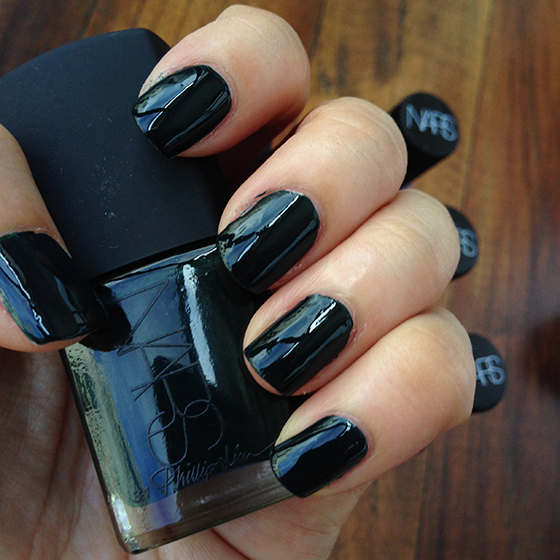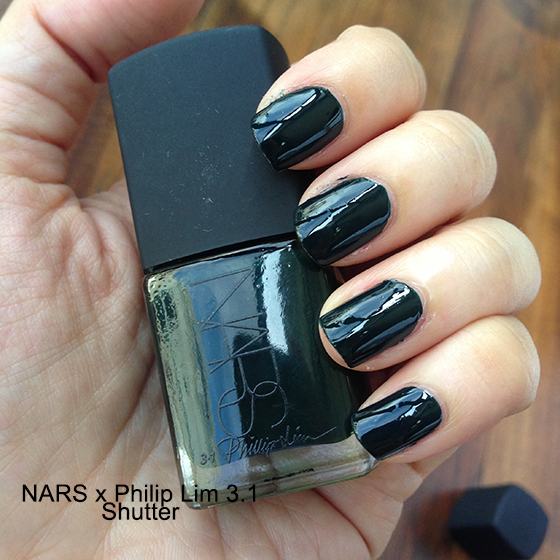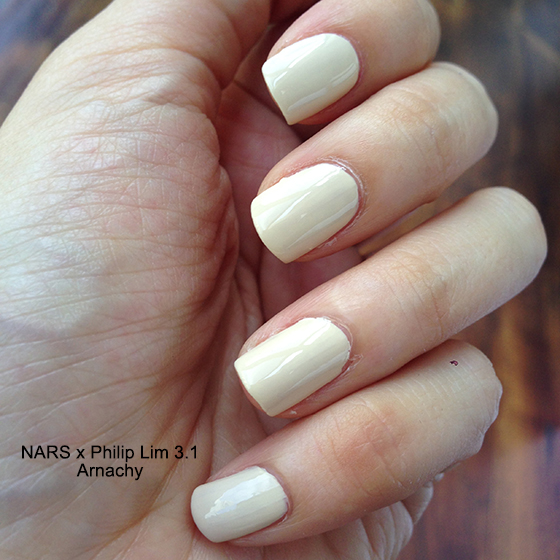 and next, we have the permanent shades - 
Knockout color. Genius formula. Introducing the new NARS Nail Polish, formulated for nothing less than pure color perfection. Wildly chic, this brilliantly curated palette of extended wear enamels features a flexible, high gloss finish for a freshly-painted look that lasts.
Introducing NARS new Nail Polish, a brilliantly curated palette of enamels featuring a flexible, high gloss finish for a freshly-painted look that lasts. With a unique combination of resins and polymers, the upgraded formula is designed to improve wear and strengthen nails, while the removable cap and specially designed brush allow for easy application.
<span><span>The comprehensive 43-shade collection includes 19 new shades and 24 fan favorites for a full range of lacquered looks. Base and Top Coats complete the chip-defying, color-enhancing trifecta for an iconic nail look with serious staying power.
</span></span>
Arabesque

 Sheer pink with pink glitter

Fearless

 Bright pink violet

Kalymnos

 Lilac
Swatches - again, shown with a base coat, and 2 coats of color, though I applied 3 coats for Arabesque. 
Arabesque looks great on its own when you want something different - this is already in their current/ old collection - the glitter bits are quite densely packed, so 3 coats give you a healthy pink flush as the base and some serious bling bling. 
Fearless is a beautiful vibrant purple pink.  I love this shade - I don't normally reach for bright pinks on my nails, but when I wore this shade, I kept it on for 4 - 5 days (I usually get sick of the same color after 24 hours.... hence my nails are usually no painted, or I just switch colors every other day) - and after 5 days, there was barely any tip wear. 
Kalymnos is a lilac purple with the most subtle silver sheen.  Two coats give you full color payoff.  
Both Fearless & Kalymnos are part of the 19 new shade additions to the nail polish collection.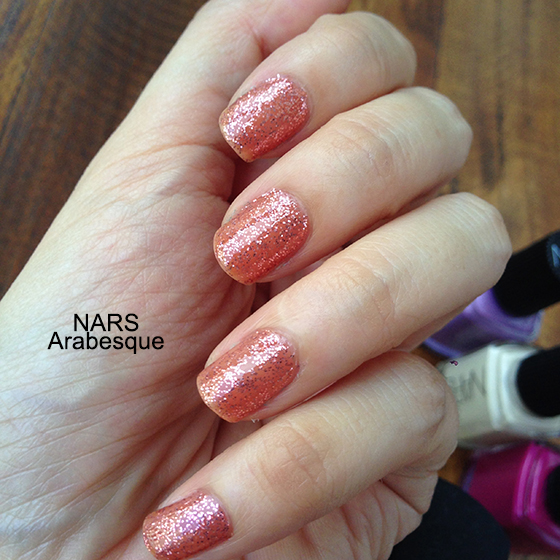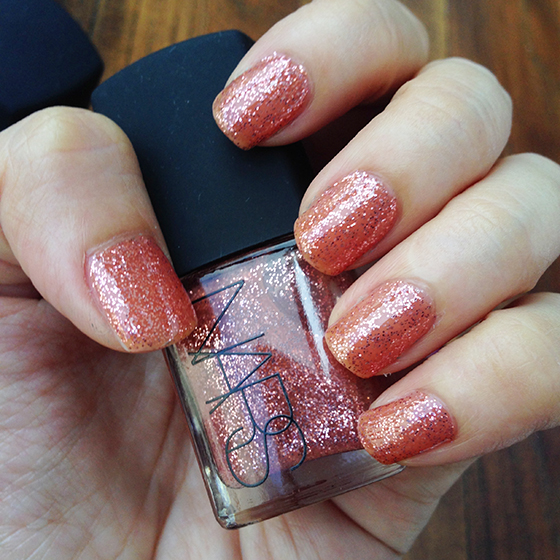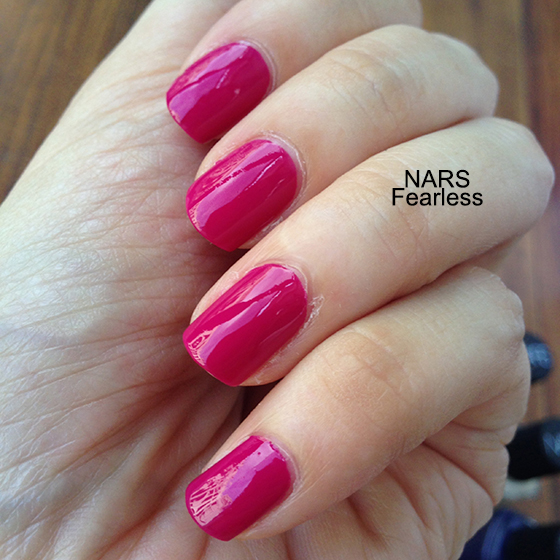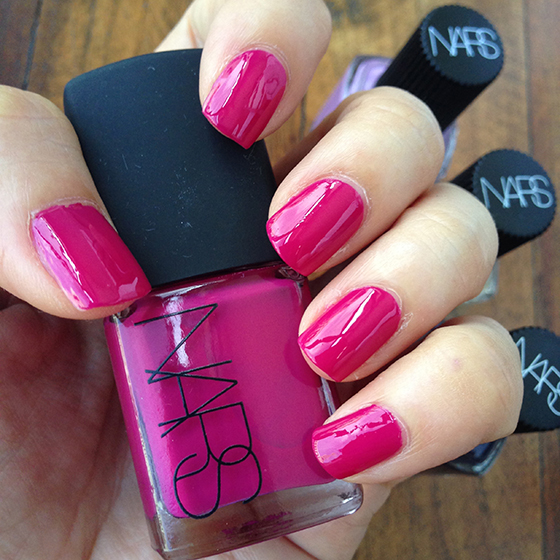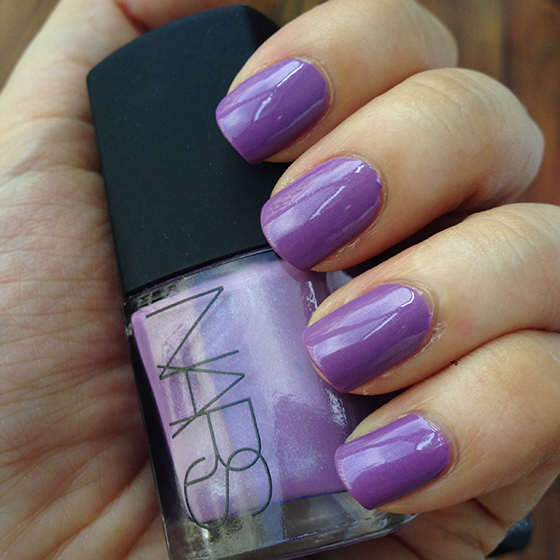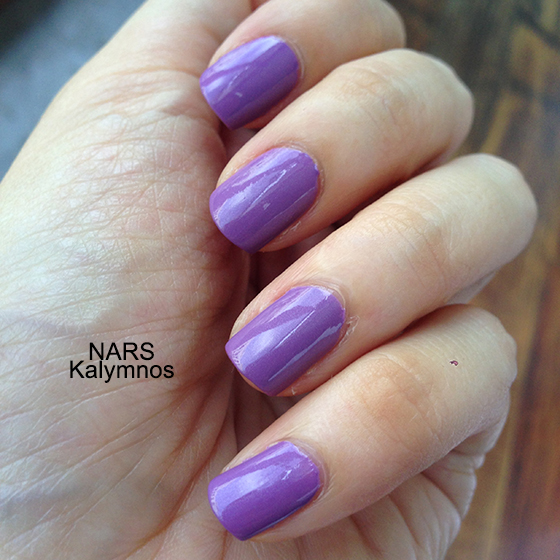 And here's a round up of the swatches: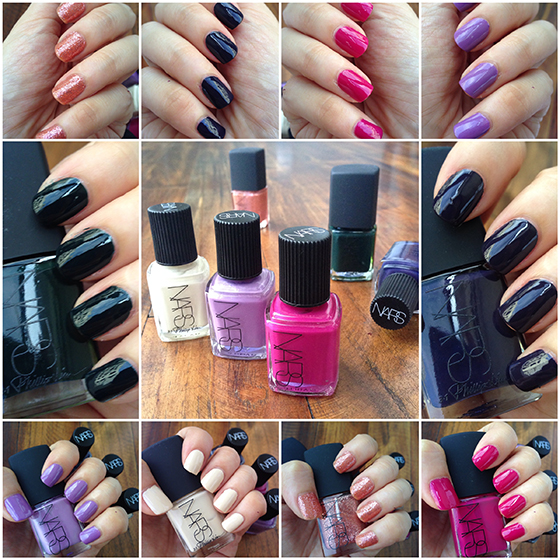 That's all I have for this entry - still trying to get back into the swing of regular blogging, but failing miserably as you can see... I am sorry (again) and for those of you who are still following me, thank you so so much... and I promise I will be back whenever I have exciting stuff to review and share with you! 
Happy Sunday!