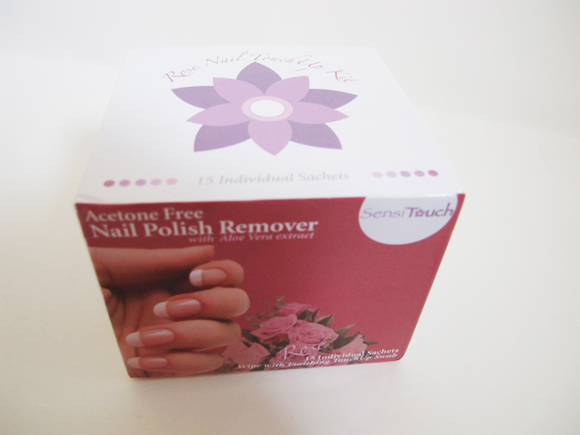 Hi hi!
This will be a review of the Sensi-Touch nail polish remover wipes.  These are just like wet wipes, except they are soaked in nail polish remover, and you use one of these wipes to clean off all nail polish on both your hands.  A couple of days ago, I had used an older packet of this remover wipe to clean off my Chanel Peridot, and I was uber impressed by how effective it is.  So I think a proper review of this product is totally timely, since I have an entire box of it.
I shall ramble and review this product, and all the photographs and product demonstration will follow afterwards.
My thoughts on the remover wipes:
They are super effective.  I had tried it out on red nail polish (as shown in the demo later) and also a rather shimmery nail polish (Chanel's Perdot) and on both ocassions, one wipe is enough to clean off everything.  The area of each wipe is enough to clean off nail polish on both hands, though you might want to 'space out' the area of the wipe, so that you will constantly have a clean area/ corner to clean off each nail.
They are not drying at all.  As you will see in the demo pictures, my clean fingers look moisturised, and not dry.  The wipes are soaked, rather wet, so there is enough remover for both hands (and if you are removing a very light color, enough for both hands and feet too).  The formula of the remover is a oily based liquid - not those alcohol types - and this might very well explain the non-drying factor.  This also means that the wipe stayed moist throughout the whole removal process.
The rose scent is just nice and not over-powering.  The product also comes in a non-scented version.
Each packet of wipe comes with a swab which you can use to reach the cuticles and under the nails to remove all traces of nail polish.  This is very useful indeed.  Even if you don't end up using these swabs you can keep them, and next time you are painting your nails you can dip these swabs in nail polish remover to clean up any mistakes.
I won't recommend using this wipe for glitter heavy nail polish, if you have glitter nail polish on just one finger, and the rest are regular nail polish, it's still ok, but all ten nails?  I can only imagine the mess, as all the glitter bits are stuck onto the wipe and go all over your hands as you clean off every nail.
At $12 a pack of 15 packets, these are a bit of an investment, so I would really only use this if I am travelling, and/or in some random situation whereby I might need to remove my nail polish in a hurry, and don't want to go out especially just to buy a bottle of nail polish remover.
Bottomline: These are really effective products which would come in handy for frequent travellers.
Where to buy them?
Meimei Signatures [ link here ]
How much?
$12 for a box of 15 packets
Photos & Demo: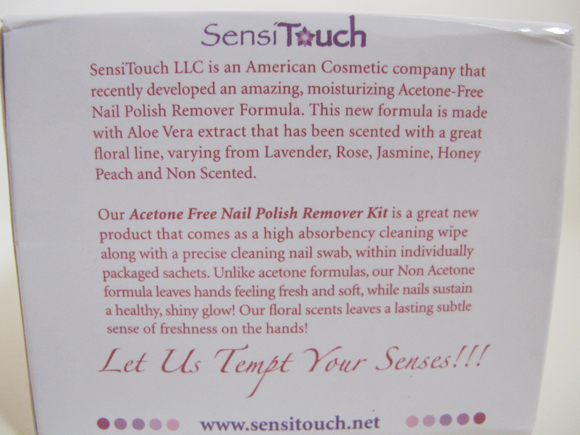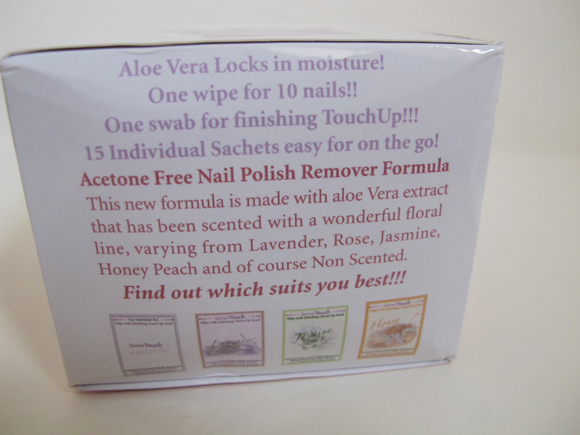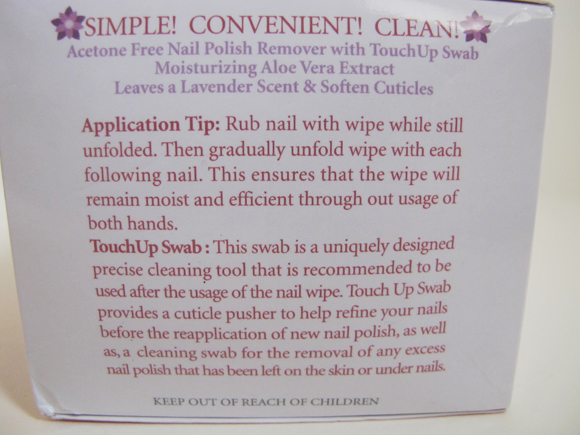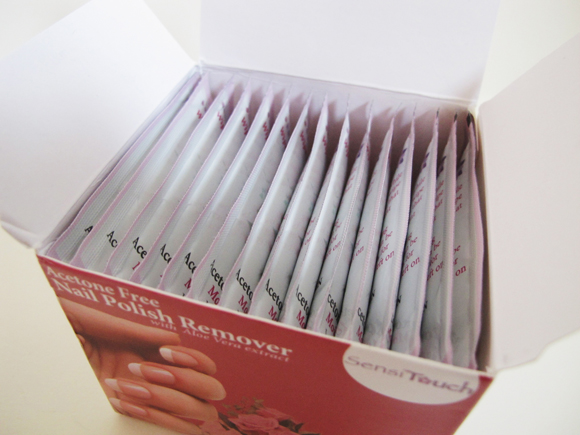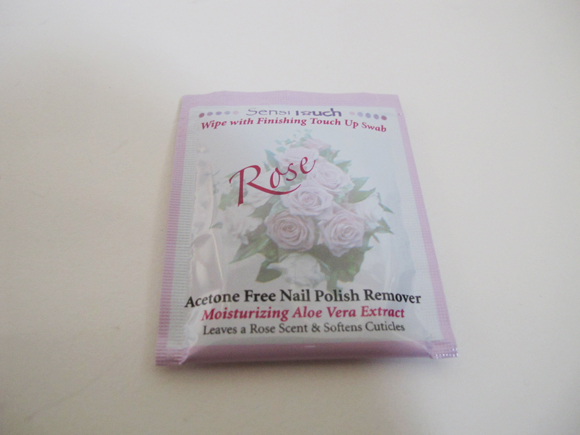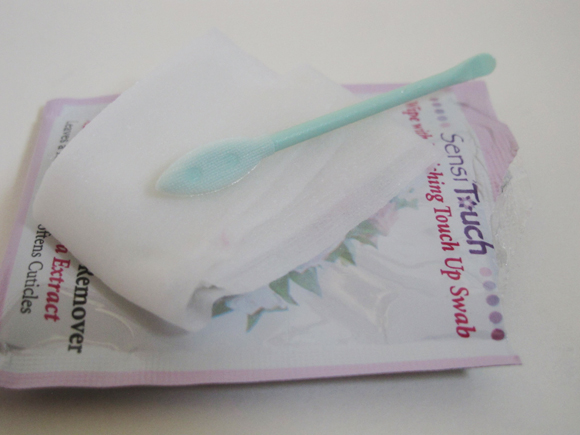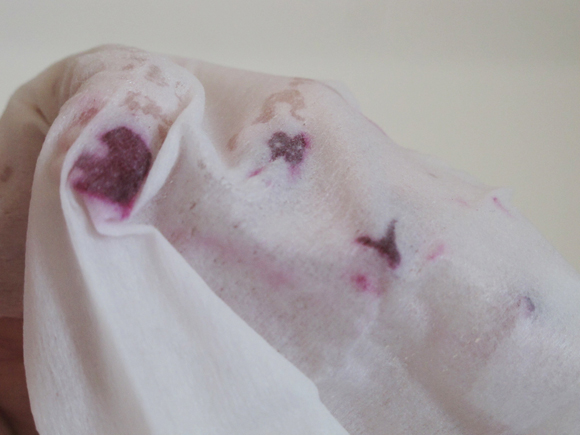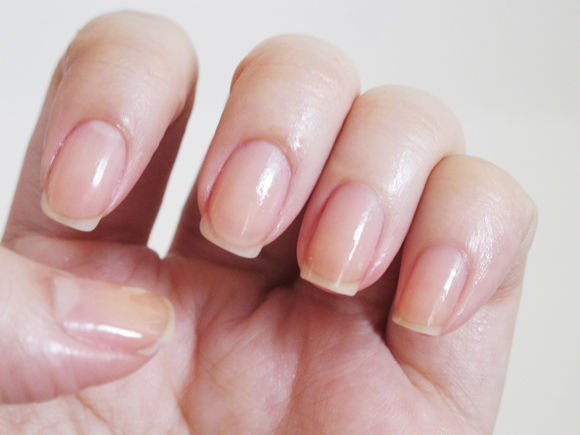 I only use this one wipe to remove nail polish from one hand, so there is still plenty of clean area sufficient for the other hand.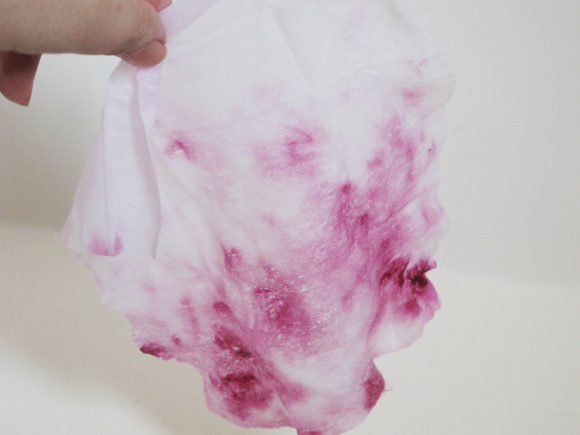 Hope this has been helpful.
Thank you for looking.
p/s Sensi-Touch remover wipes were given to me for consideration.