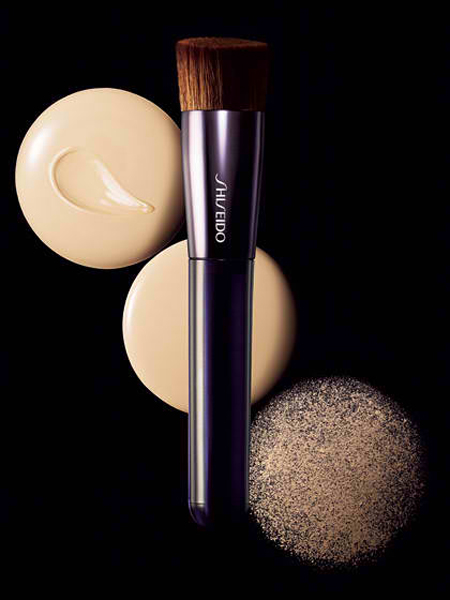 HI everyone,
This will be my review of the Shiseido Perfect Foundation brush... for all the technical information, and the science behind the making of this brush, please refer to my indepth entry link here.
The brush has already been out for quite some time, and retails for S$40.
I have received this brush quite a couple of months back, and I had used it a few times when I first got it, but I didn't quite figure how to use it to get the perfect desired finish which I wanted -- the results was rather streaky, and I didn't like how small the brush head is --- meaning more time needed to spread foundation all over my face.  And I didn't have much time during my makeup routine in the mornings to actually try out different foundation application methods... so I sort of left it aside, not thinking about about the brush.
Recently I started using it again, and I found that I am able to achieve way better results.  I am not quite sure what I was doing right this time, but the streaking issue didn't happen anymore...and I read the information kit which I kept with me, and I must say I learned so much more, and I also realised what I was doing right this time round.  Hence now I feel like I am ready to give the brush a fair and informed review.
Price & Packaging:
At $40, I must say that this is a very reasonable price to pay for a good brush.  It is not the cheapest foundation brush I own, but it is nowhere near the  most expensive either.  I personally don't mind paying $40 to own this brush - after all, if you have spent good money on good foundation, and good skincare, $40 is relatively a small amount to fork out.
The brush is also quite small, as compared to other foundation brushes I have in my stash.  It is about 12cm in length, the brush is very sturdy and solid to hold.  The bristles is an angled flat head brush (again, click my previous entry from the exact description of the brush and its anatomical specifications)
It is unique from other foundation brushes I own, which are either the paddle shape (aka the MAC190), the round/flat/angle buffer types (Sigma, Real Techniques, Louise Young).  And because of its unique shape, you really shouldn't attempt any buffing action with this brush - that's how I ended up with the weird streaks and cakey finish.   And because the hairs on the brush is rather short and stiff, you can't really paint on the foundation as you would a paddle shape brush too. So how do I use this brush?  Read on and find out! :)
Quality:
I have washed the brush several times, and there was no shedding no color bleeding too.  The brush is made of synthetic bristles.  As you can see in the following pictures, the ends of the bristles are very soft.  And p/s you are also looking at a dirty brush!   I didn't get to wash it.... and it doesn't look too bad being dirty anyway.
And here you can see how the Shiseido brush compares to other foundation brushes in term of the size and different brush heads.
Application demonstration:
I will usually dispense the foundation on the back of my hands.  Then I use the brush to dab and distribute the foundation on areas of my face.  The brush did not absorb too much product, so I used my regular amount of foundation to do the job.  When I get to areas like outer corner of my face, I just use whatever is remaining on the brush to apply and blend.
Here you can really see how tiny the brush is in relation to my BIG FACE...I use gentle stippling actions, patting the brush all over my face.  Note that I did not use any BUFFING actions.  If you buff, you will find that you use too much force, and the brush can't buff properly, and you end up with poorly blended foundation.
With this brush, to achieve the perfect finish, you just need to pat pat pat, and use light feather strokes to blend.
After a few uses, you get the hang of it, and you can finish applying the foundation quite quickly enough.  Phew!
Because the brush head is small, you can use it to reach the crevices of your face, around the nose, eyes, etc... and I also use it to blend and pat in concealers. That is a major plus point for me.  I have also tried applying cream blushers with this brush ---- PERFECT too!
I now also understand why the brush handle is small... it's for you to hold it at the point when you apply just the right amount of pressure, and well, for practical purposes, you can bring it along in your makeup bag.. and for a brush that I find this multi-functional, that's a great plus for me.
I have tried out this brush with my more liquidy foundations as well as the creamier ones... and it gives the same results.  The foundation goes on quite flawlessly, gives great coverage and also blends in seamlessly.  (And applying foundation with a brush also means I don't have to clean my hands everytime after I do my foundation).
So if you want to achieve a professional finish to your makeup application -- which is what this brush promises to do.... I really do highly recommend this brush.
I am glad that I gave it a second chance, and I learned how to use it properly, and also understood the thinking behind the design of the brush.  It is rather ironic that before I found out, I was already intuitively using the brush in the correct way.  Just that now I am able to explain and articulate why it works the way it does.
I hope that this review has been helpful, and you do check out the Shiseido Perfect Foundation Brush!
Thank you for reading.