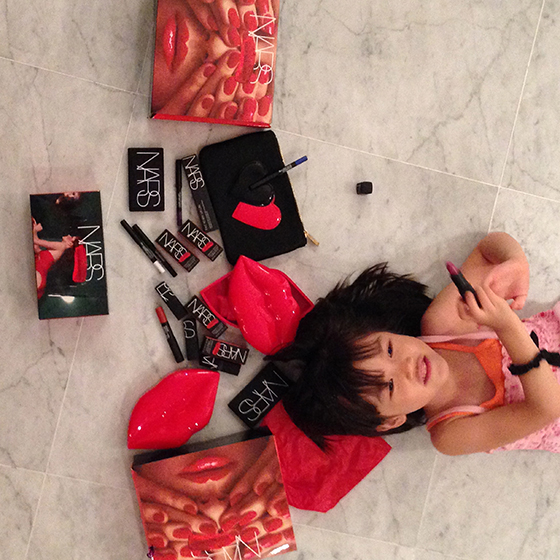 Hi hi!!  
Here's a pic of my niece posing with all my new NARS stuff which I got over last weekend - I bought half of these while the others were gifted by the very kind folks at NARS when my sister and I went for a special makeover session by Julio Sandino (NARS international makeup artist) who created a Guy Bourdin inspired look on her - I offered to take pics and document the process.  
After a quick face cleansing and prep using NARS skincare, the NARS BA used a combination of the following products to create a natural flawless base on Beverley:
NARS Radiant Primer
NARS Tinted Moisturiser
NARS Radiant Creamy Concealer 
NARS Light Reflecting Translucent Loose Powder
Julio started the cinematic & dramatic eyelook, by using a base color, and then going over with eyeshadow.  He then rimmed her eyes with a black liner.  The eyelook was finished off with coats of mascara and also some further blending out of the eyeshadow.  Here are the products he used:
NARS Pro+Prime eyeshadow primer
NARS Soft Touch Shadow Pencil in Calabria 
NARS Fairy's Kiss eyeshadow Palette
NARS Larger than Life pencil Via Veneto
NARS Larger than Life Lenthening mascara 
Here he is sculpting her cheeks with a bronzer, and that Ita brush he used was just perfect for creating a contoured cheek.  Then he dusted a blush lightly on her cheeks. 
NARS Laguna bronzer
NARS Torrid blush 
On Beverley's lips, a vivid orangey red lip was created to set off the purple eyes, and I feel that the overall look is quite reminiscent of the Guy Bourdin aesthetics (as you will see in the campaign images).   Both Beverley and I love the lipsticks combo!
Here's are the lippies:
NARS Red Square pure matte lip pencil
NARS Short Circuit cinematic lipstick
NARS Wonder lipgloss 
Another close up: 
This is certainly a very dramatic look, but I guess you can always adapt according to your preferences! :) 
At the makeover, we were each gifted some NARS goodies, and one of them is the Voyeur Eyeliner Set - a collection of 5 mini Larger Than Life pencils in a super cute pouch (they also gave us a Fling Lip Kit which I had also purchased earlier the same day). 
The set contains a couple of LE shades and classic faves. 
Voyeur Eyeliner Set
Via Veneto: Jet black
Via Appia: Copper brown
Santa Monica Blvd: White
Blue Dahlia: Cyan blue (Limited Edition)
Most Wanted: Deep violet (Limited Edition)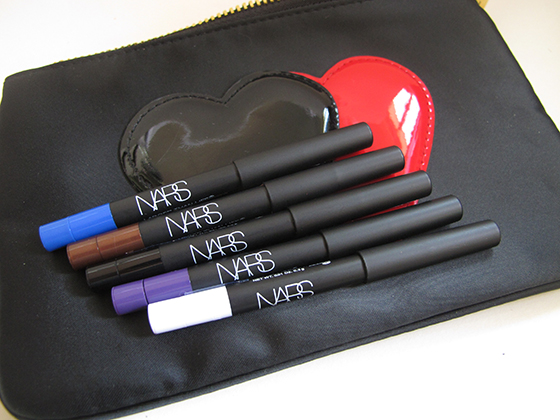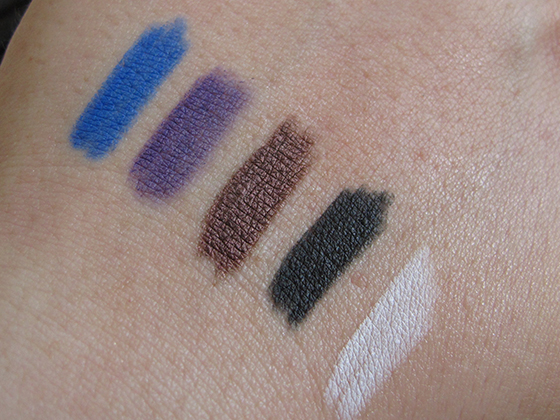 Hope you enjoyed this entry! 
Thanks for reading!