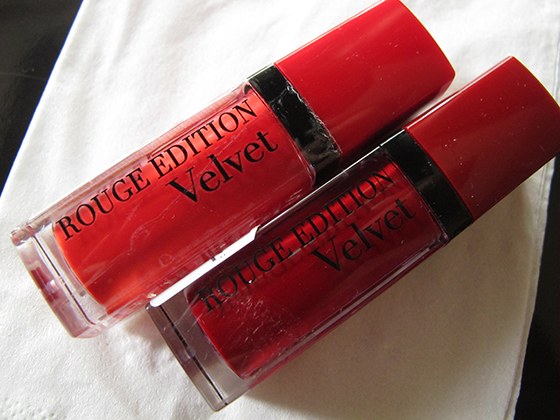 Hi hi!!
Finally managed to sit myself down and get on a blogging roll... and while I have a few backlogged entries lined up.. I thought I will start with something quite current.. The Bourjois Rouge Edition Velvet aren't new products by any means, I think I have swatched them in store before late last year, and recently I just pushed my sister into getting one for herself - she loves anything matte, non drying, saturated and bold.. and these Bourjois lippies are just right up her alley.  I didn't get them myself until a recent JB trip.  Given the exchange rate, and the fact that these were going at buy 2 and the second one is half off.. I ended up paying barely SG$14 each (compared to SG$25.90 at normal price here, sometimes they are 20% off at Watsons).  So anyway, we got a few to try out for fun - and ended up wiping out the shelf.  I went for the bold reds...I usually find that such saturated matte lippies wear a lot nicer as a bold shade (as opposed to the 'natural my lips but better' colors).  
I would compare these Bourjois lippies to the Giorgio Armani meastro lippies, and also like a more liquid version of Chanel's Rouge Allure Velvet - they are very lightweight, packs on full on colour intensity, they are not drying at all, and I really think the finish and formula is really sophisticated.  
The two shades I picked are 
03 Hot Pepper - a hot warm bright red
08 Grand Cru - a deep dark true red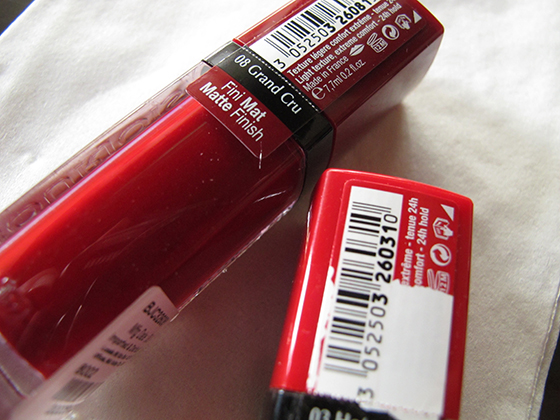 They come with doe-foot? applicators.. and you can see they are quite velvety and silicony in terms of consistency.  When applied/ swatched, they have a slight sheen, but they dry down to a soft matte finish.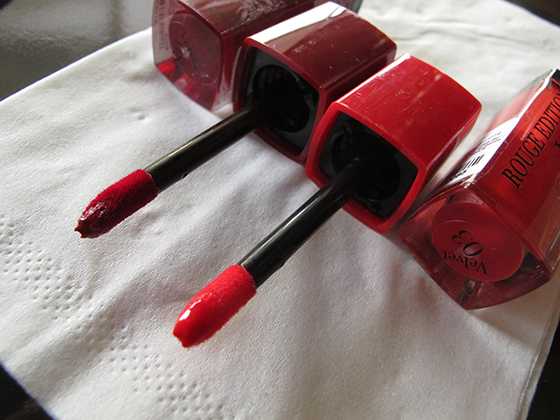 swatches here
I find these very buildable - the first layer is a smooth stained effect sheer and pretty.  Then you can build them up to how it looks in the bottle.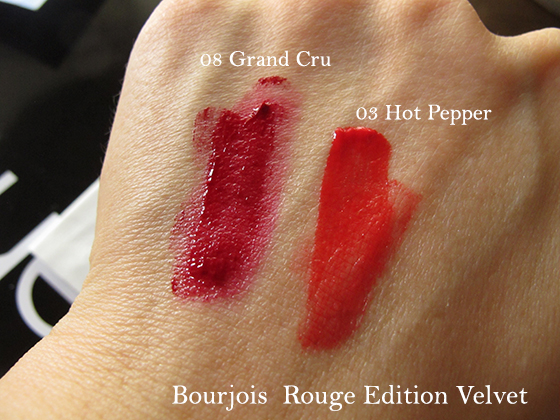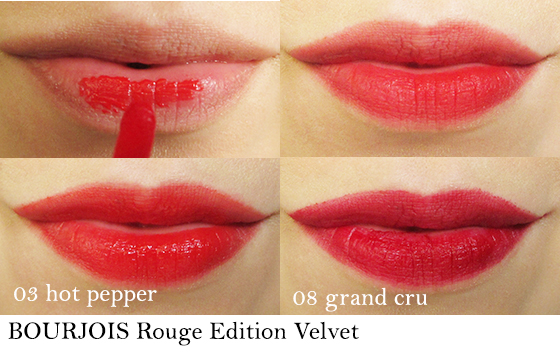 and overall look - pardon the slightly icky face.. I wasn't really prepared to take so many LOTD/lippie pics this afternoon!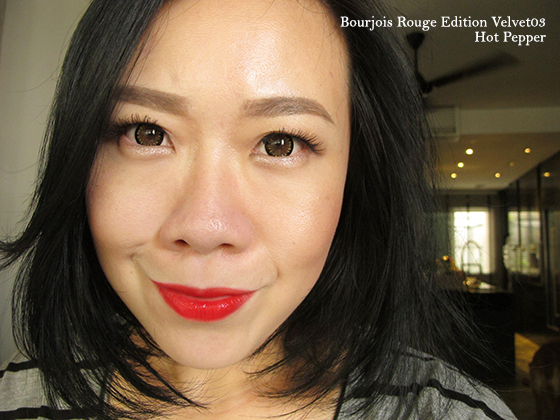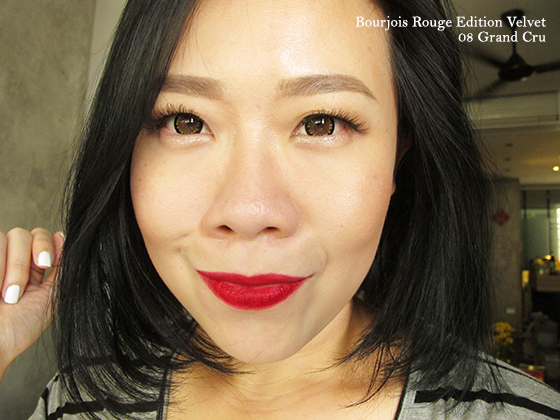 Bottomline:
 These are really affordable quality lip products - a good dupe to the high end comparable ones which I mentioned earlier in this entry.  My sister and I can vouch for the staying over.. they stayed on over a meal (you can touch up only just a bit on the middle part of your lips..but everthing else is intact).  These do stain a bit. as expected for something so intense.  But if you want an easy fuss free bold lip... definitely consider these.  No wonder they are so hyped among the UK bloggers!