Hi hi!!
Just catching up this rather relaxing Sunday, and hopefully a preview of future posts to come at the end of this entry. 
So over this weekend, we did our usual Halloween parade around Clarke Quay and Zouk (contemplated going to walk about Orchard but we decided not to, and also due to some time constraint) - so anyway the back story to this year's Halloween preparation, none of us really had any time to actually sit and plan the looks, but we did manage to meet and go to the costume store just 2 days before the weekend, quickly picked out our coordinating outfits.  As usual, we went for the 'Victorian' antiquated look...that seems neutral enough to go with any crazy faces that we were planning to do.  
So we did some online image searches of Halloween faces (and trust me, it can get a little gory but I was looking at the inspired looks in a very technical way, and so I wasn't too creeped out, even though I am not one to watch horror movies).  We didn't manage to do any makeup trials, but I guess by now, each of us are quite adept at doing our own faces.. I did a mni trial on myself on Sat morning, but in the end, did a completely different thing.  
my early morning trial - excuse my super pale face 
the trick is really not to be careful, and you aren't aiming to look pretty at all
<p>
If you are out of ideas, and want to look impactful, just do a pale face, contour the hell out of it by using black eyeshadow, and do a mega smokey eyes and smuge your red lipstick everywhere, you are pretty good to go.  But of course, we went a little further.... and we came across this Chelsea Smile special fx tutorial and lots of images everywhere, and decided that we shall go for it.  
putting on the final touches
we also paraded at the supermarket lol</p>
the obligatory mirror OOTD
Cousins, brother, sisters   :)
This is so funny! </p>
(products used are in bold, in case you are curious to know what we used) 
I bought some plasticine wax thingy from MUFE... but it was rather hard to work out especially on the awkward area on our faces... that I ended up using the usual latex & tissue paper method to create the slit and texture.   For our faces, we didn't want to look clownish with a pure white face, so I mixed the MUFE white cream paint with my Guerlain Papure liquid foundation, so everyone looked suitably ashy and pale.  I also filled in my brows lightly, but my siblings flattened their brows.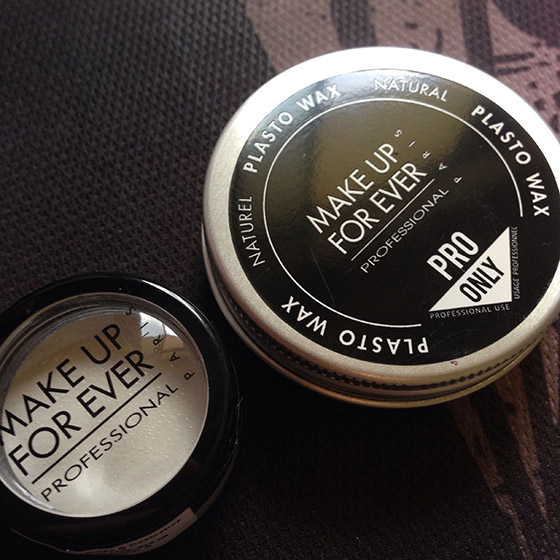 For the actual colors, it was a mixture of MUFE Aqua Shadow Pencils in the shades 0E (black), 8E (deep green), 6E (navy blue) and NARS eye paint in Black Valley ---  don't be afraid to pile on the cream base colors, they are waterproof and will ensure that your makeup won't melt off through the night.  These cream bases were set with various shades of purple, brown, and black eyeshadows from my Lorac Pro Palette, and my MAC eyeshadow palette (carbon, poison pen, top hat, copperplate etc).  For the blood, we use Illamasqua Sangers lipstick as the bloody base, as well as GA Maestro in 400 for touch ups.  For the fake blood,  I simply mixed some red food coloring together with those Chinese cough mixture ('pi-pa-gao') for a sticky dark blood red effect.  I also 'sprayed' on the blood onto the sides of my face using a toothbrush for that splattered look. 
Don't forget to douse yourself and the outfit in your most intoxicating perfume (we used lots of Chanel Chance and YSL Parisienne). 
We had our own set of various formations for photo-taking ops (and there were plenty) but the overall guideline for our Halloween looks has always been look scary, not slutty - and not cartoony either - it just has to be creepy with the use of makeup and watever we could find...it's too easy to just wear a monster mask and call it a day.  
In other blog news, I am looking forward to posting some beautiful Christmas/ Holiday collections from Shu Uemura, Guerlain and Dior this coming couple of weeks.  You have already seen my NARS coverage, and I really hope to play with the rest soon.  I also have a couple of foundation entries coming up soon.  I think this year I have been quite good with reviewing foundation on a monthly if not fortnightly basis...I think I have been able to try out almost every new foundation released this year. Heheheh.   Ohhh and also I need to post an official Illamasqua introduction, cos I have a range of products from almost every category to share with you!  I also have a brush set review coming up, and another current skincare update to do.
I also have new haul items to share with everyone, such as Marc Jacobs stuff, Hourglass, some skincare and random bits..shall slot in  these entries whenever I can.
I will also be judging a whole load of products for a certain beauty award in the coming month ahead, so that should be quite exciting indeed.  Will try to show sneak peeks if I can. 
I am still clearing out the last bits of the stuff from the makeup sale...and thanks to everyone who emailed me. I am thinking of doing such a sale once a year...instead of monthly blogsales...I think I can always get a stall at some flea... and you can shop my stash then, sounds good?  Doing the sale at my friend's condo is good because she didn't have to transport her stuff here and there, and the function room was very conducive for shopping, plus the location is relatively central.. but but but didn't expect to run into that nasty problem with a certain someone who complained to the management (a fellow beauty blogger we found out, and I think I am 99% sure I know who) and actually on that sale day, everything went so smoothly and orderly...seriously..not sure what's her problem.  
Scene of the makeup sale!  My sister was our efficient cashier for the day!  :)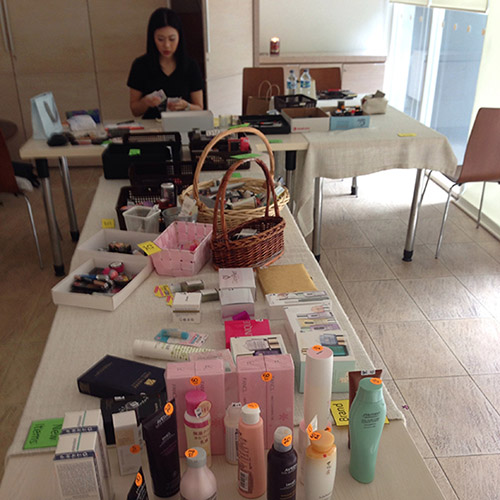 My daily schedule is a little blown off with my current work duties that require me to get up at 5am, and I am pretty up tied up the whole day til evening... I am hardly at my computer, and I need to sleep early so I can get up the next day. 
Also started driving rather regularly these days, and running into a few hiccups here and there....geesh..I love driving, but I really hate the $$$ and hassle involved.  But the convenience is priceless and in the whole scheme of things, I guess I should be very very careful on the roads and just be nice to everyone.  
Thanks for reading and have an awesome week ahead!