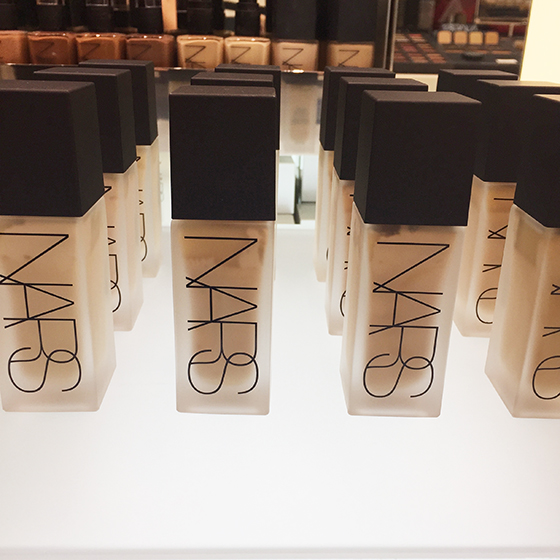 This entry will feature three NARS Collections that I got to preview recently.  The new foundation will be out in SG by early Feb, along with the Spring 2015 collection, while the EYE OPENING ACT Collection is already available.  I will show you swatches of the makeup products, and also my brief first impressions of the products I got to play with at the preview. 
First up, we have a new NARS liquid foundation that will replace the NARS Sheer Matte.  This is the All Day Luminous Weightless Foundation.  This is highly pigmented and comes with a pump that dispenses just the right about of product for one application.  Julyen the NARS makeup artist tried on the foundation on my face and first off, I am very impressed by the pigmentation of the product, you really just need the tiniest amount to have decent coverage, and the finish is so subtly radiant and so smooth and clear.  Quite impressed, and I will reserve my full thoughts after I have given the foundation a good period of trial.  I use the shade Deauville- which is my usual NARS shade.  It is a light neutral shade. 
Here is the official product description from NARS:
Full, natural-looking coverage with unexpectedly weightless, 16-hour wear. Highly pigmented and perfectly balanced, this breakthrough formula builds and blends effortlessly with just one drop—the result of exclusive innovation uniquely designed to deliver long-wearing full coverage, weightlessly. Shake, pump and blend in sections for complete coverage that's completely natural looking.
Pure Innovation. Exclusively NARS.
Weightless Long-wear Technology delivers up to 16 hours of wear, while always feeling light-as-air. Featuring advanced flexible polymers and first-to-market treated pigments.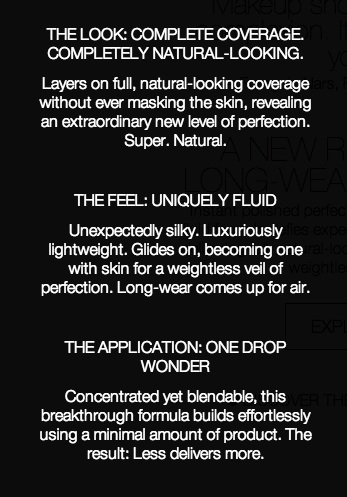 There is also the new loose powder- which will replace their current loose powder, called Soft Velvet Loose Powder.  I use the shade Eden.  This was also used on me yesterday, it seems to be very soft and smooth, and provides just a tiny bit of coverage after foundation. 
The official description:
Sets foundation and controls oil, while visibly blurring the appearance of fine lines and pores with a soft-focus finish.
And a few pics of my face and overall look after the new foundation/ base make-over:  
Everyone pretty much agreed that my face look very flawless and yet natural at the same time. I have pretty clear skin..and I think this foundation just takes my overall skin texture up a notch while looking very lightweight.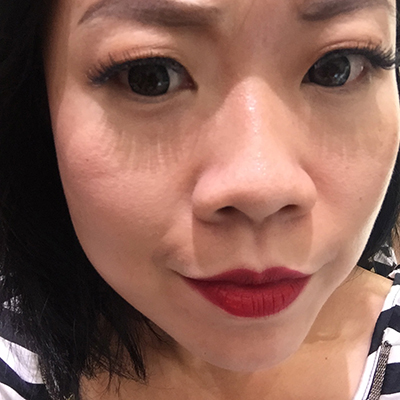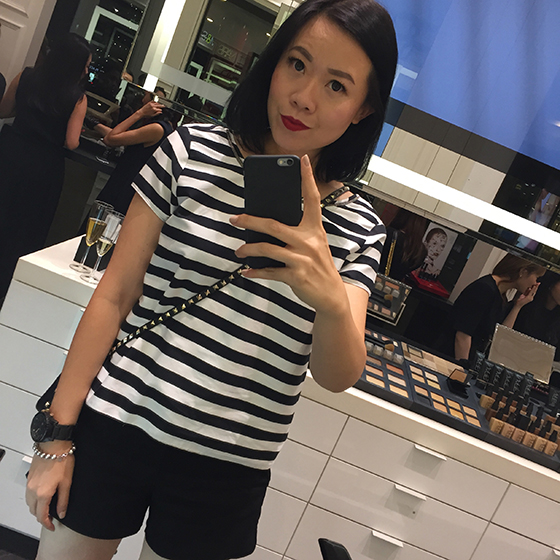 Next, we have a color collection - called the EYE OPENING ACT - which consists of two eyeshadow palettes (containing brand new shades) and also five shades of matte cream eyeshadow sticks, and a beautiful illuminating multiple - super pretty and wearable.  I fnd the swatches of the eyeshadows to be very smooth and creamy, especially the matte shades - they are very pigmented and didn't seem chalky at all.  More photos and swatches below: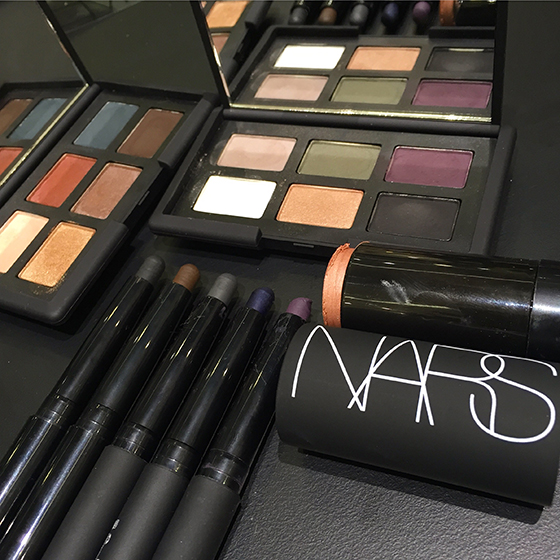 The Velvet Shadow Stick defines, intensifies and shades, drawing unscripted drama with potent matte pigments. It adds dimension to your eyes for a gorgeous matte look that turns heads.
Dark Angel

 Brown

Flibuste

 Black

Glenan

 Blue

Nunavut

 Purple

Reykjavik

 Gray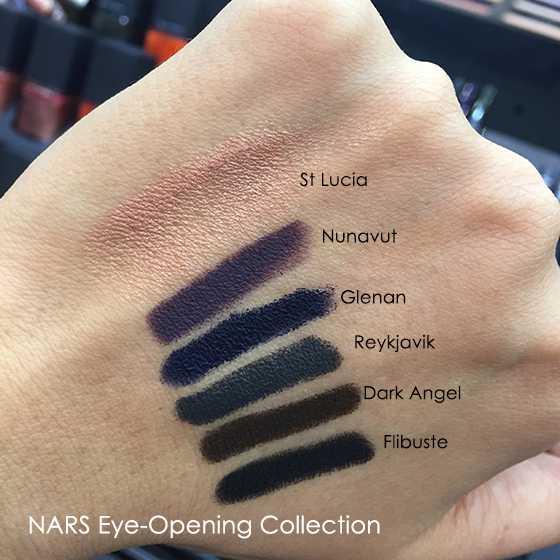 The Eyeshadow Palette is depth-defyingly versatile and born to upstage. Light goes dark, warm blurs cool and soft turns saturated in one sweeping performance.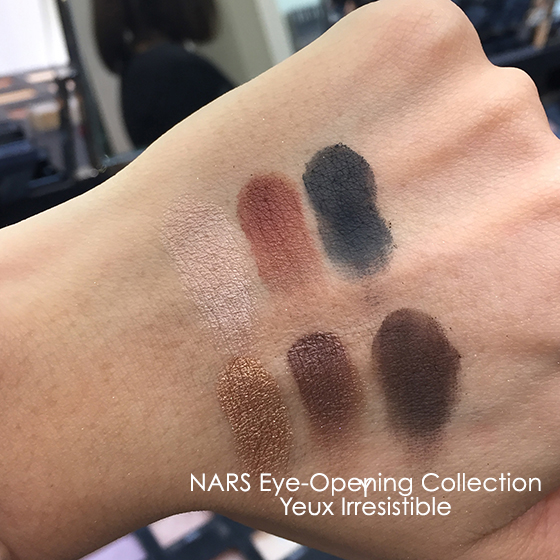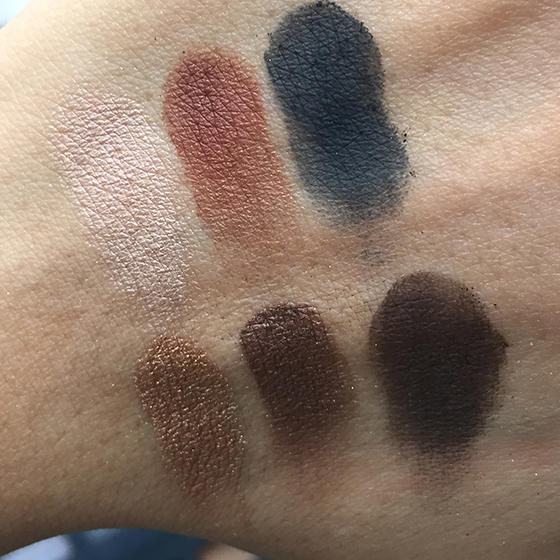 Yeux Irresistible
All About Eve

 Flesh toned neutral with shimmer

Jezebel 

Shimmery sable

Thunderball

 Midnight gray

Colombo

 Vintage gold shimmer

Brousse

 Sable

Coconut Grove

 Deep brown infused with reflections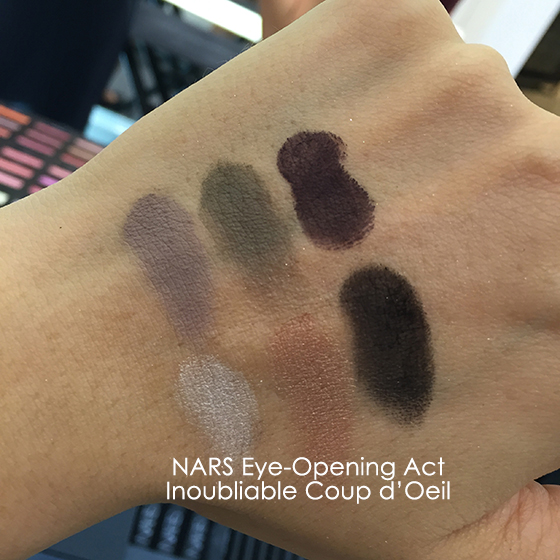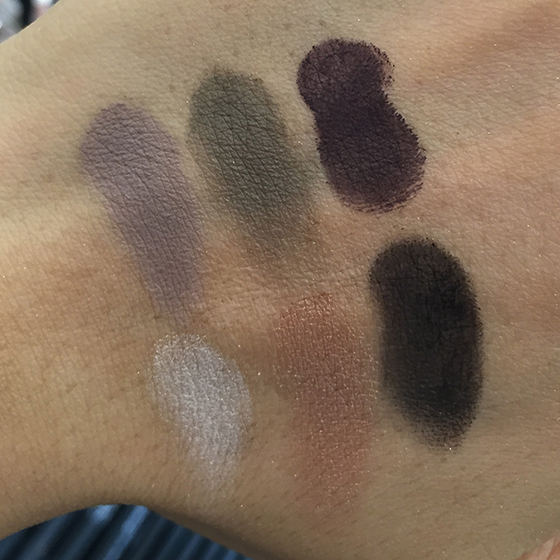 Inoubliable Coup d'Oeil
Dalliance

 Dusty lilac stone

Pyla

 Smoky hunter green

Sidi Bou Said

 Blackened grape

Pandora

 Sheer white shimmer

Luberon

 Iridescent sand with rose gold sheen

Pandora

 Matte black
Illuminating Multiple 
And finally, a makeup collection that focuses mainly on NUDE SHADES -- called the  
NUDE SCENE
which wil be available mid feb in SINGAPORE..love love the eyeshadow duo... can't wait to do looks with them!  Photos and swatches here: 
Collection information taken from Temptalia:
The Spring 2015 Color Collection features Tilda Swinton in the second of four 'Portraits by The Artist', a seasonal series of acts created by NARS Founder and Creative Director François Nars. Act 2, is a nude scene– daring, baring, anything but neutral.
Disrobed tones in spectral effects expose a new natural state. The look begins with a provocative pink shimmer on cheeks. The barely-there effect extends to eyes, where a bold beige base sets the stage for burnished neutrals with lucid depth. Lips are undone in tan pigments topped with a whisper of opalescent gloss.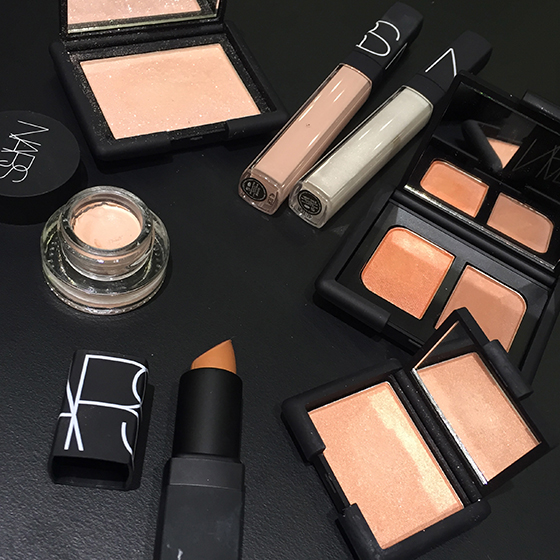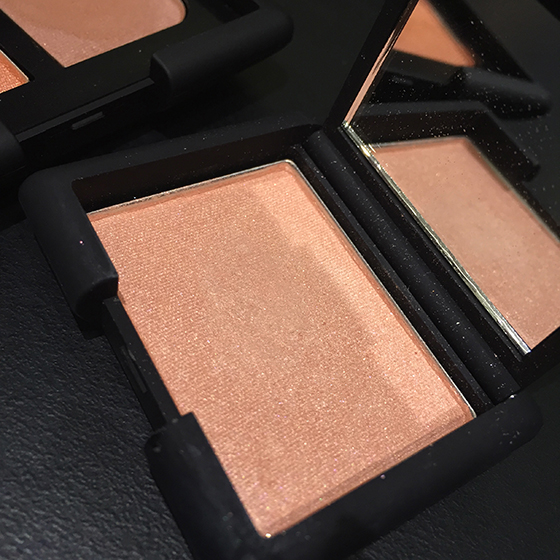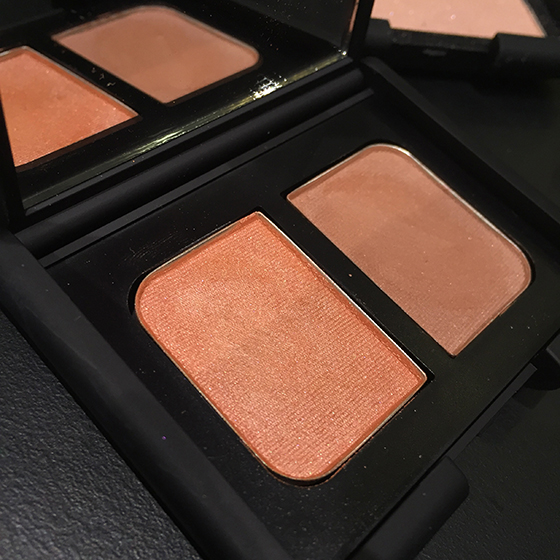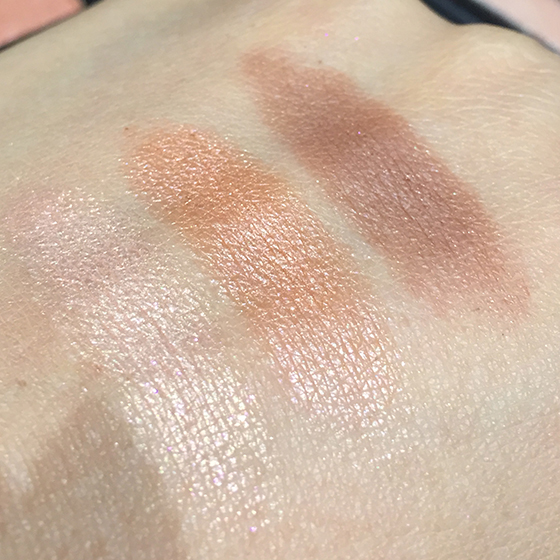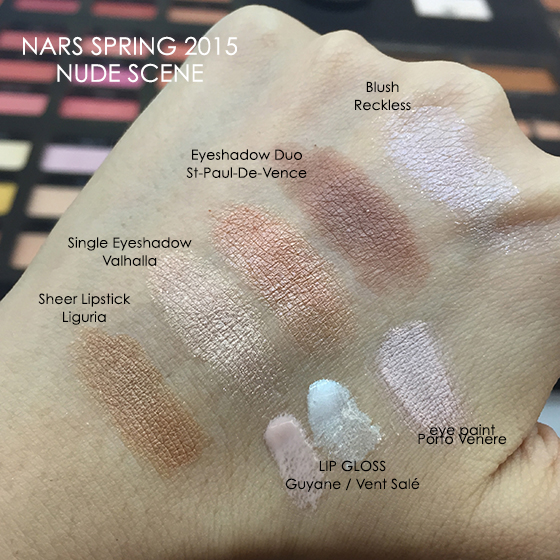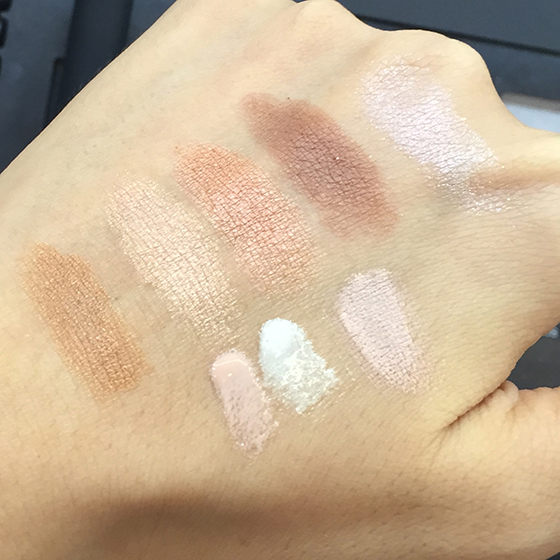 That's all I have to share for this entry, hope you find these helpful and thanks for reading!!