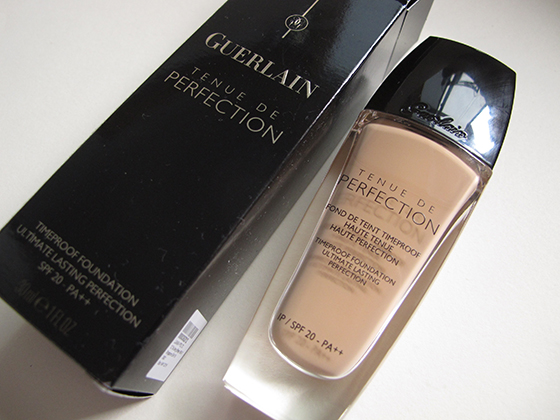 Today, I am featuring the new Guerlain foundation - the Tenue de Perfection, which is a foundation that delivers long-wearing & skin correcting features.  I have been wearing it for the past 2-3 weeks, and in a nutshell, I think that this is indeed a great long-lasting foundation - one that's great for girls with normal to combination skintype. 
A brief product description:
Guerlain, the master of colour and texture, has dreamed up the perfect attire for the complexion: a velvety-soft foundation. Its Timeproof Complex blends into the skin for ultimate correction, comfort and flawlessly sleek wear. Silky-soft and sublime, the complexion has never been so alluring, even after the clock strikes midnight.
I am wearing the shade 01 Beige Pale - a light neutral tone that matches my skintone.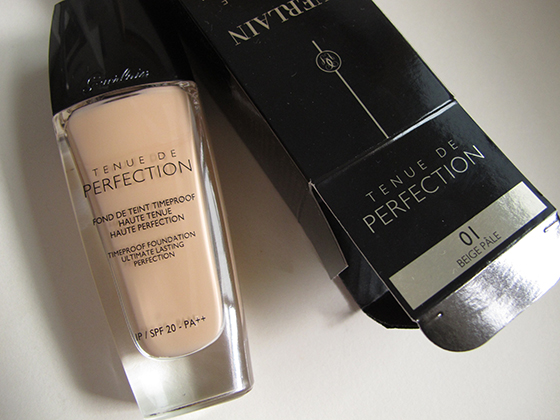 The foundation has a gel-like creamy texture.  Here, I have blended it out lightly so hopefully you get an idea of how the foundation looks like.  I usually use 1.5 pump for my whole face.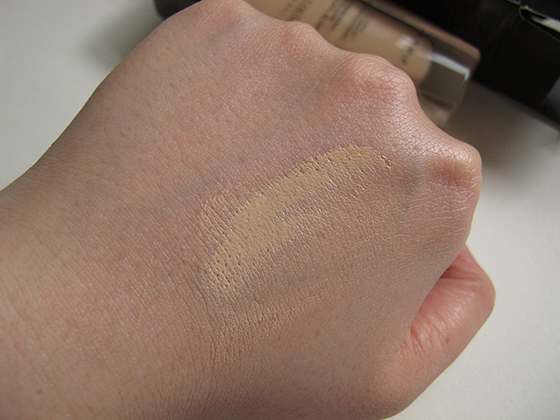 Here's a quick application step by step before I share my overview: 
Here's my bare face - again, note I am not using my usual camera..and it is my belief that I look kind of weird...not my usual angle and setup but 'normal' phototaking will resume in the next few entries! 
So anyway, yup, my bare face - a few spots here and there due to some recent breakout (which has since subsided, everything is all recovered and I am back to  my normal clear days). 
When I am using this foundation, I tend to go for a very very light base - such as the Ettusais Mineral White BB cream (more so for the SPF protection). 
I also have redness and some general uneveness around my eyes and nose.
I usually dab the foundation with my brush all over my face, and then start buffing and blending the foundation into my skin.  Like all Guerlain foundations, this has a slight floral scent. 
The foundation has a dense/ thick consistency, and I do recommend you really work it into your skin for best results. 
Here's a before/ after. As you can see, the foundation provides medium coverage - but there's not a very visible layer of coverage, I would say that it sits on the skin quite smoothly and is able to diffuse the look of imperfections of my skin. 
Next, I will set the foundation with powder. Here I am using Guerlain Blance de Pearle (00) with a fluffy brush.  
Here's a complete basic look - with brows and blusher. 
and a super close up - 
Overall thoughts:
The foundation goes on very well after you have properly blend it into your skin.  I really recommend using a brush, as opposed to your fingers, because you can achieve a much more even application and finish when using a brush.
The foundation is able to even out my skintone and the coverage is buildable medium.  I don't suggest building it up to full coverage.. but on areas where I needed more coverage, I was able to layer another thin layer on without any caking nor streaking. 
The finish of the foundation is a satin finish – it is not matte, but not glowy or anything like that. 
I like how this particular shade brightens up my overall skintone. 
It is also very long-lasting (ie a good 10-12 hours), I did not notice the foundation oxidising on my face throughout the day, though it fades just slightly after the 8 hour mark.
The Tenue de Perfection is a decent everyday foundation for a flawless and long lasting base.  If you have normal to combination skin, I think you would like this foundation.  Dryer skin ladies might want to go for a more emolient base or perhaps skip the setting of the foundation to suit your skintype.  In any case, I find that the foundation sits nicely on the skin, and one can get away with not setting it with powder.  I just prefer setting all my liquid foundations in order to complete the application and make sure that my makeup is 'sealed' with setting powder.
Comparisons to other Guerlain foundations I have used:

the Papure Gold (which I think might be discontinued) - Tenue de Perfection has a lighter texture and provides slightly less coverage.  The Papure Gold is one of my trusted foundations for long wearing luxe foundations, and I think that the Tenue de Perfection is quite comparable in terms of the finish and longetivity. 
the Lingerie de Peau - which is lighter in texture and coverage - if you want a more natural, slightly more glowy finish foundation, you would like the Lingerie de Peau more. 
The Tenue de Perfection is very similar to:

Lancome Mat Miracle 
Chanel Perfection Lumiere
Both long wearing, smooth (not dull at all) matte finish. 
Overall, I recommend the Tenue de Perfection, it's one comfortable & impressive foundation that I do enjoy wearing!
Hope you find this overview helpful and thanks for looking!