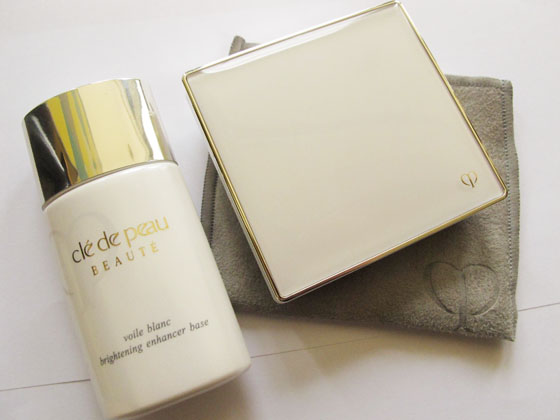 Hi hi!!
This will be a detailed review of the new Clé de Peau BEAUTÉ brightening enhancer base and powder foundation.  I have been using just this combination for the past couple of weeks, and first up, I just want to say that I LOVE THEM.  In this entry, I will share the product information, how I apply the base and foundation, and also go through with you how it wears throughout the day. 
Product Information:
Experience brilliant skin, from prep to finish.
NEW brightening enhancer base increases skin's clarity for smoother, more beautiful makeup application.
NEW brightening powder foundation has unprecedented optical technology for radiant skin that looks as though its never been touched by the sun.
Revel in impeccable beauty.
Swatches 
Brightening Enhancer Base
An exquisite NEW brightening pre-makeup base with serum-like qualities that imparts radiant clarity as it enhances and maintains the integrity of brightening powder foundation's flawless finish.
I notice visible smoothing and brightening effect at first swatch.  It smells lovely (but doesn't linger) and really helps the powder foundation to adhere better, and I think overall enhances the longevity too.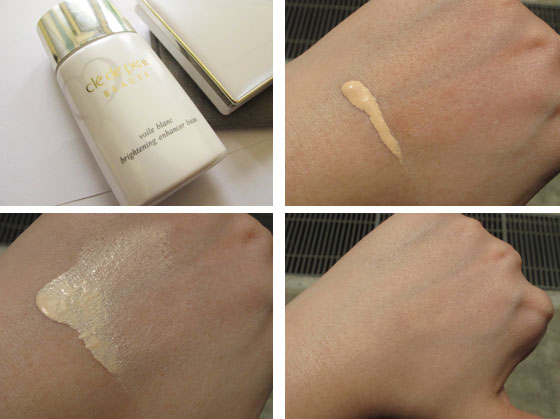 Brightening Powder Foundation

Imagine skin with such clarity, it looks untouched by the sun. Advanced research in optical science makes it possible – in a foundation. So brilliant, this could be your most exquisite beauty ever.
Available in 6 shades.
I love the sturdy and elegant casing of the foundation, even though I put the sponge on the powder, I have never used it... so if you are making your purchase, I would advise you to skip the sponge....because...as I will show, you don't need it... I find that a brush is the best way to apply this foundation.  It has a very velvety smooth and almost creamy texture.  It doesn't look like much at the back of my hand..so you got to see how it actually applies on my face.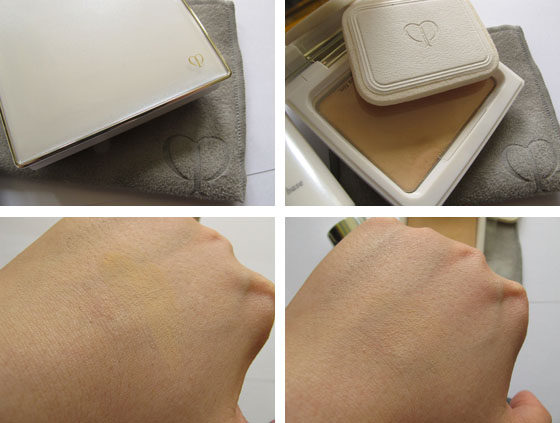 Application process:
I am showing you some half face pictures, because I am really impressed by the amazing difference.  Granted, my skin condition now is quite tip--top due to my skincare routine, but I am showing you that given my skin condition now, I really don't need much else on my skin - ie, I feel like I don't need a liquid foundation, nor do I need to make any special effort in adding glow, concealing my skin at the moment. 
I usually apply the brightening base with my fingertips, working it quickly into my skin.  It is slightly emolient, and blends it very easily.  
Here you can see the visible brightening effect.  The base seems to neutralise the redness of my face, and there's a slight glow overall. 
Over the years, my pores seem to have shrank - perhaps its due to my age, or maybe it's my skincare routine, but I am really not bothered by having to minimize my pores these days.  
So anyway, yup, the brightening enhancer base really does what it claims, enhancing my skin, prepping and brightening.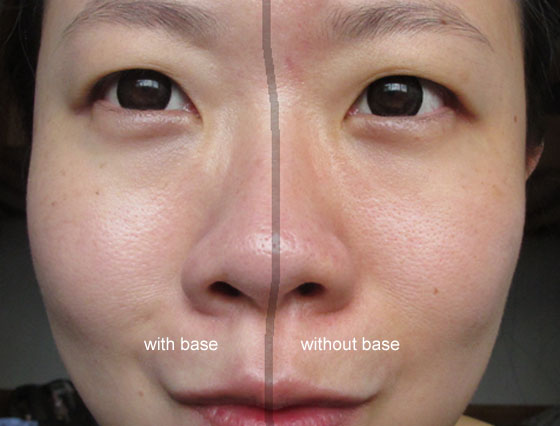 Next, I used a dense puffing brush to pick up the powder foundation.  I usually press and roll the brush into the powder.   Then I will also press and roll the brush onto my face.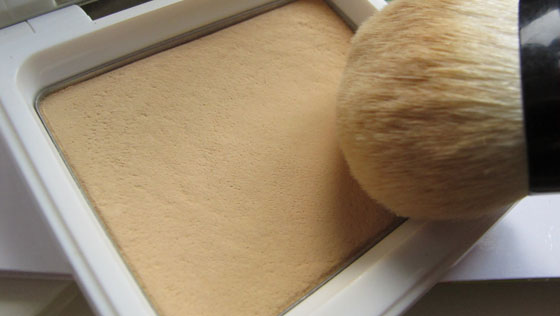 I will press and roll the brush onto my face, and then buff as I blend out the foundation.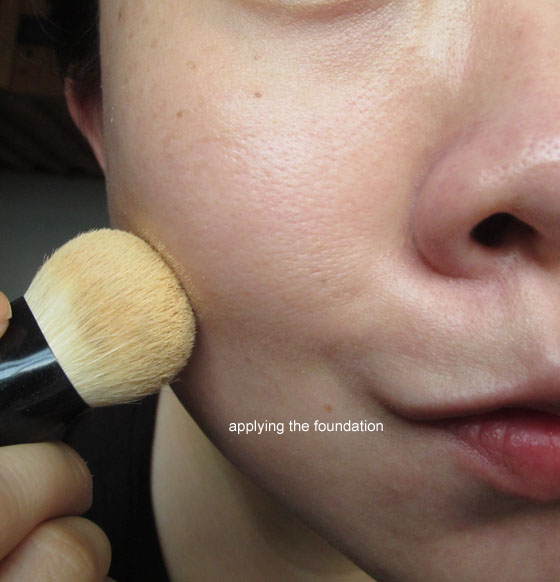 The foundation gives a pretty good coverage, as you can see.  I am using the shade O10, which is a good match for me.  Of course, it looks very 'fair' on me right now, but after bronzer and blush, the shade won't look so 'flat' anymore.  
The finish of the foundation is a very radiant matte finish.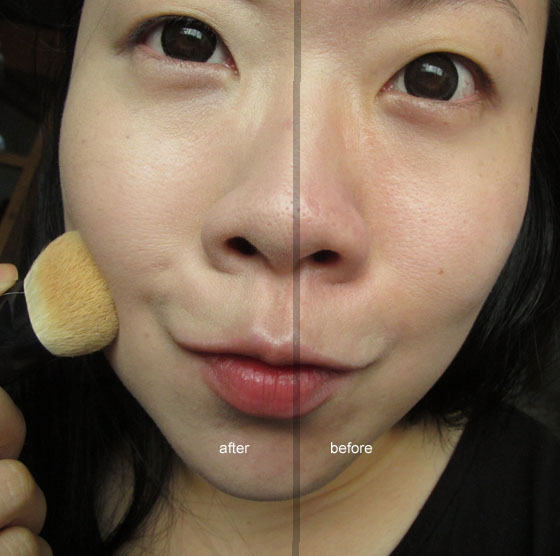 Everyday that I was using this foundation (and the base), my face looked this awesome!  All imperfections are even out, the foundation is very long lasting, and it looks like I have really really amazing skin. 
(note - I did not use any concealer in these pictures)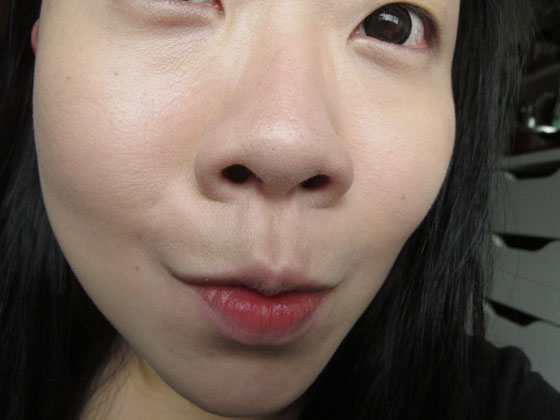 But of course, I have to add my usual bronzer and blush which completes all my foundation routine. 
I am usually very fuss free with this... I just use a large brush, and lightly bronze all around the edges of my face, and use the same brush to add some colour to my cheeks.  Then I just buff buff buff buff...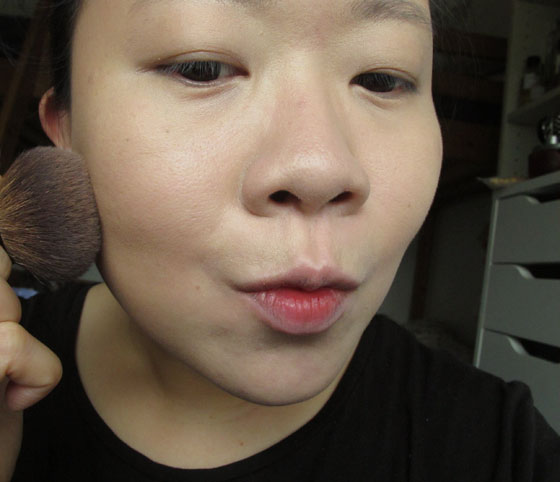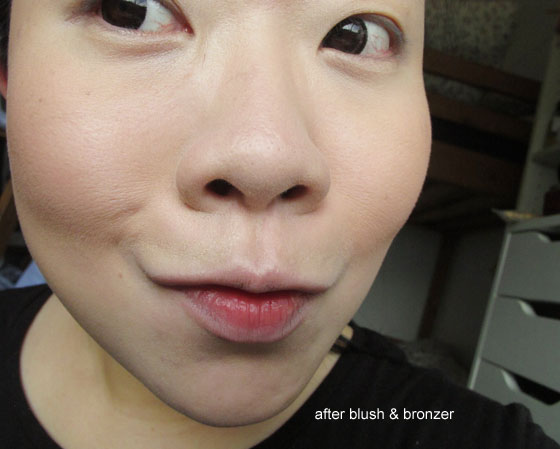 And what a difference brows make!  
This is how I look everyday... I love it, because I look awake (even when I really have barely 6 hours of sleep most days, always on the go, doing stuff, etc etc).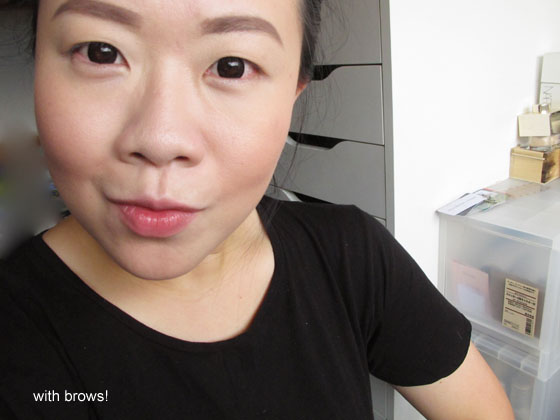 I also took pics throughout the period I was using this combination, so please indulge me in this series of self-shots - just really impressed with the finish and longevity.  
Every pic shown is #nofilter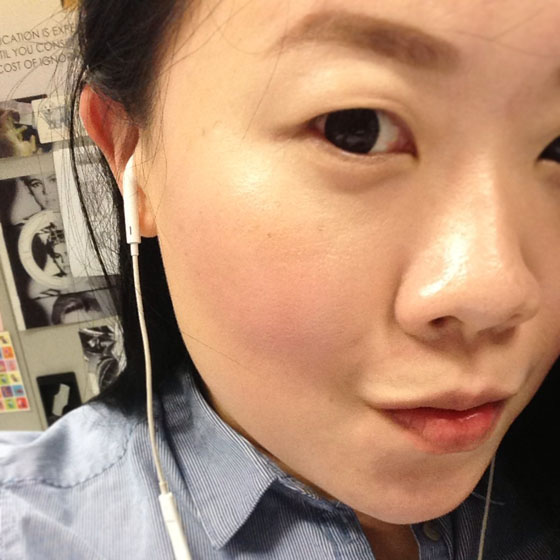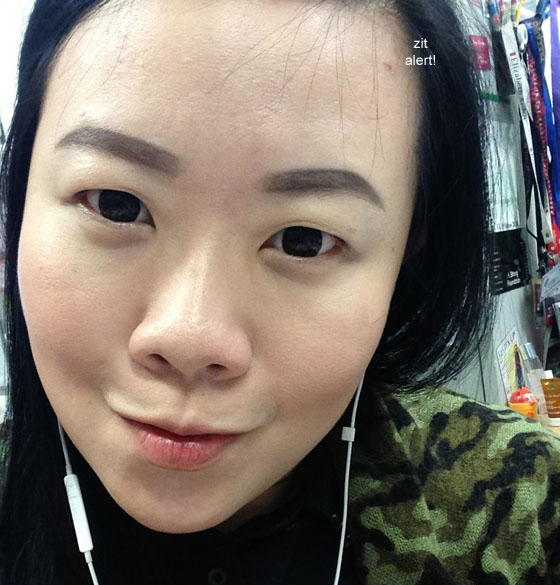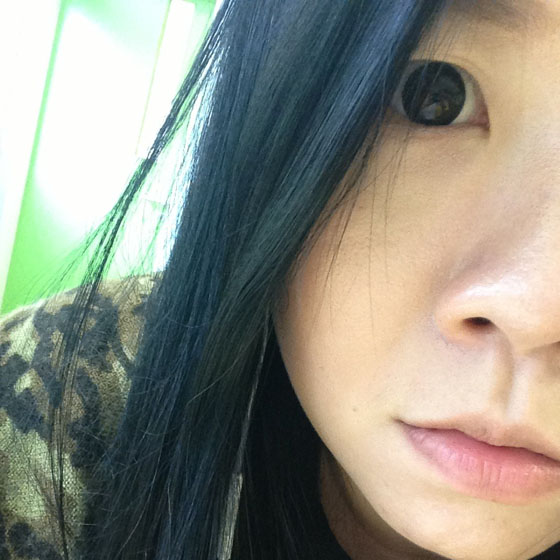 Overall thoughts: 
As you can tell by now, I am very very happy with both the base and the powder foundation.  I have never just used powder foundation for years and years, and even when I do, I am using them as a setting powder - but this cle de peau one really blew me away. I have not touched a BB cream in the past two weeks, no liquid foundation, and I am enjoying the relatively shorter time it takes to get my base on in the morning. 
I am also very very impressed by how long the foundation lasted - a good 12 hours, the FULL day, if you will.  It didn't oxidise on me, there is some shine on my oily t-zone after about 5 hours, which I just blot away, and I am good to go again.  I hardly ever need to touch up, and even as it starts to wear off after the 10 hour mark, I still look fresh overall.  This routine of just the base and powder foundation is sturdy, it withstood humidity, heat and long hours - it really look as good as I have applied it in the morning. 
Both are pricey, yes, but in my opinion, worth every last penny.  I would definitely want to keep using the powder foundation - it has totally changed my thinking about my foundation routine lately, and makes me want to dig through my stash for other powder foundations which I own and start using them just on their own too. 
If you think you can't do without a liquid foundation, or you already have an awesome foundation, I highly recommend the Brightening Enhancer Base - it really does illuminate and enhance your skin without any greasy feeling.  
I hope that my review and demonstration as been helpful, and thanks for looking!
Price List: 
Brightening Enhancer Base – S$105 (30ml)
Brightening Powder Foundation – S$150 refill (11g)
Brightening Powder Foundation Case - S$50
Brightening Powder Foundation Sponge – S$11