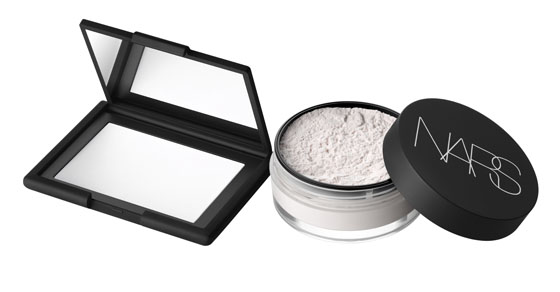 LIGHT REFLECTING SETTING POWDER
For Spring 2013, NARS introduces an innovative new mineral setting powder, available in both loose and pressed formulas. Light Reflecting Setting Powder helps skin "shine through makeup," enhancing the look of foundation and extending makeup wear - all without a trace of color.
Containing NARS' exclusive Light Reflecting Complex, this translucent powder optimizes light reflection on the skin, optically fading fine lines, wrinkles, and pores as skin is visibly smoothed. Vitamin E and glycerin help guard against dryness and provide a luminous soft matte finish. Ideal for touch-ups, regulating shine, and seamlessly setting foundation.

Paraben-free.  Fragrance-free.  Non-Comedogenic. 

They retail for $50 each.   The loose powder contains 10g of product, while the pressed version has 7g of product. 

I have been using both regularly for the past couple of weeks, and I love them, and for slightly different reasons. 

Check out Cafe Makeup's excellent reviews of both powders (here and here) - I was totally suckered after reading her reviews, and I knew I needed to own both before they are launched here.  I am glad to have them in my stash now, I consider the NARS reflecting setting powders necessities in my makeup routine these days.  

More photos here: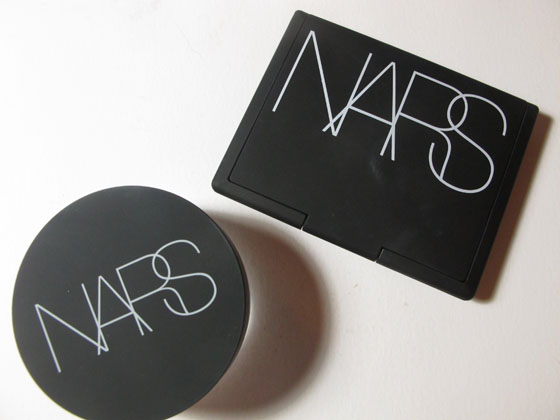 The pressed powder comes in a cloth pouch that's very handy....for me to also slot in other NARS compacts if necessary, or take out this powder, and use it as a mini makeup pouch, which is super cute!  I wouldn't use the flat sponge type applicator that it comes with, for one thing, I don't think the sponge/ puff can pick up any powder...and I think it is better to use a brush to apply the pressed powder. 

Personally I prefer using the pressed powder, especially for on the go usage.  You can easily use it at home, and pop it into your bag for touch ups.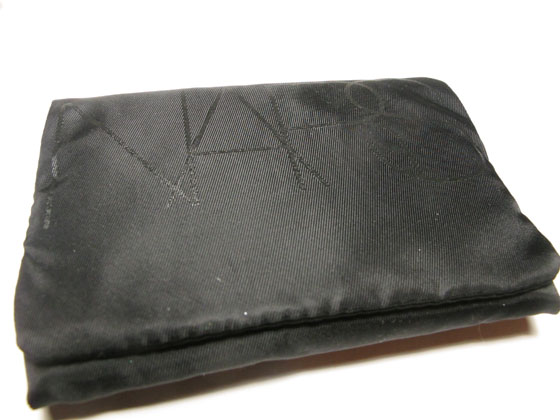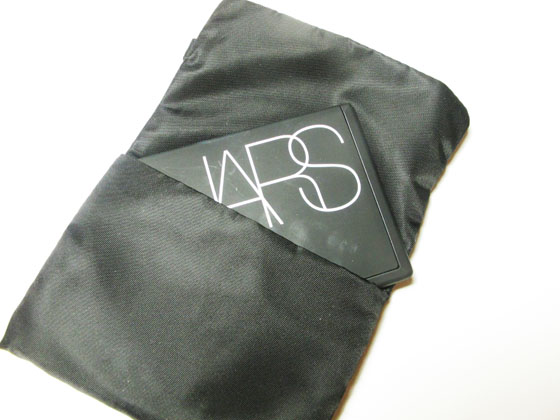 It is quite hard to capture the 'texture' of the powder, it is so white and so smooth, my camera lens is a little blinded.. but I am sure you have seen this product featured on other blogs too, including Temptalia.... so you must have seen better pictures of it. 
At the NARS presentation, the makeup artist advised us to sort of scrape away the top layer of the powder to 'activate' the product itself, or else your brushes won't be able to pick up the powder.  I sort of poke at the powder a few times with my kabuki brush, roughen up the surface before I actually started using the powder. 
It gives an instant smoothness to your skin, matteness too.  But not flat.  It's just smooth and flawless.  I sometimes notice a slight silky sheen when I use the pressed powder, which I don't notice in the loose one.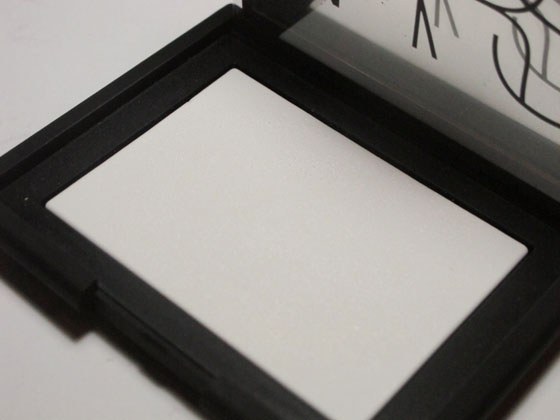 This is the loose powder, it doesn't come with any puff nor applicator, and I gave to be careful not to topple the container.  The powder inside is so lightweight, they literally fly everywhere if you are not careful.   I usually tap tap the container before I open the lid, this makes sure that some powder will be on top of the sifter, and then I will pick up the product with a kabuki brush.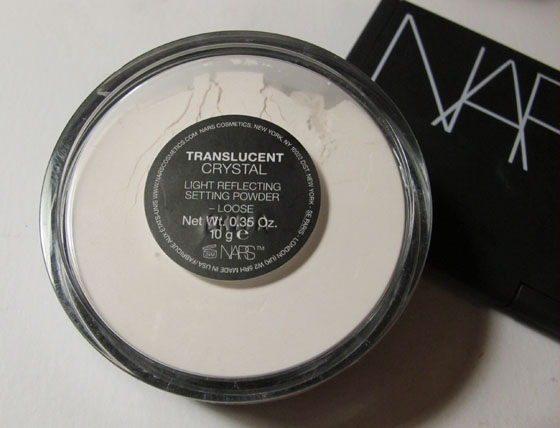 A close up of the powder.  It is seriously the most lightweight, finely milled powder I have ever experienced.  
If you have been following the current fashion week season, you would see that this powder is heavily featured in all the runway shows whereby NARS is doing the makeup looks for. 
So it certainly has that professional quality...

The loose powder, just like the pressed one, gives my face a overall flawless effect, WITHOUT adding color nor coverage to the skin.   I have mentioned other face powders which accentuate and enhance the skin texture before (think of the MAquillage Aura veil powder, but that has some brightening coverage).  
Both the NARS powders are transparent in my opinion, and experience, and therefore I would recommend using them as FINISHING POWDERs..... ie, after my foundation, I would still set with my regular setting powder, and then just before I am done with my makeup, I would use either the pressed or loose powders to add that final step of dusting over my face, and make the skin look totally flawless.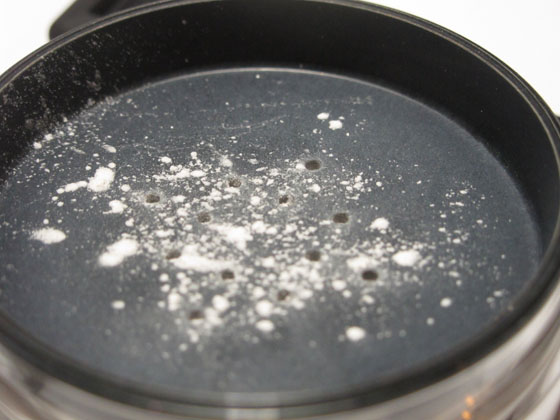 Some swatches - I do apologise for the lack of LOTDs to show the product in action, but I guess I have gathered enough material to rave about the products, so I do want to post and share as soon as possible... I will feature some LOTDs over the weekend!  
As you can see in the swatches the loose powder is transparent, and you can probably see the smooth layer it lends to my skin.  There is just the barest hint of a sheen... but not as obvious as the pressed version.  But when the pressed powder is applied on the face, the sheen is much less obvious.  
It is hard to capture the effect, but I hope you know what I mean.  Do check out the powders at the NARS counter... and you will know what I mean.  It is truly something innovative, and different from what is already out on the market. 
I also notice that my face feels very smooth after application of the powder - and this effect is not just a short-lived one...even after hours, I can still detect the smoothness of the powder on my skin - and there is also significant oil control going on.  If you have oily/combination skin, you might want to give this a try too.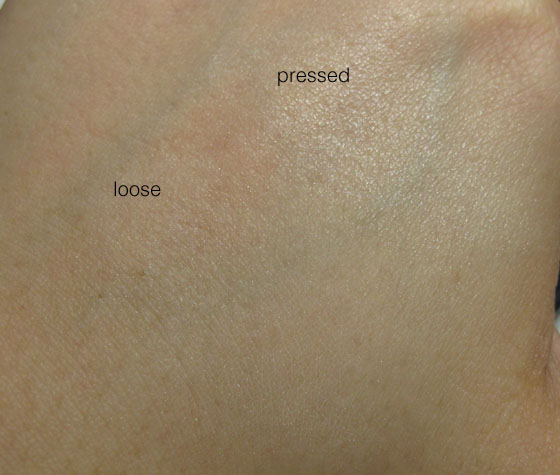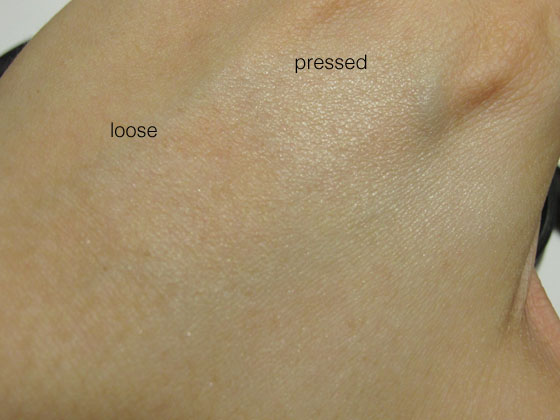 Do you need both the powders?  I think it depends on your needs - if you prefer a more fuss free application, you are better off using the pressed powder, and if you are the sort who don't really need a touch up friendly product, then the loose version works fine as well, since you get the same price for more product.   I want both... just because I really love the flawess smooth effect of both powders. 
One word of advice though - use a large powder brush to apply the product, and lightly buff and blend into the skin.  This ensures that there is no patchiness (which sounds weird because the powder is supposed to be transparent) but it can happen, and you can see ashy patches on the skin under harsh lighting and especially if you are on the tanned side, it might show up even more apparent.  
Bottomline: I am very impressed with NARS' latest products, and at this price point, it is very attractive (to me at least) to add them to my collection.  I find these to be extremely practical products, and will also find many loyal fans too.  If you are always on the hunt for the holy grail 'make my skin look perfect' product - then you need to check out the NARS Light Reflecting Setting Powders. 
Hope my overview has been helpful, and thank you for reading. 
P/S there will be a NARS store party at TANGS ORCHARD happening in the coming weeks, do check out this entry for how to RSVP!