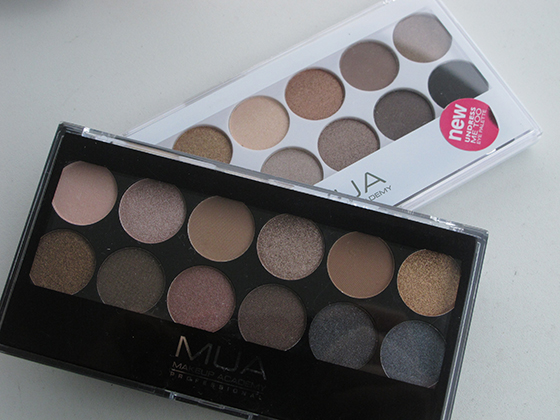 Hallo!
Everyone is doing a all neutrals palette in the past 2 or 3 years, from the high-end to the mid-range and to the drugstores... you can find a very decent neutral palette to suit your budget and your taste.  Probably the most famous neutral palette started from the Urban Decay NAKED palette (which is now a whole NAKED collection - you know the whole story) and we also the Coastal Scents 78-pan, 28-pan what have you type of neutrals... the thing is, I believe it is quite easy to make a great neutral palette - the pigmentation seems easier to 'master' it is hard to find a 'bad' metallic/shimmery neutral palette in my opinion.  Even the names of subsequent neutral palettes try to sound the same as the NAKED palettes - think these MUA Undress Me palettes, The Balm Nude palette etc - so it seems super sexy to be wearing neutral eyeshadows, eh? Heheh. 
However, I do believe that better quality (and perhaps pricier) neutrals have this amazing ability to look multi-dimensional, they blend better and they sparkle more beautifully than cheaper ones (which are also more prone to fall-outs).  I don't need another neutral palettes (or two) but I just want to get these MUA palettes to try out.  I have seen some of my UK youtubers using these palettes, and when I saw them at Superdrugs (for 4.99 pounds each I believ) I just grabbed like 4-5 of them, a couple of which you have been in my giveaways..and two I am keeping for myself. 
I would compare these palettes to Sleek Makeup palettes, and also think of these like the UK version of WetNWild palettes.  They are quite soft, and very pigmented for the most part.  I must say that the matte shades are quite sheer and 'hard' especially the lighter/bone colored shades, the dark mattes are creamier and more pigmented. 
All the metallic and shimmery shades are very pigmented and I did not notice a lot of fallout.  
I had swatched these palettes in natural daylight without and primer - but I didn't like how the pictures turned out - the lighting was just cloudy and blah.  So I swatched them again, with a thin layer of eyeshadow primer, just to show you how they perform with a primer (I am assuming that's how most of us wear our eyeshadows anyway).  Hope the artificial lighting in my swatches can pass! 
Just a few close ups: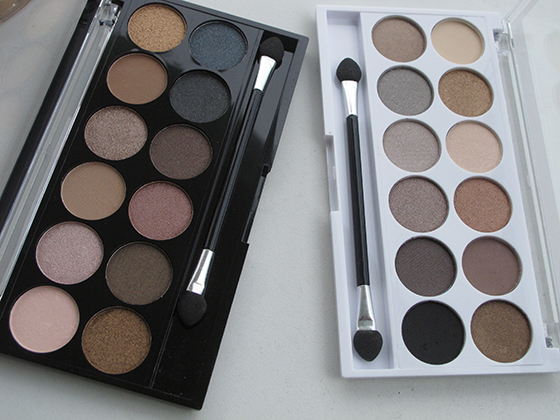 Don't they look gorgeous!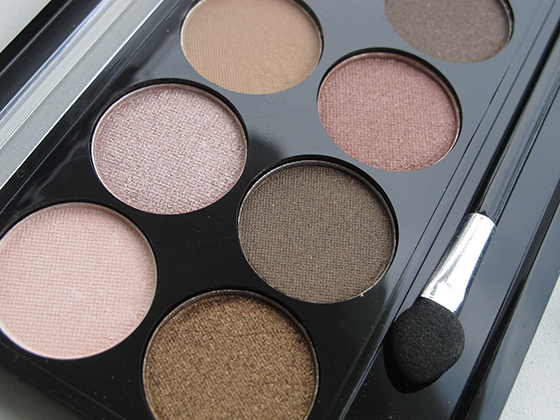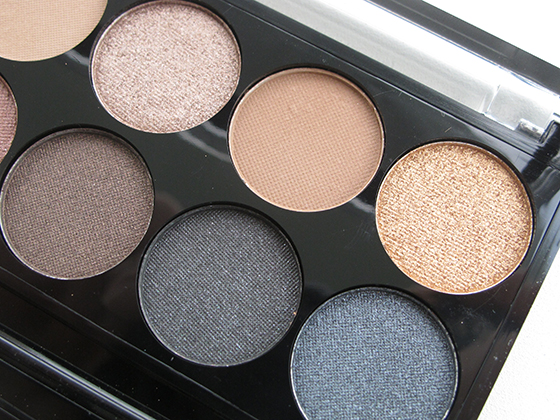 Swatches - 
I think I prefer this palette - every shade is pigmented, and the two matte shades are perfect for blending.  They look like my Stila Light palette, and some of the shades are just deadringers to my Naked palettes and Lorac Pro palette.  I love the peachy brown shade on the bottom row.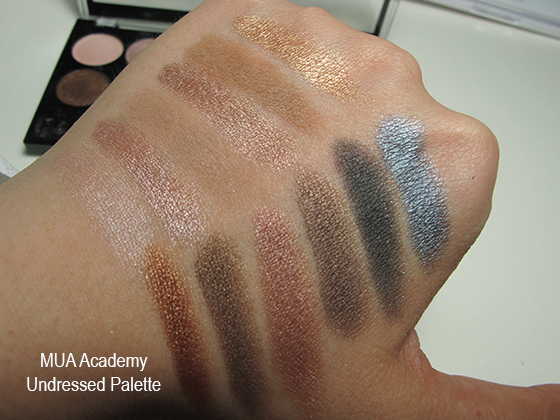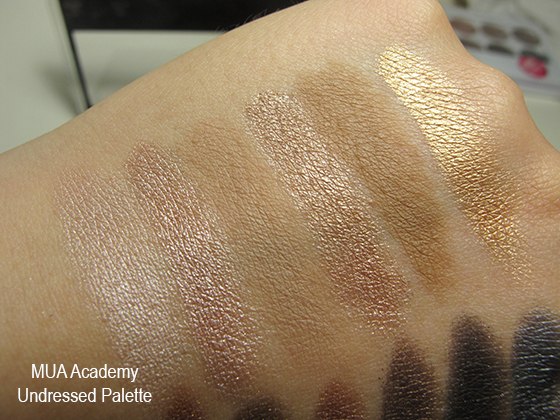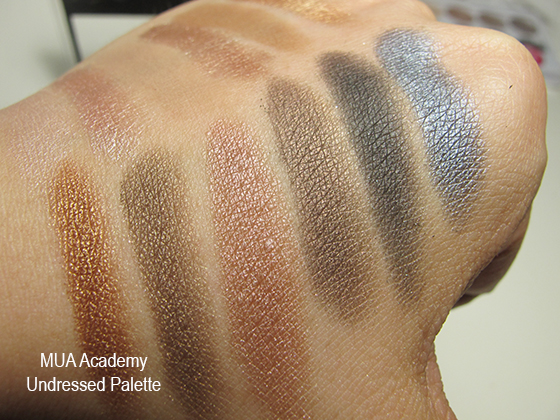 Close up of the Undressed Me Too palette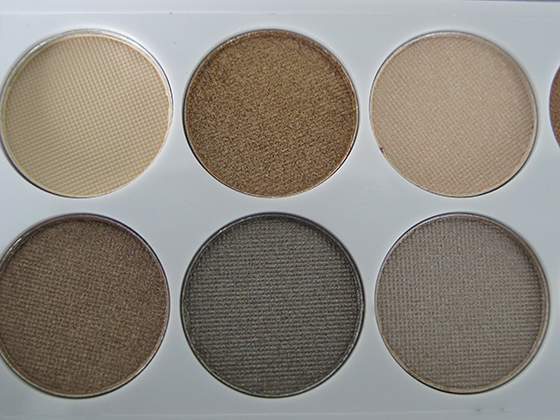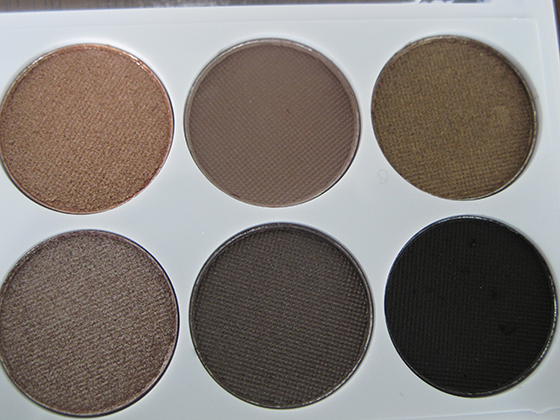 Swatches -
There are 3 matte shades in this palette - with the bone shade virtually disappearing into my skintone.  The black matte is really smooth and intense.  This palette contains cooler toned neutrals I think.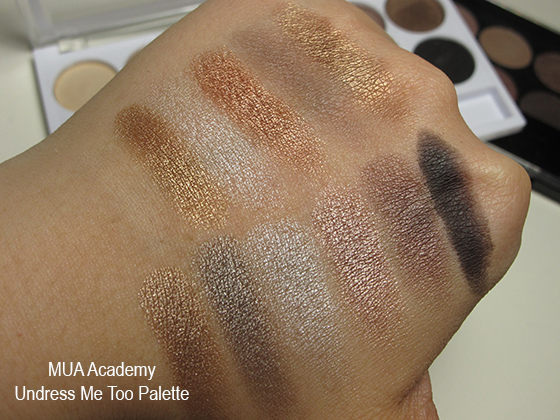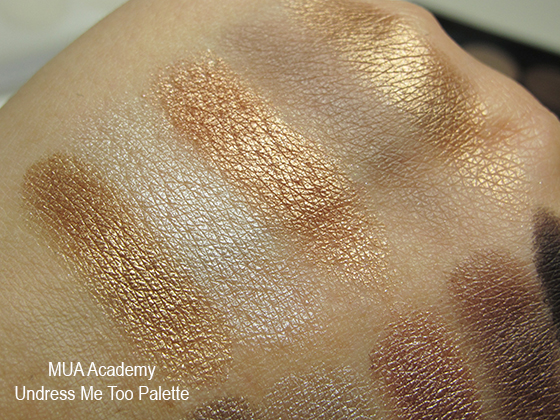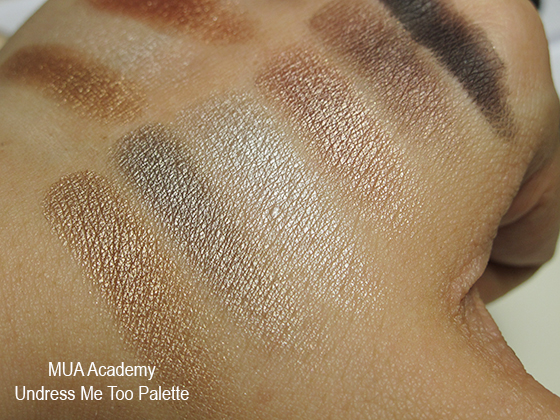 I hope these swatches have been helpful, and if I use them in an LOTD soon, I will post pics!
Do check these out when you have the chance to check out Superdrugs!  MUA also stocks concealer and foundation palettes, quite interesting and also have a range of cheek products, lipsticks and nail polishes.  I didn't want to go crazy and go on a drugstore shopping spree, seeing as I really seriously don't need more eyeshadows...but these I could get quite guilt-free.
Thank you for reading!