<span style="font-size: small;">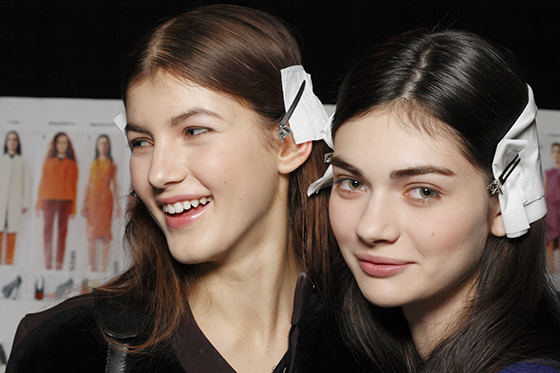 The Fall 2013 New York Collections season was one of contrasts, as designers expressed femininity through strength and softness. Some designers favored one over the other, but many showed how the two concepts can harmoniously coexist. The woman portrayed on the runways was moody and cinematic, and displayed more maturity than seen in recent years.
Masculinity was expressed in both traditional and experimental mens suiting, military influences, and oversized outerwear, accessorized with hats and modest height shoes. References to previous eras were expressed in details such as dropped waists and kimono wraps from the 20s, strong shoulders and pencil skirts from the 40s, and geometric graphic prints from the 60s and 70s. In keeping with the season, color palettes were earthy and dark, with a predominance of gray, black and brown.
Color was brought in through rich jewel tones of ruby, rust, saddle, teal, indigo, forest green and purple. Shots of color animated shows with safety orange, taxi yellow, royal blue and magenta pink. Evening looks were embellished with beading, paillettes and sequins in a rainbow of metallics, specifically silver and gold. Leather, suede, exotic skins, and an abundance of fur, used for trim, clothing and outerwear, made appearances on nearly every runway.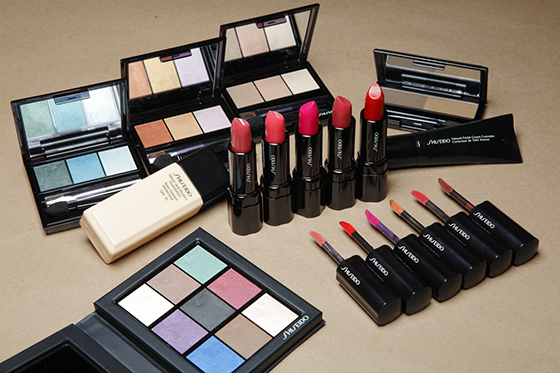 </span>
<span style="font-size: small;">Dick Page created a range of makeup looks that enhanced the expansive Fall 2013 offerings of New York designers.
This season Dick built upon a natural looking face as the foundation for looks that featured strong eyes, glamorous lips, or enhanced natural purity. The eye treatment at Band of Outsiders provided brown hued "theatrical intensity" to the shadow cast by the hat brims, while at Michael Kors, the "quite graphic" winged block of solid black contrasted with soft pink-purple for an aerodynamic effect. To reinforce the 40s mood of the Marc by Marc Jacobs collection, Dick used gloss to create moody eyes and an alluring "very glossy red lip." To balance the bold colors and shapes found in the thoroughly modern Narciso Rodriguez collection, Dick created a soft "almost untouched" face, with traces of soft pink on the cheeks and lips. Dick Page brought versatile customization to each Fashion Week runway presentation. 

</span>
FACE
Dick maintained his philosophy of letting the beauty of natural skin shine through by keeping faces classical and "pure" at Marc by Marc Jacobs, "not too done" at Band of Outsiders, and "clean and natural" at Michael Kors. At all shows, skin was moisturized, and received a very light wash of NEW Sheer and Perfect Foundation to correct imperfections. To the Michael Kors face, Dick added a subtle highlight <span style="font-size: small;">along the upper cheekbones at the corner of the eyes with the "Champagne" shade from the NEW Eye Color Bar (Holiday Limited Edition) palette. For Narciso Rodriguez, Dick achieved an "untouched" look by brushing loose powder from the cheekbones down to the jaw as a matte base for the cheek color, and then applied soft pink blends of Luminizing Satin Face Color in Tea Rose (RS302) and Petal (RD103) along the cheekbones for a gentle blush.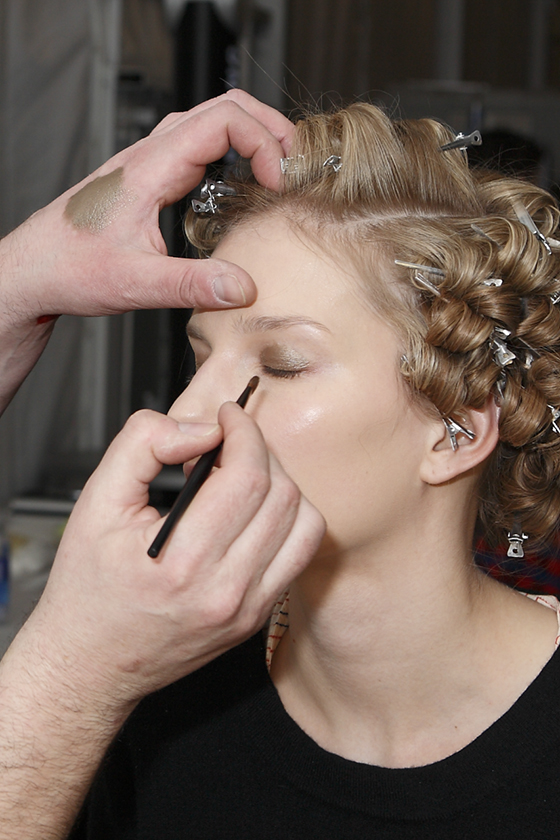 </span>
EYES
Dick took two approaches to the eyes this season: subdued at Marc by Marc Jacobs and Narciso Rodriguez, and boldy dramatic at Michael Kors and Band of Outsiders. <span style="font-size: small;">Shimmering Cream Eye Colors were used at Band of Outsiders, Marc by Marc Jacobs and Michael Kors for a variety of results.
The Band of Outsiders presentation alluded to film noir mystery, </span><span style="font-size: small;">complete with brimmed hats that cast shadows on the models' faces. Dick chose to exaggerate the shadow since he recognized that, "a regular eye shadow would just get lost anyway, so just continue that shadow down." He combined Shimmering Cream Eye Color in Sable (BR709) with brown concealers, and worked the color across the entire eye area, from brow into the hairline, over the nose bridge, and across the upper cheekbones for "raccoony" mask coverage. Once the hat was in place, the theatrical effect was complete.
The Michael Kors collection referenced speed, and the designer interspersed racing details into his graphic, primary colored, 60s influenced clothing. Dick carried through </span>the sense of movement by putting a contemporary spin on the winged eye. He created a squared-off wedge of deep black on the outer lid with Shimmering Cream Eye Color in Caviar (BK912), which blended into the soft pink-violet shade, found in the Eye Color Bar (Holiday Limited Edition) palette. The contrast of the matte black and iridescent pink made the eyes feel, "a little bit tough." A trace of Automatic Fine Eyeliner (BK901) reinforced <span style="font-size: small;">the outer edges, and Perfect Mascara Full Definition in Black on upper lashes finished the look.
The Marc by Marc Jacobs show brought glamour to the runway with 40s influenced, bold patterned, jewel toned clothes. Rich, sensual lips fortified the </span>mood, and were balanced with soft, diffused eyes. Shimmering Cream Eye Color in Sable (BR709) was applied from lash line to crease, and across the lower lash line, followed by the deeper Caviar (BK912), diffused onto the outer portion of the lid. Perfect Mascara Full Definition in Black was brushed on the outer edge of the upper lashes. Dick added Benefiance Full Correction Lip Treatment around the eyes to diffuse the shadow and create a moody, "glossy" finish. Dick aimed for makeup that was, "as pure <span style="font-size: small;">as possible," to counterbalance the bold tropical colors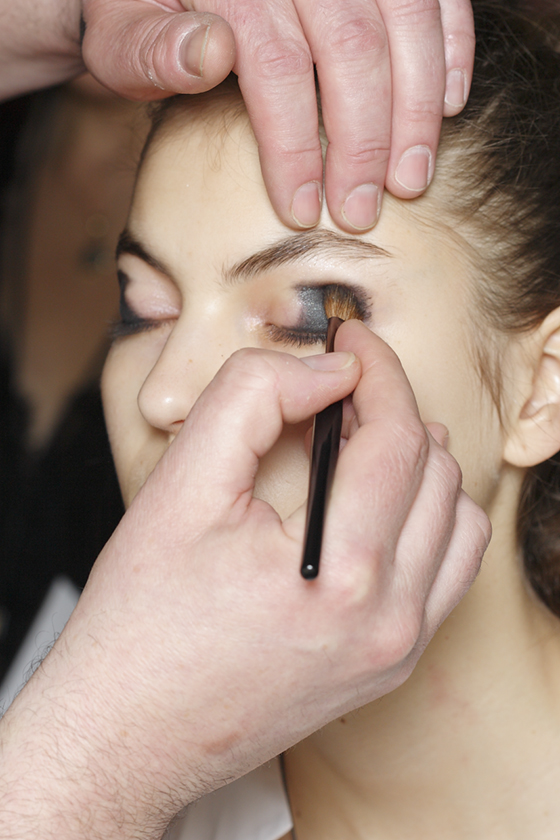 Narciso Rodriguez incorporated into his abstract art inspired collection. Dick used a small brush to lightly apply the brown shade from the Eye Color Bar (Holiday Limited Edition) palette along the upper lash line, adding it to the lower lash line for subtle depth. A light application of Perfect Mascara Full Definition was combed through for natural definition.
NEW Eyebrow Styling Compacts, (GY901), (BR602), (BR603), were used to define and add weight to the brows at Marc by Marc Jacobs, Narciso Rodriguez, and Michael Kors. </span>
LIPS
<span style="font-size: small;">Dick chose to use lip color at all shows, selecting Lacquer Rouge for Marc by Marc Jacobs, and a range of Perfect Rouge shades for Michael Kors, Narciso Rodriguez and Band of Outsiders.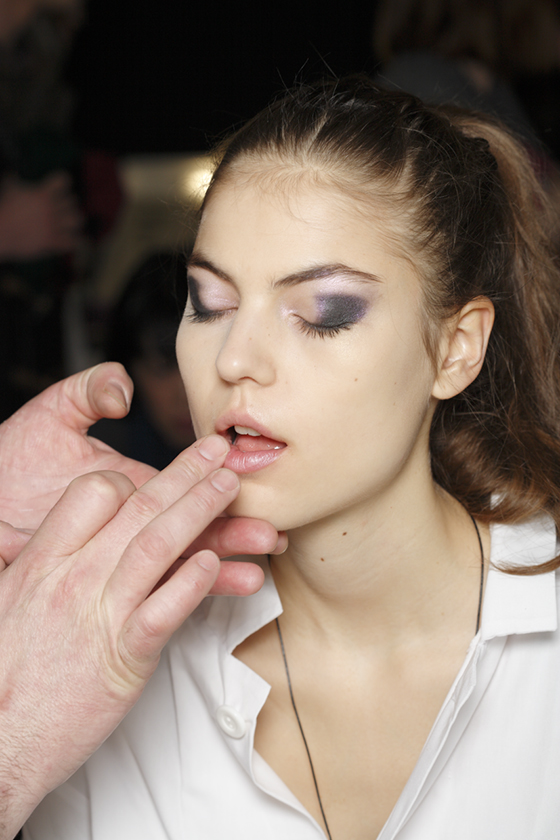 The impact of the eyes at Michael Kors necessitated a soft lip color, and Dick created a mid-tone rose. He blended the same Eye Color Bar (Holiday Limited Edition) palette "Soda" pink shade used on the eyes, with Shimmering Cream Eye Color in Pale Shell (PK214) and Perfect Rouge in Fantasia (RS745), and applied it to the lips with a soft brush. He tapped on a mixture of foundation and lip balm with a sponge to slightly neutralize the color, and finished it with a touch of gloss. NEW Perfect Rouge in Harmony (RD750) created the muted pink lips at the Narciso Rodriguez show. It was applied to the center of the lips, smudged, and then diffused with a sponge or brush for a natural finish.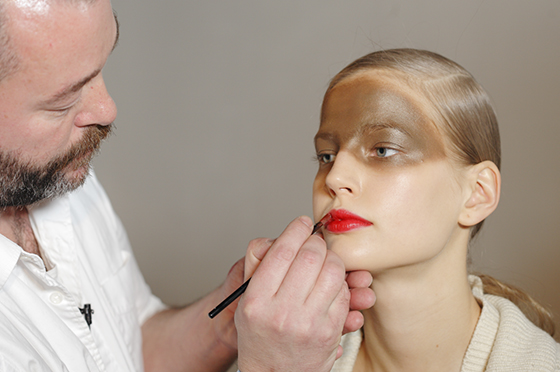 Bolder colors energized the looks at Marc by Marc Jacobs and Band of Outsiders. The updated 40s hairstyle at Marc by Marc Jacobs was curly and voluminous, and perfectly complemented the classic, deep red lips Dick formulated with a 50/50 ratio of Lacquer Rouge in Drama (RD501) and NEW Lacquer Rouge in Sanguine (RD413). Lip balm added a sultry, glossy finish. He completed the suspenseful Band of Outsiders look with NEW Perfect Rouge in Showgirl (RD553), for a "pure, red lip" that was gently defined. </span>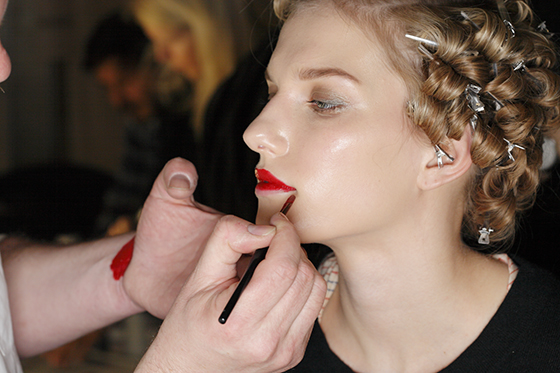 Super exciting, and I hope this backstage report has been helpful, and given you a sneak peek into Shiseido AW 2013.  I will have breakdown of all products and looks created for this coming week.  Stay tuned, and thanks for reading!