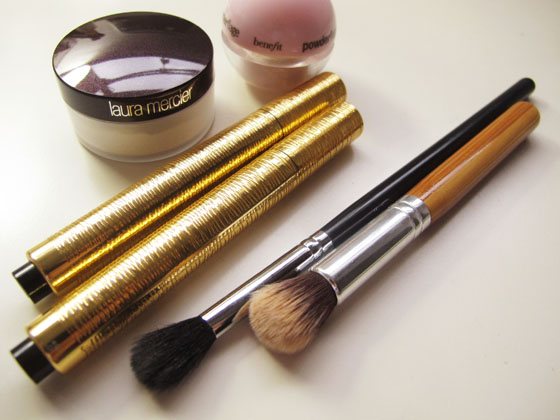 Hallo!
I thought it is timely to do an entry on how I 'conceal' my undereyes.... I don't have dark eye circles...but I do have some dullness under my eyes, as we do..when I am sleep deprived, and I look less than awake than usual.  I have recently gotten the very 'good' habit of actually putting the effort to do some undereye work.  
This is just what I do for myself, and I am giving my thoughts on the products I will be using in this entry.  Hopefully this will be helpful to those who are looking for products in this category of makeup. 
Here are the ingredients I need: 
Undereye Setting Powders - I have two in my stash, one is a neutral shade, and one is slightly pinky. 
I find that these powders are super fine, and contain micro-super tiny shimmer bits that brighten up under the eyes.  I use either one depending on my mood for the day.  I usually use a large fluffy eyeshadow brush to do the job.  Pick up the powder, tap excess into the cap, and then buff it lightly under my eyes. 
Highly recommend both, though I think the Laura Mercier one would be more easily available.  The Benefit powderflage might be long discontinued already.  Anyway these powders are going to last me forever, so I am not worried about running out. 
Did I mention the names of these products?
Laura Mercier Secret Brightening Powder
Benefit Powderflage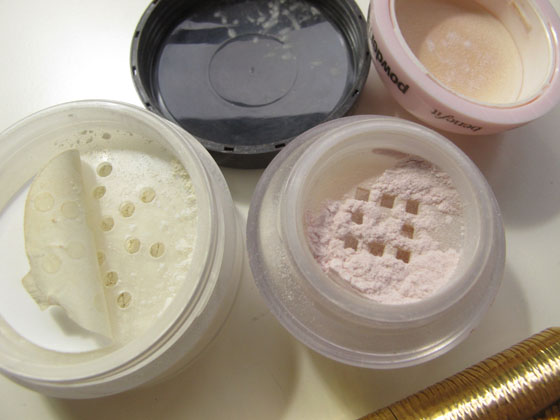 I also need to use some kind of a cream/ liquid highlighter.  My faves are the YSL Touche Eclat highlighter pens.  They give me enough coverage wthout feeling like an actual concealer, and subtly brightens up my undereye areas.  If you have more serious dark eye circles, you might want cover that first, and move on to this highlighter pen.   
I use a mixture of 01 and 02, because one is a pinky shade, and one is a beigy shade.  I use both to brighten and neutralise any dullness at the same time.   The formula is lightweight, and feels so nice on the skin. 
Sorry they look kind of gunky, but hey, I use them everyday, that's why.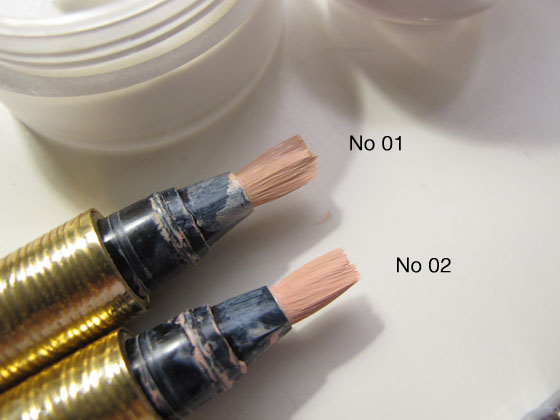 These are the brushes I talked about earlier.  I don't have a particular fave, but I usually use this MAC 224, and a Ecotools large brush...I also have several other large fluffy brushes...but as long as they are fluffy enough, they serve the purpose.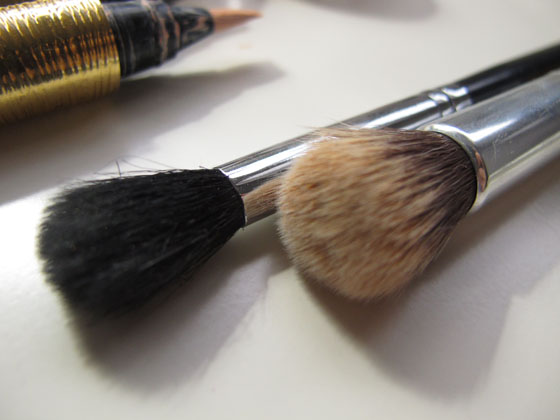 Further tips & tricks 
I only do this whole little routine AFTER my bb cream and/or foundation.  This means you use less product on concealing/ brightening as the area would have been evened out by the base products already.  The less product you use, the better. 
I also make sure that I moisturise under my eyes very well.  I use a creamy eye cream even in the day time... so the skin under my eyes is always well hydrated, and no fine lines will form and no product will settle into the lines. 
Here are the steps - which are super easy, and I am sure many of you do the same too. 
1 - slap on the YSL Touche Eclat I just draw quick strokes of both 01 and 02 under my eyes. 

2 - use my fingertips to blend, I find this is the most gentle way to deal with the sensitive area. 

This is how it looks like blended. 

Pick up powder, and tap off the excess.  Make sure brush is properly loaded up with the powder. 

Softly and lightly blend and buff under the eyes over the area where the Touche Eclat was applied. 
and done!  
This routine is very long lasting, and stays on pretty well. 
I hope this has been helpful and if you have any questions, please leave them in the comments below!
Thanks for reading!