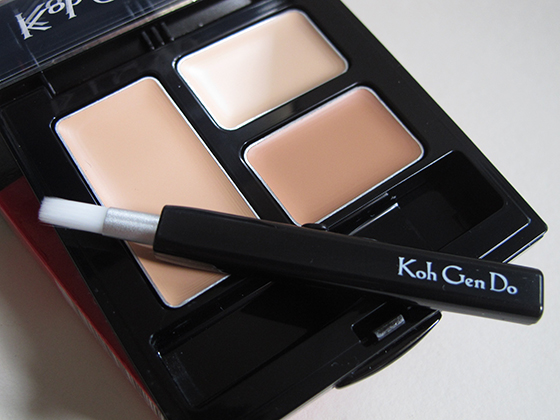 Hi hi
Today I will be reviewing the Koh Gen Do moisture concealer - it comes in just one colorway palette like this - with 3 different shades inside for you to mix and blend to fit your skintone. 
Product Description: 
No artificial colors, fragrance, petroleum-based mineral oil or paraben.

New Moisture Concealer with a Perfect Texture for Application and a Gentle Formulation for Your Skin
A new advanced skin care integrated concealer that covers discolorations, dark circles and primes your eyelids, all in one palette! The use of cutting edge technology to create products that achieve high definition looks makes it easy to apply base makeup like a pro.
Gentle moisturizing botanical ingredients take care of areas prone to dryness, such as under the eyes, where concealers are usually most needed. The smooth, soft texture applies evenly, allowing sheer layering that fits perfectly onto your skin with long wearing results. Moisture Concealer also includes pearl powders for great coverage. The pearl powders and pure mineral pigments camouflage blemishes, freckles and general discolorations of the skin and deflect the redness that lighting can intensify. For all skin types, it will leave your skin looking natural without cakiness while giving increased coverage.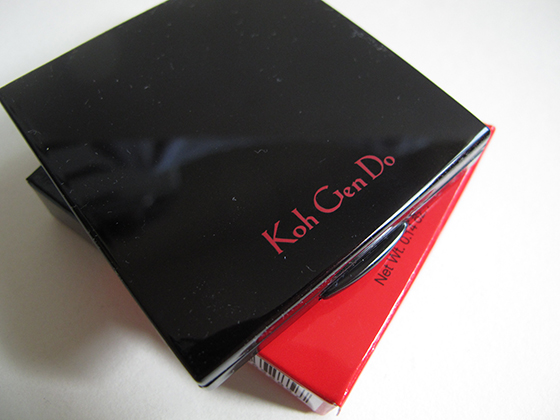 Texture - I must say that when I first saw this palette, my immediate thought is that it's so similar to my Laura Mercier secret camouflage concealer - both are palettes, and in a cream pan form.  But this KGD one is more moist (well, obviously, the name is already self-explanatory) and offers less coverage than the LM palette.   Both are howver, very smooth. 
Here's a swatch of all the 3 shades - I used the handy retractable brush that comes with the palette to swatch - it is a decent brush and very convenient, great to bring this palette along for touch ups on the go!
Looking at the 3 shades, I can think of various uses for them - and because they are quite moisturising and not too thick in terms of texture and coverage, I have been using them for more than just the regular concealer. 
The first shade is a good fit for my skintone - which makes it great to conceal spots.  But I find that it is not opaque enough to cover stubborn spots.  If you want to cover up faint spots which your foundation didn't manage to cover, it is good.  Also, the concealer tends to slide about, so I really don't recommend this as a staple concealer for spots.
The middle shade is quite brightening - this I like to use as a highlighter, for my browbone and also under my eyes.  And because this is a moisturising formula, it didn't settle into any lines or whatsover.
The last shade that is the darkest and slighlty peachy in tone.  You can use it under your eyes to correct mild dark circles, before using the brightening shade.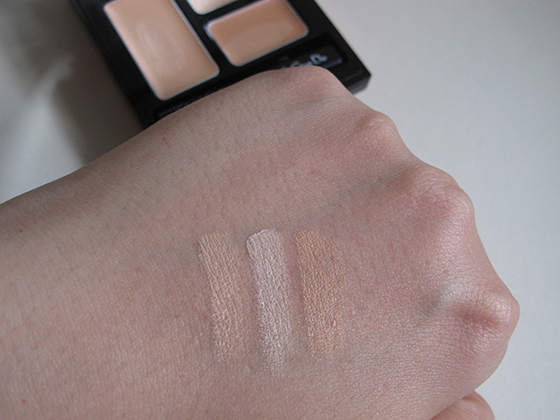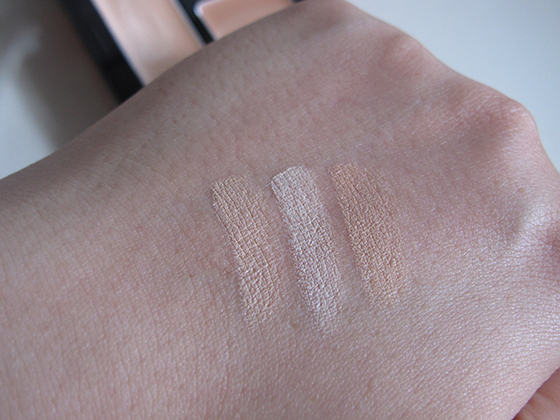 Here's how I used the concealer:
On a daily basis, I just use my own brush to pick up the product.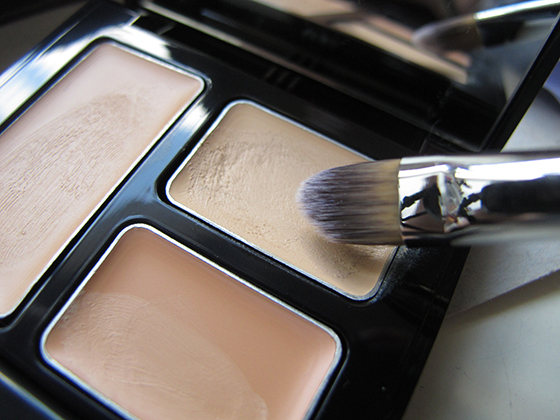 And I learnt this from Junry - she used a concealer to define around my eyebrows - but I only use the concealer method under my eyes - and it is great, blends out fine and long lasting.  I personally find this way more natural and yet effective than using an eyeshadow....but I go through phases..and I am not the biggest fan of browbone highlight.  This concealer is subtle and makes my brows look amazingly neat and defined. 
You can see in the before/ after how lifted my brows look after the concealer part.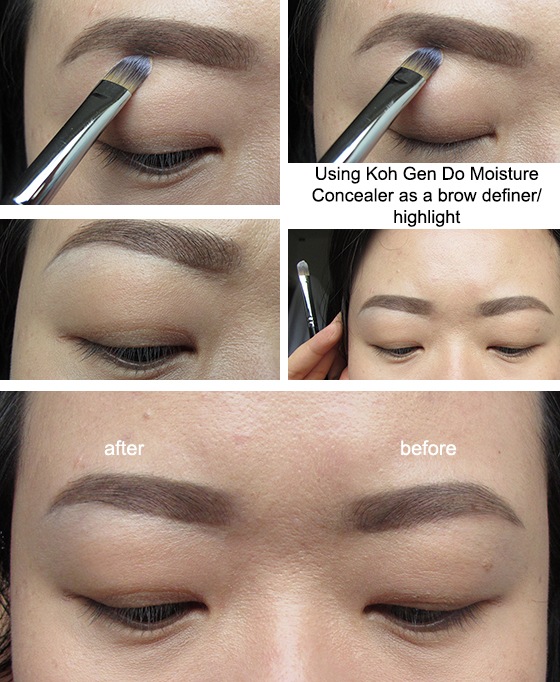 Next, I use the concealer under my eyes, very lightly, and while it will not replace my YSL touche eclat, it is convenient, knowing that I can use this concealer palette for multiple functions.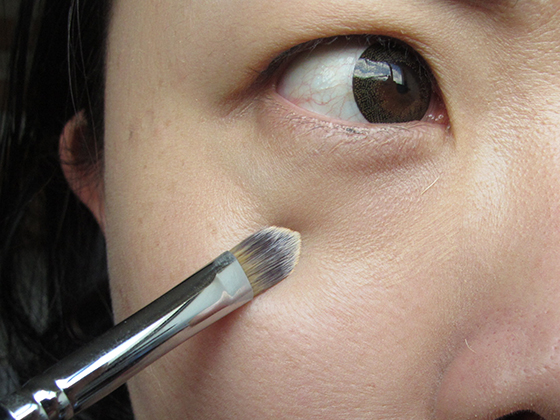 and lastly, to concealer a spot - but like I mentioned earlier, if you have a particularly dark spot, it does not really provide enough coverage.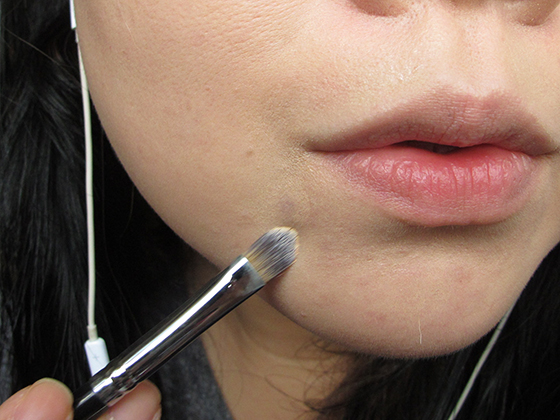 Hope you find this overview helpful.... the concealer palette retails for SG$70 at the KGD counter at Takashimaya.  
A summary of the product before I end:
1. great convenient palette that can be used for a variety of purposes
2. does not provide enough coverage for concealing pimples etc 
3. good for people with dry skin, it does not settle into fine lines and does not look cakey at all
4. can be a little pricey at $70
5. only comes in one shade (which suits mostly light skintones like MAC NC10-25) 
Thanks for looking!