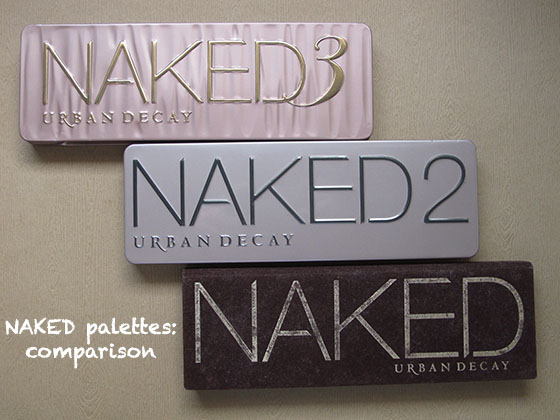 This entry will focus on the overview and comparison swatches of all the 3 URBAN DECAY NAKED palettes.  Firstly, in terms of quality, all are equally good, I won't say that one is better than the other.  Sure, there are a couple of shades in each palette that are more prone to fallout, but this is consistent across all of them, and if you are familiar with UD shadows you will know that they are all intensely pigmented, but some of the more shimmery shades are prone to fallouts... just like most other brands.  
Urban Decay has strike the right (neutral) chord in makeup lovers everywhere.. with their NAKED range, which has quickly expanded to base products (love their NAKED foundation, found their NAKED bb cream greasy and icky though), nail polishes (which I skipped), eyeshadows and also cheek palette!  I think that the NAKED family completes the UD aesthetics - they do crazy colors impressively and they also rule the neutrals.  So anyway, here's the comparison, and I hope you find it helpful! 
Detailed swatches of NAKED3 here - link link link 
<strong>NAKED - 12 <span style="font-size: 1em;">gorgeous bronze-hued neutrals
</span>NAKED 2 - 12 taupe-hued neutrals.</strong>
NAKED 3 - Experiment with 12 NEVER-BEFORE-SEEN (and insanely beautiful) rose-hued neutrals—from pale, shimmery pink to deep black matte with rosy red micro-glitter.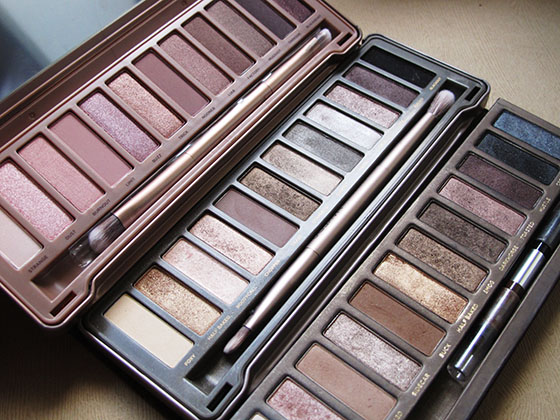 Here are some detailed swatches: 
I think  the different undertones of the palettes are pretty obvious,  NAKED1 is quite golden bronzey, NAKED2 is quite a mixture of both warm and cool (I don't think it is ALL cool toned), and finally the NAKED 3 which is clearly more pink (which gradually becomes darker and warmer towards the end).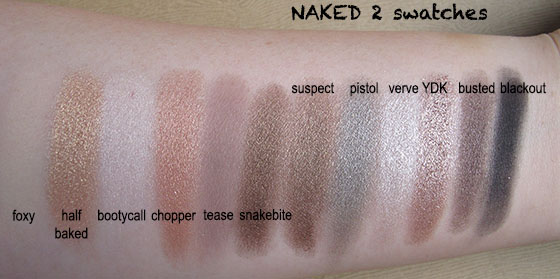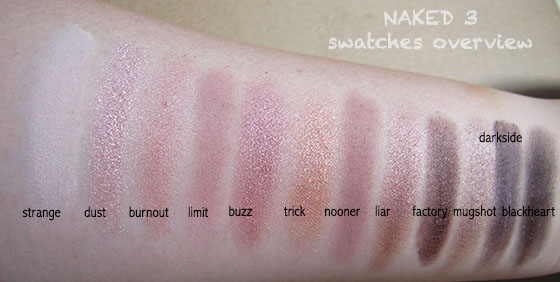 and one more to juxtapose all three: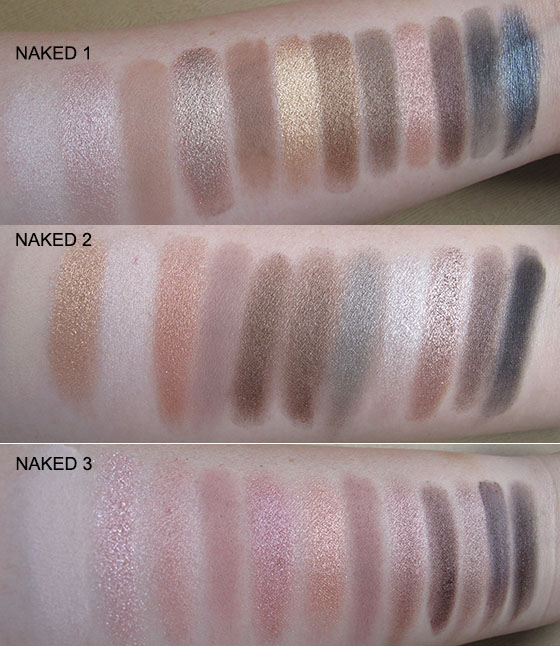 A lovely reader recently asked if I would be reviewing/ comparing the NAKED3 palette, and I am glad to provide this little comparison here.  There are certainly better pics out there (just check out the YT gurus like xSparkage, Temptalia etc)... but here's just my two cents worth. 
The important question is, do you need the NAKED3 palette?  If you already have the previous two, do you need this latest one?  Do you need?  Maybe not.  Do you want? Most probably yes. 
For me, they are all different, as already stated in the description of each palette.  
Here's the situation:  If you have already bought the first two palettes, like myself, from a couple of years back... I think adding this one more shouldn't make much of a difference, you get an extended variety of neutrals, and secretly you know you want to complete the collection, right?  It is not like I bought all three at one go (which would cost a total of $250 at one go, sounds crazy yah?)   Think about it, each of the NAKED palette costs about $85-88, which actually makes it the same price point as a CHANEL quad.. that contains....yup, 4 colors.  And you are getting 12 beautiful, quality eyeshadows here. 
But, if you don't have any of the NAKED palettes, and you are standing there at Sephora, you can't decide, which ONE should you get?  Then you have to consider which is your style and preference.  Personally for me, I think that the most versatile palette is the NAKED2.  It has some warm and also cool toned neutrals.  If you don't really care which is warm or cool, I guess any of these NAKED palettes would totally suit you.  All are extremely wearable, and extremely versatile. If you want a casual light makeup look, just use the lighter shades.  If you want to go all out and create dramatic looks, you can do all that cut crease, smokey eyes using the contrasting colors in each palette.  Yes, the hype will make you want to run out to Sephora and be the first to grab the palette, but but but, note, all NAKED palettes are permanent... and you can take your time to pick and decide (while they restock in the meantime).  See, the voice of reason still remains in me!  :p
I haven't actually used the NAKED3 yet, and I hope to do one look with it today...so I will post it asap when I am done.  
If you want to hear a very technical review of the NAKED3 palette, especially the shades description, do check out xSparkage's video on it. 
<strong>When you can get the NAKED3 palette - 
The palette officially goes on sale on the 12th of December 2013 at all Sephora stores, however, Sephora will be having a presale event on the 11th of December 2013 only at Sephora ION from 7pm onwards. There will be GWPs tied to those who are the first 3 customers in line and the first 50 customers in line as well as White Card Members as shown below:
Be the first 3 in line to purchase a NAKED 3* palette and walk away with a NAKED Vault, a limited edition set containing the NAKED, NAKED 2 and NAKED 3 palettes for the perfect 3some! What's more, be the first 50 in line at Sephora ION to purchase a NAKED 3* palette and stand to receive a complimentary deluxe-sized gift* from Urban Decay! Exclusively for White Card Members, enjoy a complimentary Urban Decay Lip Junkie* with purchase of a NAKED 3* palette (*While stocks last, first-come, first-served basis; stocks may be depleted fast).</strong>
Leave your comments/ questions below! 
Hope this is useful, and thanks for looking!