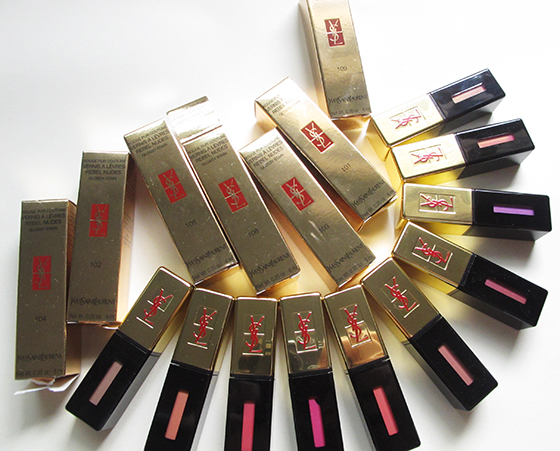 It is not everyday that not one, but TEN brand new YSL ROUGE PUR COUTURE GLOSSY STAIN REBEL NUDES land on your desk, all for my swatching and review pleasure.  
I have also previously posted swatches & review of all the YSL Glossy Stains I own, in this entry here. 
The Product Story: 
NUDE REBELLION
A renewed promise of freshness, shine and hold.  With no undercoat and no sticky feeling.  An infusion of natural colour in a stroke, to vibrate and shine.  The radiant smile of a woman who refuses to compromise.  A battle between beige and boring. 
2012 - Rouge Pur Couture Vernis begins to revolutionise lip makeup.  A shock signed Yves Saint Laurent.  A revelation.  Applied with a brush.  The lasting quality of a lipstain together wit the extreme shine of a gloss and the sophistication of a lipstick.  A texture even lighter than liquid silk.  Soft and shiny, fresh.  With the added value of supreme hold.  LIke a calligrapher, it meticulously defines lips with a perfect stroke of colour.  31 shades like a sublimely nuanced manifesto.  Day or night, no more taboos, no more compromises. 
2013 - Act 2 of a major technological revolution.  For women who want to wear nude shades that are bolder, more radiant and vibrant than ever before, Yves Saint Laurent launches Rouge Pur Couture Vernis Rebal Nudes.  Luminescent lip colour thanks to an exclusive new formula.  
Eight blinding nude shades, including Nude Provocateur, Violine Out of Control, Corail Mutin, Fuchsia Tomboy... because at YSL, nudes are never boring.  They are presented in a multiple variations of colour and light.  Rouge Pur Couture Vernis Rebel Nudes affirm, define and underline.  Colour becomes a luminous vibration, a wave loaded with all-new pearl pigments. 
INNOVATION
Rouge Pur Couture Vernis Rebel Nudes is an exceptionally innovative lip makeup.  Not only does it benefit from the Lifeproof Colour Emulsion technology, but it is also enriched with the latest asset, all-new pearl pigments, for unique coloured radiance and unprecedented luminosity.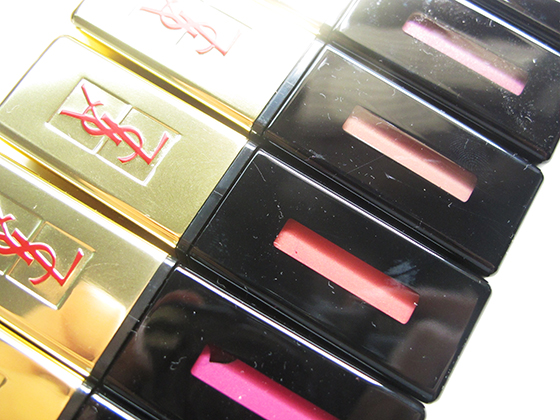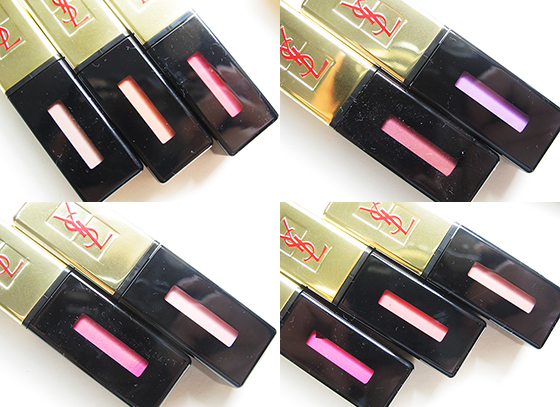 The high-performance formula is paired with an equally revolutionary brush, concealed in the Rouge Pur Couture Vernis Rebel Nudes bottle.  With its wide designm it ensures good retention of the product and even application in just one stroke.  The pointed tip maximises the precision of the lip's outline.  Its special, instantly recognisable slant charges up just the right amount of colour and makes application even more precise.  The polyamide bristles are set firmly in a smooth base.  With ample bristles that are very compact, the brush has a sponge effect, offering an even distribution of the colour.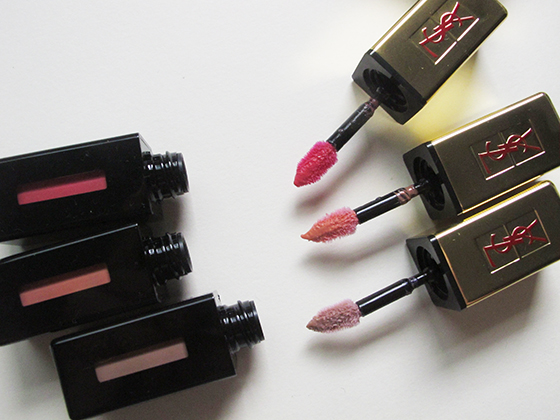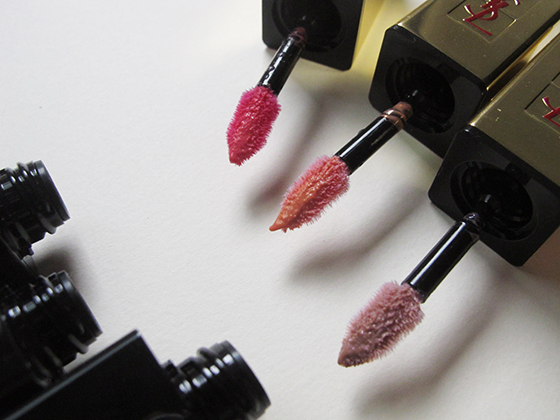 SWATCHES & COLOR DESCRIPTIONS:  (I have also included matching YSL Lacque Couture shades for layering purposes)
101 Nude Provocateur - sheer beige nude  (No22 Beige Leger)
102 Corail Mutin - orangey coral, with slight golden sheen (No 21 Taupe Retro)
103 Pink no Taboo - pinky coral (No 21 Taupe Retro)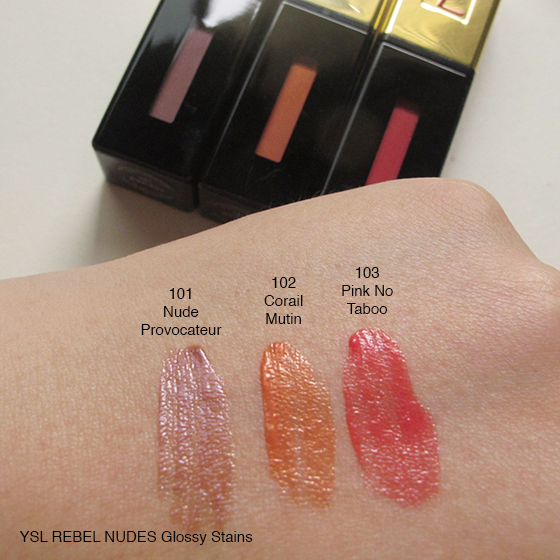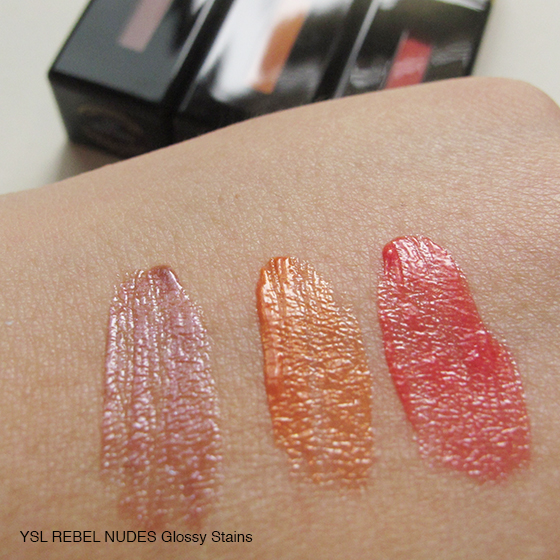 104 Fuchsia Tomboy - warm bright pink, with slight golden sheen (No 12 Rose Renaissance)
105 Corail Hold On - quite similar to 102, but more peachy pink (No No 25 Rose Romantique)
106 Beige Anarchist - warm sheer beige (No 12 Rose Renaissance)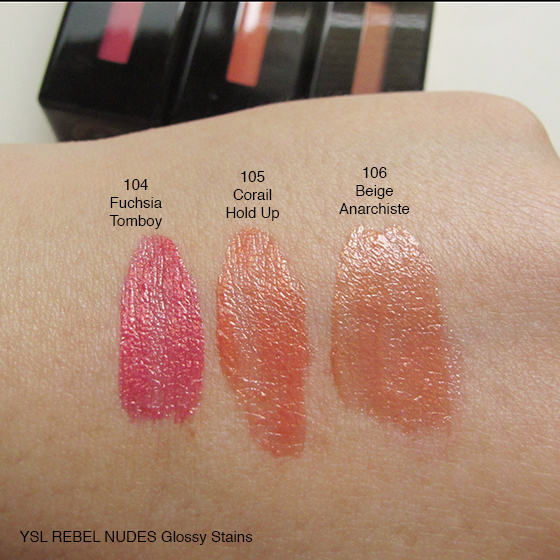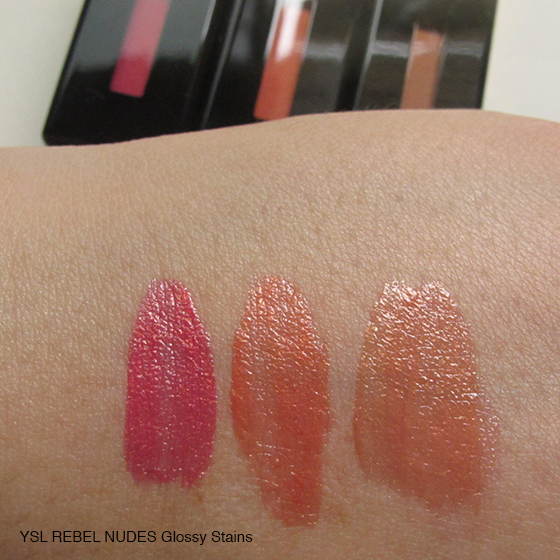 107 Naughty Mauve - Mauvey peachy pink, very unique with a golden sheen (No 22 Beige Leger)
108 Violine Out of Control - pale violet, slightly sheer, very wearable purple (No 25 Rose Romantique)
109 Fuchsia Fugitive - Reddish Pink with golden sheen 
110 Reckless Pink - pale sheer pink with golden sheen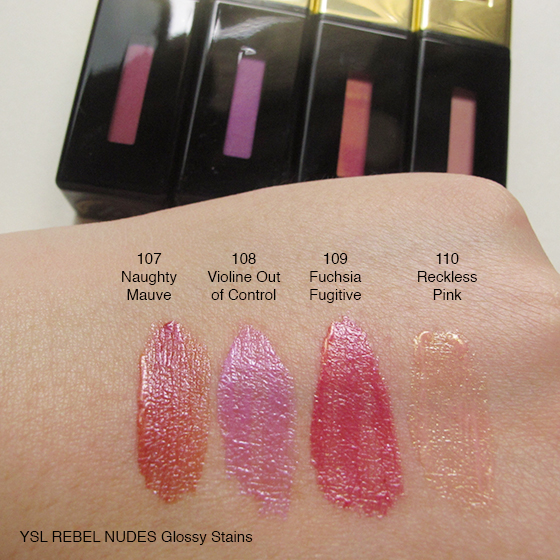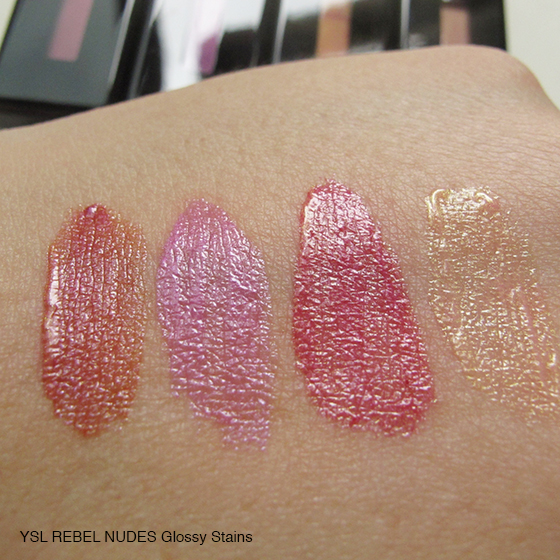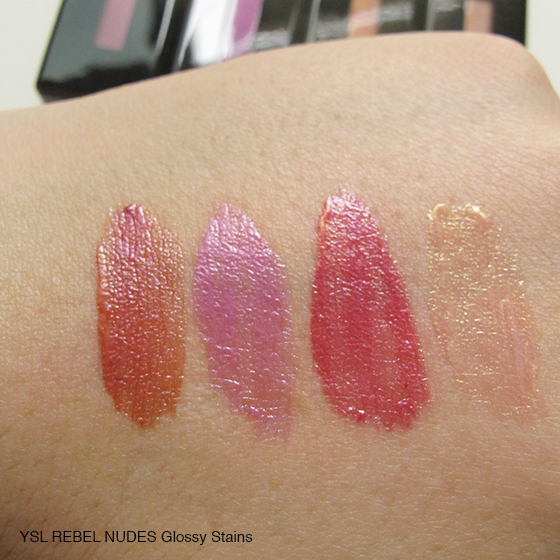 As with the YSL Glossy Stains, the Rebel Nudes also leave behind stains on your lips, making them long lasting. 
And I tried to minimise the stain as I swatched all ten shades in one go.  Not easy, believe me.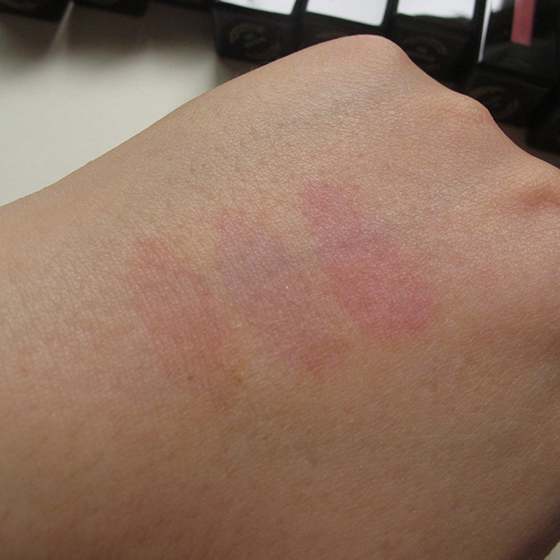 And here are some pictures of the application process - really like how the brush moulds to my lips. 
All the ten shades are on the sheer side, thought the reddish pinks are more pigmented. 
The sheer nudes are great if you want a long lasting gloss/ sheen to your lips, and also to make your nude lipstick last longer.  I do find that applying this Rebel Nudes over my regular lipstick extends the wear time.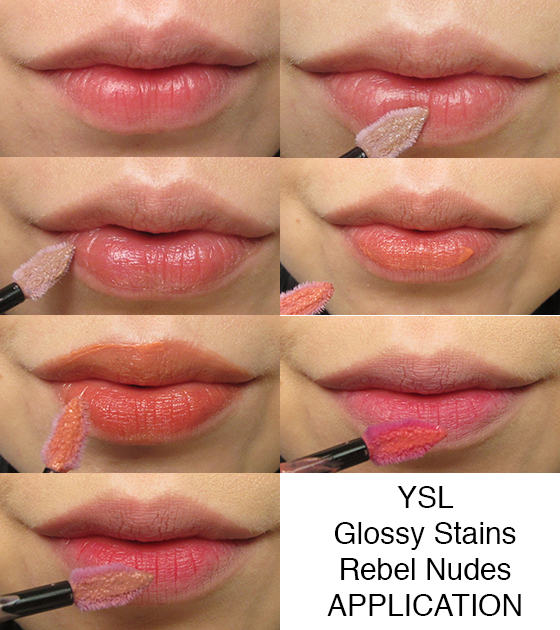 and a comparison of all the ten shades - note that the color payoff depends largely on your original lip color.  
In close up pics, you can see the sheen on some of the shades, especially 107, 109, and 110.  
My top picks are 104, 107, 109, 110.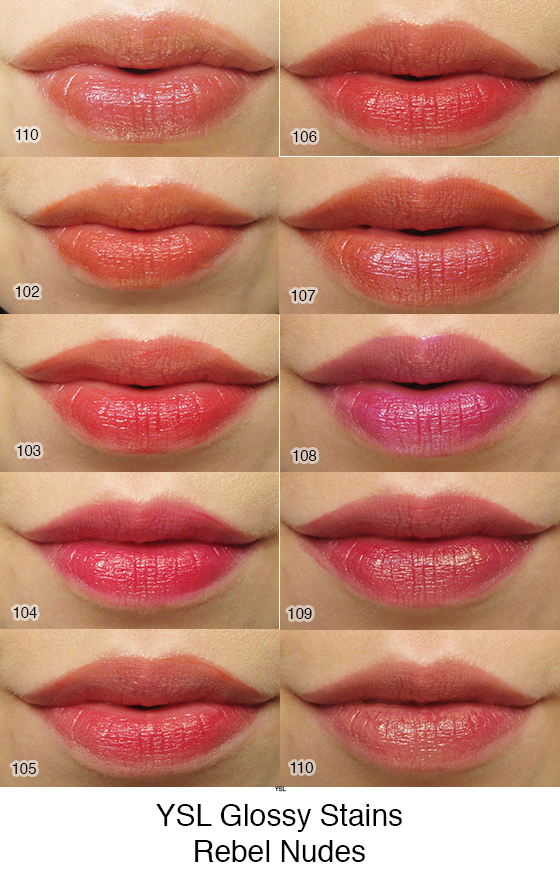 Hope you find the swatches helpful and thanks for looking!