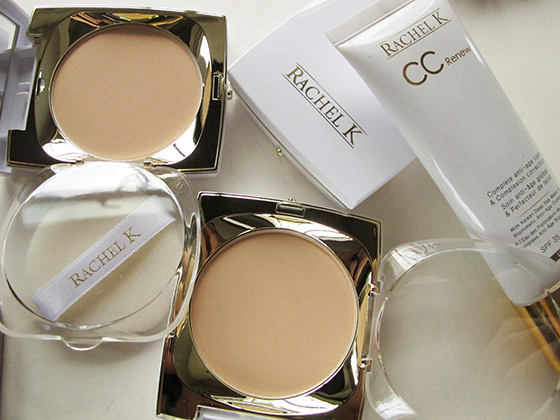 Hi hi!!
I have been testing out the new Rachel K CC Renew cream and powder for a couple of weeks, and now I am ready to share with you my base routine featuring these products. 
I believe the products are now all available at Watsons.  Prices to be confirmed. 
I will also try to give the differences between this new CC Renew range and the first launch of the Rachel K cc creams and powder at the end of this entry. The new CC Renew products boost more skincare benefits.
CC Renew transforms your skin through instant skin perfection and long-lasting anti-ageing skincare.
The advanced color-correcting complex illuminates your skin and visibly minimizes all imperfections and dark spots instantly and over time. 
Deep Sea Water, highly concentrated in rich minerals, immediately and lastingly moisturizes dehydrated skin. 
The break-through Biomimetic Anti-Age Complex boosts the natural skin's regeneration process to reduce fine lines and wrinkles and to improve skin's firmness 
SPF 35 / PA++
Skin type: ALL
Coverage: Sheer to Moderate
Texture: Featherweight
Finish: Natural Radiant
Oil free, Paraben free, Non-comedogenic, Dermatologically tested
CC Renew Pressed Powder transforms your skin, revealing a naturally luminous, flawless and perfectly smooth complexion.
Its unique color-correcting complex instantly perfects skin with the Organic Shea Butter and an antioxidant complex and Vitamin E deliver powerful anti-ageing benefits. Talc free, paraben free, non-comedogenic, dermatologically tested
The new CC Renew Powder comes in 3 shades - Extra Light, Light and Medium - I use the shade Extra Light (I can go with Light, but usually I prefer using a lighter shade of powder to set my base). 
The powder is very smooth and finely milled.  I normally use a brush to set or touch up my face with this powder - though the compact comes with a sponge.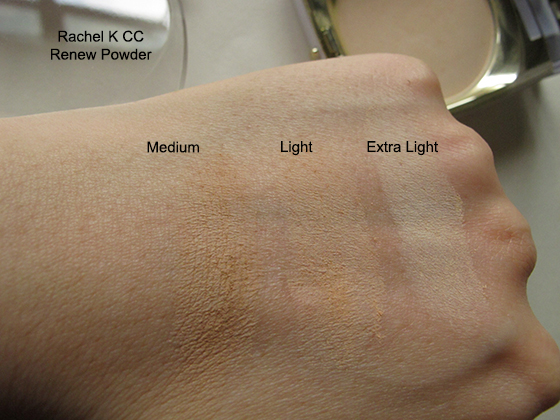 Here's a swatch of the CC Renew Cream in the shade Light.  
It also comes in 3 shades (which I have posted on my instagram a few weeks back).  The Renew CC cream has a slight grey tinge, which blends out into my skintone anyway.  It seems to have a lighter and more dewy texture compared to the old CC cream.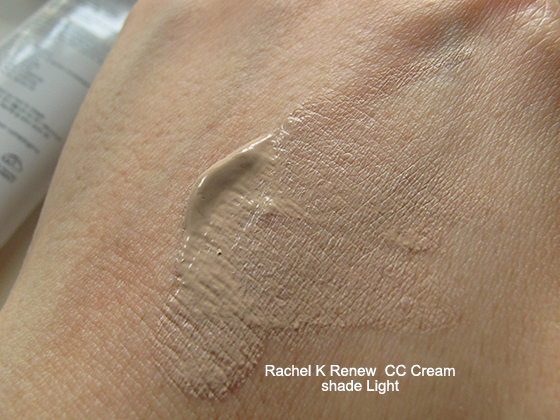 Here's the application: 
As you can see here,  when the CC Renew cream is applied onto the skin, it becomes more skintone like, and blends into my skin nicely. 
I usually use my fingers to blend it, though using a foundation buffing brush works just as well too. 
And I usually use a light layer of foundation over it, but in this entry, I am showing you that the CC Renew cream alone provides enough coverage for my skin anyway.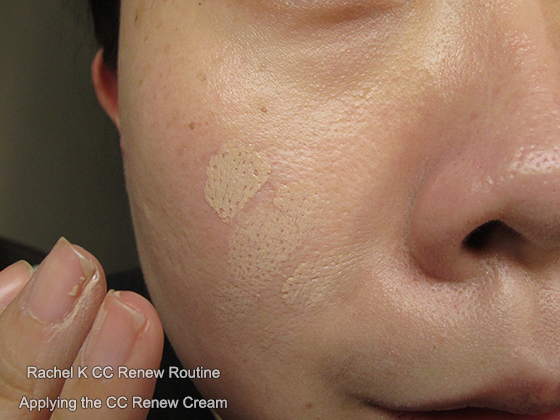 As you can see in this half face comparison, the CC Renew Cream gives a very lightweight coverage, but yet it is able to even out my skintone.  The redness is somewhat neutralised, and the skin texture looks smoother.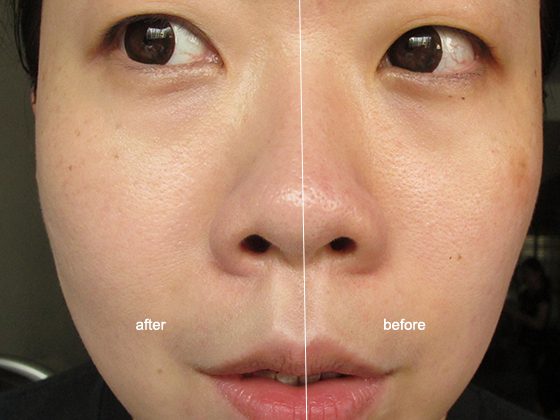 Next, I use the CC Renew pressed powder to set the CC Cream.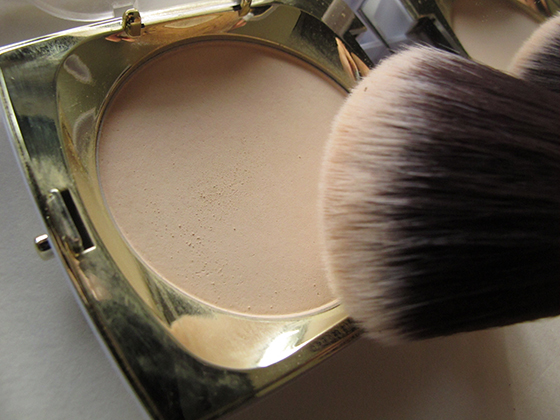 I use a large powder brush to do this step, by pressing the brush over the skin. 
Here's another half face comparison - there's a more flawless and smooth finish.  I don't think it looks powdery or overly matte.  Actually after the powder and CC Cream set, the finish is a little bit glowy even.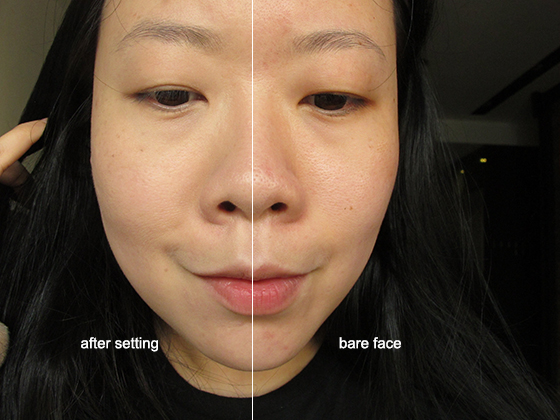 And fast forward to this BOOMZ face, where you can see the glowy finish I am talking about previously.  It is an overall healthy finish - and note that I am only using both the CC Renew cream and pressed powder here (yes, I did touch up any spots with concealer but that's about it).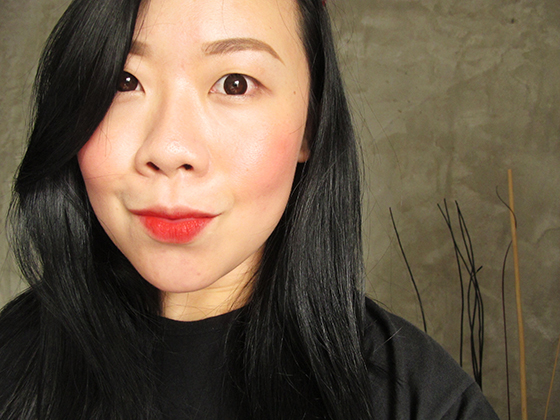 A close up of the skin: 
Please pardon the crazy red cheeks, I was trying to illustrate the new Lancome Blush Subtil --- and they are some really intense blushes!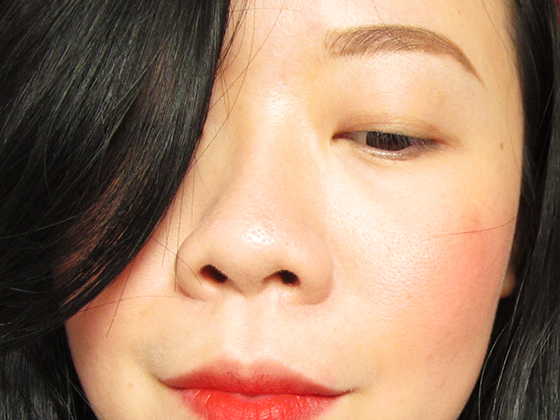 Overall thoughts: 
 This is one of the many CC creams that I have tried with  more coverage - that you can actually skip the foundation.  It doesn't slip and slide, and sets into the skin very nicely.  Like the old CC Cream which I also like, this new Renew CC Cream is actually lighter in formula, and is more glowy (old one is more matte in my opinion, and has more coverage).  So it really depends on your preference, if you like a lighter formula with decent coverage you will definitely enjoy the new CC Renew cream. 
It is also a great base prior to your foundation - I often use a BB or CC cream as a makeup base, because I feel that this combination always make my foundation last longer and gives me a more uneven smooth coverage.  Some of these new BB/ CC creams are also able to protect the skin and provide skincare benefits at the same time, so I really enjoy using them.  This is no exception, and did not give me any side effects at all the whole time I am using it. 
The CC Renew Pressed Powder, when compared to the older one, has less coverage, it is very good as a setting and touch up powder (while I felt  that the olde one could be like a compact foundation, and it is more matte too).  The glowy (but no shimmery by any means) finish of this powder is really impressive, and if you like that healthy complexion effect, I think you will love this powder.  
Overall, this is a very impressive combination, and if you have enjoyed the Rachel K range of CC Creams I think you will enjoy her new products too. 
The Renew CC Cream lasts me a good 8 hours of wear time, I usually have to blot twice.  
Hope this review & application have been helpful, and if you have any questions, do leave them in the comments below!