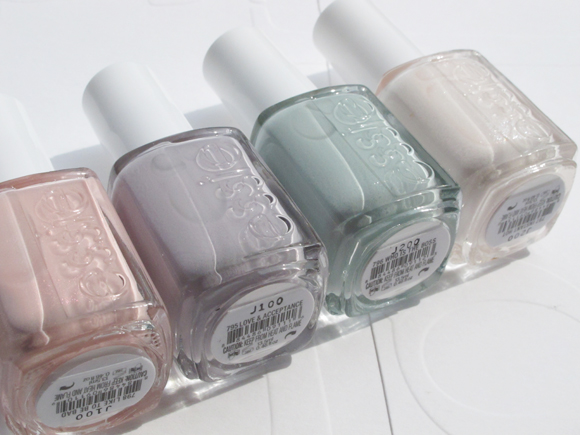 These Essie pastels are too yummy for me to pass up.  I was briefly contemplating the entire OPI NYC Ballet collection, but when I saw the swatches and review on Eugenia's blog, I was totally suckered to get this entire collection instead.  I am fully aware that the textures are completely different (the OPI collection is a series of sheer jelly pastels) whereas the Essie Bridal collection are more intense and opaque, easier for me to apply.
My fingernails are terribly dry at the moment so taking good nail swatches right now is not a good time, and not doing justice to this beautiful collection, so I shall direct you to Eugenia's review and swatch entry, so you can see for yourself why I am so attracted and in love with this collection in the first place.
I ordered the whole set from eBay.. and inclusive of shipping, works out to be about the same as the usual Essie e-retailers here.  Plus, I get them super quickly!  (the collection is still in 'pre-order' status on timtam00 the last I checked)
Link here! Ommorphia Beauty Bar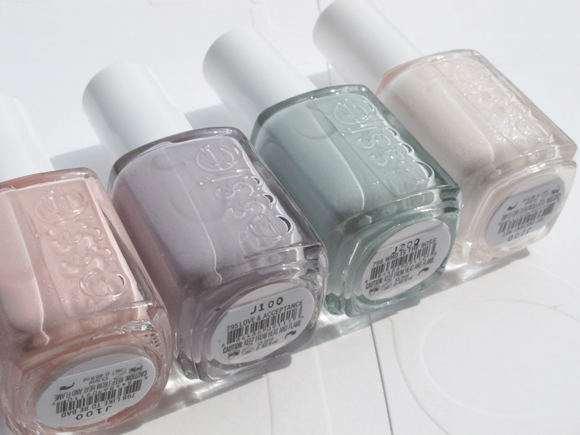 instant hot is my fave among all these, I think.  It is an off-white palest pink shade, well, it prolly looks just white 80% of the time, but it contains such fine shimmer, and has this pale undertone of pink, reminding me of yogurt. Yums!
like to be bad is the sheerest of all, needing 3 coats (I applied 2 coats for the other shades) but it contains very fine pink shimmer.   Very girly and pretty.
who is the boss is a pastel milky blue green that also has a grey tinge.  Reminds me of MAC's Hyperion..but more green/grey.
love & acceptance is a lilac shade, which Essie seems to include in almost every collection.  But I compared with 2 other Essie lilac shades in my stash (Lilacism) and they aren't dupes at all.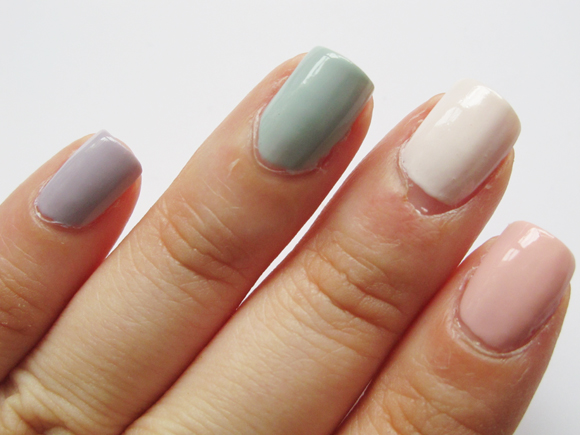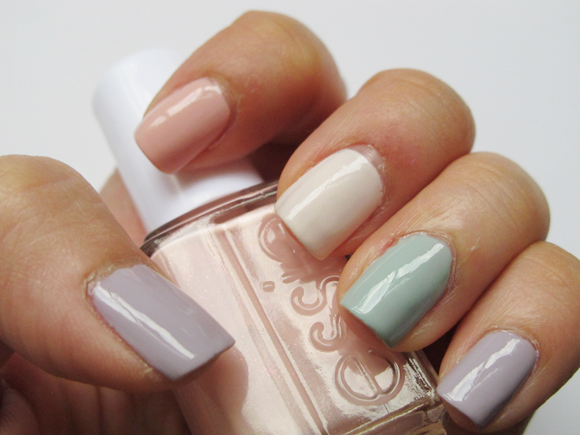 I find that I am leaning more and more towards Essies rather than OPIs or China Glaze these days....and it's good, because Essie seems to be improving the consistency of their polishes, and they have nicely edited and classy collections (read: not huge ones like 12 shades and gimmicky movie tie-ins).
That's all, and thanks for looking!