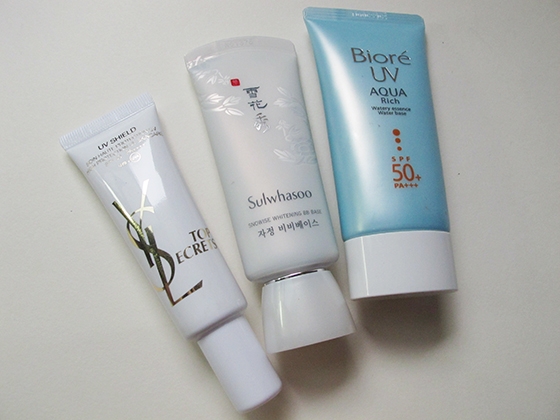 Hur hur on the cheesy entry title, I know... but whenever I think of sunscreens, this Baz Luhrman song comes to my mind.
Just a quick entry to share with you 3 sunscreens I am rotating and using.  Sunscreens these days serve a variety of function, not just to protect your skin against the harmful sun damage, but also act as a makeup base, even out your skintone, keep the oil at bay and so on.  I have recently been using (not at the same time) these 3 sunscreens and I have been loving them for all different purposes, because, obivously they are all very different.  I group them loosely into the sunscreen category, because one can point out that the Sulwhasoo is technically a BB cream - but they all contain 50SPF PA+++ which is why I am going to talk about all of them in this entry. 
Here's my overview of each of the sunscreens: 
YSL UV Shield (guessing this to be in the $70 range):  I have this for sometime before I started using it around 3 weeks back.  It is a clear base, very heavily scented and the formula is quite creamy & emolient (note: not heavy).  I like to use this as a sunscreen/ makeup base.  It helps all other foundations I use over it even easier to apply, and it helps my skin feel hydrated the whole day.  I just wish the scent isn't so strong though, but other than that, I love this YSL UV Shield.  And extra bonus - it also contains anti pollution properties that guards the skin from daily urban aggressors. 
Sulwhasoo Snowise BB Base (got this at Duty Free, around $60 ish):  You know I love the Snowise range, and this extension to the range is just perfect.  The same soothing slightly herbal scent is just awesome, and as a BB cream it gives rather sheer coverage (great for good skin days actually) but usually I would apply my foundation over it for more coverage.  Other than that, I think this is fantastic as a lightweight BB cream with good sun protection, and skin brightening properties. 
Biore UV Aqua Watery Essence (around $18.90):  Another clear sunscreen, this is on the other end of the price range as compared to the YSL one. I am amazed at how quickly it absorbed into my skin, and I use this only on mornings when I need to go out of the house without any makeup, and when I go jgging.  It is so lightweight, and true to the name, it does not feel oily/ creamy at all.  I think this is great for girls with very oily complexion.  And it is really effective as a sunscreen especially for our humid weather.
Swatches: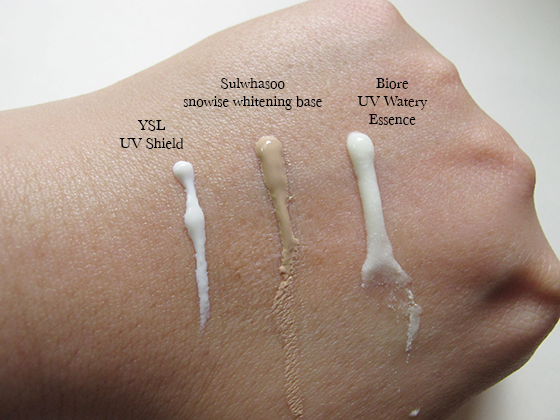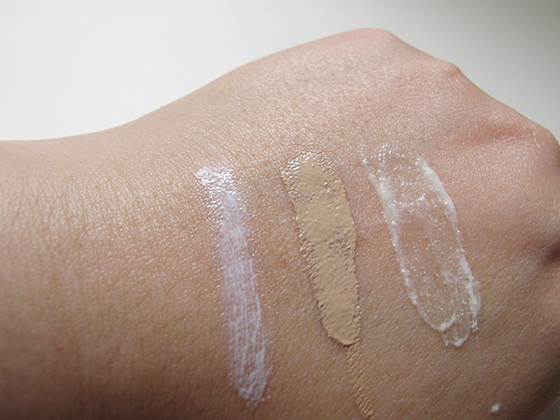 Hope this quick overview has been helpful!   It is difficult for me to comment on the exact effectiveness or go into all that technical details, but I am certain that all three I mentioned here are my current faves, so it is worthwhile to mention them and share with you, in case anyone is looking for sunscreens in general.  :)  
Currently in a blogspam mood.... there should be more entries coming hopefully by the end of today.
Thanks for reading!!