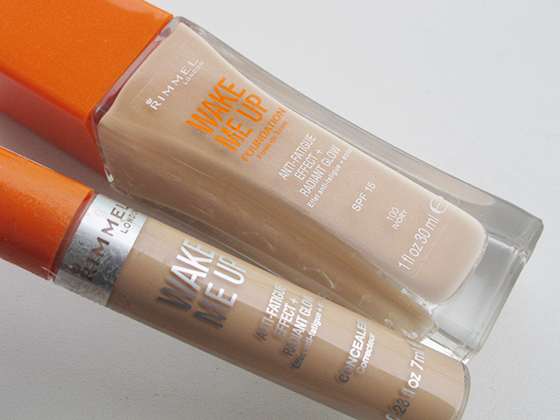 Hi hi!
This is one of the several foundations which I have been testing out in the past month or so.  I usually rotate a couple of new foundations at the same time... it sort of gives me the chance to compare and see the results of each foundation better when I switch things up a bit.  I am sure many of you who follow the UK youtubers are familiar with the hype surrounding the Wake Me Up foundation.  I, too was sucked into this hype, and I bought the foundation, matching concealer & the stay matte transparent powder to complete the whole Wake Me Up routine. 
First off, I will just start off by saying that I love this foundation!  And if you are interested to find out why, read on!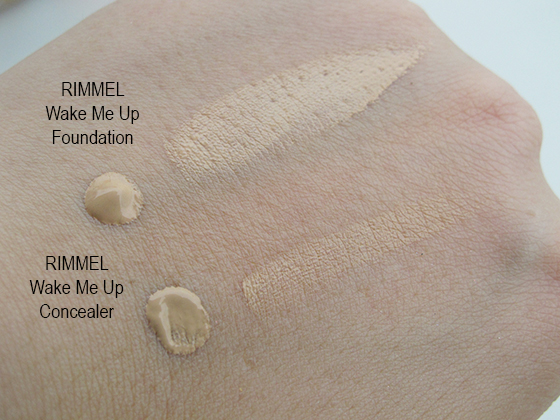 The foundation has a slightly thick texture when you dispense it out of the pump.  I am using the shade 100 Ivory which is the lightest shade - but my experience with Rimmel foundations are the even the lightest shade 100 Ivory isn't really super pale as the name suggests.  I would say this is a beige-gy slightly warm shade.  Thankfully though, it blends into my skin and matches it quite well.  You can't really see a layer of foundation over my skin due to any color mismatch. 
Here's the application process - note that I didn't apply any face primer prior to the application of the foundation, and also for the purpose of this review, I am just using my fingers to apply the foundation.  I do find that using a brush gives the foundation a smoother application, and faster too.  But in pictures you are not going to be able to tell the results of the different methods of applications anyway.  
start with bare face 
I start off by dotting the foundation all over my face, and once I do that, I start blending and 'mashing' the foundation into my skin.  It absorbs easily and blends quite smoothly.  It is very light and creamy, and you have plenty of time to blend each area of the face without feeling like the foundation has 'dried' up.  
application & blending
blended - as you can see, even though it looks a little dark in the 2 pictures above, it does blend into my skintone after all.. 
applying the concealer 
blending the concealer 
using the stay matte powder
finished look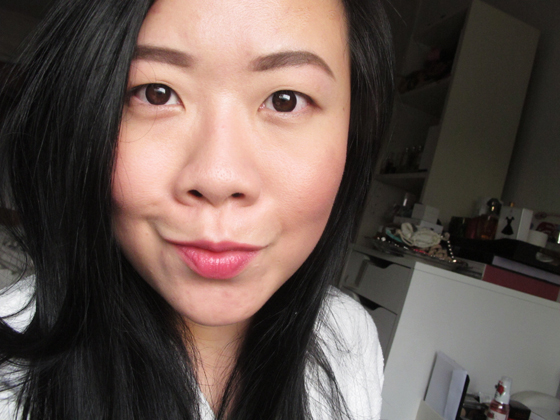 My thoughts:
The finish of the foundation is a velvety smooth finish, and I would say the coverage is a good medium.  Of course, if you prefer a lighter coverage, you can use less product, and spread out the foundation all over your face or on areas where you need coverage. I guess this is the main star selling point of the foundation - that factor that gets everyone raving about it.  The foundation does have a very refined and smooth finish that one normally associates with high-end (more expensive) foundations.  It gives my face a slight radiance and looks fresh throughout the day.  It is also worth nothing that even though I used it without any primer, it didn't settle into my pores.  Phew! 
When used with a primer (such as a thin layer of bb cream/cc cream) the lasting power of the foundation is about 8 - 10 hours, while used on its own, the lasting power is about 6-8 hours.  So it really depends on your needs and whether you want to do the extra step of priming your face. 
The Wake Me Up concealer, though, I am not so impressed by.  I don't think that it gives that much coverage as I would expect from a concealer, and I think the shade isn't bright enough for me to use as a undereye highlighter.  It just blends into nothing on my skin, and looks invisible without much coverage in my opinion.  I am using the shade 020 True Ivory - again, I am not very familiar with the shade range, I have a feeling there might be a lighter shade availble... but perhaps on someone darker, the concealer might be more obvious (and more brightening). 
I also used the Stay Matte powder to set the foundation and concealer.  I find that the powder can look slightly patchy if you apply with a too-heavy hand, but it does look quite matte and sets the foundation nicely.  I don't think that this is a must-have powder, especially if you already have your own existing setting powders.  Besides the packaging of this powder is quite notorious, the cap doesn't screw on, it just covers....and so this is one item which I will keep safely in my drawer because I don't want to risk the cover from falling off the packaging.
Bottomline:
A great performing drugstore price foundation. Definitely worth the hype. It might remind you of the Bourjois Healthy Mix Serum foundation, and the Clarins Extra Firming foundation.  That similar creamy but light texture with a fresh, smooth and radiant finish.  Do you need the concealer?  For me, I would say no, but if you like a matching routine, the concealer is not necessarily a bad product by itself.  It's just that I can't actually see it..and I don't actually see it covering up anything on me.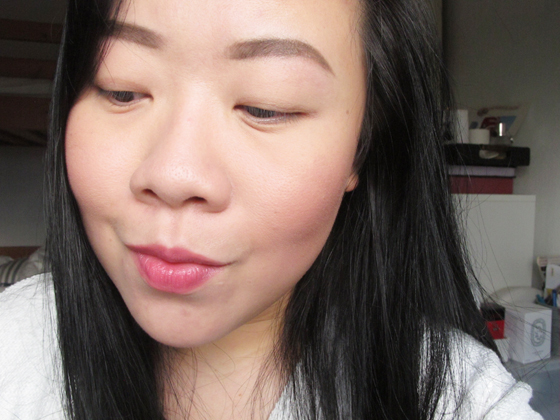 All products used in this look:
base - Rimmel Wake Me Up foundation, concealer, stay matte powder
cheeks - Diorskin Nude Tan 003 Zenith, NARS Lovejoy 
brows - Urban Decay Naked Basics, set with Mac Browset in Biguile 
lips - Rouge Volupte Shine in No 13 applied with a lip brush.  The YSL Rouge Volupte Shine is really the bomb when applied with a lip brush.  The color is so smooth and even, and you can get a really precise application.