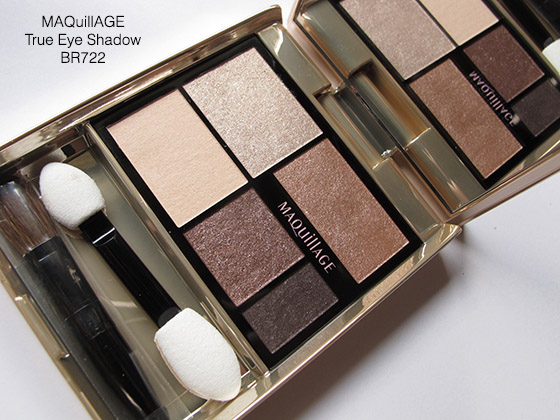 Hi hi!
Today I have a LOTD to show you... nothing very ground breaking in terms of the colors, but I am using a very good quality neutral palette from MAQuillAGE's latest collection, in BR722 Stylish Beige.   As you can see in the swatches below, it has all the colors you need to create a natural everyday look, to something quite glamorous and smokey.
This palette contains a great combination of complimenting colors, and they are all very smooth and finely milled.  The eyeshadows went on my eyes very easily and they blend very well.  I know you have heard this so often, but this is really a great travel palette cos it is so versatile and handy.
Here's a quick rundown of the color placement:
Shade 1 - applied all over my lids as a base.  This is a matte cream shade that isn't chalky at all, and blends into my eyelids shade and even out the skintone there.
Shade 2 - applied lightly on the browbone as a highlight.
Shade 3 - applied lightly on the crease as a transition colour.
Shade 4 - applied on the lids as the main colour.
Shade 5 - applied on the outer corner to add definition. 
Whatever is left on my brush after shades 4 and 5, I just dusted it on the lower eyelids. 
I then lined my eyes with a black gel liner and applied falsies as I always do.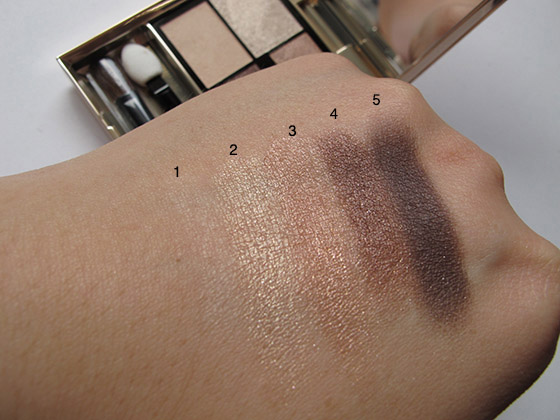 This is the close up.  
I kept the rest of the face quite natural, and this is something I would wear to work everyday... If I have time to actually do a full face of makeup daily.  It is very flattering for me personally.  All products used will be listed at the end of this entry. 
All products used: 
Face - MAQuillAGE Perfect Multi Base BB, MAQuillAGE True Liquid Moisture UV foundation (review here) set with Suquu Chiffon Feel Loose Powder 
Cheeks - Shiseido Bronzer 02 medium, MAQuillAGE True Cheek blush in RD321 Red Coral
Eyeshadows - as stated at the start of this entry
Liner - NARS eye paint in Black Valley 
Lips - MAQuillAGE True Rouge in BE213 
Brows - Shiseido Perfect Brow Compact BR602 
Hope you find this entry helpful, and thanks for looking!