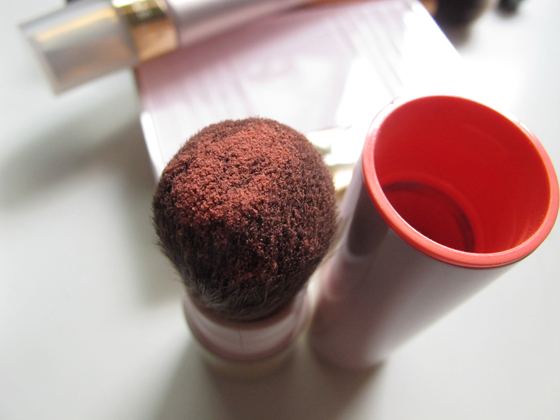 HI!
This entry features a few MAQUiLLAGE Spring Summer offerings - all are already available at Shiseido/ MAQUiLLAGE counters.  In particular, I really love the True Cheek Colour.  It is a blusher with a built-in brush that doesn't feel at all gimmicky.  The brush is made of the softest hair, and picked up enough product from the tube itself, and you can build up the color as you please.  (S$56 each, comes in 2 shades, a pink and a coral)
The packaging is just like a lipstick - which means you can throw in your handbag for touch ups on the go.  The brush is really soft and buffs the brush onto your cheeks very nicely indeed.  In fact you can double it up as a face powder, after applying your cheek color you can dip the brush into your face compact powder, and there you go - something really great for travelling.  I know this is definitely coming along with my on my next holiday. 
You can customise the colour and finish you want by simply turning the dial and increasing the number of rotations. 
The blush is also formulated with Shiseido's first creamy fit coating formulation – which means every colorant and pearl particle is coated with creamy fit oil to make the powder adhere to the skin better, creating an even finish.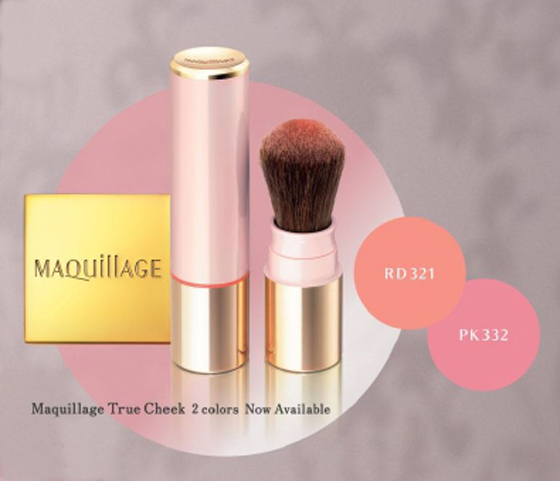 And here's the application: 
I picked the color RD321, which is a nice pop of peachy coral on the cheeks.  It is very finely milled, and super smooth.  Love the brush, and it is really a quality brush which works.  
The blush is refillable (you just purchase the cap when you run out of the powder).

And next, we have six new shades of the Essence Glamorous Rouge - I have two here to show you. 
The Essence Glamorous Rouge are some of my fave glosses.  They have great colour payoff, glossy and is  not sticky at all.  The shades are all variants of my lips but better colour...so when you feel like looking really groomed and natural, these are really great options.   The packaging is compact, and very pretty, right?
Beautiful lips created with a double coat of adherent Liquid Rouge and Light-collecting Gloss.
Apply the rouge first. Wait one minute to seal in the color.
Then coat on the gloss for long-wearing, feminine, full, resilient lips.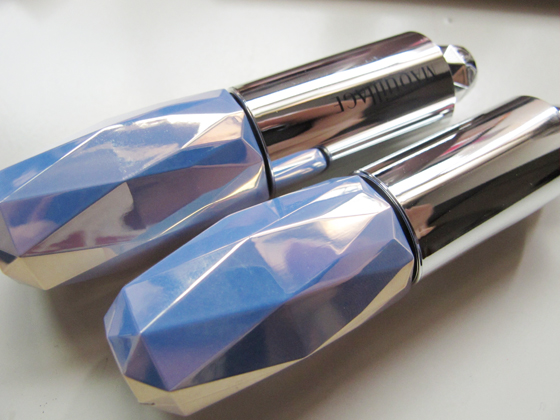 Lip swatches, and overall look on the face: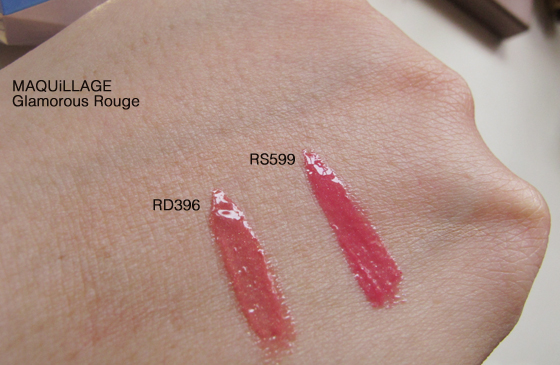 (please don't mind the messy hair and tiny eyes...focus on the lips!  Haha..)
Hope this overview has been helpful, and thank you for looking!