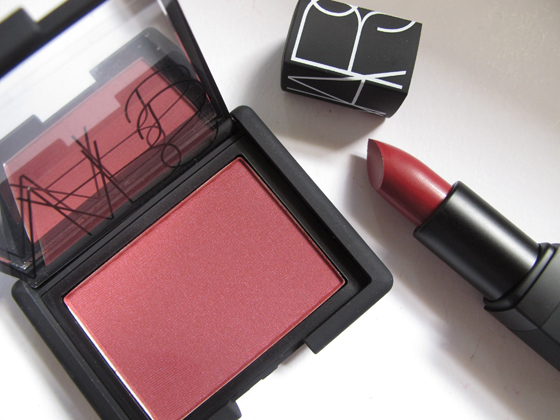 Hi hi!  
I got 2 items from the NARS Spring 2013 collection to show you today.  For collection information and more swatches,
click on this entry
.  The collection has been out for some time, and feature some very gorgeous and bold eye colors.  But I am trying to stay away from stuff I wouldn't be using (do I need 5 green/ blue eyeshadows?) and pick up MORE stuff which I know I would use more often.  I can always justify another red lipstick (top excuse - my sis is always wearing them anyway) or another blush (when you just have base and blush only on most days, blush suddenly becomes the focus of your face, after the brows). </p> <p>The lipstick in
dressed to kill
was given to me during the NARS preview and it is a fuchsia red with gold shimmer.  It has a satin finish. 
I am sorry I don't have actual looks with both products (shock horror, no lip swatches too!), but I will try to post a quick look over this weekend!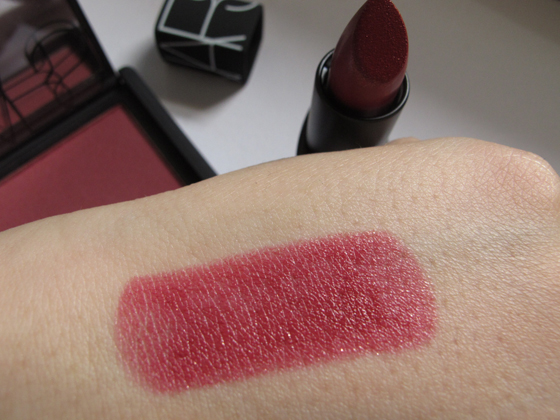 A comparison with Joyous Red (from Fall 2011 I think) which is also a reddish lipstick with gold shimmer.  Of course, they are not dupes, but just to show you the finish and texture.. Joyous Red is also one of my fave reds of all time.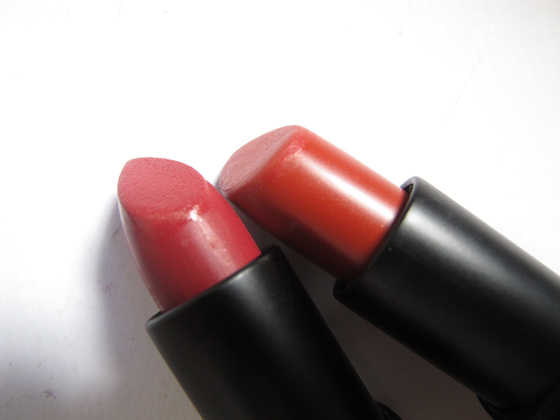 As you can see, the gold shimmer is hardly visible when swatched, and also when applied on the lips.  There is a slight sheen, but nothing that screams glittery, which I really appreciate.  
Dressed to Kill is quite on the cooler side of the red spectrum, so if you are wary about this type of red, do try it out in store!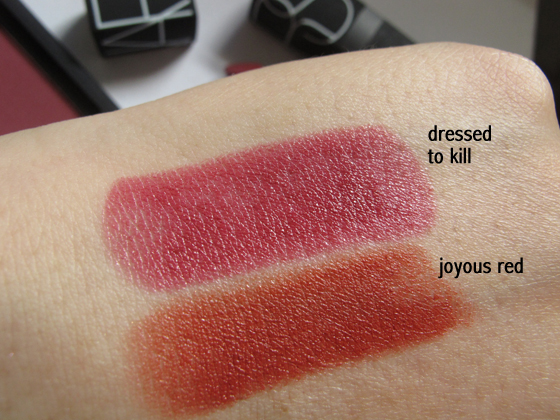 Next, is the blush in Seduction - I knew I wanted it the minute I saw images and information online.  On the NARS site, it is described as a Sangria shade which is a deep wine color.  There is a also a sheen to ths blush, a bold shade certainly.  I ordered mine from SAKS.COM during the CNY period when they were offering free intl shipping (cos I had also wanted to restock my NARS ORAN candle).
I am glad I ordered this blush.  It is a deep berry shade, and very intense.   Best applied with a light hand, definitely.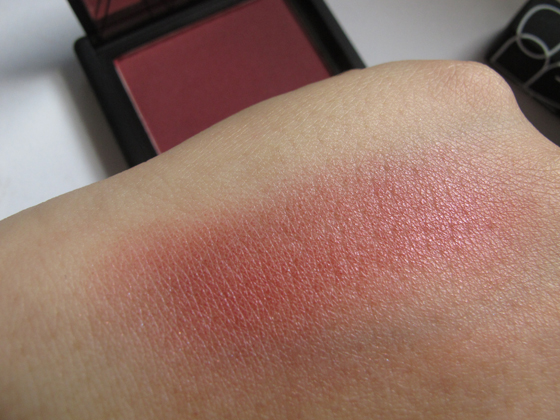 I had to compare Seduction to Mounia which is one of my earliest NARS blushes, and long since discontinued.  Both are rather intense reds, but nothing bright in the same family of their infamous Exhibit A. 
Both has that sheen, and fine smooth texture. 
Mounia is warmer, and redder while Seduction has a more rosy berry tone to it.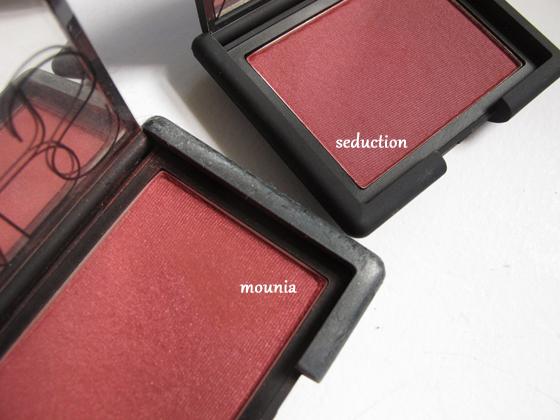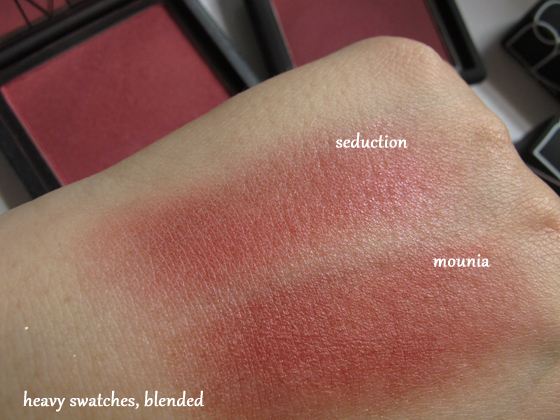 Here in this pic you can see the nuances of the two blushes better - 
L - Seduction
R - Mounia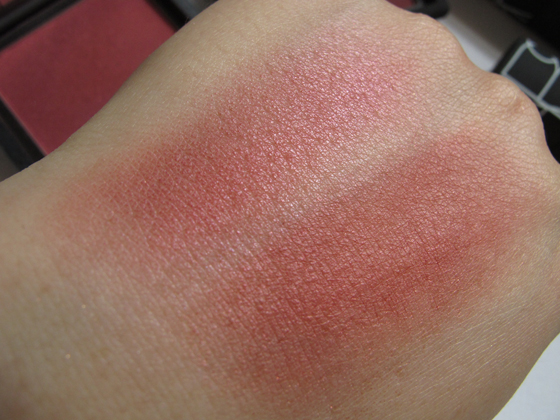 What did you get from the NARS SS2013 collection?  Please share!
Hope this has been helpful, and thank you for reading!