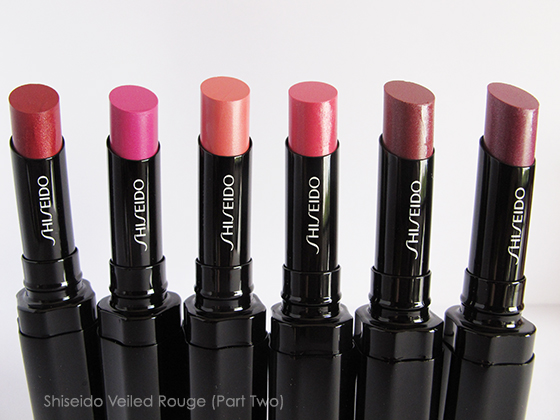 Hallo!!!  How's your weekend been so far?  Like I mentioned in the last entry, this will be a feature of all the new Shiseido Veiled Rouge that will be launched this SS2015.  This is part two of all the swatches, and without further ado, I will share with you the swatches, my thoughts and top picks. 
Some product information:
These new items from Shiseido Makeup 2015 consist of colours that are surprisingly natural and beautiful, to make you flow with your own individual style.  The fusion of Shiseido's most advanced technology and the world's top class makeup artist creates colours and luster that bring out the beauty within you, so you glow more radiantly. 
The new lippies incoporates Shiseido's most advanced technology - they have long-lasting soft and delicate shine, as though wrapped in a veil. 
The new ingredient, Veiling Pearl - ensures intense brightness and its structure allows much light to reflect from the surface to realise a soft and delicate shine. 
The Veiling Formula - with the pressure upon application, the veiling oil will spread over the top layer of the lips, as if wrapped with a veil, to make the colour and shine long-lasting. It also keeps lips hydrated. 
The formula also means that vertical lip lines are less visible, the formula is smooth, even and delicate. 
Close up: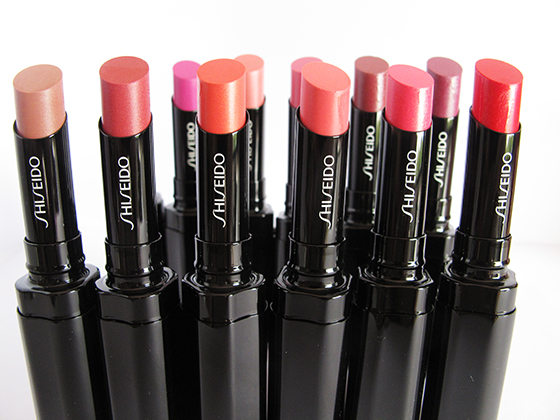 and swatches on my hand
<strong>colour descriptions:
</strong>RD707 Mischief a rich coppery red with a discreet shimmer
RS308 Sloe a vibrant, berry pink
RD309 Gossamer a fragile beige-pink, a whisper of  transparent colour
RS210 Luscious a juicy pink with a ripe sweetness 
RS711 Beach Plum a lush brownish berry shade, deep but sheer
RS312 Slink a mysterious subtle violet, cool and refined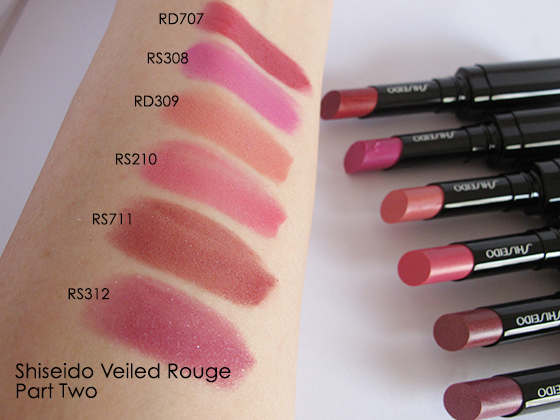 and swatches on my lips:  

As you can see in this set, the colors are deeper, but still very wearable, so if you are shy about wearing bold shades (don't be!) these will be right up your alley. 
Again, the colors are buildable, as you can control how much intensity you want, the application is smooth and not too thick creamy.  If you like lightweight formula, you will love these.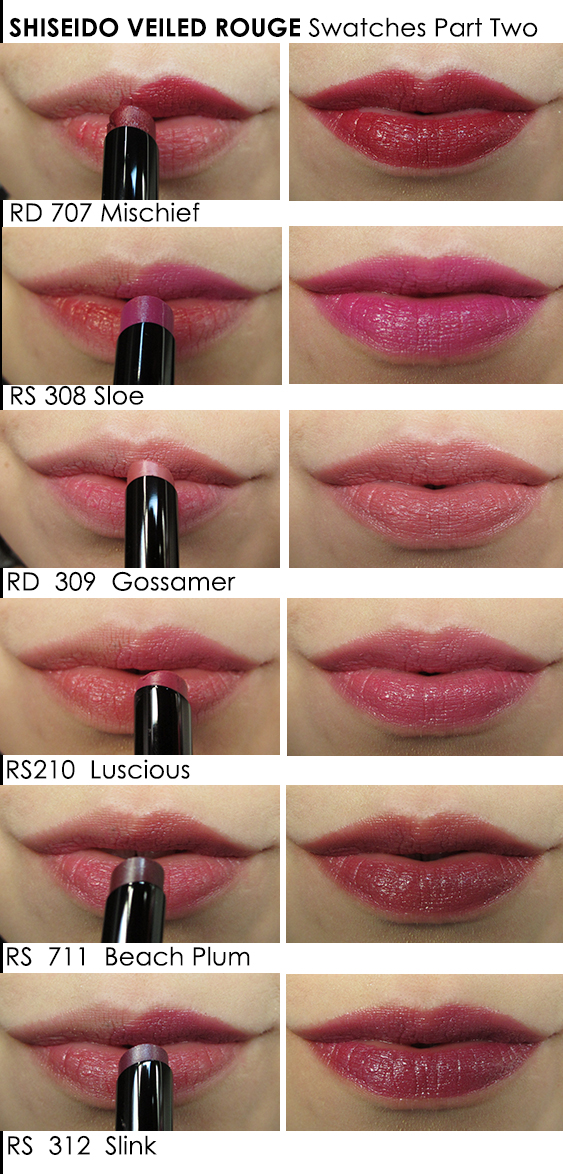 And on my face overall: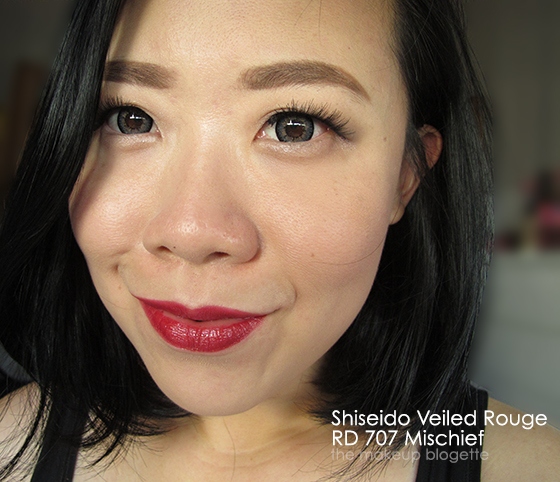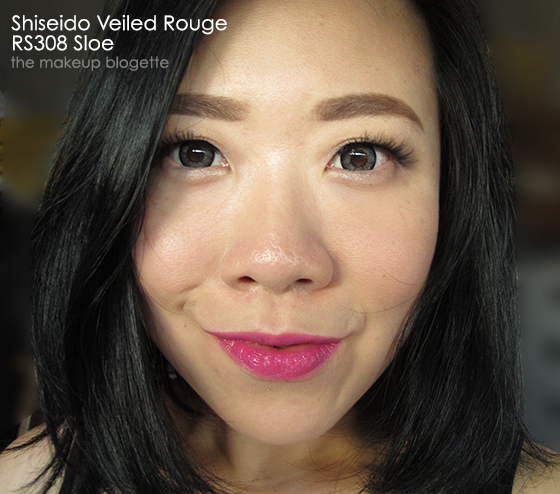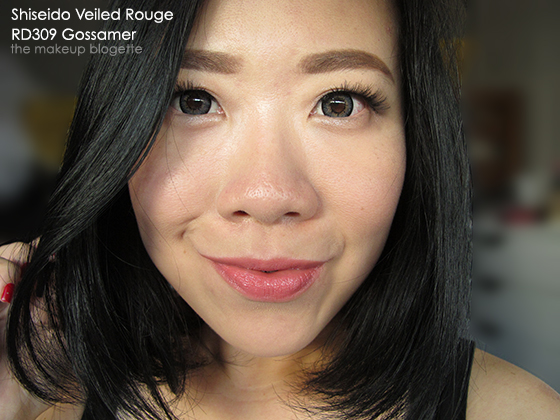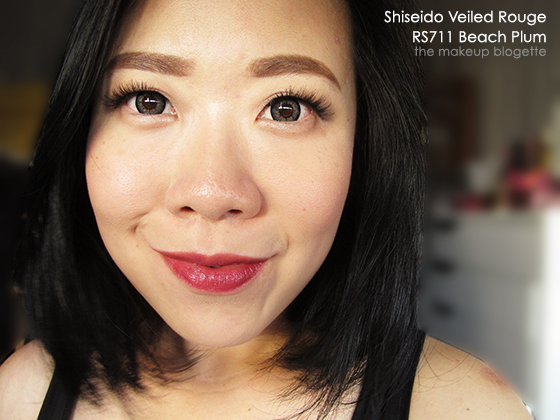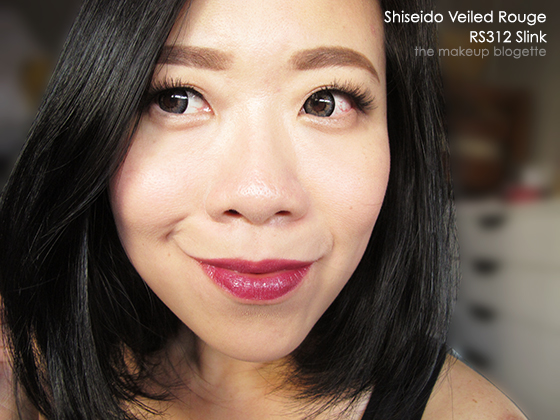 <strong>My top picks:
</strong>I really love the deep tones of RS711 Beach Plum and also RD707 Mischief.  Deep without being too severe so even if I am not wearing much else on the face, I don't think I will look too washed out.  They also wear off well to a natural just kissed stained on your lips, so that's an added bonus for me. 
My thoughts:  
I think that these lipsticks are extremely comfortable to wear - they glide on beautifully, and indeed, they are hydrating.  It is almost like wearing a pigmented lipbalm in terms of the texture.  I also like that most of the lippies are very cream (not shimmery, with the exception of 2-3 shades which are subtly frosty/shimmering). 
The veil formula is great, and hydrating - but because of this, I must say that these are not the  most long lasting lipsticks.  They last 2-3 hours on me, before the colors wear off.  But during the couple of hours, the color and finish stays true to the Veiling Pearl technology.  
The low maintainence colors (ie the MLBB shades) are great for this formula because it is so easy to slap them whenever you want to touch up. 
The bold pops of color in this collection also make for wearable yet vivid enough lip colours, and I do think they will work great over a matte bold lip, just to add a shine/ intense glossy shiny effect.  On their own, you can work them up (very easily, apply one layer, blot, apply a second layer) to a luscious bold lip look.  
What are your picks from this set?  Be sure to check out Part One of my Veiled Rouge review here!
Happy Weekend! 
Thank you for reading!