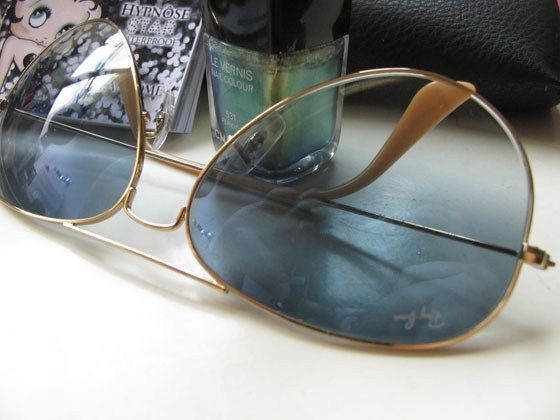 Hi hi!
Welcome to this latest installment of my random chats.... heheh.  Just wanted to do a chit-chat entry, to catch up on things, and just ramble. 
I am just going to start in no particular order...I have a 'thing' for eyewear - especially shades.  I have been half-contemplating another pair of Ray Bans aviators, I already have 2 pairs, but recently, been seeing some fashion people rocking the green mirror aviators, the shades look kind of obnoxious, but might be something that would grow on me.  A check on shopbop showed up that exact model, but not in my dimensions which I learnt, is the 60mm frame...but let's not get into the technicalities--- so I ended up buying this pair of BLUE OMBRE MIRROR ones instead.  I like to buy my ray bans (esp the aviators) at this shop - SEASON OPTICAL - at Chinatown...eh, not sure which building, it is next to OG, just opposite Chinatown Point. A few people asked me if it's cheaper at that shop, but I am not so much concerned about the prices (I am pretty sure their prices aren't marked up or anything) the reason why I love to shop there is because the uncles at the shop know their ray bans history, they will hunt down their stocks for what you are looking for, and they simply have the largest range of ray bans I have seen, it's like a ray bans museum there at the shop. </p> <p>So, behold my new shades!
(and check out my flawless skin -- hehehe and this is after a day of work, heat and humidity, around 10 hours after I first applied my foundation -
REVIEW HERE
)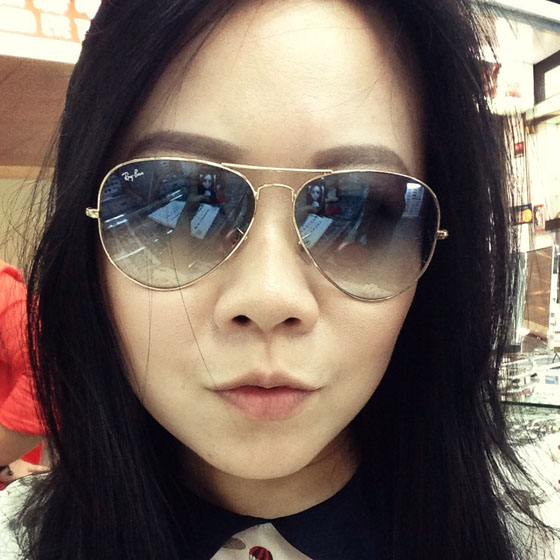 New shades: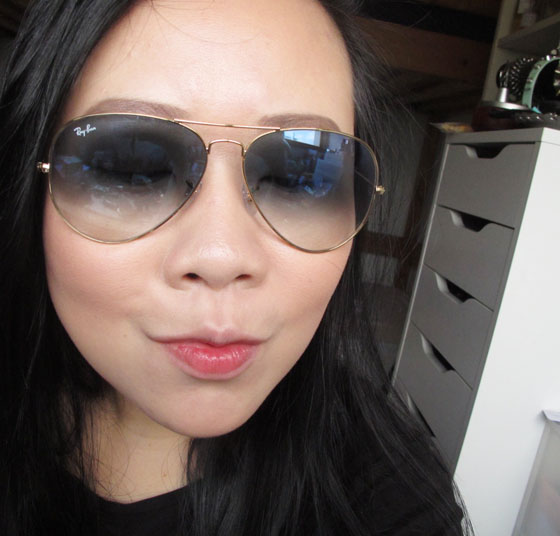 my all black one: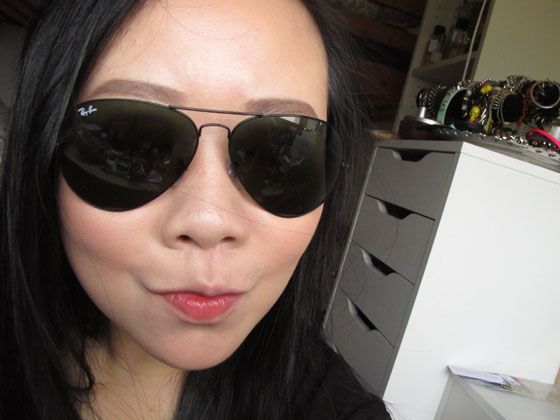 and my pinky brown pair - I think the frame is looking slightly out of shape and worn (and I don't like worn looking shades)... I think I might want to go back and change the frames on this..and keep the old lens (see, that's the good thing about buying from a shop like that, they can really customise, fix your shades anytime!)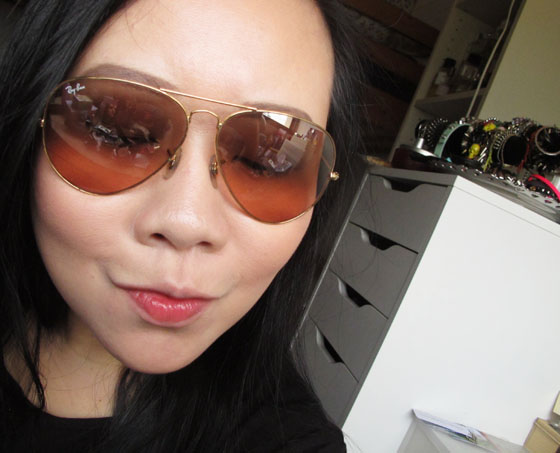 Next, BROWS CHAT - 
Many of you also know that I got my brows groomed just before the CNY break, and I went to look for the lovely Junry, who works at MAC Vivocity – it was a very last minute arrangement, and she was so willing to accommodate me.  So she trimmed my brows, and more importantly, showed me how to do that defined and thick shape which I always envied her for… and now I can replicate them for myself too!  I also bought the MAC fluidline for brows in the shade Redhead – it is very pale on me, and some people might not like it, given my black hair, and the pale brows, but I sometimes like that look.  But other than that, I love using my NAKED BASICS palette to fill in my brows, and then I comb my brow hair with my Shu Uemura brow manicure.   I have never thought that I would enjoy filling in my brows with a brush, and on top of that, using eyeshadow and/or cream, but I love it.  The MAC fluidline for brows is very long lasting, and the eyeshadow allows me to create the exact shade that I want.   So if you are looking to create those Korean-esque type of full shaped brows, do look for Junry at MAC Vivocity.  The brow service costs $15, which I think is totally worth it. 
Junry and I - looking very washed out in the intense store lighting, but just look at our brows!  Wowza!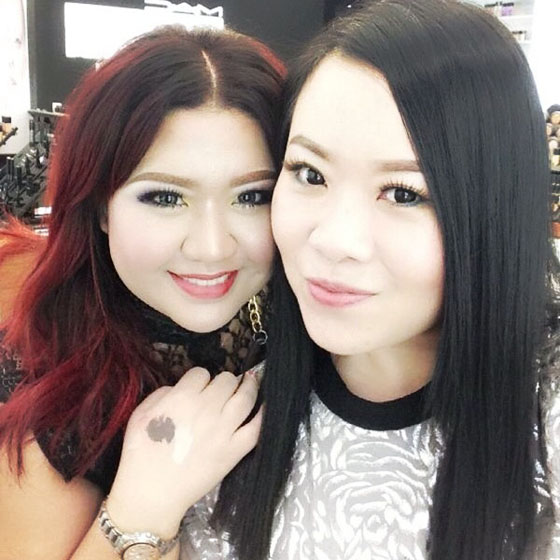 and a close up at the end of the day - still very intact and just look at how defined it looks without looking 'tattooed' - she used a fluidline to fill in my brows -in my own attempts, I could never make it that sharp looking, but I think my brows routine has seen a dramatic difference.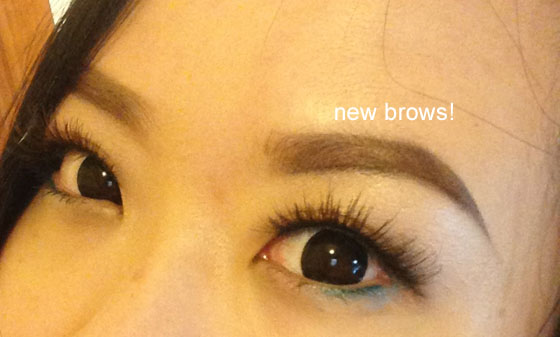 I use mainly Faint to shape and fill in, and a bit of Crave if I want more definition.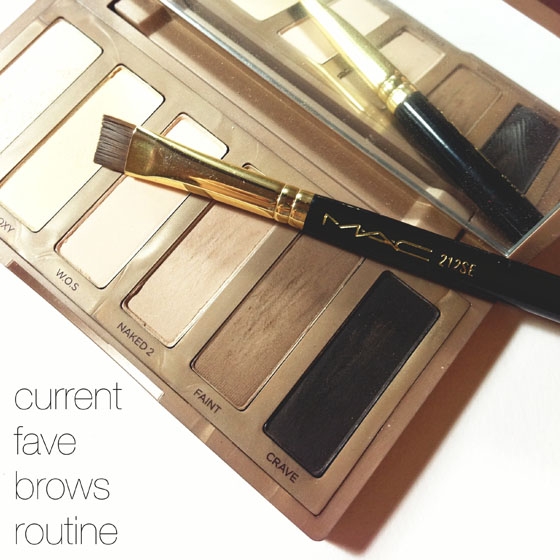 2 lovely glittery nailpolish combintion I have been wearing lately - 
Orly pairing - the glitter is just magical.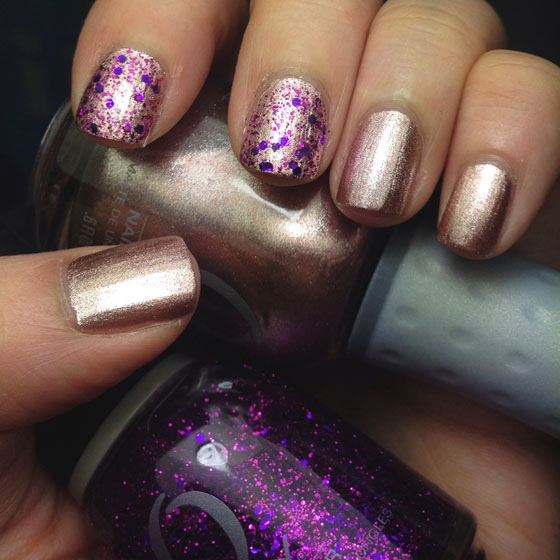 ESSIE pairing - saw this on instagram, and I decided to recreate it on myself.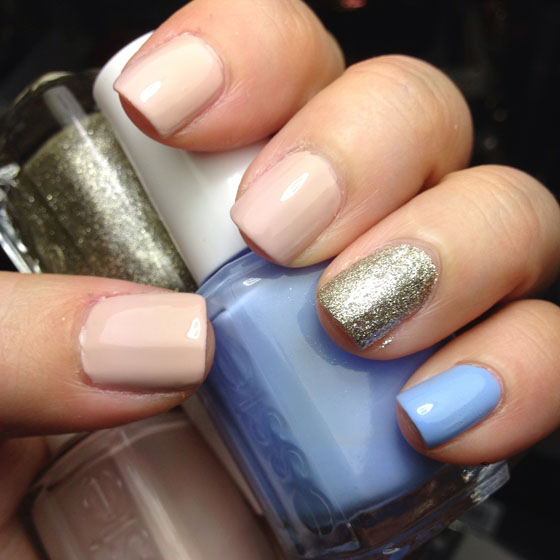 Also attended several events lately, and I will try to feature the new products soon.  A couple of the more interesting ones would be the visit to the Dior office at Ngee Ann City, and also the Lancome Star Hypnose Star event at Sephora ION. </p> <p>
The Dior office and showroom is just awesome.  Imagine being surrounded by all the Dior fragrances, skincare and makeup.  Just really amazing.  We got a sneak preview of upcoming Dior collections (Gloss Addict, and Summer 2013). </p>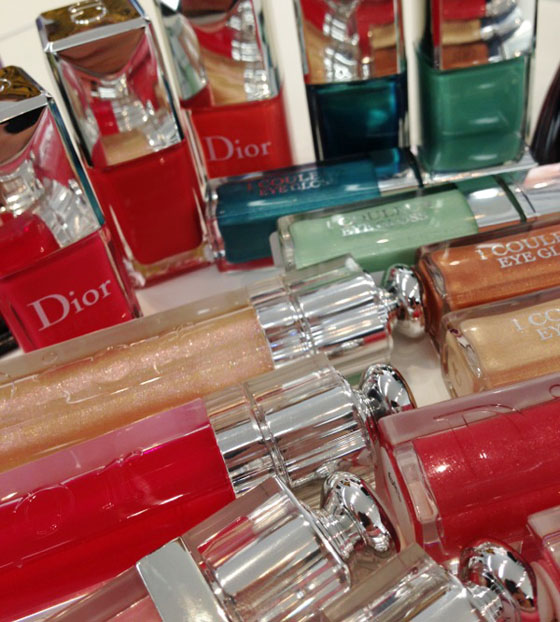 </p>
And the Lancome event, with Larry Yeo demonstrating on the gorgeous
Evonne.
I was there with my sister, and we had some fun making our own stop-motion film, and I also got to check out their new foundation (Mat Miracle)
- that review should be up in a few weeks. </p> <p>
I have a truckload of Lancome products to feature and review coming very soon on the blog.  I also have a couple of their Spring pieces, but I am not very impressed by them...so I might not get to posting those anytime soon, in case you are wondering or anticipating.  I am currently trying out, and also revisiting their skincare - totally totally enjoying those at the moment.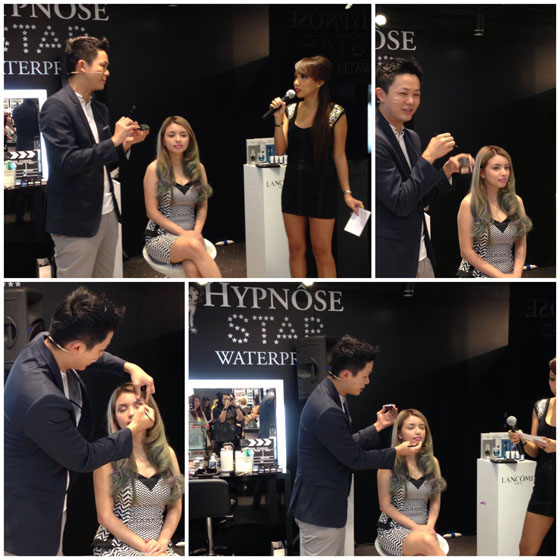 And some shopping and random silliness - 
The very much talked about Hourglass Ambient Lighting powders arrived quietly at True Colors, but all my makeup junkie friends are telling me that they are already sold out - and the packaging seems a little off - in the sense that this is just how they arrive, in the clear covers - but from what we have seen online, they aren't supposed to be like that.  They retail for S$66, in case anyone is wondering. 
I have read a couple of less than enthusiastic reviews from my trusty fave bloggers, initially I was very very keen to buy a couple of them - but now I think I can safely skip these powders.  I think I will just wait for any future release - there will always be something better out there, right? 
I also swatched the new Guerlain blush - it is so shimmery, I wasn't impressed, so again, lemming killed.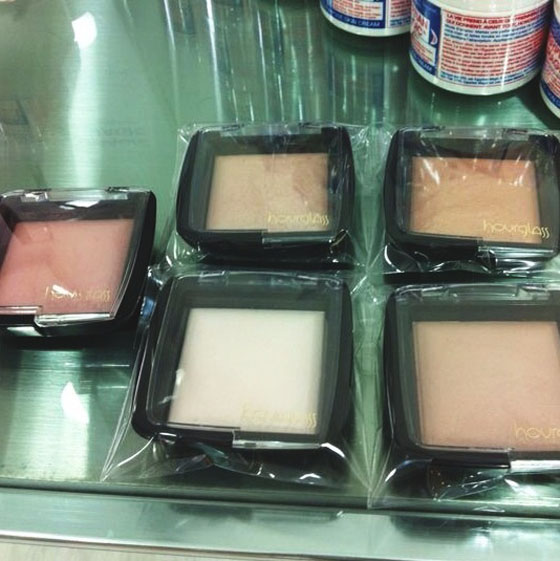 Bought a mint bowl and silverware lately, along with armcandy from H&M - love the colors!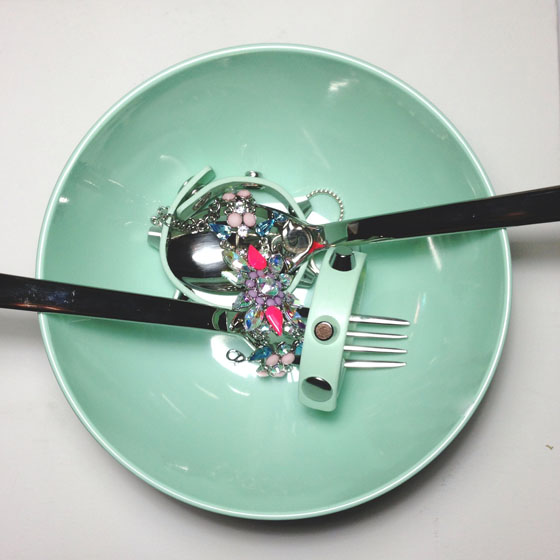 My S, M and L rings from H&M - $3.90 each!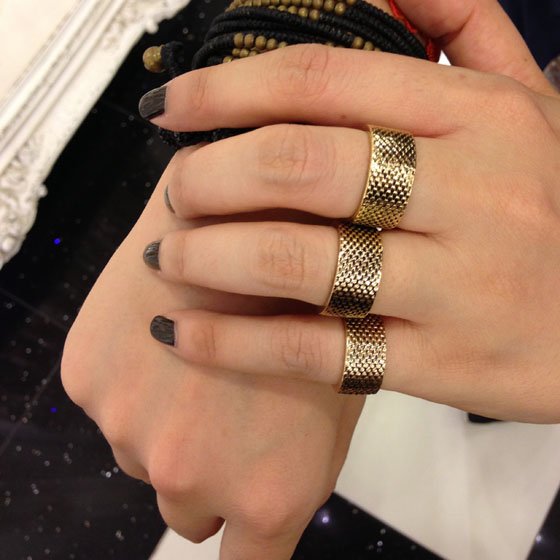 </p>
And some random posing, if you can guess who I am spoofing....all those awkward outfit of the day posing is really tough eh?
Star bomber jacket from F21
Celine shades
Old Navy jersey pants
Flipflops
MK rose gold watch
Balenciaga wrap bracelet 
T&Co. bracelet
Pandora ring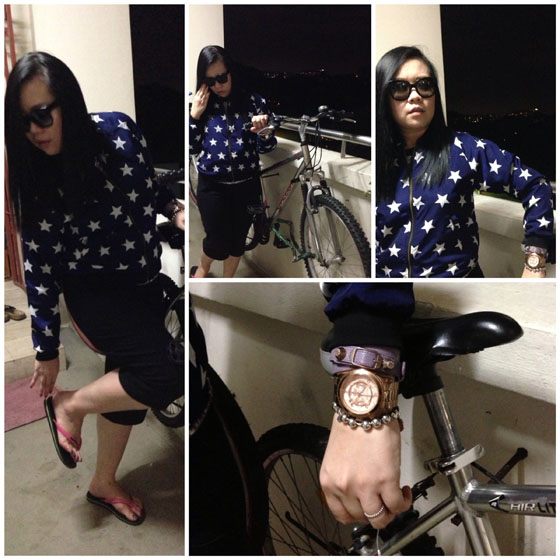 another one...if you have seen enough fashion bloggers, they love to wear their blazers on their shoulders only..heheh. 
Marks & Spencer stocks some really nice printed lightweight ones  - those that would not cause heatstroke even if you wear in our hot weather.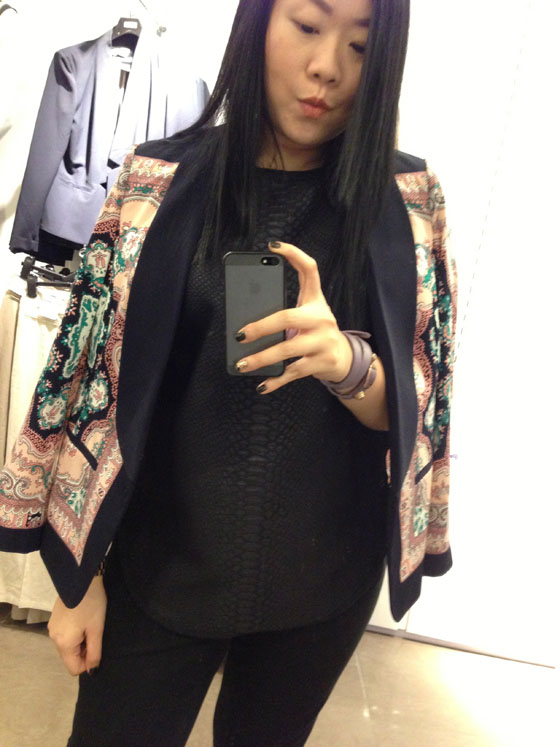 I think that's about it in this episode of random chat...next one would probably be a birthday one..cos it's looming near in 48 hours, and lots of my friends and family have already started surprising me with their lovely gestures and pressies.  Feel so blessed and loved!
Hope you enjoyed reading, and have a fab weekend ahead!