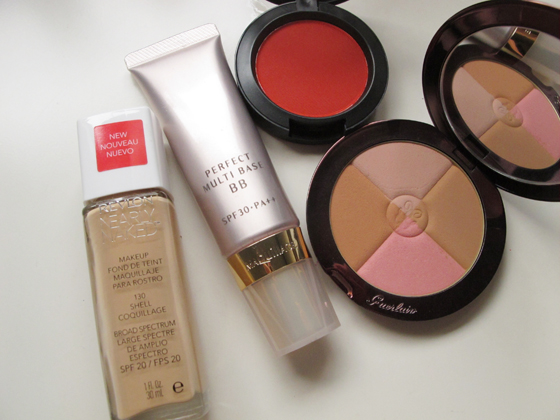 Hi hi!
It's starting to feel so rare that I am able to blog ramble on a weekday.  Even during the weekends, I hardly have any time to just sit and attend to blog matters, but when life catches up with you, I guess I just can't get out of it.  So for those who have noticed the recent 'absence', I do apologise, and I hope that the usual blog spam will happen soon.  I hope.  I hope.  Because I have so many things to share! 
Just want to feature a few products which I have been liking lately, they are a little all over the place and I think that's the way I prefer to present this entry.   Hope you enjoy - there's some skincare, makeup and hair! 
First off, we have this set of makeup removal and cleansing products.  I have been using the Shu Uemura clear brightening gentle cleansing oil.  I feel like this compliments my current (still Lancome) skincare rountine.  It cleans off my makeup completely, and it is very lightweight.  I didn't like the deep pore cleansing oil so much (the pink one btw) but this I really love.  I don't think I need to go too much into the efficiency of the Shu Uemura cleansing oils, and I always have one or two of them in my stash.  If you are looking for something that really takes off the heavy duty makeup after a long day, this is really a great performer. 
As you know I usually keep 2 - 3 facial cleansers in my bathroom.  While I love my creamy foamy cleansers, I also like to try out 'alternative' cleansing products.  Namely cleansing balms - they are very big in the UK - and I like the idea of a cleansing balm.  It is supposed to be very calming, cleansing and when used with a muslin cloth, even exfoliating.  I have heard great raves about the Emma Hardie amazing face cleansing balm.  I ordered mine from feelunique and here's  the product information - 
Perfectly balanced daily cleansing for skin that craves clean.
Benefits of Emma Hardie Amazing Face Natural Lift and Sculpt Moringa Cleansing Balm:
- Thoroughly cleanses and moisturises the skin.
- Helps to purify and minimises the appearance of open pores.
- Calming for sensitive skin.
- Revitalising for dull and mature skins.
- Can be used as a rescue balm, i.e. on dry elbows or knees, or as a lip balm.
- Doubles as a soothing mask if left on the skin for ten minutes.
Key ingredients and what they do:
- Moringa seed extract, Wild Sea Fennel and Vitamin E: Balance, purify and help to minimise the appearance of open pores.
- Orange, Neroli and Mandarin extracts: Rejuvenates and revitalises the skin. 
- Jasmine, cedarwood and Rose: Helps to recondition dull, dry, dehydrated and mature skins.
I don't use it with a muslin cloth though -- but I have just ordered some from feelunique in a separate order, and I shall try it out soon.  I really love this - it is so soothing, and so luxe and smells really awesome.  Even I just massage this into my skin, it just leaves my skin feeling so soft, and clean after rinsing.   It looks a little messy from the picture below, there's this layer of oil (Moringa I think) and smells really relaxing. 
This is always sold out at feelunique, so grab it while you can!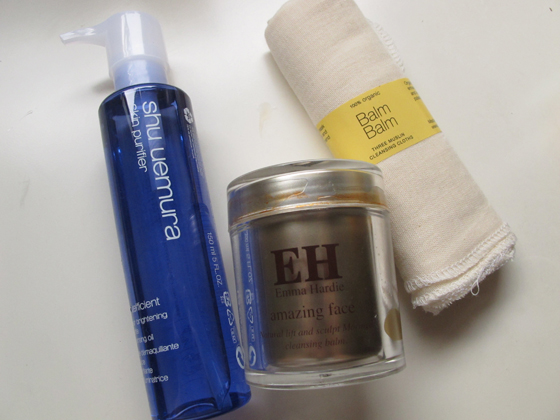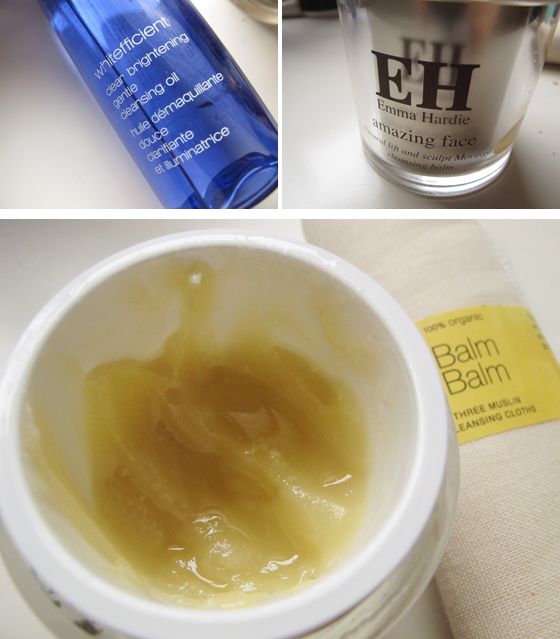 And another item which I recently discovered is the Ettusais peeling milk - this is a gentle exfoliator that doesn't have any scrubby beads.  I have this for quite some time.  When I got to learn about its properties at a Ettusais event a couple of weeks ago, I came home, and quickly took it out to try.  
Basically it is a milky liquid that you rub onto dry skin, and it will rub off the dead skin cells.  I particularly like to rub it around my nose area, that seems to be the most 'tough' area, and after I rinse my face, the skin feels super smooth.  I usually follow up with a extra nourishing mask or face cream, cos that's when the skin is in the best condition to absorb products.  Highly recommend this product if you are looking for a different sort of skin exfoliator.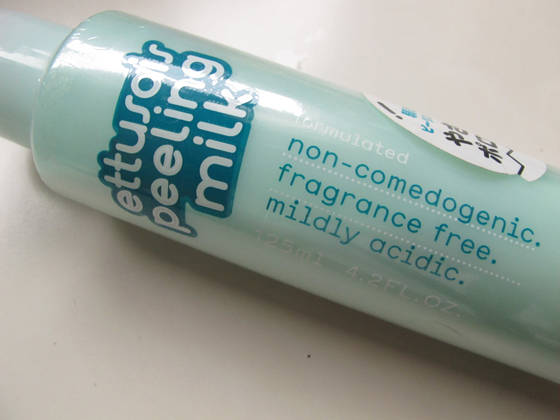 Next, a couple of hair products.  I have other hair products to feature -but I will mention those in a products I have used up entry.  But here, we have a new shampoo which I have been using and loving for the past couple of ... days.  haha.  I saw this earlier in the week while I was at Guardian.  It is Ancient Secrets Moroccan Argan shampoo.  And it is only about $11 or $13 - very affordable. So far, I love everything about this shampoo.  It leaves my hair super soft, not weighed down at all and even more shiny.  I normally don't use any conditioner after shampoo cos I like the squeaky clean hair feeling after shampoo.  This leaves my hair clean without being 'too squeaky' if you know what I mean. 
And one some days, when I feel like I need to make my hair look a little more sleek, or when I want my hair ends to be more tame (esp after a big DIY blow dry), I will rub a tiny drop of the TONI&GUY Shine Gloss Serum just at the ends of my hair.  It is a great lightweight hair gloss serum, that makes your hair super shiny, and also tame flyaways.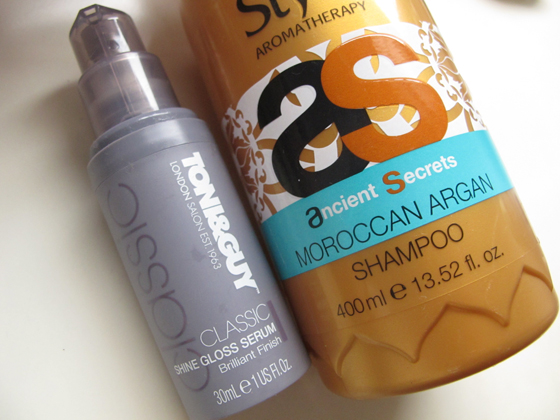 These are some cheek products which I am rotating this week.  Finally, I am able to tear myself away from the URBAN DECAY NAKED FLUSHED palette.  I decided to break out the Guerlain 4 seasons terracotta bronzer in 00 Nude - it is the perfect bronzer for my light complexion.  It gives the perfect amount of warmth to my skin without being visible.  The powder is so smooth, and it blends into the skin just amazingly.  I would compare this to my DiorSkin Nude Tan bronzers - very natural, and very very fine quality.  They are very similar with their quadrants of pale bronzing shades.  LOVE LOVE LOVE. 
Next, is a scary bright red blush - I just have to dab ever so slightly into this blush - MAC Devil powder blush - it is a pro only shade though.  It makes my face looks healthy, and I just buff it into oblivion onto my cheeks, so I end up with a very naturally warm flushed cheeks - you can't even tell that I am wearing a RED blush. 
Note that I have just shown below very very light swatch - this is a really pigmented blush, and I always proceed with caution.  Hehe.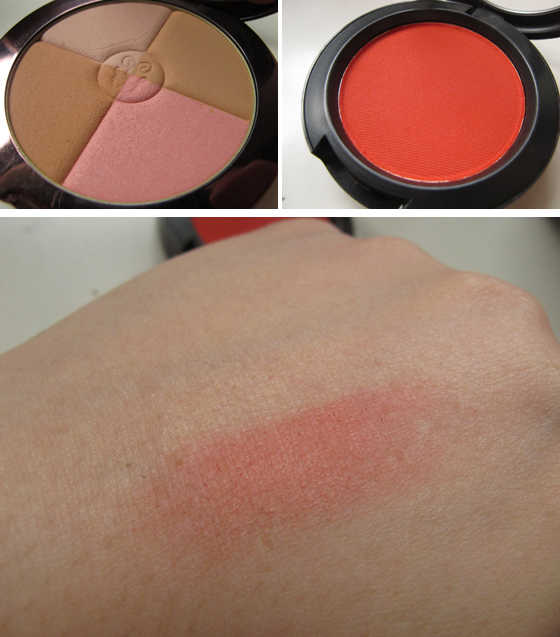 And next, I am loving this pair of base products. 
I have been trying out and loving the MAQUiLLAGE Perfect BB Base.  It is very smooth, and lightweight.  I love how it evens out my skintone. I will give this a full review in a separate entry, so you can see how it applies on me. 
And finally, I recently ordered the Revlon Nearly Naked foundation (at drugstore.com via spree).  I just eyeballed the shade online...and it turned out to be a just perfect match for me.  I could probably go half a shade lighter, but it's nothing some setting powder can't fix. 
Like the name suggests, it feels like nothing on my skin, and yet it makes my skin look very smooth after I applied it over the base.  And it lasted on me very well throughout the hot and humid days.  I would even compare this to NARS Sheer Glow in terms of the consistency and finish.  Highly recommend this foundation.  And it is so affordable!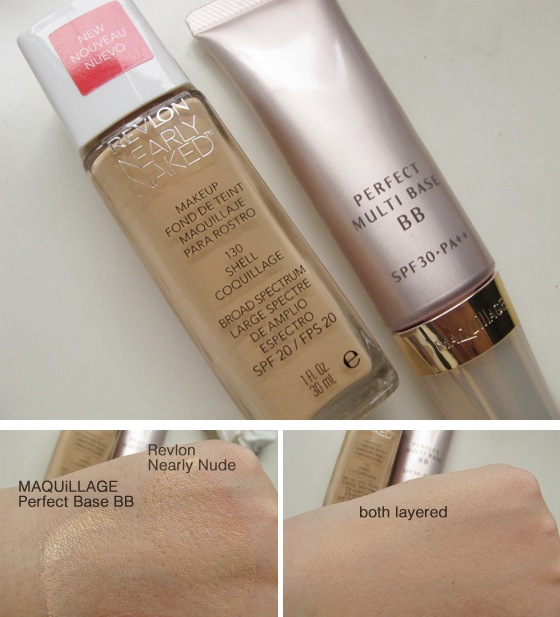 I hope that this entry is helpful and somewhat interesting!  
Just want to rant about something I came across today.  I received an email from a certain company, asking me where's my blog entry for xxx product, because she didn't see it on my blog....well, that's because I haven't posted it yet.  (DUH)
Was it intentional?  No.  I simply have no time to be switching products all the time.  When I am busy, I always just fall back on whatever is on my table.  I don't recall signing up for deadlines when they want to send this xxx product to me.  I will mention it when I am ready to feature it, after having used it.  I have never subjected myself to some deadline crunching blogging/ reviews and I have a million of other blog entry ideas of my own without having to accept "FREE" products to sustain my blog. For some reason, I got very peeved by this kindly email reminder.  I am in a good mind to send back this xxx product, and tell the person that when I am ready to try it out, I would jolly well fork out my own $18.90 to buy it, and use it if I want to.  
Well, that's just a temporary mood damper..I would just continue doing whatever I do, and ramble on whatever comes to my mind.  
Thanks for reading, and staying through to the end of this longish entry! 
Can't wait for the weekend already.