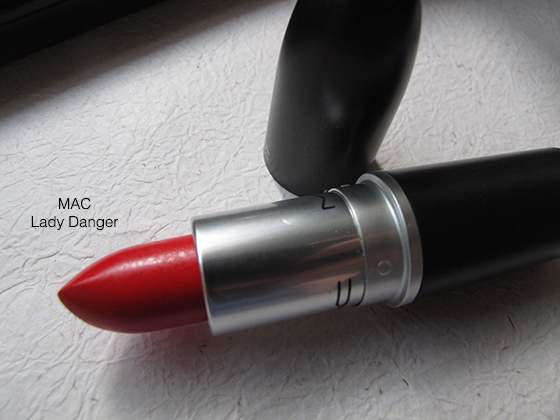 Hi hi~
This entry is dedicated to MAC Lady Danger, which I think is one of MAC's 'famous' lipsticks - it is a warm orangey red that has a matte finish, but it's not one of the dry matte lipsticks... I found the texture to be quite creamy and the formula is easy to wear on me.  I actually have this brilliant lipstick almost a year, when I back to MAC a bunch of lipsticks... and this is one of the few that I picked out.  No wonder this is such a popular shade.  With a color like this, I often find that I don't need much else on the face and this color just makes me look fresh and radiant.  Today I wore it out with just a clean face, no eyeshadows, just neat brows and a little warmth on the face.  The lipstick itself doesn't run nor slip around due to its matte formula, and is pretty long lasting. 
Here's a lip swatch, photobombed by my strands of hair... 
(Today I also purchased MAC High Energy pro longwear lip pencil to go with this lipstick, and several other warm reds/ oranges in my stash.)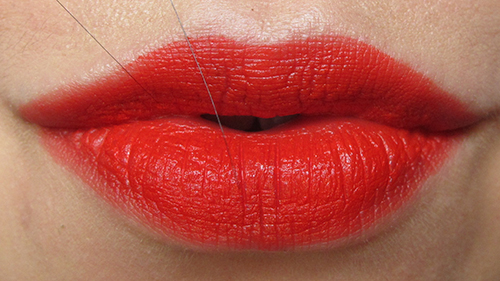 and on the rest of the face: 
I am wearing most Shiseido on the rest of the face.  Will post details of these other products soon.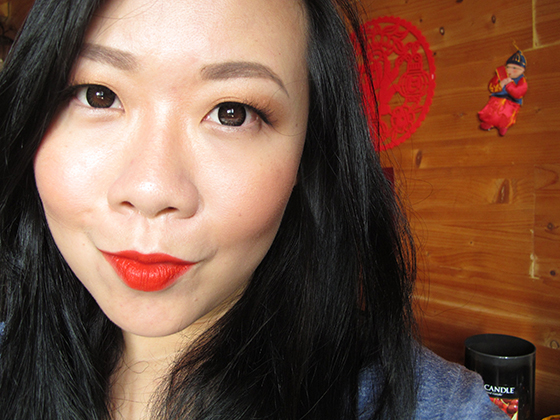 Everyone needs MAC Lady Danger!
Hope you find this entry helpful, and thanks for looking!