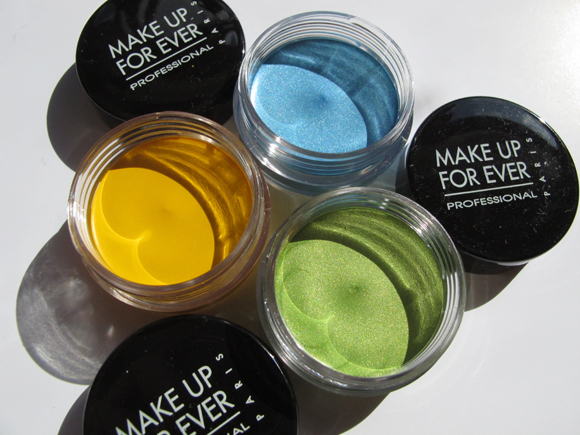 MUFE releases a trio of 3 new aqua creams recently, in bright acid colors: 23 is a bright lime green that has micro shimmers, 24 a bright yellow with very very subtle shimmer, and 25 is a bright sky blue shade.  These colors photograph beautifully, and have a great creamy texture.  Once they set, they don't budge at all.
I find the yellow one particularly creamy, and it seems to blend rather patchy.  Might be better to use it as a liner, instead of what I have done in my LOTD, which is to use a fluffy brush to slap it all over my lids ---- because that's what I nornally do with my existing neutral aqua creams in the shade 14.
But once I used my fingers to dab them, the colors went on smoother, and easier to manage.
My LOTD pictures don't really show the shimmery-ness of the aqua creams, and I didn't use any eyeshadow to set them or make them more vibrant or change the finish of the aqua creams --- though I am sure you can pop some bright shimmery pigment over to make the colors pop even more, or to make them look more dimensional.
If you are looking for brightly colored eye colors, you can't go wrong with the aqua creams - the shade range is amazing, and they are multi-functional - they are really waterproof, and one tub will last you a long time.  They work great on their own, and also as a colored eyeshadow base.
Photos and swatches: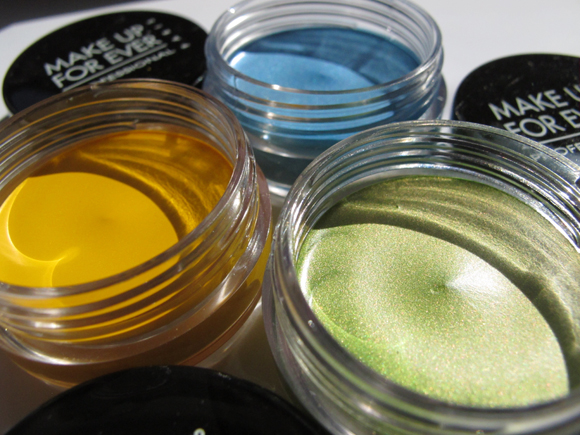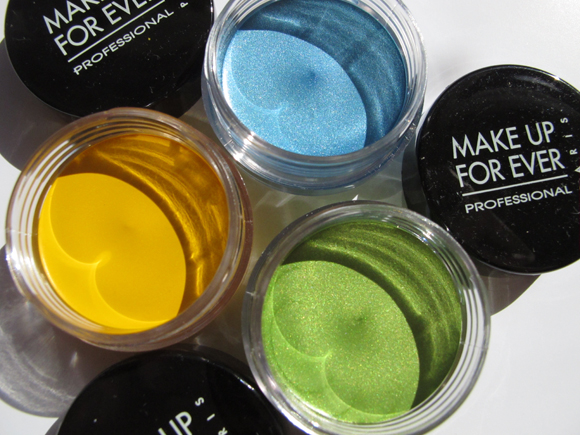 Here are the three colors,
24 is the yellow
25 is the blue
and 23 is the green
here you can see the lovely sheen
all products used:
base - ettusaid bb cream 10, chanel perfection lumiere 10, chanel natural finish loose powder 10
concealer - cle de peau ivory
eyes - MUFE eyeshadow primer, MUFE 23 & 24 ** I just slapped both on and blended them.. 24 is rather patchy, which makes me think it is better as a liner type of product, NARS Abyssinia eyeshadow as brow bone highlight
liners - Bobbi Brown 27 Caviar Ink, MUFE Aqua Liner 14
lashes - falsies, clinique bottom lash mascara
lips - nude lips --- MUFE Rouge Artist Intense 22, MUFE Rouge Artist Natural 5
- bright lips - MUFE Rouge Artist Intense 37, topped with Clarins Rouge Protege 05 grenadine
cheeks - Chanel 547 Bronze Rose, MUFE Mat Bronze
** a note on the LOTD **
I did this look to illustrate the colors and how they felt while I was playing around with them - I am aware that the placement of colors, and all that blending could have been more artistic or elaborate (so don't take anything too seriously!)...but I don't do intricate complicated eyelooks that don't suit my eye shape.  Would I actually wear a bright yellow like this and go out?  Not really.  If there is a themed event or something which calls for such a look, yes, I would be game to wear this out.  But well, on a normal day, i definitely won't wear this bright acid colors on my eyes...in any case, I hope it is helpful to you, and doing two different lip colors also might give you some ideas on how to wear (or maybe NOT to wear) the colors together.
That's all, and thanks for reading.