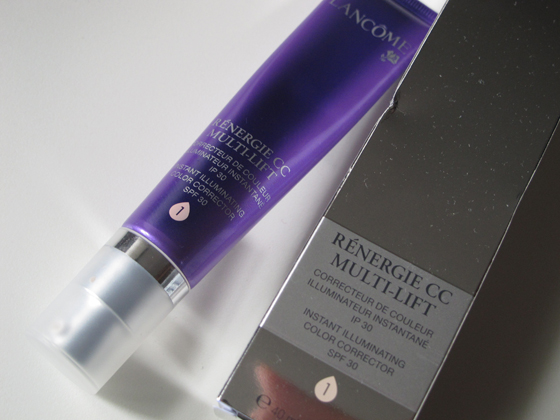 Hi hi!
This is my review of the new Lancome Renergie Eclat Multi-Lift CC Cream, which I have previously featured in this entry here.   I know there will be inevitable comparisons to the other CC creams out in the market, and several of you are also waiting for me to give a comparison of them, that will be coming, but give me a couple of weeks!  Need a bit of time to test out one last CC cream before I can give a complete overview. 
So anyway, this Lancome CC Cream is already available, and retails for $100 each.  It contains 40ml of product (made in Japan), which is 10ml more than the usual capacity of similar products.  The Lancome Renergie range is targetted towards lifting and firming one's complexion.  It is not the first BB cream type product that Lancome is releasing, and I did enjoy the UV Expert Shield BB Complete SPF50 which they launched last year.  
Let's start with the packaging: 
It comes in a purple tube (purple being the Renergie color), and the product comes out via a pump dispenser.  I am using the shade 01 (there is also a shade 02), and I think there is a total of 4 shades in the US market, but here in Singapore, we get 1 and 2. 

<strong>Swatches:
</strong>It doesn't have any particular scent,  and the CC cream looks slightly greyish (which is typical of bb creams) as opposed to beigey skintone shade.  The consistency is very smooth, and very emolient.  It spreads easily and blends into my skintone.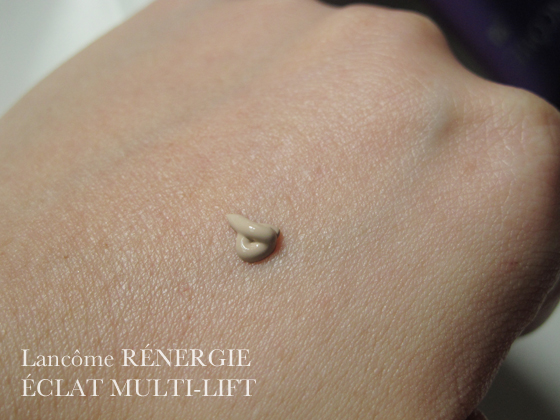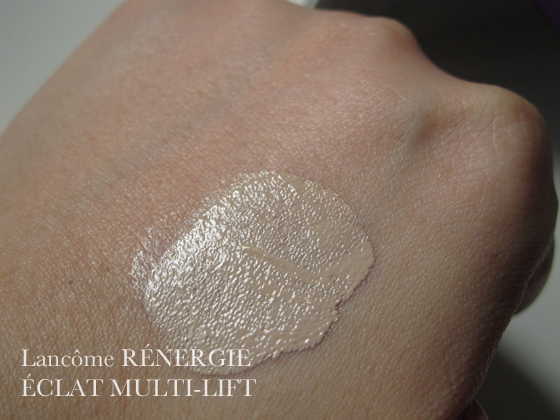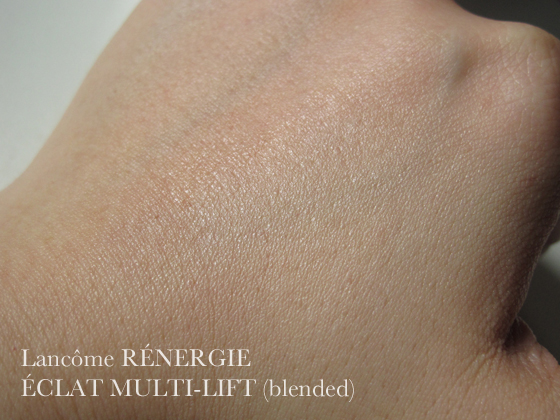 <strong>Application
(get ready for some up close macro shots, pores alert! Hahaha)
</strong>I enjoy using the CC cream with both my fingers and a buffing brush.  The results are the same.  
The consistency is a little on the thin side (and thin compared to your typical creamy thickish BB/ CC Creams) and allows me time to work it into my skin. 
Here you can see, the CC cream is applied over bare moisturised skin.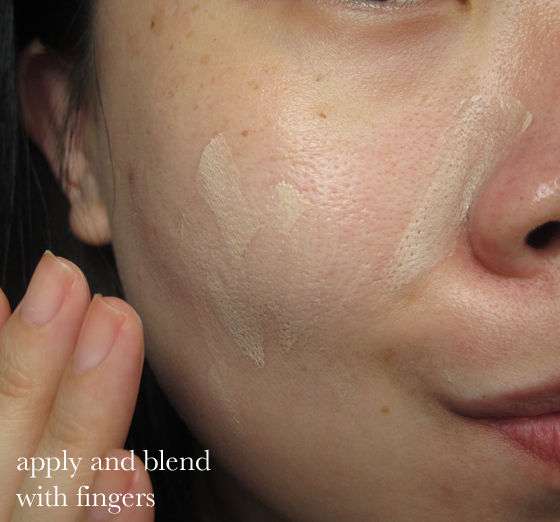 After blending out, you can clearly see there is a radiance to my skintone. The coverage is very light, but it does visibly brightens up my skin.  I tried wearing this out on its own, set with some powder, and found that it didn't last me more than say, 5 hours.  After that, I think I start to look 'faded' and tired.  
The next day, I tried it as a correcting makeup base, and topped it off with a very thin layer of foundation.  That yielded much better results.  I looked fresh the whole day, and the fresh luminosity stayed throughout.  So even though it didn't have impressive lasting powder on its own, it does work very well as a makeup base that protects your skin and adds that natural radiance. 
I was using this for a whole week, and I do think that it does have great skincare properties - it has a light texture, and my skintone did look a little more even-ed out by the end of the week.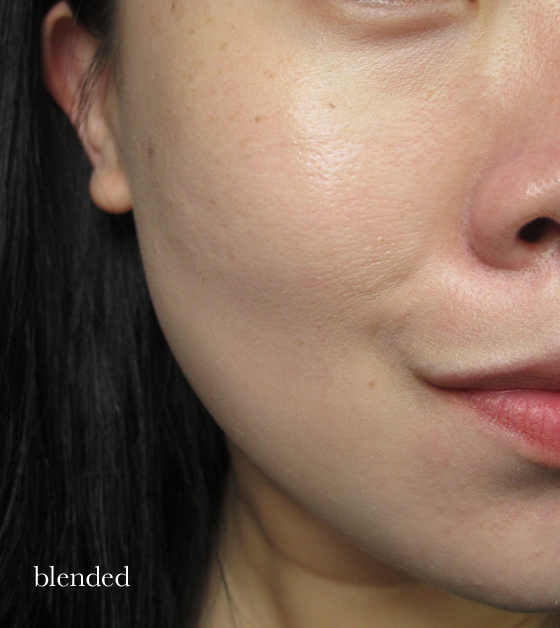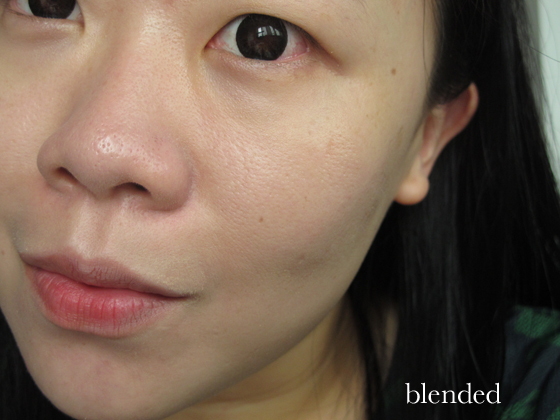 here's a quick demo - I layered a thin layer of foundation on top - of course, if you have very clear skin, and foundation usually lasts on your face, you can totally skip this step.  I am just sharing with you what works for me and my skin type.  I usually use my Teint Miracle liquid foundation, or the cream version - either one of them complements the CC cream flawlessly.  I love the end results - very brightening, and very natural.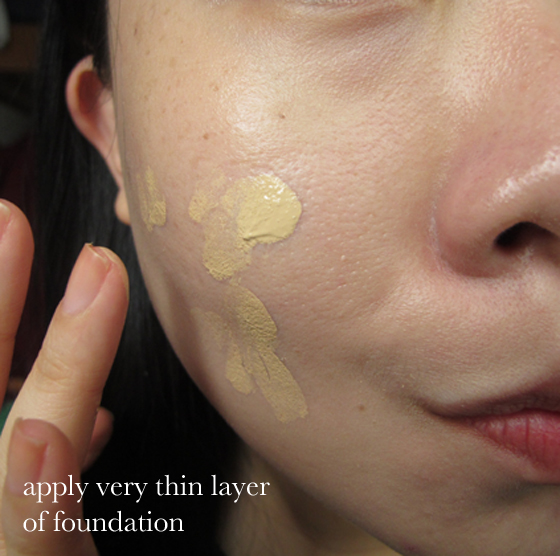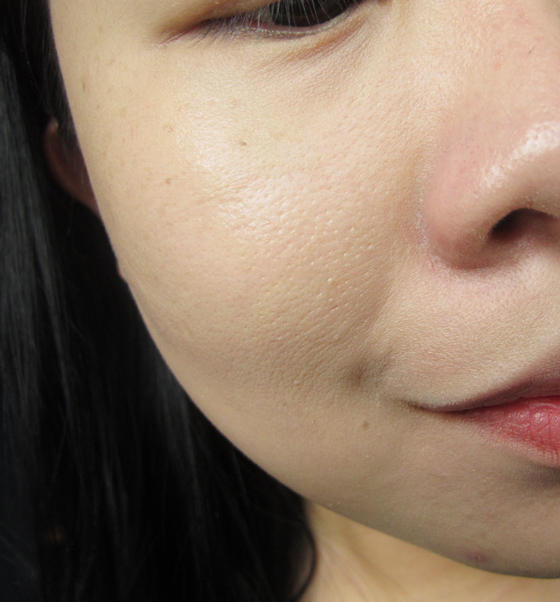 Bottomline - 
The Lancome Renergie Eclat Multi-Lift CC Cream is a good performer, I think it serves to complement the Renergie range, with the same skincare benefits (I have used both the eye & face creams before, great stuff!).  As a BB/CC cream, it really did brighten up my skintone, and bring some radiance to the skin.  I don't think it is super corrective though, you might be able to tell that my skin still looks a tad reddish, and that didn't get balanced out til I used the foundation (which is beigy-er).  
If you want a light texture skin protecting CC Cream, go for the Lancome Renergie Eclat Multi-Lift CC Cream, but if you need more coverage, and want something that lasts, you might not enjoy this product as much.  I do like it for its skincare benefits, and also as a great makeup base for everyday, and also to keep my skin firm and lifted (and at my age, I NEED!!!).  
Stay tuned for my comparison, and meanwhile I have two more BB creams reviews which will be coming your way soon!
Hope this has been helpful, and thanks for reading!