Dedicated to every woman and her loved ones, Lancôme celebrates Happy Holidays this season with its best gifts of beauty that last forever.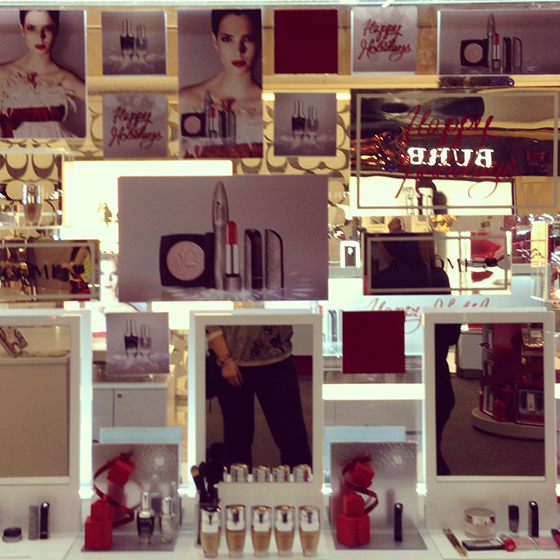 Sharing with you a quick overview of the Lancôme Holiday 2013 makeup collection - which is already available.  
I will be featuring most of the products in a follow up entry.  
My top picks from this gorgeous sparkly collection?
1. Lancôme L'Absolu Velours - esp the De'Caprice a bright orangey red...beautiful!  And I am trying to hunt it down at the counters..
2. Ombre Hypnôse Dazzling - the taupe shade and the emerald green are both beautiful and wearable.  I think these beat the Chanel Illusion d'Ombre anytime.
3. The SWAROVSKI ELEMENTS encrusted L'Absolu Rouge--- Heard they are sold out... but I hope you manage to get your hands on some. 
Meanwhile, enjoy this little overview! 
Inspired by the magic of a snowy winter scene, Lancôme adorns women in enchanted light. 
Eyes are dolled up and haloed in light, lips dazzle, nails sparkle — a collection of refined luxury for a holiday season defined by effortless chic.
Hypnôse Star Étincelle
Mascara spotlight
Spectacular volume, astounding curl, perfect definition. Hypnôse Star, the most glamorous of Lancôme mascaras, presents its holiday look: a shimmering silver effect, for more dazzling lashes than ever before.
One thing that never changes is its ultra-glossy mistake-proof texture, with its "Noir Midnight" effect – instantly star eyes.
L'Absolu Rouge
Pure luxury collector's edition
In this brand new limited edition for the holiday season, L'Absolu Rouge is swathed in light thanks to a caviar of hand-applied SWAROVSKI ELEMENTS crystals.
An exceptional embellishment for a truly rare and precious collector's item, housed in a black velvet case. Available in two shades: Rouge Satin, the range's star colour, and Rouge Étincelle, an orange-red created in 1955, a shade so radiant that Lancôme simply had to re-launch it at the heart of this light-infused collection. Its cult formula remains unchanged: an irresistible creamy red to redefine and shape lips, procuring unrivalled colour intensity.




Highlighter 

Veil of light
As though the Lancôme rose were captured in crystalline frost.
Subtly pink in hue, this iridescent powder instantly illuminates every complexion with a joyful glow. Simply apply with a brush to beautify your face and highlight facial contours.
Hynose Velours
Jewel-like eyes
This ultra-precious kit contains 3 pairs of eyeliner patches which can be re-used up to 3 times, to enhance the shape of the eye and stretch out towards the outer corner for an incredible wide-eyed look. For the first time, Lancôme imagines patches for both the upper lid and the lower lash fringe. The secret for a truly unforgettable celebration look. Pure brilliance!



Ombre Hypnôse Dazzling 
Made-to-measure shimmer
Ombre Hypnôse Dazzling is seen in four metallic shades with the power to perfectly illuminate your eyes: shimmering eyes with Diamant Argenté, spectacular eyes with Émeraude Éternelle, Quartz Taupe for a sophisticated look or Saphir Noir for a smoky eye par excellence.
Thanks to its unique "Bouncy Wet Technology", Ombre Hypnôse Dazzling offers a very high concentration of pigment and sparkle within a waterproof "mousse" texture, which stays put for hours. And which remains ultra-comfortable all day long.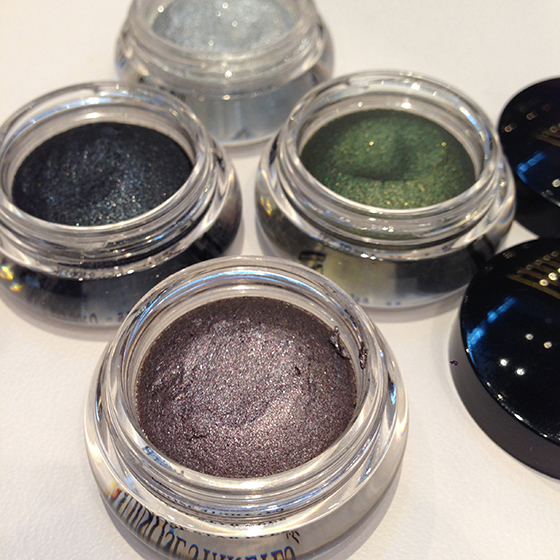 Swatches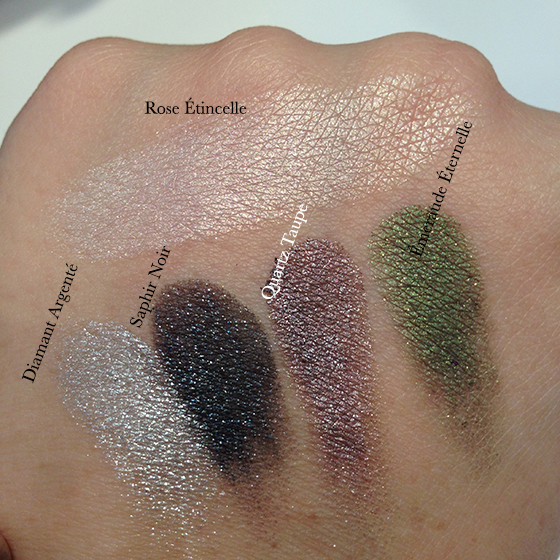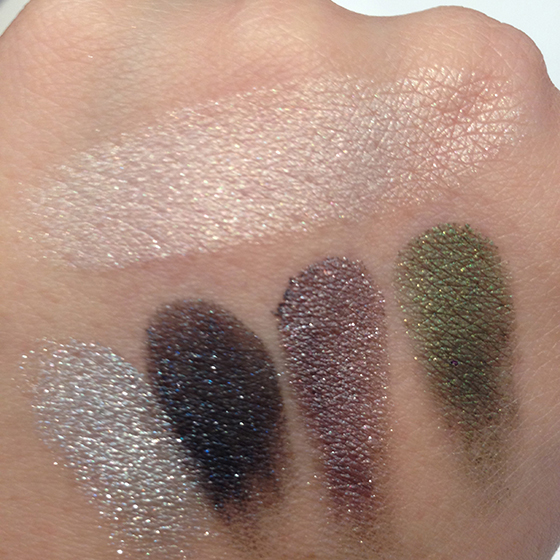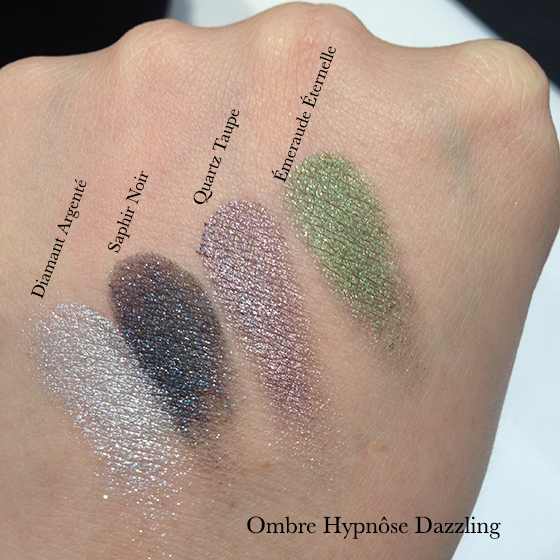 Vernis In Love
Frozen manicure
With the innovative "Color Coat" technology, Lancôme allows you to instantly dress nails in a frosted effect – half-matte, half-shimmer. An ultra-easy application manicure, available in two shades: Étincelle de Neige, a pearly white creating the illusion of snowflakes and Étincelle d'Argent, a crystalline metallic grey. Simply magical.



L'Absolu Velours
A Velvet Kiss 
Stand out from the crowd and dazzle this holiday. For the first time, Lancôme invents a truly exceptional formula that combines Velvet Gel that adds shine to matte powders for a unique luminous finish with extreme comfort, hydration and vibrant colours.
The L'Absolu Velours liquid lipstick is every woman's holiday must-have – intense, radiant, velvet and moisturising colours for 8 hours of long-lasting wear.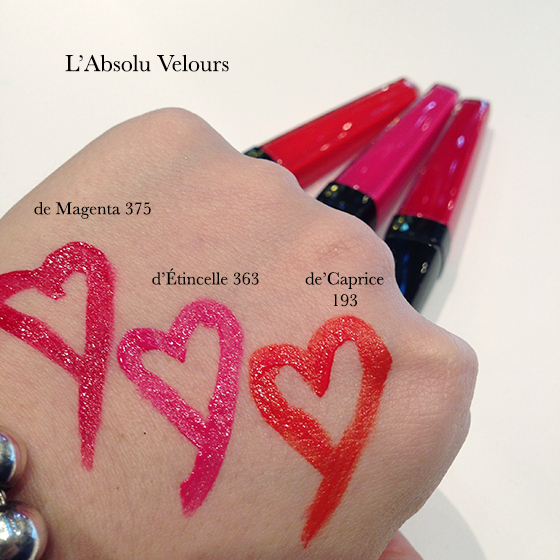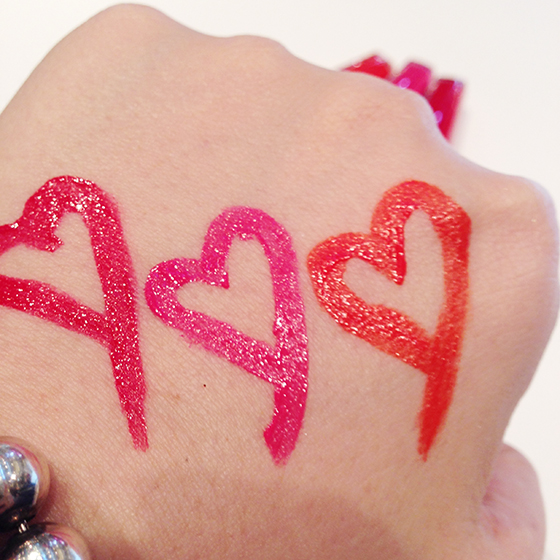 Hope you find this helpful!
Thanks for looking!