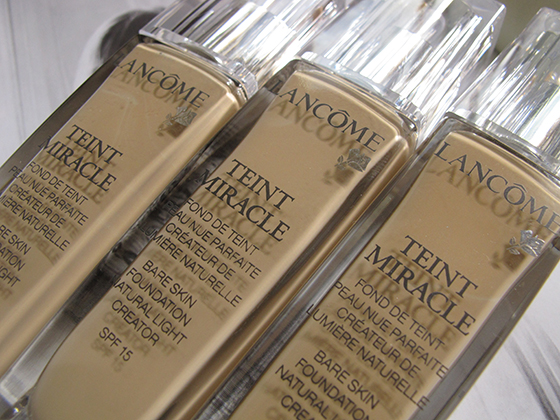 Hi hi! 
This entry will feature my application & review of the newly formulated Lancôme Teint Miracle Liquid Foundation.  This is currently available at all Lancome counters and Sephora stores.  I have 3 shades of the foundation, and the one which I found to be the most natural match for me is 0-03 - note that all shades apply quite nicely on me... but 0-03 is the one I have been using the most often.  I have previously reviewed the previous Teint Miracle foundation (which is one of my all time foundations - click here to read the entry and the technology behind this foundation and also see some cringe worthy pics of me back in 2010.. hahaha.. but this is one of my most viewed foundation entries of all time hur hur....) 
So anyway, just to recap - the new Lancome Teint Miracle uses Universal Light Technology, mirrors the perfect glow that radiates when our skin is under day light. Skin's natural radiance is intensified under any lighting condition, lasting for up to 12 hours. The foundation is made up of 90% air that absorbs sebum up to 4 times of its own weight. This ensures a non-cakey finish throughout the day. Therefore, foundation is kept fresh and glowing. In terms of texture, it is even more lightweight than before, the fluid texture blends seamlessly into a natural finish within seconds.  Formulated with 40% water to provide skin with up to 18 hours hydration, keeping skin plumped up and preventing unsightly lines or cracks in makeup. Overall, the foundation promises to ceate a nude and natural finish with a glow as though it is lit from within; just like perfect second skin.
If you follow me on Instagram - you would have been a pic of my initial thoughts of this foundation, on first swatch, I can feel that it is much lighter weight than the previous Teint Miracle - almost watery, and very fluid.  It feels very light and smooth.  The foundation gives me a 'my skin but better' finish - which I immediately noticed upon first application.  
Here are the swatches of the foundation shades that I got to preview -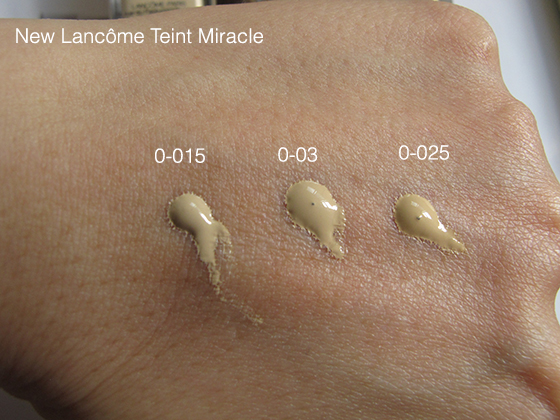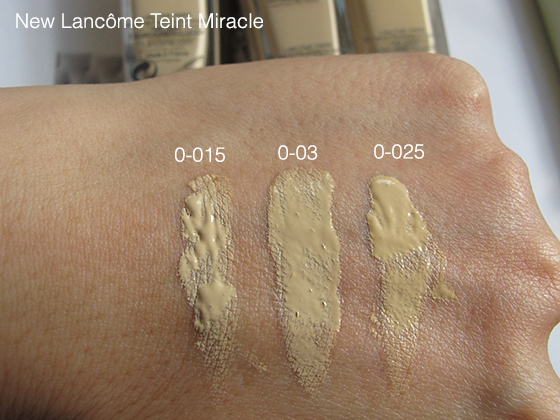 Lancôme also launches a pair of new additions to their range of primers - the Hydra Glow and Pore Eraser - both serves totally different needs and have different effects.  Personally, I find 'pore eraser' primers a bit drying on my normal skin, and I don't really feel a need to have to smooth out the pores on my skin...so I will focus my review on the Hydra Glow, which I will be using under the Teint Miracle for this review entry. 
La Base Hydra Glow -
Infused with 14 intensive skin-caring actives for 24hours hydration and plumped up skin.
Contains brightening pearls to illuminate complexion with a natural dewy glow.
La Base Pore Eraser - 
Instantly reduces appearances of pores by 65% for a highly refined complexion.
Enjoy a silky matte complexion all day long.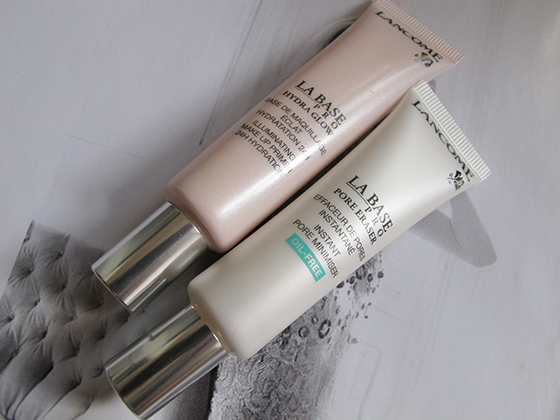 and swatches of both on my hands -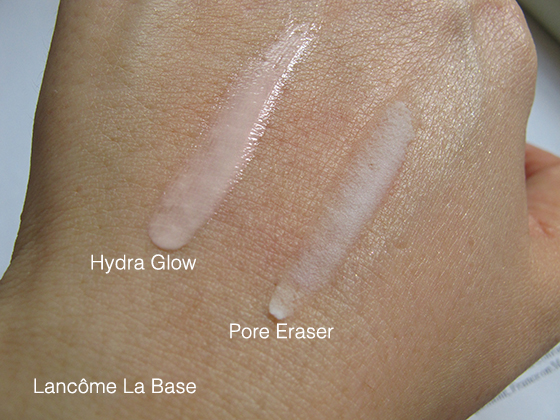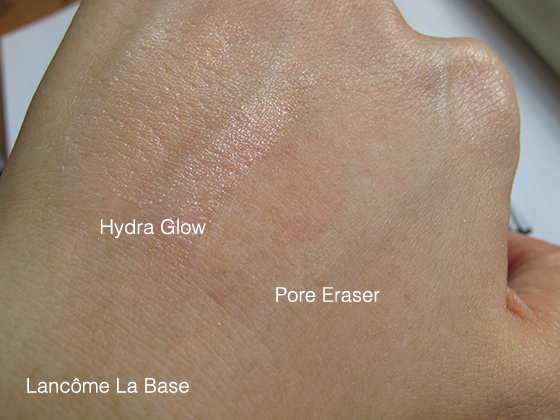 Just a quick application overview -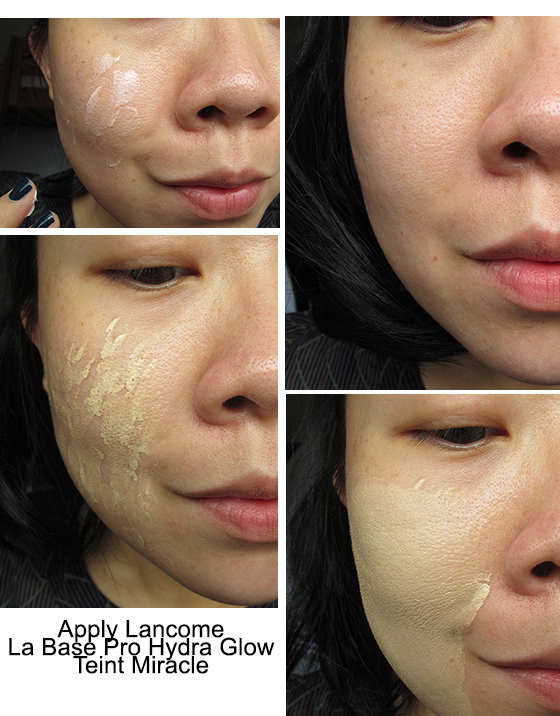 and half face -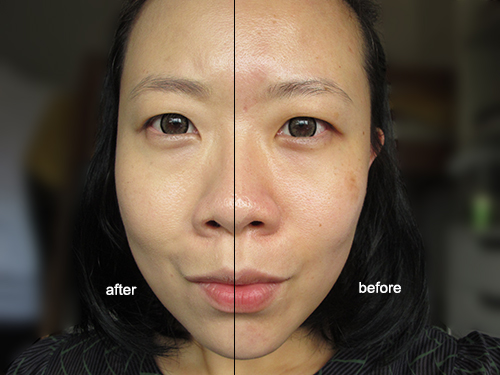 after powder and blush -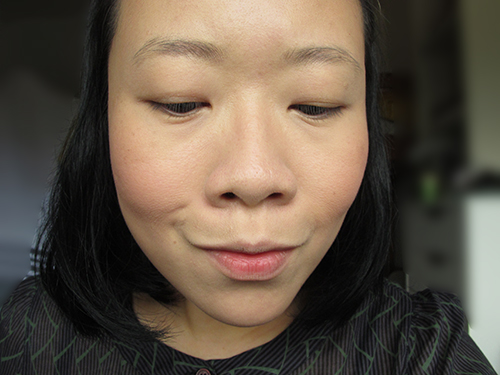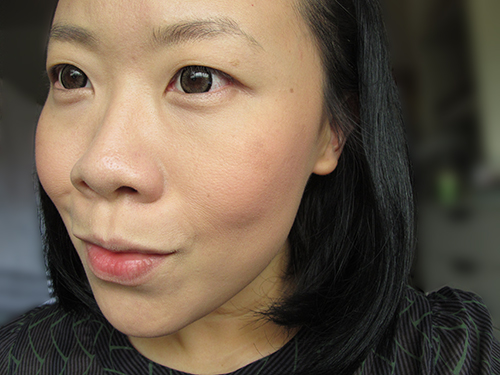 with brows - now you see why I can't leave my house without brows... lol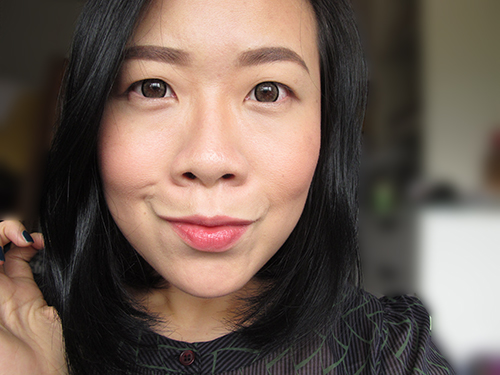 and the full face done -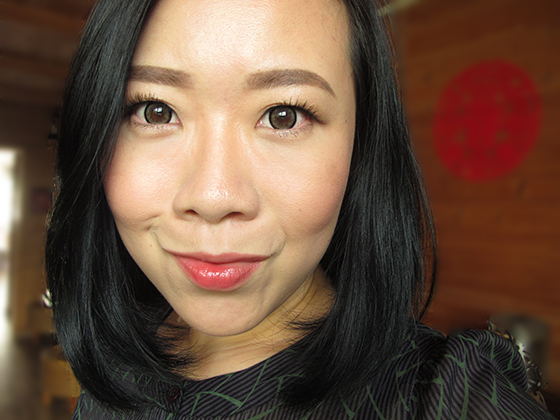 Pretty sure everything used here (perhaps except for the brows) are Lancôme but I will list everything I use when I get home.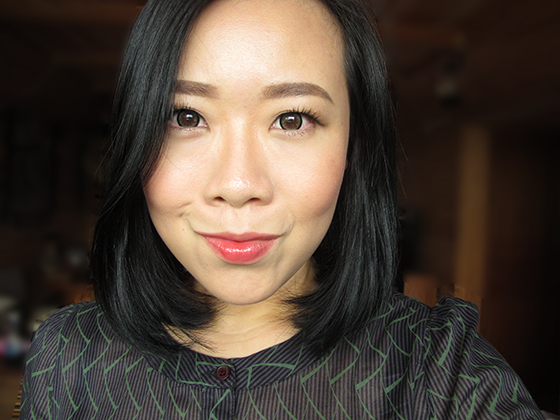 My overview of both the base & foundation
The base gives a very subtle and healthy glow to the skin without being over the top.  This is quite something for me, cos I have a slight oily T-zone, and I didn't notice any accentuation of my pores or imperfections when using this hydra glow base.  I think this should be a good base to use for nights (because in the day time I will tend to use a base that contains higher SPF), and also if you have dry skin days, when you want a hydrating 'perk me up' to your skin prior to applying foundation.  
The pink pearlised tinge also helps to brighten up my complexion and enhance my skintone (neutralising the yellow tones).  I might actually be able to get away with applying just the base and a dusting of a powder if I just want something very light for quick errands etc. 
The foundation is ultra-lightweight, and very comfortable to wear.  It gives medium coverage - which is buildable depending on how much product you use.  I find that I can apply this foundation with a buffing brush or my fingers with ease, and it sets into my skin nicely after about 10-15 minutes. 
The Teint Miracle is a foundation that has decent lasting power (do note - you can extend the longevity of a foundation with a proper primer that suits your needs, and also setting your face with powder, blotting every few hours etc etc) - and that being said, all things being constant, this is a foundation that lasts on me a good day of around 8 to 10 hours.  
I particularly enjoy the finish of this foundation - it is natural and radiant - if you like Chanel Vita Lumiere Aqua, GA Luminous Silk, this is another one which would be up your alley as far as good glowy foundations go.  
One thing I like about the Teint Miracle is also how it somehow enhances my skintone, cancelling out any redness and just makes it look really smooth and even.  
The foundation did not oxidise on me nor cause any skin side effects.  It wears well throughout the day, with just a couple of blotting sessions throughout the day.
I am not disappointed by this new re-formulation - if my fave Teint Miracle has managed to become even better - it just did this year, with this new reformulation.  Therefore, the new Teint Miracle is another highly recommended foundation in the 'healthy glow' category. If you prefer smooth satin matte foundations, there are plenty of others that I have featured before too. 
I hope that my overview has been helpful and thank you for reading.