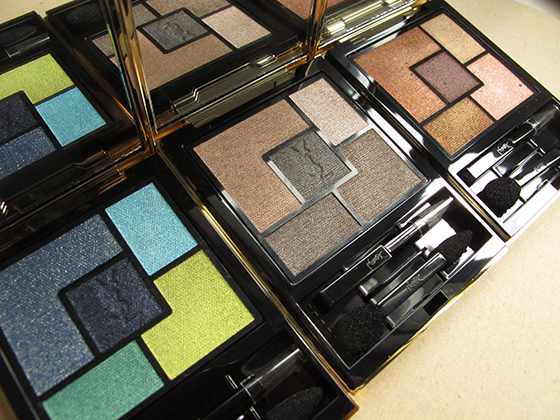 Hi hi!!  This is another entry featuring one of the new YSL Couture Palette in 02 Fauves, which is a neutral dark brown palette - I love how the colors are quite mellow, but yet you can use this palette in a variety of ways, for a soft smokey, to deep smokey or just use the medium brown shade to add some contour and definition to your eyes without looking made up.  
I also love that most of the colors in this palette are a soft matte texture/finish, and I find that I am increasingly reaching out for such soft and rich matte shades these days (think along the lines of Cocoa Mirage and the new Lancome neutral palettes).  
Here's a close up of this beautiful palette -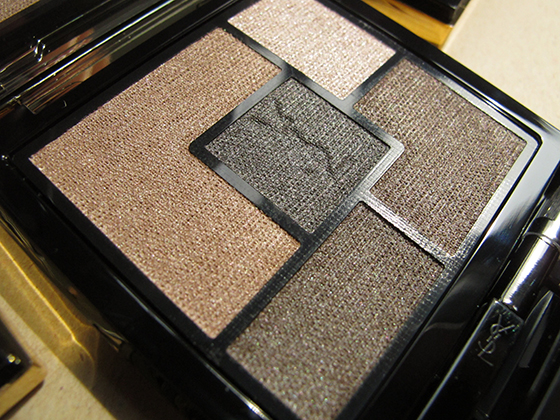 From L to R - 
you have a matte medium brown (very soft, and not chalky), deep almost blackish brown, a dark brown, medium brown and a pale neutral shimmery highlight shade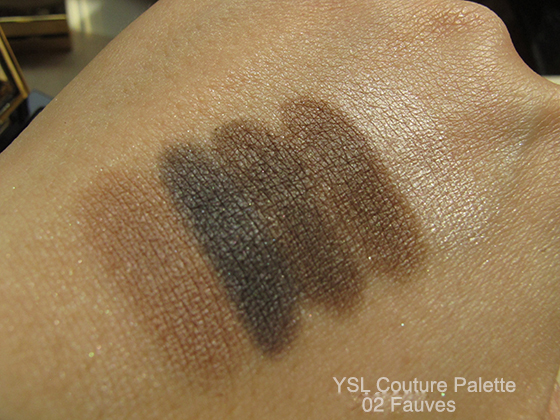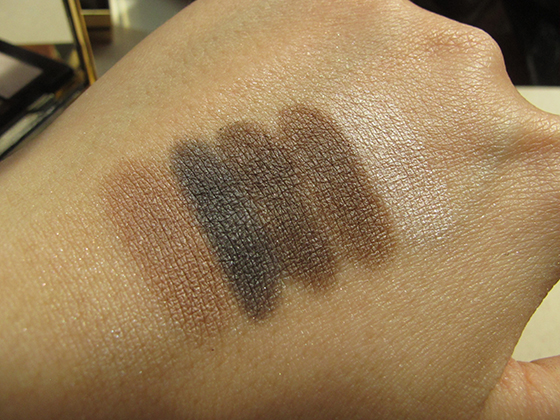 and here is the color placement of my eyelook - which is actually a very simple just slap on the colors kind of soft smokey eyes.  And I did not line my eyes for this look - only at the outer corners just so that my falsies will blend in more seamlessly.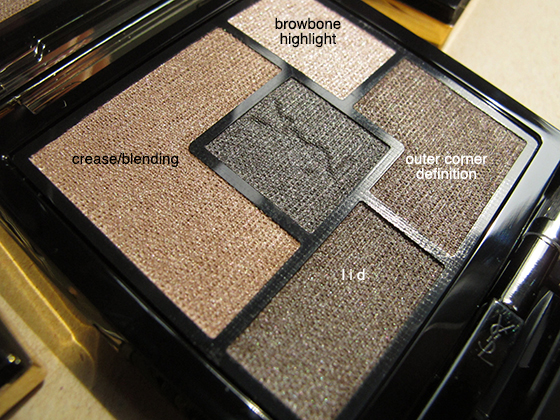 here's the close up of the eyelook - All products used will be listed at the end of this entry. 
The palette isn't entirely unique as far as neutral colors go.  There are certainly neutral eyeshadows that I have which are better quality/ more intense/ more interesting (insert other adjectives here) but in terms of comparing to previous YSL neutral palettes - again, I must say that the new Couture Palettes have improved greatly in terms of the formula and color payoff.  This is a palette that is finely made, and I think it is very very wearable - neutral lovers would definitely love this combination.  
All products used:
Face - Maquillage Beauty Keep Base UV, Guerlain Papure Gold foundie mixed with Shiseido Sheer & Perfect foundie, set with Suqqu Chiffon Feel Loose Powder
Concealers - under the eyes, YSL Touche Eclat 01, spots, Kevyn Aucoin Sensual Skin Enhancer 07
Lips - YSL Glossy Stain 12 
Eyes - Lancome eyeshadow base, YSl Couture Palette 02 Fauves as mentioned
Cheeks - Clarins Mosaic bronzer, NARS Madly 
Liner - Maquillage creamy liner BR662
Striped Dress - ZARA TRF (current new season)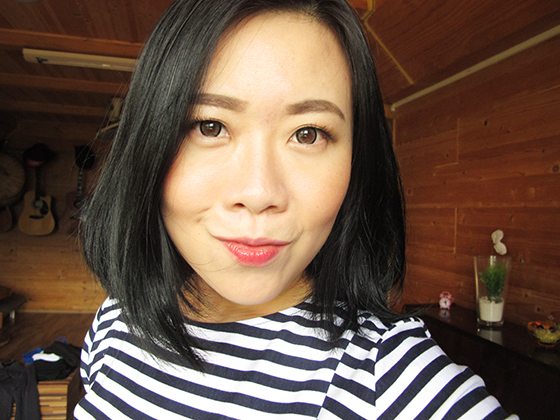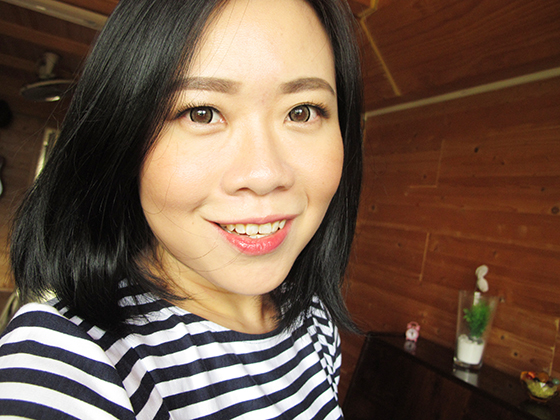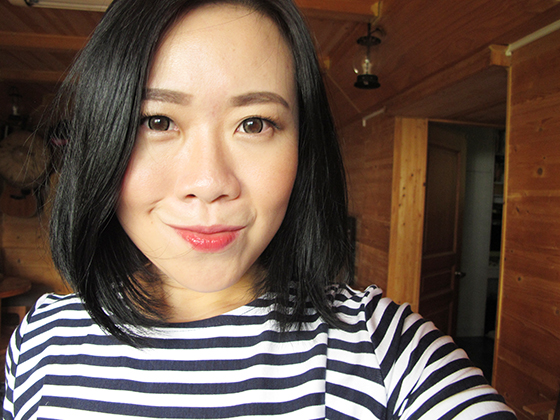 and a full length view of the dress - I LOVE IT>  it is tight, but flattering tight cos the material is a thick jersey material and the length is perfect for my height.  I love it so much I bought it in another color too. 
I love dresses like this and have been wearing these type of dresses very often, they are so flattering, and so easy to dress up or down.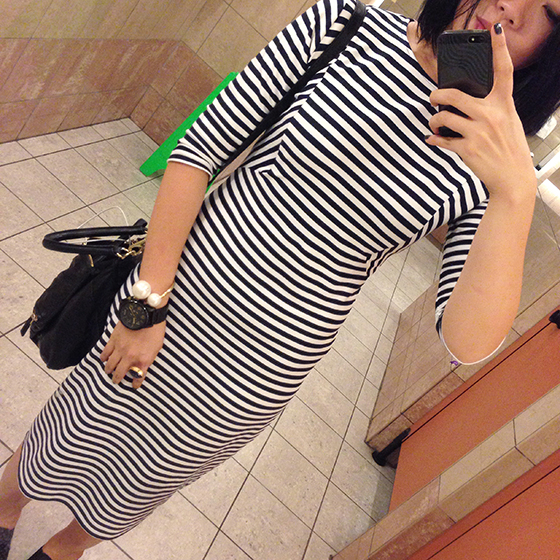 I have previously mentioned about my weight loss before, and I didn't really want to go into too much detail... it really just boils down to lots of discipline, determination and sheer hard work.  Close friends and family know what I did... and I don't think I have too much to share on the blog (not like I am on some 'weight loss sponsorship programme' that I feel like I am obliged to talk about anyway... it is really just for myself..and I plan to keep going, I have lost 20kg til date, and I have another 5kg or maybe 8kg to lose if I wanna challenge myself, but I am very happy with my current status and I am trying to maintain for a couple of weeks before I embark on the losing again).  
But if you want tips---here's what I can share:
1. no carbs, cut down sugar - this means no rice, no noodles, no pasta, no bread, no fries, no mash etc of ANY SORT.  Not even the wholemeal version. I have been doing this for 8 months and I am going strong. 
2.  Lots of vege - I hate salad but I love boiled/ stir fried green leafy vege so I make sure the bulk of my meal is vege, so I feel full.  
3.  Moderate meat - 100-150g portion a day, and avoid meat during dinner
4. Fruits - only the citrusy ones, avoid bananas etc...and avoid fruits at night too
5. EXERCISE - The only thing I do and I feel like doing is to go running by myself - at least 5 times a week unless my schedule really doesn't permit.  On weekends I do 5km, weekends I do 10km.  Of course, I started out slowly, I didn't plunge right into my 5km til I am about one month into my routine. 
6. Tell people you are close to that you are doing this.  Accountablity matters.
7. Weigh yourself everyday and record.  When you see the numbers go down, you will feel motivated. 
8. Throw out the big clothes.  Never keep them.  Perfect excuses to buy new clothes for your new body.  I have dropped at least 3 sizes and I can feel the difference..it's amazing.
Basically, what they say about exercise and dieting is true...you can't work off a bad diet at the gym... it is 80% controlling your diet and 20% exercise.  Together with my exercise, diet, I also signed on an accupuncture programme (again I don't wish to say where, what, how much exactly as I don't want anyone to think I am doing any 'promotion' cos I paid for everything myself and it is something I am committed to on a personal level, but you can email me to ask and I would be glad to give you more details).  I still indulge time to time..just make sure the extra calories are worth you cheating your diet on.. for example your fave cupcake, or brownie, or ice cream.. just have small portion time to time is fine! 
Benefits - 

Definitely, my confidence is much healthier, not that I was depressed previously.. but my confidence has allowed me to form even happier relationships with friends, and also allow me to want to get out there and do stuff, I want to go for a run followed up a poolside frolick, I want to go out drive around, run errands, do random stuff, etc etc....  Especially when you have a beauty blog... I guess appearances really do matter.  And seeing myself put on so much weight in the last few years was really MEH & EWWWW.... I got sick and tired of feeling that way (both mentally and physically) and I told myself I am not gonna be that way again.  I love that I can now talk about a certain outfit idea and I can totally pull it off and not afraid to share with my friends or post a pic on IG.. (very vain I know, but hey, whatever it takes or it works to keep me motivated!) 
Leave me an email if you have further questions on weight loss and staying motivated and what else I do... 
Also partly because of this major weight loss project that's going on, my blogging priority has taken a slight backseat...between actually working and working out... I barely have time to sit down and play with new makeup all the time unlike in the past when blog spamming was the weekend norm.  
Also, I noticed a trend of new 'bloggers' these days whose aim are simply to showcase the LATEST stuff...there's this tension or something to rush everything out so they can be 'the first' or watever...I am so over all this, if you know what I mean. I have been rambling at my blog for so long, and seeing new eager faces around sometimes makes me think of how times have changed... in the past when I started blogging and got to know a few of my fellow beauty bloggers (that I still know and talk to and hang out with), we didn't even know that there will be a day when brands would start contacting us, etc etc.. but now, up and coming 'beauty bloggers' start out the opposite way, it is like getting the attention of brands is their top priority, by spam tagging the brands on their social media....going to events and all that should be the norm for them just because 'they have a blog', and it's really obvious.  I really can't relate to such a way of operation....just a very honest rant here. But then again, to each his own, whatever makes one happy, right?  Hope you don't mind! 
I hope to update a bit more on my current faves (foundations, skincare, everything!) this coming long weekend.  Also, you might have noticed, I have gone even shorter with my hair (compared to the last longish bob), this is the shortest I have gone in more than 15 years?  Or maybe 20 years!  I thought this would be a refreshing change, and besides short hair seems to grow really fast!  
Hope you enjoyed this somewhat rambly and personal update entry.   Thanks for reading!!