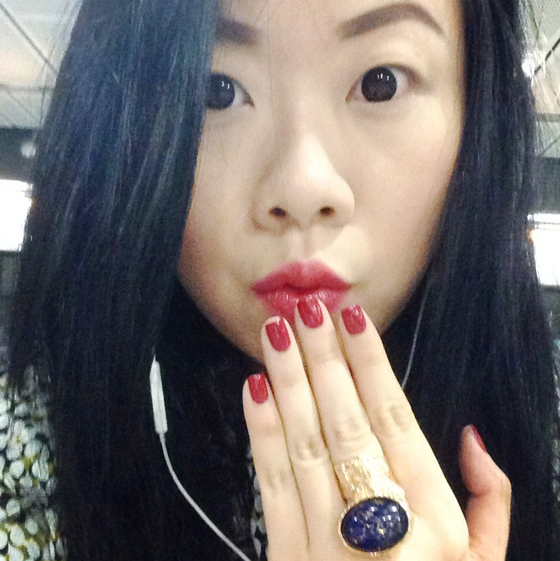 Hallo!
Just a quick LOTD with my somewhat matching red nails and lips.   This took me about 10 minutes to slap on, and out of the house I went. 
I skipped the primer, and focused on having neat brows and a pop of color on the lips.  I know there's nothing really 'new' to this LOTD..but I rotate my products all the time, so it's nice to experience different product combinations. 
All products used: 
Face - Lancome Mat Miracle Liquid Foundation, set with Lancome Teint Miracle loose powder
* the lack of a primer here is interesting, I got to see how the foundation works on its own, and I am glad to report that it settles very beautifully and flawlessly on its own too.  
Cheeks - Clarins Mosaique Bronzer, GA Ecailles face and cheeks duo 
Brows - Urban Decay naked basics palette, Shu Uemura brow manicure
Lips - Lancome Rouge in Love 174B Crazy Tangerine 
Nails - Lancome Vernis in Love 154M Miss Coquelicot 
Ring - ARTY Rose Gold 
Top - H&M (old) 
Hair was scrunched up and slept in most of the day, so they seem a little fluffier than usual. 
Lenses - Blincon